The 2023 NFL football season has begun! Get all the information in our NFL Guide!

And you can follow the whole season with Fubo. Try it free!
Fans of Bruins basketball are better off without cable. Read on to learn all your choices.
In a hurry? Most UCLA games of both the men's and women's basketball teams appear on Pac-12 Network with many others on ESPN channels. These streaming services will work well:
If you can't watch your favorite movies and shows because of your location, try ExpressVPN to get access to the content you deserve.
UCLA is one of the "blue blood" college basketball programs, mostly because of the dominance of the school's men's team in the 1960s and 1970s, when it claimed 10 national championships in a 12-year span. Although those days are in the past, the school continues to put some of the country's best teams on the floor on both the men's and women's sides.
TV Channels to Watch UCLA Basketball
The Pac-12 Network, including its regional channels, such as Pac-12 Los Angeles, is where you can find numerous UCLA basketball games. This is particularly true on the women's side, but numerous men's games are on those channels as well.
Other networks that often show UCLA basketball games include ESPN, ESPN2, ESPNU, FS1, ABC, and CBS. Also note that away games against Big Ten and SEC teams are sometimes broadcast on the Big Ten and SEC Networks, respectively.
UCLA's Move to the Big Ten
UCLA's basketball teams will join the Big Ten for their 2024-25 seasons. Which TV channels will they be shown on there? Of course, the Big Ten Network will showcase several of their conference games. However, that network is not subdivided like the Pac-12 Network is, so numerous women's matchups and sporadic men's contests will likely be only available online through B1G+.
Other conference games and home non-conference tilts will be on CBS, NBC, Fox, and FS1 while a variety of outlets remain possible for away non-conference matchups.
How to Stream UCLA Bruins Basketball
The UCLA Bruins are a popular team so most live TV streaming services will allow you to watch at least some games. But given how important the Pac-12 Network is, we will only feature services that offer it.
Fubo (formerly FuboTV)

The Fubo Pro package starts at $74.99/mo and comes with ESPN, ESPN2, FS1, FS2, and CBS Sports Network. To get Pac-12 Network, you need the Fubo Extra ($7.99/mo) or Sports Plus ($10.99/mo) add-ons. It also includes all the local network affiliates and a great selection of general "cable" channels.
All Fubo plans come with 1,000 hours of cloud DVR storage and the ability to watch on up to 10 devices at the same time. For all the details, see our Fubo review.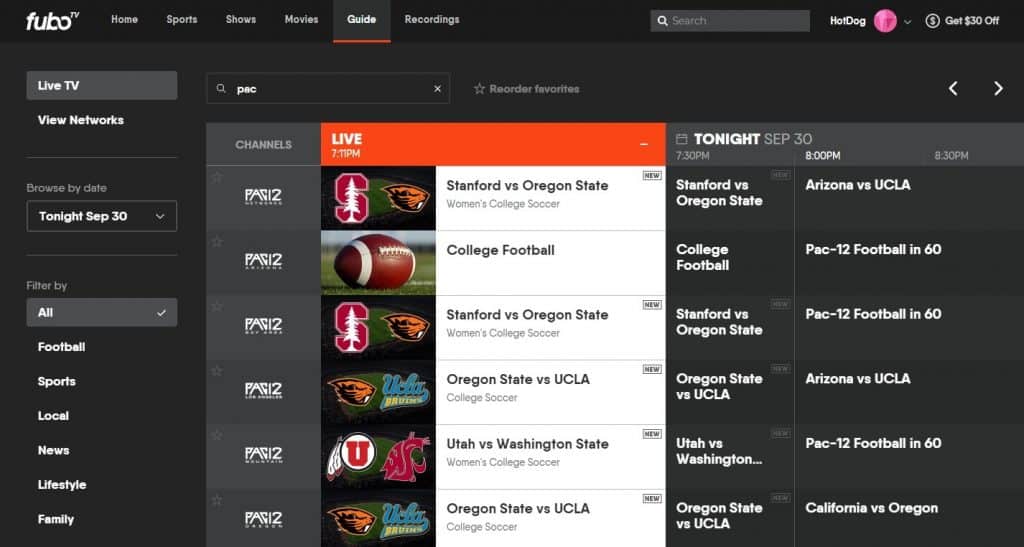 Sling TV

UCLA fans want to start with the Sling Orange package for $40.00/mo. It includes ESPN, ESPN2, and ESPN3 — the last of which allows you to watch all ABC Sports events live.
But you will want to add the Sports Extra add-on is $11/mo more. With it, you get Pac-12 Network channels as well as ESPNU and ESPNews. You also get the networks for ACC, Texas Longhorns, and SEC. And you get MLB Network, NBA TV, and NHL Network.
Sling TV also comes with 50 hours of cloud DVR storage. For more, see our Sling TV review. We also have a guide to March Madness coverage and schedule.
Vidgo

Vidgo provides a lot of channels for $69.99/mo. And they have you covered when it comes to college sports! You get over 100 total channels including these:
You also get ABC and Fox. And there are other sports channels like FS1, FS2, MLB Network, and NFL Network.
It allows you to watch on up to 3 screens at the same time. You must upgrade if you want a cloud DVR — and even then, it only offers 20 hours of storage. But it's still an excellent deal. For more information see our Vidgo review.
Other Streaming Services
These streaming services all offer an excellent selection of channels and unlimited cloud DVR storage. They just don't offer Pac-12 Network:
There are specialty streaming services that you may occasionally find Bruins games on. These include ESPN+ and Paramount+. But they aren't a major source of these games.
Devices to Live Stream Bruins Basketball
All the streaming services provide support for the biggest devices:
Amazon Fire TV
Android mobile
Android TV
Apple TV
Chromecast
iOS (iPhone, iPad)
Roku
Web browsers.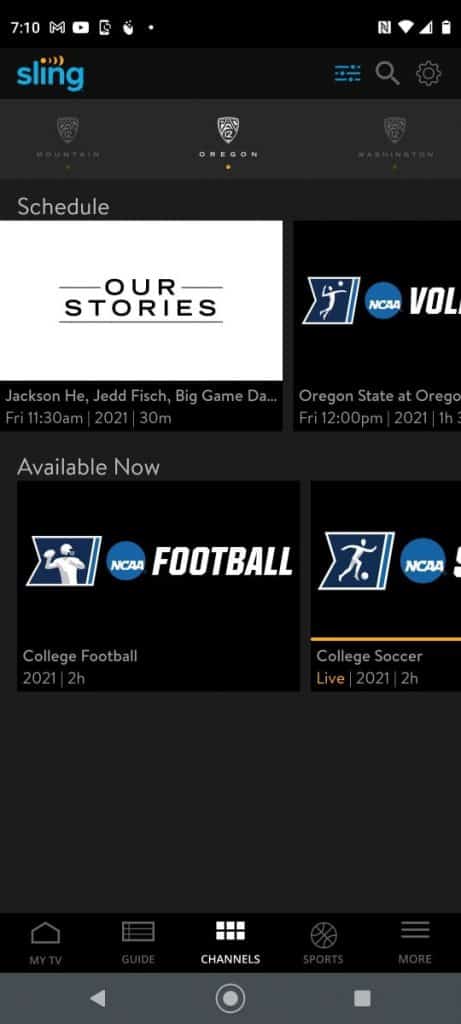 Sling TV and Fubo provide support for a number of other devices including LG, Samsung, and Vizio smart TVs and Xbox gaming systems.
UCLA Basketball
There has been a UCLA basketball team since the 1919-20 season, when the Southern Branch Cubs men's side went 12-2.
At that time, the school was named the Southern Branch of the University of California. It took the name of the University of California at Los Angeles in 1927 and the University of California, Los Angeles in 1958 while it is commonly known, academically and sports-wise, as UCLA.
The men's team has played its home games at Pauley Pavilion since right in the midst of the men's team's rise to prominence, in 1965. The facility, which had a capacity of 12,829, replaced the much smaller Men's Gym, which has a capacity of 2,000. (Pauley Pavilion currently seats 13,800.)
The school's biggest rivalry is with the cross-town USC Trojans; their campuses are separated by just 10 miles. Generally, the Bruins have the upper hand on the hardwood while their counterparts tend to be more successful on the gridiron. The men's team also has rivalries with Arizona and Notre Dame.
UCLA Men's Basketball
UCLA claimed its 10 championships in a 12-year span in 1963-64, 1964-65, 1966-67, 1967-68, 1968-69, 1969-70, 1970-71, 1971-72, 1972-73, and 1974-75 and added an 11th in the 1994-95 season. The Bruins advanced to the Final Four and not left it with a championship in 1961-62, 1973-74, 1975-76, 1979-80, 2005-06, 2006-07, 2007-08, and 2020-21 although their 1979-80 appearance was later vacated.
Some of the top players for the 2022-23 Bruins have included Jaime Jaquez Jr, Tyger Campbell, Adem Bona, and David Singleton.
2022-23 UCLA Bruins Men's Schedule
UCLA Women's Basketball
UCLA's women's program may not have quite the history that its male counterpart does, but it is a regular participant in March Madness and took the AIAW Tournament title in 1977-78. (The AIAW – Association for Intercollegiate Athletics for Women – handled women's intercollegiate sports then.)
This team's best NCAA Tournament runs came during the 1998-99 and 2017-18 seasons, when the Bruins advanced to the Elite Eight.
The 2022-23 team is hoping to be the first in school history to advance to the Women's Final Four. That side has been led by Charisma Osborne, Kiki Rice, Emily Bessoir, and Gina Conti.
2022-23 UCLA Bruins Women's Schedule
Wrapping Up
UCLA is one of those basketball schools that garner lots of viewers regardless of if the viewer is a fan of the team or not. Not only are the basketball teams put out by the institution generally amongst the country's best, but UCLA just has a name value within this sport that is rare.
As a result, interest in watching the school's games is high as fans head to channels such as the Pac-12 Networks, ESPN, and CBS to see how the Bruins will fare against their next opponent.
We recommend Fubo for Bruins fans. Try it free now!
FAQs
How can I watch the Pac-12 Networks for free?
You generally cannot watch any of the Pac-12 Networks for free unless you are outside the US as the main channel is live-streamed on YouTube in some countries. However, those based in the US can take advantage of Fubo, which offers a free trial.
Why is UCLA moving to the Big Ten?
The real reason why UCLA moved to the Big Ten appears to be money, which likely surprises no one. More to the point, the athletics department was seriously considering cutting numerous sports – obviously not basketball – in an attempt to get a handle on the massive debt that it had been suffering from. Taking advantage of the Big Ten's television deal has allowed UCLA to get a handle on its finances.
Where can I watch the UCLA-USC game?
Those looking to watch the big rivalry basketball game between UCLA and USC have a few options to check as far as which network will carry the contest. On the men's side, an ESPN-related channel is likely and was the case for both 2022-23 meetings; one was slated for ESPN with the other on ESPN2. On the women's side, the 2022-23 matchups were scheduled for the Pac-12 Network (the national stream) and Pac-12 Los Angeles.
How can I watch other NCAA basketball teams?
We've written guides for a number of teams:
Featured image cropped from UCLA defeated UCSB Nov 10, 2019 by Steve Cheng under CC BY-SA 2.0.
Page Updates
▼
▲
Added links to streaming services. Cross linking.

Added buttons for streaming services. Added some more links. Pricing updates. Misc changes to content.

Added links to streaming services. Added sub-section. Mentioned channel info. Updated some sub-sections. Updates to a section. Reworked one section.
Latest posts by Frank Moraes
(see all)