The 2023 NFL football season has begun! Get all the information in our NFL Guide!

And you can follow the whole season with Fubo. Try it free!
Huskies basketball fans can stream every game of their strong men's and women's teams. Keep reading to get all the information!
In a hurry? The UConn Huskies play most of their games on Fox Sports channels (especially FS1). Many women's games are on SportsNet New York, which can be streamed through the Fox Sports app with your account credentials from these streaming services:
Fubo: The best streaming service for international sports also provides 150+ well-selected channels. Fubo allows you to try out its service with a free trial.
DIRECTV STREAM: Get a great channel lineup with the best selection of RSNs in the industry. A 5-day free trial is now available for DIRECTV STREAM.
Sling TV: This low-cost service allows you to select just the channel lineup you want. Save 50% on your first month of Sling TV.
If you can't watch your favorite sports because of your location, get ExpressVPN to access the content you deserve.
Unfortunately, we don't know a streaming service in that covers this sport. But if you've already paid for the right service, and just can't watch because of your location, there is an easy way to get the content you deserve. You need a VPN, like one of the following.
| | | |
| --- | --- | --- |
| | ExpressVPN: Known as "The VPN that just works," it combines remarkable ease of use with with state-of-the-art power, speed, security, and privacy. Get three extra free months when you sign up for a year. Unleash your streaming with this top-rated VPN. | Sign Up Now |
| | Hotspot Shield: Connect to servers in 80+ different countries and 25+ US cities. HotSpot Shield features extremely fast servers and connections and is specially tuned for use with streaming services. And you can try it risk-free with a 7-day free trial and a 45-day money-back guarantee! | Sign Up Now |
| | CyberGhost: Great low-cost service with ultra-fast servers in 90+ countries for smooth live sports streaming. It also provides great security and privacy. See if it's right for you with a free 24-hour trial and test it out with a 45-day money-back guarantee. | Sign Up Now |
If you're overwhelmed and not sure where to begin, you'll find all the answers in our full VPN guide.
The University of Connecticut has, with few disagreeing, the most impressive basketball tradition in the country when men's and women's hoops are combined. Only seven men's programs have won four or more national titles, and UConn is one of those with four. Meanwhile, just two women's programs have that many titles; UConn has 11 while Tennessee has claimed eight. (UT has yet to win a national championship on the men's side.)
As a result, both of UConn's basketball teams receive widespread attention. With that said, unsurprisingly, that interest is most significant within the borders of the Constitution State.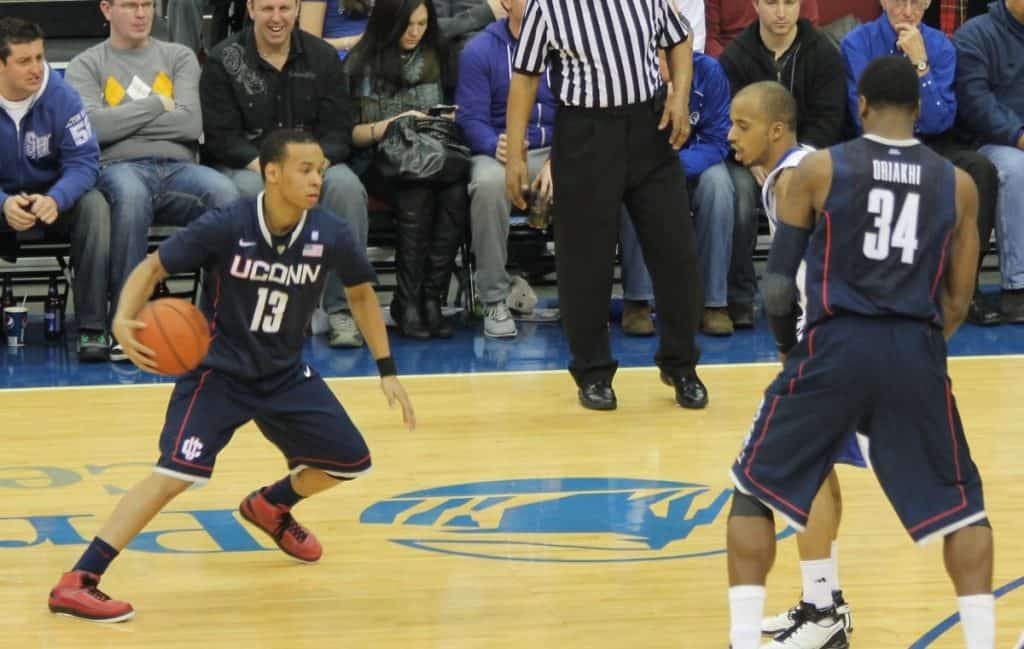 TV Channels to Watch UConn Huskies Basketball
For home regular-season games and all conference contests, including away ones, you can find UConn basketball games on channels such as Fox, FS1, FS2, and CBS Sports Network. In addition, a significant number of the school's women's games are on SportsNet New York (SNY), a regional sports network.
For both squads, non-conference games played away from home are broadcast by various networks, including ABC, ESPN, and ESPN2.
How to Stream UConn Huskies Basketball
Since the Huskies are such a popular team, most of their games air on Fox-related channels. And that means you have a lot of options to stream their games.
Note that all of the services allow you to watch UConn games that appear on SportsNet New York through the Fox Sports app using TV Everywhere.
Fubo

Fubo (formerly FuboTV) offers packages that start at $74.99/mo. For this, you get 130+ channels. They contain all the local and a wide range of "cable" channels. But as a sports-first streaming service, Fubo provides a lot of sports including CBS Sports Network (CBSSN), ESPN, ESPN2, FS1, FS2, as well as 20+ channels from the beIN Sports and TUDN networks.
All plans include 1,000 hours of cloud DVR storage and streaming on up to 10 devices at once. Get all the details in our Fubo review.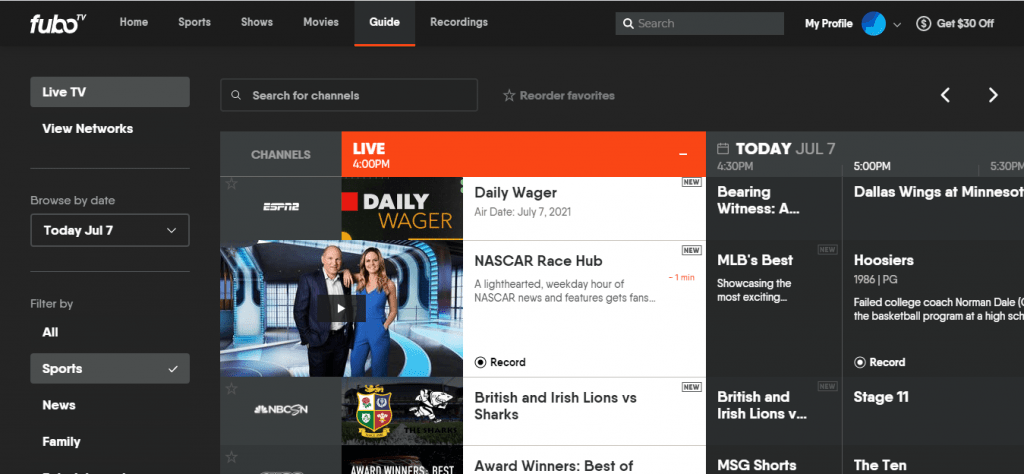 Sling TV

The Sling Blue package costs $40.00/mo and includes 40+ channels including Fox (select markets) and FS1.
Some Huskies games air on CBS/CBSSN. Sling TV does not offer these channels. You can supplement the service with Paramount+ for just $4.99/mo.
You also get 50 hours of cloud DVR storage and streaming on up to 3 devices at once. See our Sling TV review for more information. You can also check out our guide to March Madness coverage and schedule.
Vidgo

Vidgo is a great streaming service for NCAA fans. For $69.99/mo, you get 100+ channels including all the channels you need to watch the vast majority of Huskies games.
Like Sling TV, Vidgo does not offer CBS channels so you may need to supplement it with Paramount+.
You can stream on up to 3 screens at once. The based plan only includes a trial cloud DVR. You must upgrade to get it permanently.
Our Vidgo review has more information.
Other Streaming Services
These streaming services all offer an excellent selection of channels and unlimited cloud DVR storage:
You can also watch games that air on CBS and CBSSN with Paramount+. You may also be able to watch some games with ESPN+.
Devices to Live Stream UConn Basketball
The streaming services we've discussed support most of the major streaming devices. All of them support the following:
Amazon Fire TV
Android mobile
Android TV
Apple TV
Chromecast
iOS (iPhone, iPad)
Roku
Web browsers.
Sling TV and Fubo also support smart TVs from LG, Samsung, and Vizio. The Xbox gaming system is also supported.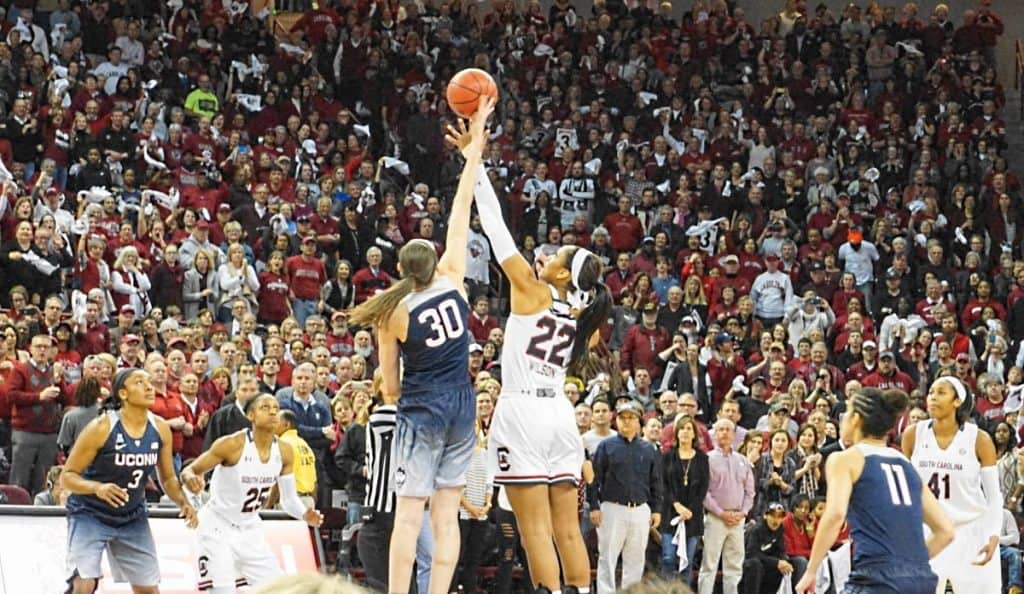 UConn Huskies Basketball
Competitive intercollegiate basketball games have been played on the University of Connecticut campus since 1901, when the school was known as Connecticut Agricultural College, and the athletics teams that played here were named the Aggies. The men's first game was that year while the women's squad headed out on the hardwood for the initial time in 1902.
As is the case most years, both the men's and women's teams are in the top 25 rankings.
Rivalries
UConn has a number of rivalries with most of them specific to a sport.
The primary exception to that is the one with Syracuse, a multi-sport rivalry that dates to their shared time in the Big East from 1979-2013. A couple of notable basketball meetings were a six-overtime affair at the Big East Men's Tournament in 2009, which Syracuse won by a 127-117 score, and a national championship game matchup in women's hoops in 2016, which UConn won with ease, 82-51. However, matchups are rarer now, after Syracuse left for the ACC in 2013.
Another significant rivalry for the men's team is with Georgetown. (Georgetown has not really been competitive in women's basketball.)
Meanwhile, one of the greatest rivalries in college sports as a whole is UConn's women's basketball rivalry with Tennessee. They met numerous times from 1995-2007 before picking it back up in 2020. Amongst those matchups were seven NCAA Tournament showdowns and four title game meetings.
UConn's women's team also has heated, quality rivalries with Notre Dame and Rutgers although it does not play the Scarlet Knights regularly anymore, ever since an NCAA Tournament meeting in 2015 a year after Rutgers left for the Big Ten.
Facilities
UConn's basketball teams are the exception to the general rule that teams have one main home venue. Instead, they split their home games between two arenas: the 9,882-seat Harry A. Gampel Pavilion on campus and the 16,294-seat XL Center, which is located in downtown Hartford 25 miles away. Both squads play roughly half of their home games at one of those facilities and the other half at the other.
UConn Men's Basketball
UConn's men's basketball team's high-water mark came in 1998-99, 2003-04, 2010-11, and 2013-14, the seasons when it claimed the national championship. The Huskies also reached the Final Four in 2009.
The Huskies are currently coached by Dan Hurley. He's in his fifth season there. His record in the first four seasons was 73-47 (61%). But the team is doing even better this season.
Its 2022-23 squad has been led by Adama Sanogo, Jordan Hawkins, Tristen Newton, Alex Karaban, Andre Jackson Jr, and Donovan Clingan. It reached as high as No 2 nationally before starting to struggle. Its troubles started with a road loss to 22nd-ranked Xavier on New Year's Eve.
2022-23 UConn Huskies Men's Schedule
Mon Nov 7: Stonehill College
Fri Nov 11: vs Boston University
Tue Nov 15: vs University at Buffalo
Fri Nov 18: vs UNC-Wilmington
Sun Nov 20: vs Delaware State University
Thu Nov 24: University of Oregon
Fri Nov 25: vs Alabama
Sun Nov 27: Iowa State University
Thu Dec 1: vs Oklahoma State
Wed Dec 7: at University of Florida
Sat Dec 10: vs LIU
Sat Dec 17: at Butler University
Tue Dec 20: vs Georgetown University
Wed Dec 28: vs Villanova University
Sat Dec 31: at Xavier University
Wed Jan 4: at Providence College
Sat Jan 7: vs Creighton University
Wed Jan 11: at Marquette University
Sun Jan 15: vs St. John's University
Wed Jan 18: at Seton Hall University
Sun Jan 22: vs Butler University
Wed Jan 25: vs Xavier University
Tue Jan 31: at DePaul University
Sat Feb 4: at Georgetown University
Tue Feb 7: vs Marquette University
Sat Feb 11: at Creighton University
Sat Feb 18 : vs Seton Hall University (Fox)
Wed Feb 22 : vs Providence College (FS1)
Sat Feb 25 : at St John's University (CBS)
Wed Mar 1 : vs DePaul University (CBSSN)
Sat Mar 4 : at Villanova University (Fox)
UConn Women's Basketball
The women's basketball program at UConn is unquestionably the elite in this sport. Its 11 national titles are comfortably ahead of Tennessee's eight. (The Lady Vols have the second-highest total.)
UConn's titles were won in 1994-95, 1999-2000, 2001-02, 2002-03, 2003-04, 2008-09, 2009-10, and four straight from 2012-13 to 2015-16.
The Huskies also made the Women's Final Four 11 other times. In fact, the program enters the 2022-23 campaign with a streak of 14 straight Final Four appearances.
Geno Auriemma has been head coach of the Huskies since 1985. Through last year, the team under his coaching has a record of 1149-150 — an almost unbelievable 88% winning percentage.
Leading the way with aspirations of 15 in a row are Aaliyah Edwards, Lou Sopez Senechal, Aubrey Griffin, Nika Muhl, Dorka Juhasz, and Azzi Fudd.
2022-23 UConn Huskies Women's Schedule
Thu Nov 10: Northeastern
Mon Nov 14: vs Texas
Sun Nov 20: vs NC State
Fri Nov 25: Duke
Sun Nov 27: Iowa
Fri Dec 2: vs Providence
Sun Dec 4: at Notre Dame
Thu Dec 8: vs Princeton
Sun Dec 11: at Maryland
Sun Dec 18: Florida State
Wed Dec 21: vs Seton Hall
Wed Dec 28: at Creighton
Sat Dec 31: vs Marquette
Tue Jan 3: at Butler
Thu Jan 5: at Xavier
Wed Jan 11: at St. John's
Sun Jan 15: vs Georgetown
Tue Jan 17: at Seton Hall
Sat Jan 21: vs Butler
Mon Jan 23: vs DePaul
Thu Jan 26: at Tennessee
Sun Jan 29: vs Villanova
Wed Feb 1: at Providence
Sun Feb 5: vs South Carolina
Wed Feb 8: at Marquette
Sat Feb 11: at Georgetown
Wed Feb 15 : vs Creighton (SNY)
Sat Feb 18 : at Villanova (Fox)
Tue Feb 21 : vs St John's (SNY)
Sat Feb 25 : at DePaul (Fox)
Mon Feb 27 : vs Xavier (CBSSN)
Wrapping Up
UConn has a pair of basketball programs that garner a tremendous amount of national interest, and many of those who would like to see them play want to find out what channels they are being broadcast on.
If you focus on Fox-related outlets, the main network and sports-oriented ones, you can watch most UConn games. Also secure access to ESPN, ESPN2, and ABC to gain even more access as well as all NCAA Women's Tournament matchups. For NCAA Men's Tournament contests, get CBS, TNT, TBS, and truTV.
FAQs
What is the UConn Sports Network?
The UConn Sports Network produces radio broadcasts of UConn men's and women's basketball games in addition to football and men's ice hockey matchups. It consists of five radio stations spread across Connecticut – its flagship is 97.9 ESPN – as well as online coverage on the Varsity Network's website and app and through UConn+.
What is UConn+?
UConn+, which was launched early in the 2022-23 Huskies basketball seasons, features "original and exclusive content" that is related to all UConn athletics programs. It also features live and archived radio coverage of basketball games and other sports events as well as access to coaches' shows.
What is SportsNet New York (SNY)?
SportsNet New York is a regional sports network that has a reach encompassing New York state as well as nearby areas, obviously including Connecticut. SNY broadcasts numerous UConn Huskies women's basketball matchups as well as about three-quarters of the games that the New York Mets play.
Where can I watch the UConn-Georgetown game?
If the UConn-Georgetown game is a men's matchup, it will be on FOX, FS1, FS2, or CBS Sports Network. Their two meetings during the 2022-23 regular season were both on FS1. On the women's side, it might be on SportsNet New York (SNY). That was the case for both regular-season meetings during its 2022-23 campaign.
Where can I watch other college basketball teams?
We have guides for many teams:
Featured image cropped from UConn vs Texas in the second round of the 2008 NCAA Women's Division I Basketball Tournament on March 25, 2008 by brent under CC BY 2.0.
Page Updates
▼
▲
Updated some sub-sections. Updated some section headings. Misc changes.

Added links to streaming services. More links.

Added buttons for streaming services. Updated some sub-sections. Updated one section. Changed some content in main section. Cleaned up list.
Latest posts by Frank Moraes
(see all)