Disclosure:
Your support helps keep our site running! We earn referral fees for some of the products & services we recommend.
Learn more
The 2022 WNBA season is here! Don't miss any of your favorite teams' games. You can watch them all without cable. In fact, that's the only way to watch them all.
In a hurry? Many regular-season and all post-season games air on ABC, ESPN, and ESPN2. All these services provide them and much more:
DIRECTV STREAM: Get all your local RSNs but national live channels with the Choice plan. A 5-day free trial is now available for DIRECTV STREAM.
FuboTV: Provides 100+ sports-heavy channels. FuboTV allows you to try out its service free for 7 days.
Hulu + Live TV: Get 85+ channels along with ESPN+ and Disney+.
The WNBA is the world's premier women's basketball league and is where top college stars and international players head in order to continue their craft. This competition has also been steadily gaining interest and prestige amongst that growing fan base ever since its inaugural season in 1997.
How can you watch the WNBA? For out-of-market fans, WNBA League Pass ($24.99/yr) is a purchase for you to consider. Otherwise, ensure that you have streaming access to ABC, ESPN, ESPN2, CBS, CBS Sports Network, Facebook Watch, Twitter, and Prime Video.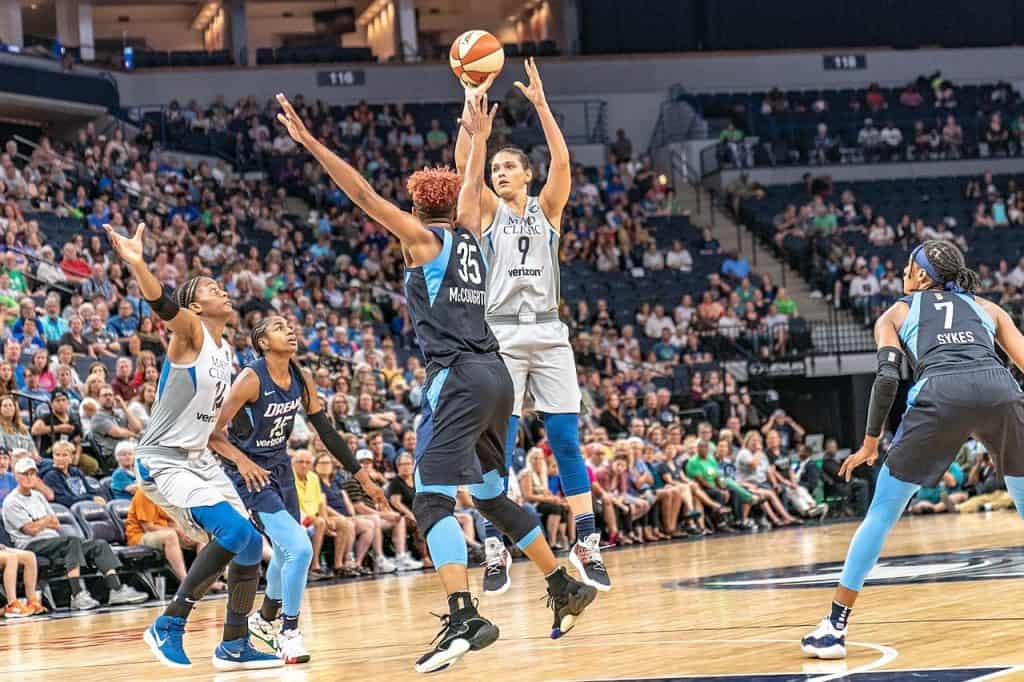 What Is the WNBA?
The WNBA had initially been created in 1996, a couple of months prior to the US national team claiming the gold medal at the Atlanta Olympics. The league began play a year later as a competing league with the American Basketball League. This ABL-WNBA competition resulted in the WNBA being the sole entity remaining after the ABL folded in 1998.
The WNBA was receiving and still continues to receive support from the NBA.
Some of its best players over the years have included Sue Bird, Diana Taurasi, Tamika Catchings, Tina Thompson, Tina Charles, Seimone Augustus, and Lisa Leslie.
Three teams have won four WNBA titles, the Seattle Storm, Minnesota Lynx, and the now-defunct Houston Comets. The sides that have lifted the trophy on three occasions include the Phoenix Mercury, Los Angeles Sparks, and Detroit Shock. The latter is a franchise that has since moved to Texas and is now known as the Dallas Wings. No other WNBA franchise has more than one title to its credit.
The league consists of 12 teams. Franchises not mentioned above, ones that have one or zero titles to their credit, include the Atlanta Dream, Chicago Sky, Connecticut Sun, Indiana Fever, Las Vegas Aces, New York Liberty, and Washington Mystics.
Regular Season and Postseason Structures
Each of the WNBA's clubs plays 36 games a season. Although the teams are divided into six-team Eastern and Western Conferences, that is mostly related to slight scheduling differences as the postseason teams are determined and seeded by their placements in the overall WNBA standings.
Prior to the league's 2022 season, the WNBA had been using a 1-1-5-5 playoff format, resulting in single-game playoff rounds the first two rounds and then more regular five-game series the final two. Also, the top two seeds enjoyed double-byes into the semifinals under that format.
However, extensive changes were implemented in 2022. Although eight teams are still qualifying for postseason play, they will all enter in the same round, so there are now three rounds instead of four.
And the first round will be comprised of three-game series, albeit with a slightly different format than is usually the case for three-game series. The higher seed will host the first two matchups. If there is a third contest, the lower seed will host it. In other words, a sweep will result in the lower seed not hosting a single playoff game.
Commissioner's Cup
The Commissioner's Cup, which was first held during the 2021 season, involves 10 regular-season games per team that double as Commissioner's Cup contests. Those 10 games consist of the first home and away matchups versus the other five teams in that franchise's conference. The best sides in the Eastern and Western Conferences after those contests have been played meet in a single game at a neutral site.
The Seattle Storm defeated the Connecticut Sun, 79-57, in the 2021 Commissioner's Cup's championship game, which was played in Phoenix.
WNBA All-Star Game
As is usual in US-based professional sports leagues, an All-Star Game is scheduled for the middle of the WNBA season. However, its format has changed over the years.
There is a normal matchup of all-stars from the Eastern and Western Conferences occurring in many editions. But there are also formats that include captains choosing their own teams and a single squad of WNBA all-stars taking on the US national team.
WNBA Draft
Since the WNBA is played under a summer schedule, the WNBA Draft takes place very soon after the NCAA Women's Final Four has occurred. This is a few weeks before the league's campaign starts.
A draft lottery is held to determine the first four selections, comprising the non-playoff teams from the previous campaign.
2021 WNBA Season
The 2021 regular season resulted in the Connecticut Sun claiming the best mark at 26-6. In second place were the Las Vegas Aces (24-8).
However, it was the sixth seed, the Chicago Sky (16-16), who stunned the playoff field by securing wins in all four postseason rounds. That included single-game victories over the Dallas Wings and Minnesota Lynx and 3-1 series wins over the Sun and Phoenix Mercury.
Where to Watch WNBA Games
WNBA games are broadcast and streamed through a variety of outlets.
Live TV Channels
The most significant channels broadcasting WNBA contests are ABC, ESPN, and ESPN2. That is because those three networks not only team up to show around 25 regular-season games each season but also the entire postseason, which adds on as many as 27 more contests to that selection.
Several other entities also broadcast regular-season games. These include CBS and CBSSN. The number of games on those two outlets reach around 40 with the vast majority of those on CBSSN. For the 2022 season, three contests were slated for CBS coverage.
NBA TV carries dozens of WNBA games every season as well.
The top live TV streaming services offer all the channels you need to follow the season:
FuboTV: This sports-heavy streaming service includes 110+ channels including everything from ABC Sports, CBS Sports, and ESPN. For $69.99/mo, you also get 1,000 hours of cloud DVR and streaming on up to 10 devices at once. (FuboTV review)
DIRECTV STREAM: Get all the base channels in its base plan with roughly 80 channels for $69.99/mo. This comes with unlimited cloud DVR storage as long as you sign-up online and streaming on up to 20 devices. You may want to upgrade to the Choice plan for $89.99/mo to get access to its unmatched collection of RSNs. (DIRECTV STREAM review)
Hulu + Live TV: Get a great 85+ channel lineup in addition to ESPN+ and Disney+ for $69.99/mo. It comes with an unlimited cloud DVR (9 month storage) but streaming on just two devices. (Hulu + Live TV review)
YouTube TV: Similar plan to Hulu's with more channels but without ESPN+ and Disney+ for $64.99/mo.
You can also watch most games (but none on CBS channels) with Sling TV and Vidgo.
Streaming Only
A couple of free online options include Facebook Watch and Twitter, the former showing around 20 contests a season and the latter featuring a couple of dozen.
Prime Video is the only place to watch around 15 games a season, including the Commissioner's Cup's championship game. In fact, about 10 of its broadcasts are connected with that competition.
Out-of-Market Games
WNBA League Pass ($24.99/yr) is what you want to get in order to watch all out-of-market broadcasts.
Of course, as with nearly all types of league passes, you need to be wary of blackout restrictions before you make a purchase. All nationally televised games are blacked out, which includes all playoff games.
However, it appears that blackout restrictions related to local broadcasts are limited. Also, you can watch all blacked-out games after they occur, usually with only a limited amount of time passing.
Its features include the ability to watch multiple games simultaneously and statistical overlays. If you are considering getting WNBA League Pass, note that it offers a seven-day free trial.
Also make sure to keep in mind that it auto-renews every season unless you ensure that the autorenewal box is not checked while signing up or change that setting later, before the next year's purchase has occurred.
Devices for Streaming WNBA Games
All the live TV streaming services and WNBA League Pass support the following devices:
Amazon Fire TV
Android mobile
Apple TV
Chromecast
iOS (iPhone, iPad)
Web browsers.
The live TV services support a number of other devices including Roku devices and Samsung smart TVs. Fubo, Hulu, and YouTube also support Android TV, LG, and VIZIO smart TVs and Xbox units. Hulu and YouTube support PlayStation consoles.
Wrapping Up
Are you looking to watch the WNBA, whether that involves catching a game here and there or you are a devoted fan looking to watch every contest played by your favorite team? If yes, we recommend FuboTV, which provides access to CBS, CBSSN, ABC, ESPN, ESPN2, and more.
Serious fans will probably also want to sign-up for WNBA League Pass.
Latest posts by Frank Moraes
(see all)