Don't miss Zhilei Zhang vs Joe Joyce for the WBO, WBC, IBF, and WBA welterweight titles this Saturday, Sep 23rd. It is available on Sky Sports!
Fans of boxing know just how hard it has been to watch their favorite sport without cable. But times have changed and with a little effort, you can cut the cord and not miss a thing.
In a hurry? If you don't want to dive into the details of watching boxing without cable, these services provide you with great access:
DAZN: Focused on a wide variety of sports, it offers great boxing coverage for $24.99/mo.
Hulu + Live TV: Get 85+ live TV channels along with ESPN+ for all the PPV boxing action.
ESPN+: Offering a wide array of sports, it also brings you great boxing coverage — all for just $9.99/mo!
Events air on multiple channels, but they are rarely on channels that you can get with a digital antenna. Boxing often airs on ESPN networks, Showtime, and other networks. All of these channels are available without cable. Increasingly, boxing events air exclusively on streaming services like DAZN and FITE TV.
If you're a cord-cutter you don't have to go without boxing. You just need to find the right service to watch your favorite sports. With that in mind, here are the best ways to watch boxing online without cable.
Where Is Boxing Being Shown
Boxing is available on a wide variety of channels and services. As a result, it is confusing to find the boxing you want. And the common use of pay-per-view (PPV) only makes things more complex.
General Boxing Coverage
You can see boxing anywhere sports are broadcast. For example, boxing at the 2020 Tokyo Olympics will be aired by USA. But mostly, the distribution of boxing comes via a small number of sources:
DAZN: although a general sports streaming service, in recent years they've focused on combat sports with a lot of exclusive boxing events.
ESPN: runs Top Rank boxing events on ESPN but primarily on ESPN+.
FITE TV: streams primarily combat sports with a lot of boxing.
Fox: airs Premier Boxing Champions events primarily on FS1 (simulcast on Fox Deportes) and sometimes on Fox itself.
Showtime: home for a lot of top boxing events.
PPV Boxing Coverage
A great deal of boxing still comes in the form of pay-per-view events. Interestingly, two of the best sources for boxing — DAZN and ESPN+ — do not provide PPV events.
The main ones that do are ESPN, FITE TV, and FOX.
Why Boxing Is Better Without Cable
If you have cable, you might not understand why people are leaving it in droves to sign up for streaming services. There are plenty of reasons why someone might leave cable for one (or more) streaming services.
Here are some of the top reasons:
Streaming is cheaper with plans as low as $5, depending on the service you want. Most services are much cheaper than the average $100+ cable bill.
Similar channel availability at a lower cost.
Watch TV live from anywhere with a device and an internet connection.
Stream on TV, mobile devices, or streaming devices that give you more options.
Most services offer on-demand libraries, DVR access (for free), and other perks.
Most services are all-inclusive – there are no hidden fees and with the exception of PPV events, everything in a package is included at no additional fees.
These are just some of the reasons why people are trying streaming. Remember, most of these services are available without contracts so you can sign up and cancel on your own schedule. Many services also offer a free trial, which means you can try many of these services without any risk or financial obligation.
Now let's look at the services that you can use to watch boxing online without cable!
How to Watch Boxing Without Cable
Boxing is available on a wide variety of channels and services. However, if you're looking for exclusive fights and access to the catalogs of the best fighters, you're going to want to check out the best streaming services.
ESPN+ With or Without Hulu Live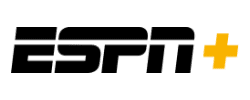 ESPN+ is a great choice for streaming sports on the cheap. Packages start at $9.99/mo. You get access to boxing, UFC, college sports, Olympics coverage, MLS, PGA, NFL, NBA, and most other sports.
But given you will also need live TV channels, we recommend getting Hulu + Live TV, which includes 85+ channels, the best on-demand library in the industry, Disney+, and ESPN+ itself — all for $69.99/mo!
You can watch live or on-demand content whenever you want. While this service is owned by ESPN, the content is different and exclusive to this service. So, even if you have access to ESPN, you'll find different programming here.
Here are some ESPN+ highlights:
Prices from $9.99/mo or $99.99/yr
Watch Top Rank Boxing, UFC, MLB, college sports, PGA, and more
The on-demand library features the 30 for 30 series, sporting events, and more
Stream on most devices including popular gaming consoles.
ESPN+ is one of the cheapest ways to enjoy sports without cable. You can watch live or on-demand and it only costs $9.99/mo. It's hard to beat that. You can stream ESPN on most devices, from the location of your choice. So, you can enjoy sports at home or on the go.
For more information, see our ESPN+ review and Hulu + Live TV review.
DAZN

DAZN is a sports-streaming service that features some of today's top fighters, MMA events, soccer, and more. You can stream DAZN on most devices. The price is $24.99/mo, which includes everything (no hidden fees or extra costs for premium content).
But if you are a boxing fan, you will want to sign up for DAZN for the year, because it only costs $224.99/yr — that's just $18.75 per month! In other words: you pay for 5 months and get the remaining 7 months free!
More details about DAZN:
Watch Matchroom USA, Golden Boy Promotions, Bellator, and more
Offers MMA and other combat sports (and more beyond that)
Plans from $24.99/mo
Watch live or on-demand
Watch on most streaming devices
More than 100 Fight Nights per year
Special events like the World Boxing Super Series
Cancel anytime.
No matter where you want to watch boxing, you'll be able to do it with DAZN as long as you have your device and a stable internet connection. You won't have to sign any contracts, so if you try it and it's not for you, you're free to cancel at any time.
Our DAZN review can tell you more.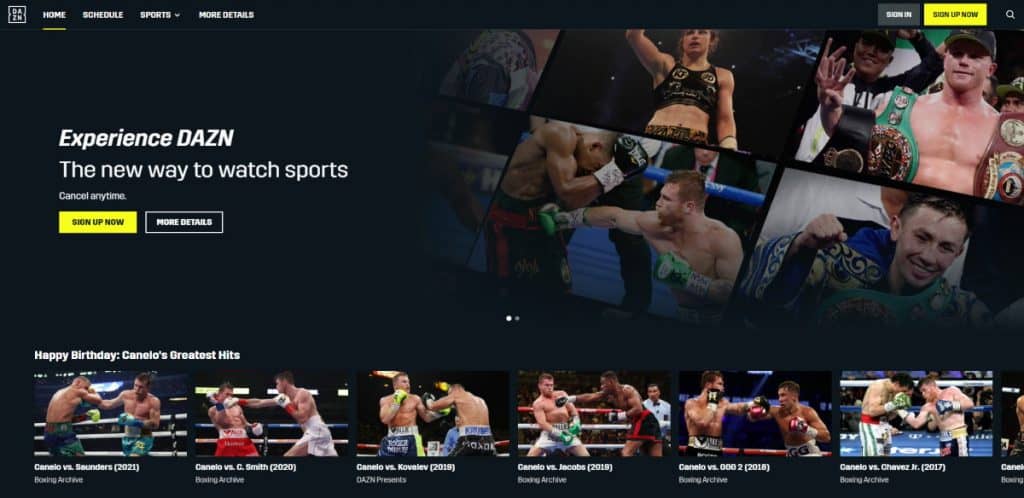 Sling TV

Sling TV is a low-cost live TV streaming service. Its Sling Orange plan includes 30+ channels including ESPN, ESPN2, and ESPN3 for just $40.00/mo. You can combine it with the Sling Blue plan for a total of $55.00/mo. That gives you 50+ channels including FS1 as well as the local affiliates for Fox and NBC in most areas.
What makes Sling TV standout regarding boxing is that it provides access to PPV events. This is a nice feature to have and goes along with Sling TV's commitment to integration — great for viewers who don't like switching from app to app.
Here are some of Sling TV's highlights:
Low price for a great selection of live TV
Huge number of add-ons allows you to get just the channels you want
Watch on up to 4 devices simultaneously with the Orange/Blue plan
Cloud DVR included with 50 hours of storage
Learn more in our complete Sling TV review.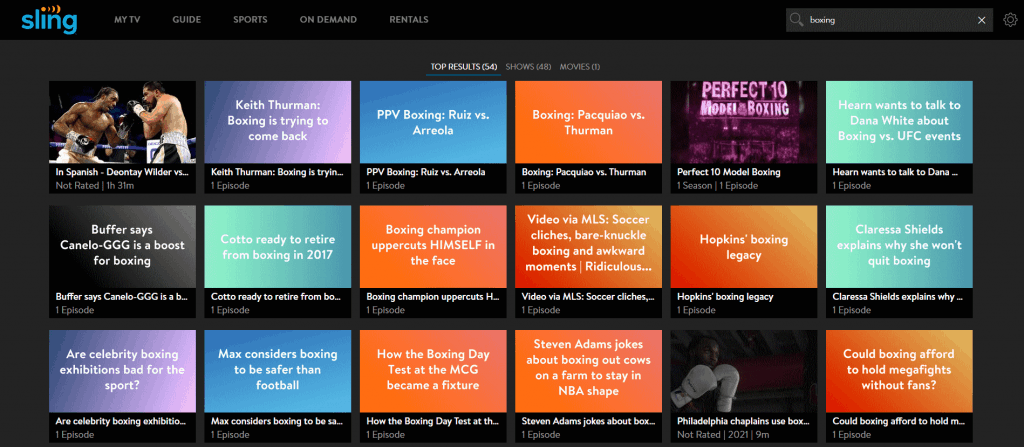 FITE TV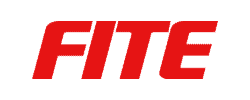 FITE TV is a sports-streaming service that specializes in combat sports (including boxing) as well as some other international sports. Everything is included in the monthly cost, other than the cost of PPV events. FITE TV provides subscribers with a $2 monthly credit toward PPV events if you decide to purchase any.
FITE TV costs $7.99/mo or $69.99/yr. Everything is commercial-free. Most content is available both live and on-demand.
More details about Fite:
Watch boxing, wrestling, MMA, soccer, and more
Plans start from $7.99/mo or $69.99/yr
Watch content live or on-demand
Stream using most mobile and streaming devices
Try FITE for free with a 7-day trial!
FITE is a great choice if you want to watch boxing. You'll also find soccer, international sports, and much more. Like the other services we've discussed, many of the fights shown here are exclusive to the service.
Best of all: you can cancel whenever you want, so if it's not for you, just cancel, and you won't be billed again.
Learn more in our Fite TV review.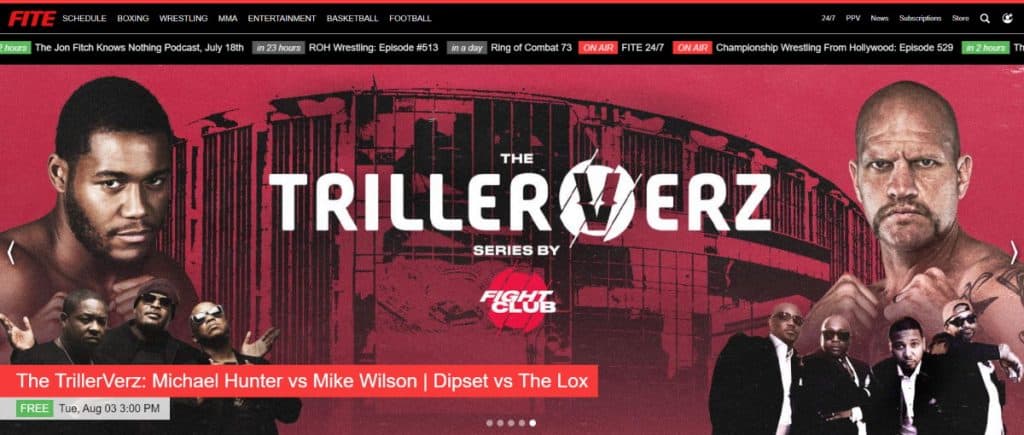 Other Ways to Stream Boxing without Cable
While the services listed above are some of the best ways to watch boxing, there are other services worth considering. Here are some additional options.
Watch Boxing on Your HD TV and Other Devices
Just because you abandon cable or satellite TV doesn't mean you have to watch while hunched over your laptop computer.
All of the streaming services we've discussed above support Samsung smart TVs as well as the main TV devices: Amazon Fire TV, Apple TV, and Roku. They also support Android mobile as well as iOS (iPhone, iPad) devices. Also supported is Chromecast, which allows you to stream from your service app directly to your TV.
Other than DIRECTV STREAM, everyone supports the Xbox One and Xbox Series. Both DAZN, ESPN+, and FITE TV also support the PlayStation. If you don't see your device listed, check with the streaming service.
Updating Boxing Matches
Sat Jul 1 : Jared Anderson vs Charles Martin (ESPN)
Sat Jul 8 : Eimantas Stanionis vs. Vergil Ortiz Jr. (DAZN) (Vergil Ortiz Jr. withdraws due to Hospitalization)
Sat Jul 8 : Luis Nery vs Froilan Saludar (ESPN+)
Sat Jul 8 : Jaron Ennis vs. Roiman Villa (Showtime)
Sat Jul 15 : Alycia Baumgardner vs Christina Linardatou (DAZN)
Sat Jul 22 : George Kambosos Jr. vs Maxi Hughes (ESPN)
Tue Jul 25 : Stephen Fulton vs Naoya Inoue (ESPN+)
Fri Jul 28 : Seniesa Estrada vs Leonela Yudica (ESPN+)
Sat Jul 29 : Terence Crawford vs Errol Spence Jr (Showtime)
Sat Jul 29 : Nonito Donaire vs Alexandro Santiago (Showtime)
Sat Aug 5 : Jake Paul vs Nate Diaz (DAZN)
Sat Aug 12 : Emanuel Navarrete vs Oscar Valdez (ESPN+)
Sat Aug 12 : Emmanuel Rodriguez vs Melvin Lopez (Showtime)
Sat Aug 12 : Anthony Joshua vs Dillian Whyte (DAZN)
Fri Aug 18 : Ionut Baluta vs Dennis McCann (TNT Sports)
Fri Aug 18 : Kurt Scoby vs Narciso Carmona (DAZN)
Sat Aug 19 : Artur Beterbiev vs Callum Smith (Postponed)
Sat Aug 19 : Galal Yafai vs Tommy Frank (DAZN)
Sat Aug 26 : Oleksandr Usyk vs Daniel Dubois (ESPN+)
Sat Aug 26 : Andrii Rudenko vs Jared Anderson (ESPN/ESPN Deportes/ESPN+)
Sat Aug 26 : Juan Jose Velasco vs Callum Walsh (UFC Fight Pass)
Sat Aug 26: Oscar Collazo vs Garen Diagan (DAZN)
Fri Sep 1: Willie Limond vs Ricky Burns
Sat Sep 2: Chris Eubank Jr vs Liam Smith (Sky Sports)
Sat Sep 2: Aaron Pryor Jr vs. Cleotis Pendarvis
Thu Sep 7: Courtney Pennington vs Raul Curiel (DAZN)
Fri Sep 8 : Steve Claggett vs Carlos Sanchez Valadez (ESPN+)
Sep 9 : Alexis De Luna vs Rigoberto Hermosillo (Fox Espanol)
Fri Sep 15 : Joet Gonzalez vs Luis Alberto Lopez (ESPN)
Fri Sep 15 : Ramon Cardenas vs Rafael Pedroza (Showtime)
Fri Sep 15: Dusty Hernandez Harrison vs Ronald Montes (Fite TV)
Fri Sep 15: Erika Cruz Hernandez vs Melissa Oddessa Parker (DAZN)
Sat Sep 16 : Mercito Gesta vs William Zepeda Segura (DAZN)
Mon Sep 18: Hekkie Budler vs Kenshiro Teraji (ESPN)
Sat Sep 23 TBD: Zhilei Zhang vs Joe Joyce (TBD)
Sat Sep 23 : Jose Zepeda vs Richardson Hitchins (DAZN)
Fri Sep 29 : Branden Pizarro vs. Esteban Garcia
Fri Sep 29: Angel Hernandez vs. Pierre Hubert Dibombe
Sat Sep 30 TBD: Saul Alvarez vs Jermell Charlo (Showtime PPV/DAZN)
Sat Sep 30: Caroline Dubois vs. Magali Rodriguez (Sky Sports)
Sat Oct 7 TBD: Josh Warrington vs. Leigh Wood (DAZN)
Sat Oct 7 TBD: Gilberto Ramirez Sanchez vs. Joe Smith Jr (DAZN)
Sat Oct 14 TBD: Tommy Fury vs. KSI (DAZN)
Sat Oct 14 TBD: Janibek Alimkhanuly vs. Vincenzo Gualtieri (ESPN)
Sun Oct 15: TBD
Sat Oct 21 : Jorge Linares vs. Jack Catterall (DAZN)
Sat Oct 21: Joshua Buatsi vs. Dan Azeez (Sky Sports)
Sat Oct 28 TBD: Tyson Fury vs Francis Ngannou PPV (TBD)
Sat Oct 28 TBD: Regis Prograis vs. Devin Haney (DAZN)
Sat Nov 18 TBD: Marcelo Esteban Coceres vs. Diego Pacheco (DAZN)
Sat Nov 25 TBD: Katie Taylor vs. Chantelle Cameron (DAZN)
Sat Dec 16 : Sunny Edwards vs. Jesse Rodriguez (DAZN)
Sat Jan 13 TBD: Artur Beterbiev vs. Callum Smith (ESPN)
Wrapping Up
All of the services you've learned about here are excellent ways to watch sports without cable. DAZN, ESPN+, and Fite are all great ways to watch boxing, but they offer other sports, too. Each service offers exclusive fights.
You might find that one service is right for you, or you might want to opt for a combination of services to get access to as many events as possible. No matter what you choose, there are multiple options available to allow you to watch boxing without cable.
We recommend Hulu + Live TV, which includes ESPN+, for all boxing fans. Try one month for $69.99.
FAQs
Will there be women's boxing at the 2020 Olympics?
There will be women's boxing at the 2020 Olympic Games. Although women have been competing in various Olympic sports since the 1900 Games, they only started participating in boxing as of 2012. The 2020 Olympics will feature the usual 13 events, but they have reduced the men's events to 8 weight classes and increased the women's to 5.
Why wasn't boxing at the 1912 Olympics?
Boxing has been a mainstay of the Summer Olympics since they first started at the 1904 Games. But in 1912, there was no boxing. This is because the Games were held in Stockholm, Sweden. Boxing was banned in the country. In fact, it only ended its most recent ban in 2007 and the sport remains highly regulated to this day.
Can you watch boxing on Amazon Prime?
Amazon Prime offers UCF PPV but they don't appear to offer boxing at this time. You can, however, watch boxing on Amazon Prime through the Showtime Channel. It costs $10.99/mo for Prime members. Note that you can get Showtime for the same price through most live TV streaming services like Fubo.
How can I watch the fight tonight without cable?
If there is a boxing match tonight, it is almost certainly streaming on one of the major services: DAZN, ESPN+, FITE, FS1, or Showtime. You can check their schedules. There are also many websites that publish lists of upcoming events including where they will air. The most notable is Box.Live.
Which app can I watch boxing on?
There are a lot of TV streaming apps around that are of questionable legality. Any time you see an app that promises that you can stream hundreds of channels for free, it is almost certainly illegal or some kind of scam. You can get apps like Kodi that allow you to stream boxing matches that you have access to.
All the streaming services provide their own apps. They are all well-designed, slick, and easy to use. See DAZN, ESPN+, and FITE TV for more details.
Does Hulu have boxing?
The base Hulu + Live TV offers live TV channels like ESPN and FS1, which air boxing. But you can also get the ESPN+ add-on with Hulu, which will greatly increase your access to boxing. You can get it alone or as part of the Disney bundle.
Page Updates
▼
▲
Added pricing. Updated some sub-sections. Updated some section headings. Reworded some things.

Added links to streaming services. Added sub-section. Updated some sub-sections. Pricing updates. Cross linking. Cleaned up list.

Pricing updates. Image changes.

Added buttons for streaming services. Pricing updates. Added some links.

Image changes. Pricing updates. Put related links.

Updated some sub-sections. Updated some section headings. Image changes.

Added table of contents. Added new section. Added links to streaming services. Updated some sub-sections. Updated one section. Updates to a section. Deleted unneeded sub-section.

Updates to a section. Updated one section. Added some links.
Latest posts by Frank Moraes
(see all)