Check out what's coming up in 2023 for cricket world-wide — or specifically the history-making, hugely popular IPL 2023 and its top teams going on now through the end of May — on Sling TV!
One of the most popular sporting events in the world, the ICC Cricket World Cup, will be held starting in October 2023. But even before that, there's plenty of great ODI cricket matches to watch. Read on to learn how to watch it all live in the US and elsewhere.
In a hurry? Get complete cricket coverage with Willow TV. You can get Sling Orange with the World Sports Mini add-on for $45/mo. This gives you 30+ live TV channels plus Willow, Willow Xtra, 3 beIN Sports channels, and Premiere. Save 50% on your first month of Sling TV.
You have many options. Read on to learn about them all.
The ICC Men's Cricket World Cup is one of the world's most popular sporting events. This is helped by the sport's massive popularity in some of the world's largest countries, including India, Pakistan, and Bangladesh.
For example, a meeting between India and Pakistan in 2015 was reported to have been viewed by 1 billion people. In addition, this event is popular elsewhere in and near the Indian subcontinent and in Australia, New Zealand, South Africa, the West Indies, and the UK.
The Cricket World Cup has also been gaining in popularity in the US. Of course, it already had a solid following from those who have ties to countries where the sport is widely played and watched. But an increasing number of Americans without those ties are becoming interested in major events such as this one.
The US national team has never participated in a Cricket World Cup. However, the American side has played a significant role in the history of the sport, taking part in its first international, against Canada in 1844.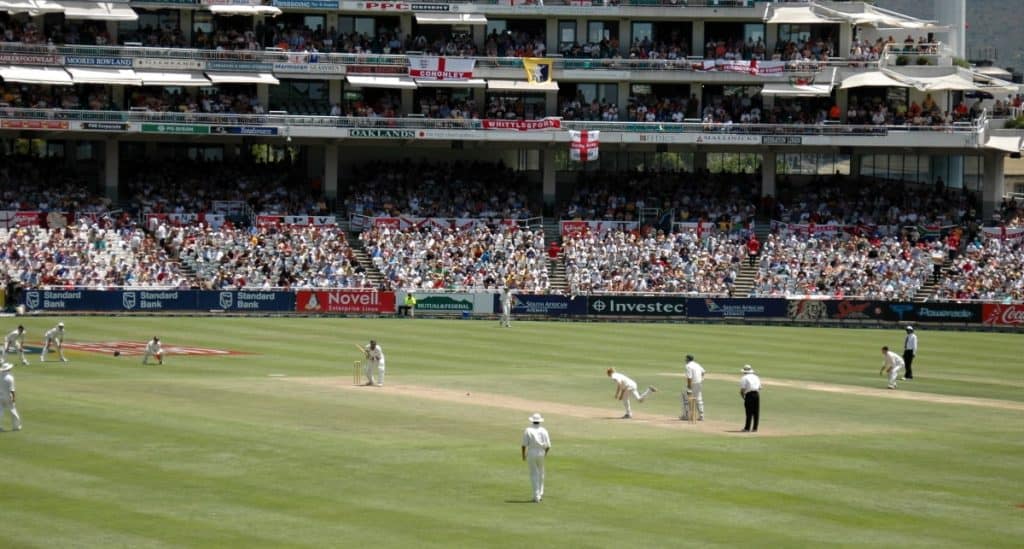 ICC Men's Cricket World Cup
The first thing to know about the ICC Men's Cricket World Cup is that all of its matches are One Day Internationals (ODIs). Those contests last around eight hours, including breaks.
So they are shorter than the days-long Test matches that are often scheduled between top countries, such as the Ashes between England and Australia. They are also longer than the Twenty20 (T20) version of the sport. Those matches are about three hours long. They have been steadily gaining in popularity since their creation in 2003.
History
The inaugural Cricket World Cup was held in 1975. Unsurprisingly, it was played in the birthplace of the sport: England. However, it was not the English side that prevailed.
Australia eased past the hosts in the first semifinal while the West Indies eliminated New Zealand in that round's other matchup. The Caribbean-based team then prevailed in the final over Australia, which was contested at London's historic Lord's Cricket Ground. England's opening match was also played at that famous venue.
After the West Indies won again in 1979, the trophy was passed around with four different countries winning the next four editions: India (1983), Australia (1987), Pakistan (1992), and Sri Lanka (1996).
The Aussies then became a dynasty with a three-peat, which included wins in 1999, 2003, and 2007, before claiming another in 2015. India won the 2011 edition while England finally won one in 2019, which came in dramatic fashion, after the first Super Over against New Zealand in Cricket World Cup history.
A major rule change was put in effect for the 1987 Cricket World Cup. Prior to that point, each inning had consisted of 60 overs. That number was reduced to 50 at that time, and that is where it has remained ever since.
Cricket World Cup Qualifying
No qualifying took place for the inaugural 1975 Cricket World Cup. The squads were chosen either through status as a full ICC member — six sides got in via that route — or through being invited — Sri Lanka and East Africa entered the competition that way.
From the 1975 edition through 2019, the majority of participating teams were chosen due to either their membership or their spots in international rankings with qualifying competitions determining the final entrants.
That process changed for the 2023 competition. Other than any host countries, all teams will need to qualify for the event. This will be predominantly done through the ICC Cricket World Cup Super League with a Cricket World Cup qualifier event that follows determining the final teams.
This is a long process with the former competition running from 2020-23 and the latter taking place in 2023.
Not All Participating Squads Are National Teams
One of the ways that the Cricket World Cup is different from other major world sports events, such as soccer's World Cups, rugby's World Cups, and the multi-sport Olympics, is it involving a team that does not represent a country or territory but instead a multi-country region.
Players from several Caribbean countries are eligible to play for the West Indies cricket team. These include Anguilla, Antigua and Barbuda, Barbados, British Virgin Islands, Dominica, Grenada, Guyana, Jamaica, Montserrat, Saint Kitts and Nevis, Saint Lucia, Saint Vincent and the Grenadines, Sint Maarten, Trinidad and Tobago, and US Virgin Islands.
Although the team has not played in the final since 1983, it has participated in every Cricket World Cup that has been contested making the quarter-finals several times and the semi-finals twice.
A former example of this type of team was the East Africa cricket squad, which existed from 1958 to 1975. It represented Kenya, Tanzania, Uganda, and Zambia and played at the 1975 Cricket World Cup.
2023 ICC Men's Cricket World Cup
The 10-team 2023 Cricket World Cup has been scheduled for October and November of that year. India will serve as the home country. Seven participants will qualify through their Cricket World Cup Super League results while the other three will come from the World Cup qualifier that follows it.
The World Cup qualifier will involve the bottom five teams not counting India from the former competition, three sides from the Cricket World Cup League 2, and two countries from the League 2-Challenge League playoff tournament.
Unblock Your Favorite Events & Teams With a VPN
If you can't watch your favorite events or teams because of your location, a VPN will allow you to get the access you are entitled to, plus extra security and unequalled privacy. Check out our VPN Guide for everything you need to know, including our top pick ExpressVPN.
How to Watch the Cricket World Cup
In the US and Canada, the Cricket World Cup is expected to be televised on Willow TV.
Those looking to catch the action from the UK or New Zealand will most likely need to head to Sky Sports. Aussies should be able to watch games on Fox Cricket. Those in what many view as the hotbed of the sport, India, can expect to watch all of the action on Star Sports.
Streaming the Cricket World Cup
Fortunately, Americans can expect to have two options for streaming the ICC Men's Cricket World Cup.
Sling TV

The simplest Sling TV option is getting its Willow Cricket package for $10/mo or $60/yr, which includes Willow and Willow Xtra. But you can also get those channels and several others for the same monthly price.
One way is through its World Sports plan, which includes beIN Sports, beIN Sports en Espanol, beIN Sports Connect, and Premiere in addition to those channels. Or you can get its Urdu Pack ($10/mo), which features channels such as Geo TV, ARY Digital, and TV One, and you would get its World Sports plan minus Premiere for free.
The Urdu Pack is just the tip of the iceberg when it comes to language-specific plans that cover cricket. There are also plans for speakers of Bangla, Hindi, Kannada, Malayalam, Punjabi, Tamil, and Telugu. They range in price from $10/mo up to $44.99/mo for the Hini Mega, which includes 27 channels.
If you decide to get the Sling Orange plan, which includes channels such as ESPN, ESPN2, TBS, and TNT and costs $40.00/mo, you would receive the World Sports or Willow Cricket plan for half price: $5/mo.
You can get more information in our Sling TV review.
Willow

Willow TV can be subscribed to directly for $9.99/mo or $60/yr. This provides you with Willow and Willow Xtra.
Unless you viewing is focused only on cricket, you are probably better off getting these channels through Sling TV.
ESPN+

The cheapest option available to you to watch the Cricket World Cup is subscribing to ESPN+ for $9.99/mo (for Hulu, Disney+, ESPN+ for $13.99/mo). ESPN+ is expected to stream every game of the competition.
ESPN+ also features other major cricket competitions, including the T20 World Cups and Indian Premier League. And, of course, it provides varied non-cricket sports programming.
You can subscribe to ESPN+ directly, or you can get Hulu + Live TV and all of its 85+ live TV channel offerings for $69.99/mo. This price includes access to ESPN+ and Disney+.
For more information read our ESPN+ review.
Non-US Options
The ICC Men's Cricket World Cup will also be available for viewing through various streaming services around the world. For example, NOW TV and Sky Go are expected to offer this competition to those based in the UK and Ireland.
Hotstar should be doing the same in Canada and India. Meanwhile, those in Pakistan, Bangladesh, Sri Lanka, and Afghanistan will need to use Yupp TV. Aussies can use Kayo Sports or Foxtel GO. Sky Sport Now provides streaming access to games for New Zealanders.
Devices to Live Stream the Cricket World Cup
Most lickly, you are already using a device that is supported by the streaming services we disucssed:
Amazon Fire TV
Android mobile
Android TV
Apple TV
Chromecast
iOS (iPhone)

Roku

Samsung smart TVs
Xbox One

Web browsers.
PlayStation gaming systems are supported by ESPN+ (v 4 only) and Hulu (v 3, 4, and 5). Hulu and Sling support LG smart TVs. Other devices are also supported to one degree or another. See our reviews for details.
Superpower Your Streaming With a VPN
For the sake of privacy, security, and access, you should be using a VPN. They are low-cost and easy to use. We've been using them for years and our top pick is ExpressVPN. Be sure to check out our deals page on ExpressVPN, NordVPN, SurfShark and PureVPN.
Summing Up
The ICC Men's Cricket World Cup is one of the world's most anticipated and watched sporting events, and you should be able to stream all of the action.
Those based in the US can stream Willow directly or through Sling TV for as little as $5/mo. Or you can watch via ESPN+ (directly or through Hulu) for as little as $9.99/mo. Both are expected to carry the competition in full.
FAQs
When is the Cricket World Cup?
The exactly date of the ICC Cricket World Cup has not been set but it will start in October 2023. The event is held every four years and has stuck to this schedule for most of its run, the exceptions being a stretch that included events in 1987, 1992, 1996, and 1999.
It is usually held in the Northern Hemisphere's spring, which was also the initial plan for the 2023 edition before that got pushed to the fall.
How can I watch other cricket events?
Check out our other cricket guides:
How many teams participate in the Cricket World Cup?
The Cricket World Cup has never had more than eight or fewer than 16 teams take part. Its smallest events were in 1975, 1979, 1983, and 1987. Its lone 16-team competition took place in 2007. That number was ultimately reduced to 10 for the 2019 edition while 14 will take part in 2027.
Who has won the most Cricket World Cups?
Australia has won the most Cricket World Cups with 5. After them, West Indies and India have both won 2. And Pakistan, Sri Lanka, and England have all won one each.
1975: West Indies
1979: West Indies
1983: India
1987: Australia
1992: Pakistan

1996 Sri Lanka
1999: Australia
2003: Australia
2007: Australia

2011: India
2015: Australia
2019: England.
What were the results of the 2019 Cricket World Cup?
May 30 : England vs South Africa
May 31 : West Indies vs Pakistan
June 1 : New Zealand vs Sri Lanka
June 1 : Afghanistan vs Australia
June 2 : South Africa vs Bangladesh
June 3 : England vs Pakistan
June 4 : Afghanistan vs Sri Lanka
June 5 : South Africa vs India
June 5 : Bangladesh vs New Zealand
June 6 : Australia vs West Indies
June 7 : Pakistan vs Sri Lanka (CANCELED)
June 8 : England vs Bangladesh
June 8 : Afghanistan vs New Zealand
June 9 : India vs Australia
June 10 : South Africa vs West Indies (ABANDONED)
June 11 : Bangladesh vs Sri Lanka (CANCELED)
June 12 : Australia vs Pakistan
June 13 : India vs New Zealand (ABANDONED)
June 14 : England vs West Indies
June 15 : Sri Lanka vs Australia
June 15 : South Africa vs Afghanistan
June 16 : India vs Pakistan
June 17 : West Indies vs Bangladesh
June 18 : England vs Afghanistan
June 19 : New Zealand vs South Africa
June 20 : Australia vs Bangladesh
June 21 : England vs Sri Lanka
June 22 : India vs Afghanistan
June 22 : West Indies vs New Zealand
June 23 : Pakistan vs South Africa
June 24 : Bangladesh vs Afghanistan
June 25 : England vs Australia
June 26 : New Zealand vs Pakistan
June 27 : West Indies vs India
June 28 : Sri Lanka vs South Africa
June 29 : Pakistan vs Afghanistan
June 29 : New Zealand vs Australia
June 30 : England vs India
July 1 : Sri Lanka vs West Indies
July 2 : Bangladesh vs India
July 3 : England vs New Zealand
July 4 : Afghanistan vs West Indies
July 5 : Pakistan vs Bangladesh
July 6 : Sri Lanka vs India
July 6 : Australia vs South Africa
Semi-finals
July 9 : New Zealand vs India
July 11 : Australia vs England
Final
July 14 : New Zealand vs England
Note that the Final ended in a tie but England had more boundaries and so won the Cup.
Ditch "Big Cable" Now – 3 Simple Steps to Cut the Cord
Pick the right streaming service
Get the content you deserve with the best VPN.
Supercharge your internet provider
That's it — you'll save money, take back control, and enjoy TV more!
Page Updates
▼
▲
Put related links. Misc changes.

Updated some sub-sections. Updated some section headings. Linking.

Added buttons for streaming services. Added sub-section. Pricing updates. Changed a few bits of content.

Image changes. Additional links. Misc content updates.

Added info about guide. Put related links.

Added buttons for streaming services. Pricing updates. Image changes. Added links.

Updated some sub-sections. Updated some section headings. Additional links.
Latest posts by Frank Moraes
(see all)