England beat Pakistan in front of 80,000 fans to win the ICC Men's T20 World Cup 2022. The next event is coming in June 2024. Get prepared now!
In a hurry? The best way to get Willow TV is through Sling TV. You can get it for just $7/mo or $60 for a whole year. But if you want more than just Willow, there are 19 different options to get it with other TV channels with a staggering variety of sports and entertainment.
You can get World Sports alone for $10/mo.
The earliest recorded mention of cricket is from the 1500s, and matchups over the next few centuries, into the 20th, would generally last days. However, that started changing in 1963. That happened in England, where the sport is believed to have been invented. That was when the first recorded limited-overs games were played.
Limited overs cricket had intrigued both those responsible for organizing cricket events (the ones making money from them) as well as spectators. Both groups of people tended to enjoy seeing more live cricket matches in shorter periods of time.
One Day Internationals (ODIs) were first played in 1971. This reduction in time needed to play and watch was then taken to another level in 2003. This is when the initial Twenty20 (T20) game was contested.
It was limited to 20 overs rather than the 50 overs that are used in ODIs and at the Cricket World Cups. As a result, T20 games would last about three hours instead of eight hours or five days, the latter being the case for Test matches.
One place where shorter games have increased interest in the sport is the US. But it hasn't been limited to places where there is little interest in cricket. Major cricket-loving countries have also embraced T20 games.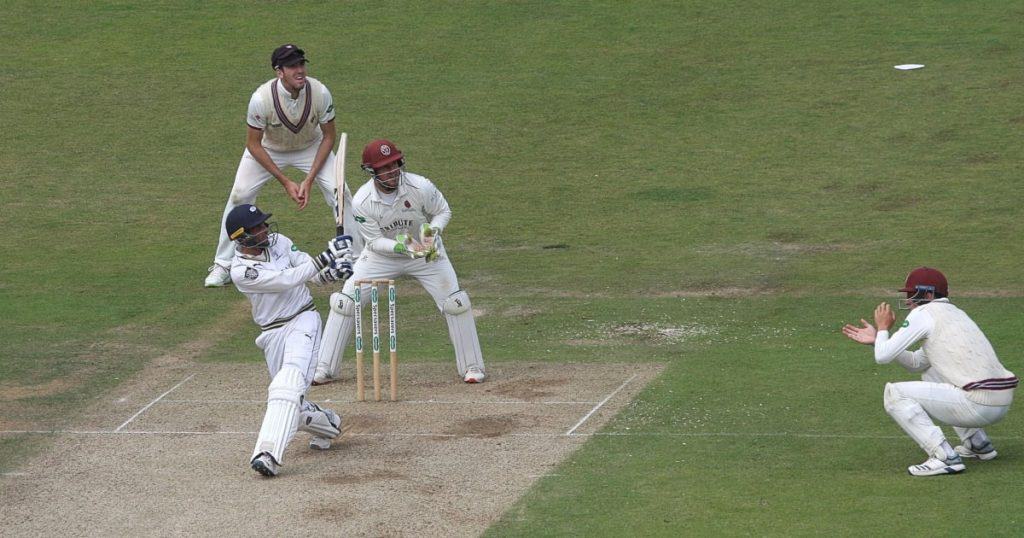 Men's T20 World Cup Channels
How can you watch all of this action? It depends on where you are situated when the matches are being played. Those in the US can expect extensive coverage on Willow and Willow Xtra while fans in Canada should tune into Willow Canada.
In the historic home of cricket, the United Kingdom, the games will be shown on Sky Sports. The same is true for those in New Zealand. Conversely, Aussies looking to cheer on their side when they host the 2022 competition should head to Fox Sports.
Meanwhile, many of those in and near the Indian subcontinent will tune into Star Sports as that is the channel broadcasting games to fans in India, Bangladesh, Maldives, Nepal, and Bhutan. Those in Pakistan should head to PTV Sports while RTA will broadcast live cricket matches in Afghanistan.
South Africa and most other African countries can see the matchups on SuperSport. ESPN will carry the action to the Caribbean countries that comprise the West Indies team.
Streaming the Men's T20 World Cup 2022
If you are situated in the US, you have two main options for streaming Men's T20 Cricket World Cup matches.
Willow/Sling TV
You can subscribe to watch both Willow and Willow Xtra through its website for $9.99/mo or $60/yr. This may be the way to go if you are a big cricket fan and really don't watch anything else. You can watch a lot more than just T20!

A better option is to get access to Willow and Willox Xtra through Sling TV. This can be done for virtually the same price: $10/mo or $60/yr. With that said, you should consider some of its other options, particularly the ones that offer Willow and Willow Xtra with additional TV channels for the same monthly rate of $10.
For example, the Urdu Pack may be of interest to you. For $10/mo, you will receive 19 channels, including Willow, Willow Xtra, ARY News, Geo TV, Hum TV, beIN Sports, and beIN Sports en Espanol. Or you can get its World Sports package, which includes Willow, Willow Xtra, beIN Sports, beIN Sports en Espanol, beIN Sports Connect, and Premiere for $10/mo.
Meanwhile, an option that many take advantage of is a package deal that combines the Sling Orange plan ($40.00/mo) with its World Sports package at half price ($5/mo).
In total, there are 19 different package deals that include Willow and Willow Xtra. These include language-specific packages. Besides Urdu, there are packages that focus on Bangla, Hindi, Italian, Kannada, Malayalam, Punjabi, Tamil, and Telugu.
ESPN+

ESPN+ ($9.99/mo) has also greatly increased its broadcast rights to cricket as it moves to be an ever more well-rounded outlet for viewing sports events, both domestically and internationally. This was partially done through securing the rights to stream ICC World Cups, including the Men's and Women's Cricket and T20 World Cups. It shares live coverage of those competitions within the US with Willow.
Connected with that, you may want to consider having Hulu + Live TV as your multi-channel live TV streaming service. That is because you also receive access to ESPN+ and Disney+ for its $76.99/mo rate.
Non-US Streaming
Fans wanting to watch T20 World Cup live from outside the US will need to secure different ways to do so.
For example, Disney+ Hotstar is where those in Canada and India can stream the games while Sky Go and NOW TV are non-cable/satellite options for UK- and Ireland-based fans.
Yupp TV is the go-to place in many countries, including Pakistan, Sri Lanka, Bangladesh, and Afghanistan. Meanwhile, Foxtel GO and Kayo Sports are options for Aussies. And Sky Sport Now is what New Zealand-based cord-cutters should purchase to watch.
History of the Men's T20 World Cup
Interest in T20 cricket immediately took off. That instant popularity resulted in the first ICC Men's T20 Cricket World Cup taking place just four years after the invention of this version of the sport.
South Africa hosted that inaugural 12-team event, which was won by India. The Indians claimed the final by five runs over Pakistan in front of a raucous crowd of 32,217 at Johannesburg's Wanderers Stadium.
Two years later, England hosted this event, and that final was played at the historic Lord's Cricket Ground in London. Pakistan once again made the final, but this time it was victorious, claiming a victory over Sri Lanka by eight wickets.
Stunningly, India's fall from grace was significant as the Indians lost all three of the matches that they played at this event.
The Men's T20 World Cup has been generally played every two years, but it took some time before this settled into being the norm. For example, just one year separated events in 2009 and 2010 while five elapsed between the 2016 and 2021 competitions and then one until the next edition in 2022. However, it is now scheduled for every two years, in even years.
Through the 2021 competition, one team has won this competition twice. The West Indies did so when they lifted the trophy in 2012 and 2016. The event's other winners have been India (2007), Pakistan (2009), England (2010), Sri Lanka (2014), and Australia (2021).
2022 Men's T20 World Cup
The Aussies will look to defend their trophy on home soil in 2022 as that year's edition will be played across that island continent, in Brisbane, Sydney, Melbourne, Geelong, Adelaide, Perth, and Hobart. Geelong is situated just southwest of Melbourne while Hobart is in Tasmania.
The final is scheduled for the 100,024-capacity Melbourne Cricket Ground. It is the 11th-largest stadium in the world, trailing nine college football stadiums, a multi-purpose stadium in North Korea, and a cricket ground in India. Organizers are hoping for a capacity or near-capacity crowd for that showdown.
This competition is scheduled for Oct 16 through Nov 13 of 2022. That is almost exactly one year after the previous edition, which took place from Oct 17 through Nov 14, 2021.
The number of teams participating has increased to 16 with Australia automatically qualifying as the host country and the top 11 finishers from the 2021 event also qualifying: Afghanistan, Bangladesh, England, India, Namibia, New Zealand, Pakistan, Scotland, South Africa, Sri Lanka, and West Indies. The final four participants are determined in Feb and Jul 2022.
Unblock Your Favorite Events & Teams With a VPN

If you can't watch your favorite events or teams because of your location, a VPN will allow you to get the access you are entitled to, plus extra security and unequaled privacy. Check out our VPN Guide for everything you need to know, including our top pick ExpressVPN.

Other brands worth checking out include Hotspot Shield and CyberGhost.
Men's T20 World Cup in the US
A Cricket World Cup will be played on US soil for the first time in 2024 as that country and the West Indies will co-host the 2024 Men's T20 World Cup, which will be a 20-team competition. Although dates and venues have not been announced yet, it will start in June of that year and last 25 days. Also, the US's up to five venues are expected to host about a third of this competition's matches.
At the time of this announcement, Paraag Marathe, USA Cricket's Chair of the Board, said that "the ICC has identified the USA as a strategic market for growth that will benefit cricket around the world." Further, he said that this event will help "grow the fanbase and inspire public and corporate support."
Marathe also hinted that this event may help lead towards cricket being added to the Summer Olympics in 2028. Those Games will be in Los Angeles. The last and only time cricket was a part of the Olympics was in 1900.
The US co-hosting the 2024 Men's T20 World Cup also means that its national team is guaranteed to take part. That will be a first unless the squad successfully navigates the qualifiers for the 2022 event.
Future Men's T20 World Cup Hosts
The host countries for the Men's T20 World Cup have been announced through 2030. In 2026, India and Sri Lanka will jointly host the event, Australia and New Zealand will do the same in 2028, and the British Isles – England, Wales, Scotland, and Ireland – will come together to host the 2030 competition.
Superpower Your Sports Streaming With a VPN

For the sake of privacy, security, and access, you should be using a VPN. They are low-cost and easy to use. We've been using them for years and our top pick is ExpressVPN. Other brands worth checking out include Hotspot Shield and CyberGhost.
ICC Men's T20 World Cup 2022 Schedule
The First Round runs from October 16 through October 21. These consist of Group A (Namibia, The Netherlands, Sri Lanka, and UAE) and Group B (Ireland, Scotland, West Indies, and Zimbabwe).
The Super 12 runs from October 22 through November 6. These consist of Afghanistan, Australia, Bangladesh, England, India, New Zealand, Pakistan, and South Africa as well as the first- and second-place finishers in Group A and Group B.
The Semi-Finals are on November 9 and 10, and the Final is on November 13.
Sun Oct 16
: Sri Lanka (108) vs Namibia (163/7)
: UAE (111/8) vs Netherlands (112/7)
Mon Oct 17
: West Indies 118 (18.3) vs Scotland 160/5
: Zimbabwe 174/7 vs Ireland 143/9
Tue Oct 18
: Namibia 121/6 vs Netherlands 122/5 (19.3)
: Sri Lanka 152/8 vs UAE 73 (17.1)
Wed Oct 19
: Scotland 176/5 vs Ireland 180/4 (19)
: West Indies 153/7 vs Zimbabwe 122 (18.2)
Thu Oct 20
: Netherlands 146/9 vs Sri Lanka 162/6
: Namibia 141/8 vs UAE 148/3
Fri Oct 21
: Ireland 150/1 (17.3) vs West Indies 146/5
: Scotland 132/6 vs Zimbabwe 133/5 (18.3)
Sat Oct 22
: Australia 111 (17.1) vs New Zealand 200/3
: England 113 (18.1) vs Afghanistan 112 (19.4)
Sun Oct 23
: Ireland 128/8 vs Sri Lanka 133/1 (15)
: India 160/6 vs Pakistan 159/8
Mon Oct 24
: Bangladesh 144/8 vs Netherlands 135
: South Africa 51/0 (3/7) vs Zimbabwe 79/5 (9) — No Result
Tue Oct 25
: Australia 158/3 (16.3) vs Sri Lanka 157/6
Wed Oct 26
: Ireland 157 (19.2) vs England 105/5 (14.3)
: New Zealand vs Afghanistan
Thu Oct 27
: South Africa 205/5 vs Bangladesh 101 (16.3)
: Netherland 123/9 vs India 179/2
: Pakistan 129/8 vs Zimbabwe 130/8
Fri Oct 28
: Afghanistan vs Ireland
: Australia vs England
Sat Oct 29
: New Zealand 167/7 vs Sri Lanka 102 (19.2)
: Bangladesh 150/7 vs Zimbabwe 147/8
Sun Oct 30
: Netherlands 91/9 vs Pakistan 95/4 (13.5)
: India 133/9 vs South Africa 137/5 (19.4)
Mon Oct 31
: Australia 179/5 vs Ireland 137 (18.1)
Tue Nov 1
: Afghanistan 144/8 vs Sri Lanka 148/4 (18.3)
: England 179/6 vs New Zealand 159/6
Wed Nov 2
: Zimbabwe 117 (19.2) vs Netherlands 120/5 (18)
: India 184/6 vs Bangladesh 145/6 (16)
Thu Nov 3
: Pakistan 185/9 vs South Africa 108/9 (14)
Fri Nov 4
: Ireland 150/9 vs New Zealand 185/6
: Australia 168/8 vs Afghanistan 164/7
Sat Nov 5
: Sri Lanka 141/8 vs England 144/6 (19.4)
: South Africa 145/8 vs Netherlands 158/4
Sun Nov 6
: Pakistan 128/5 (18.1) vs Bangladesh 127/8
: Zimbabwe 115 (17.2) vs India 186/5
Wed Nov 9
: New Zealand 152/4 vs Pakistan 153/3 (19.1)
Thu Nov 10
: India 168/6 vs England 170/0 (16)
Sun Nov 13
: Pakistan 137/8 vs England 138/5 (19)
Live Stream Devices for the T20 Men's World Cup
Regardless of whether you select Willow TV, ESPN+, Sling TV, or Hulu, you can watch the T20 Men's World Cup with most devices in use today:
Amazon Fire TV
Android mobile
Android TV
Apple TV
Chromecast
iOS (iPhone,iPad)

Roku

Samsung smart TVs
Xbox One

Web browsers.
If you want to watch on your Oculus VR system, you will need to stick with ESPN+ or Sling TV. PlayStation fans can use ESPN+ (version 4 only) and Hulu (versions 3, 4, and 5). LG smart TVs are supported by Hulu and Sling. Less popular devices are also supported but you will need to check.
Summing Up
If you are based in the US and want to watch Men's T20 World Cup action while killing your cable bill, you have a couple of options. We recommend one of Sling TV's many packages. But ESPN+ and Hulu Live are also great options. Additionally, the event will be streamed around the world through other outlets.
How to Watch Other Cricket Events
We have other guides for watching cricket:
Ditch "Big Cable" Now – 3 Simple Steps to Cut the Cord
Pick the right streaming service
Get the content you deserve with the best VPN.
Supercharge your internet provider
That's it — you'll save money, take back control, and enjoy TV more!
Page Updates
▼
▲
Cross linking. Reworded some things.

Updated some sub-sections. Updated some section headings. Reworded some things.

Added sub-section. More links. Reworded some things. Reformatting.

Image changes. Small layout changes. Reworded some things.

Formatting. Misc content updates.

Misc changes to content. Changes to formatting.

Reworked one section. Updated some section headings. Pricing updates.

Added new section. Added sub-section. Added links to streaming services. Updated some sub-sections. Updated some section headings. Updated some of the sections.

Added links to streaming services. Updated some section headings. Updated some sub-sections. Updated some sections.
Latest posts by Frank Moraes
(see all)