Disclosure:
Your support helps keep our site running! We earn referral fees for some of the products & services we recommend.
Learn more
One of the biggest events in all of cricket is coming up starting March 4th, 2022: ICC Women's Cricket World Cup! But if you are in the US, it can be hard to find where to watch it live. Read on to learn all you need to know.
In a hurry? In the US, you don't have a lot of options for watching. The main option is Willow TV. The question is how you get it. Sling Orange is $35/mo. For just $5/mo more, you can get the World Sports Mini add-on. This gives you Willow, Willow Xtra, 3 beIN Sports channels, and Premiere. This is great if you are also a soccer fan.
Or just get World Sports alone for $10/mo. It offers the same channels as in the Mini add-on for the same price as getting Willow TV by itself. You can also get ESPN+ for as little as $6.95/mo.
But as we noted: there are many options. We'll discuss them all below.
With most sports, the history of the men's side tends to go back further than on the women's. This is for several reasons, which sometimes include the suppression or even the banning of women's sports in some situations.
As a result, men's championship events are usually older, often by a significant margin, than women's. However, cricket is one in which this is not the case. The first ICC Women's Cricket World Cup predates the inaugural ICC Men's Cricket World Cup by two years.
This event has been gradually building in popularity ever since, both within the countries that regularly participate as well as in those that do not, such as in the US.
Live coverage of the 2017 Women's Cricket World Cup was available in nearly 200 countries with at least one television channel broadcasting at least one match in 139 of those.
Similar coverage is expected in 2022 with Willow ($9.99/mo) and ESPN+ ($6.99/mo) providing access to cricket fans based in the US.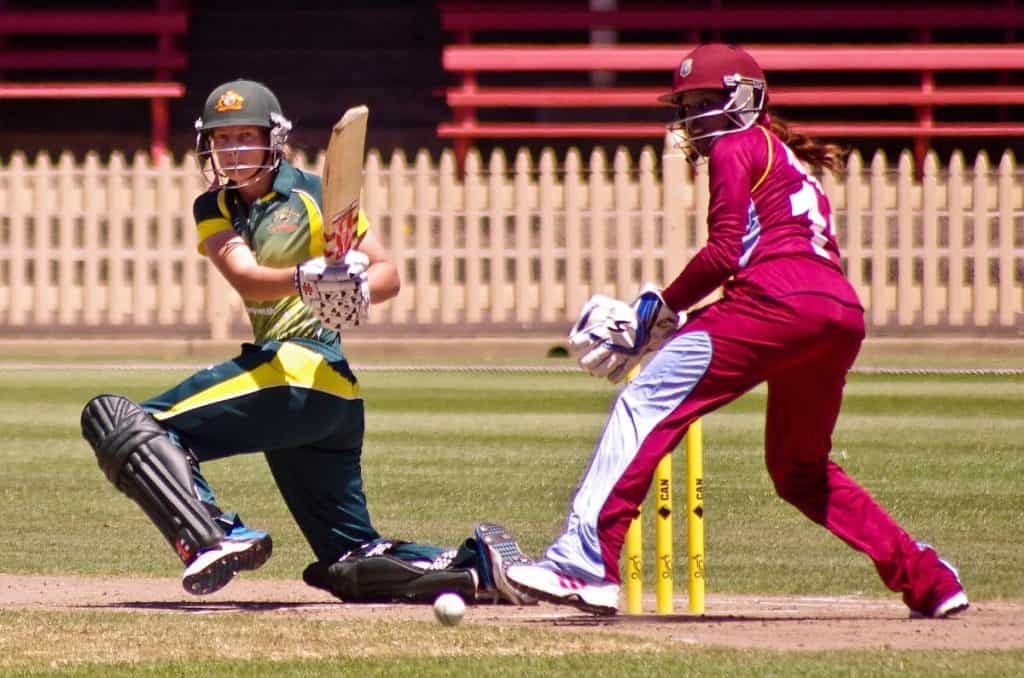 Women's Cricket World Cup
The inaugural Women's Cricket World Cup was held in 1973, held mostly in England while Wales also hosted a single match, and the English side prevailed as the competition's initial trophy winners.
There was no knockout phase this year as the seven teams played a round-robin schedule with the first-place finisher claiming the competition. England was followed in that table by Australia and New Zealand.
However, the 1973 competition was not comprised solely of national teams. In addition to sides from the aforementioned countries and Jamaica and Trinidad and Tobago, Young England, an Under-25 squad, and International XI, a "best of the rest" team, also took part.
Other than an International XI side participating in 1982 as well and the West Indies team playing in 1993 and in every edition since 2005, all Women's Cricket World Cup participating teams have represented countries.
This competition has now settled into an every-four-year schedule. That was not the case early on when it struggled to get its footing financially and otherwise. In fact, six years elapsed between events held in 1982 and 1988. However, it has been scheduled for every four years since 2005, the 2021 competition later being pushed to 2022. That latter edition will be followed by events in 2025 and 2029.
Australia followed its second-place showing in 1973 with a three-peat, claiming the trophy in 1978, 1982, and 1988. The Aussies would add three more later, in 1997, 2005, and 2013, while England would also add three championships, winning in 1993, 2009, and 2017, to bring its total to four. The only other country to claim this sport's most prestigious honor is New Zealand, which did so in 2000.
India is the strongest team to have not won this competition, having finished in the top four on eight occasions (1978, 1982, 1993, 1997, 2000, 2005, 2009, and 2017) and claiming runner-up honors twice (2005 and 2017).
The 2017 final was especially heartbreaking for the Indians as they were defeated by England at the historic Lord's Cricket Ground in London in the second-closest final in history, falling by nine runs. (The closest was New Zealand's four-run victory over Australia at the 2000 final, which was played in Lincoln, New Zealand.)
ODIs
Women's Cricket World Cup matches are One Day Internationals (ODIs). This means that these games generally last eight hours, including breaks.
This is contrasted with Test matches, which usually last five days and are played by the world's top teams, such as during the Women's Ashes between Australia and England. (There is no World Cup for Test cricket.)
ODIs are also contrasted with Twenty20 matches, which last around three hours. T20 World Cups are contested.
2022 ICC Women's Cricket World Cup
The 2022 Women's Cricket World Cup has been scheduled for March 4 to April 3 of that year with New Zealand as the host. That will mark the third time that the Kiwis have welcomed the world's best to their country for this competition, the previous two occurring in 1982 and 2000. The hosts are hoping for a repeat of the 2000 edition when they claimed their only Women's Cricket World Cup title.
Eight teams have secured spots at this prestigious event, one through virtue of being the host country (New Zealand), four as a result of finishing in the top four of the 2017-20 ICC Women's Championship (Australia, England, South Africa, and India), and three thanks to being the highest ranked in the ICC ODI rankings that had not already qualified (Bangladesh, Pakistan, and West Indies).
All will play each other once in the group stage for a total of seven matches apiece. The top four teams in the final table advance to the semifinals, one played in Wellington, at the southern tip of the North Island. The other will be played in Christchurch, which is situated in the South Island.
The final is scheduled for Christchurch's Hagley Oval, just 12 miles from where the 2000 final was played.
Women's Cricket World Cup Channels
The Women's Cricket World Cup is broadcast extensively throughout the world, a massive improvement on the near-zero coverage that had existed for the first event in 1973. In the US and Canada, television coverage is expected to be on Willow TV for future events.
Elsewhere in the world, those in the British Isles and New Zealand should expect to be able to watch matches on Sky Sports. Fox Sports will provide access to Australia-based cricket fans. And Indians can expect to watch the action on Star Sports.
Streaming the Women's Cricket World Cup
Streaming access for Women's Cricket World Cup matches will be easily available in the US and many other places around the world.
Willow

Willow is a subscription service for devoted cricket fans as it offers a tremendous collection of content. Having access to its channels are essential for cricket fans — not just for those interested in ICC Women's Cricket World Cup and ICC Men's Cricket World Cup matches.
Its two channels, Willow and Willow Xtra, may be subscribed to directly for $9.99/mo or $60/yr, and you can also access its channels through other means, most notably Sling.

The simplest way to get the Willow channels through Sling is to purchase its Willow Cricket plan, which essentially costs the same: $10/mo or $60/yr. However, you will want to consider other options, particularly since you can get additional channels as well for $10/mo.
One of those is its World Sports package, which also includes three beIN Sports outlets and Premiere, a Brazil-based channel. Another is its Urdu Pack, which combines those Willow and beIN Sports channels with 14 general India-based ones, including ARY Digital, Geo TV, and Hum TV.
The best option for many will be going with the Sling Orange plan ($35/mo) and getting the World Sports package added on to that at half of its regular price ($5/mo). This plan also comes with ESPN, AMC, CNN, Disney, Stadium, TBS, TNT, and more.
If you decide to go with Sling, make sure to research the various ways that you can gain access to Willow and Willow Xtra through it as the streaming service provides nearly 20 different packages that include those two channels.
For more information, see our Sling TV review.
ESPN+

Another option for fans based in the US is ESPN+ ($6.99/mo). It will share coverage of the Women's Cricket World Cup with both outlets most likely streaming every match. ESPN+ is also the home for several other cricket events, such as the T20 World Cups and the Indian Premier League.
Of course, ESPN+ has also been promoting itself as an increasingly comprehensive home for sports, also featuring top non-cricket events taking place in the US and abroad.
Those wanting to bundle ESPN+ with a more comprehensive streaming service should consider Hulu + Live TV, which includes 80+ live TV channels along with ESPN+ and Disney+ access in its base rate of $69.99/mo.
Non-US Access
If you are based outside of the US, you should be able to stream the Women's Cricket World Cup through either Willow, which is also available in US territories such as Puerto Rico and Guam, or other means.
Non-US options include, most likely, Hotstar (Canada and India), Foxtel GO (Australia), Sky Sport Now (New Zealand), and Sky Go (UK and Ireland). NOW TV should also be an option for those in the UK.
TVs and Streaming Devices to Watch the Women's World Cup
Most of the TVs and streaming devices in use today are supported by the services we've discussed above:
Amazon Fire TV
Android mobile
Android TV
Apple TV
Chromecast
iOS (iPhone,iPad)

Roku

Samsung smart TVs
Xbox One

Web browsers.
ESPN+ and Hulu both support the PlayStation (ESPN+ supports v 4 while Hulu supports v 3, 4, and 5). Hulu and Sling both support LG smart TVs. Less popular devices can also be used. Check our reviews for details.
Summing Up
The Women's Cricket World Cup is the most highly anticipated event on the women's cricket calendar. This every-four-year competition is expected to continue to receive increasing viewership numbers.
We recommend getting Willow via one of Sling TV's many plans. Or ESPN+ with either the Hulu bundle or Hulu + Live TV.
FAQs
When is the Women's Cricket World Cup?
The ICC Women's Cricket World Cup is held every four years with the exception of the previously scheduled event in 2021 that got moved to 2022. Its new dates are March 4 to April 3 of that year. After a short turnaround of three years to get back on track in 2025, the competition will resume its every-four-years schedule with a succeeding one in 2029.
Here is the current schedule:
Mar 4, 2022
New Zealand v Qualifier
Mar 5, 2022
Qualifier v South Africa
Australia v England
Mar 6, 2022
Qualifier v India
Mar 7, 2022
New Zealand v Qualifier
Mar 8, 2022
Australia v Qualifier
Mar 9, 2022
Qualifier v England
Mar 10, 2022
New Zealand v India
Mar 11, 2022
Qualifier v South Africa
Mar 12, 2022
Qualifier v India
Mar 13, 2022
New Zealand v Australia
Mar 14, 2022
South Africa v England
Qualifier v Qualifier
Mar 15, 2022
Australia v Qualifier
Mar 16, 2022
England v India
Mar 17, 2022
New Zealand v South Africa
Mar 18, 2022
Qualifier v Qualifier
Mar 19, 2022
India v Australia
Mar 20, 2022
New Zealand v England
Mar 21, 2022
Qualifier v Qualifier
Mar 22, 2022
India v Qualifier
South Africa v Australia
Mar 24, 2022
South Africa v Qualifier
England v Qualifier
Mar 25, 2022
Qualifier v Australia
Mar 26, 2022
New Zealand v Qualifier
Mar 27, 2022
England v Qualifier
India v South Africa
Mar 30, 2022
Semi-Final
Mar 31, 2022
Semi-Final
Apr 3, 2022
Final
Check local listings for the match air times in your area.
How many teams participate in the Women's Cricket World Cup?
Eight countries take part in the Women's Cricket World Cup. This has been the case since the 2000 edition. Those participating in the 2022 competition include Australia, Bangladesh, England, India, New Zealand, Pakistan, South Africa, and West Indies. That number will be bumped up to 10 in 2029.
Latest posts by Frank Moraes
(see all)