While more than a couple of channels air Alabama Crimson Tide football games, it's possible to get all of these channels online without cable. It's as easy as picking a streaming service and signing up (which only takes minutes). Read on to learn how!
In a hurry? If you just want to start watching Alabama now, these live TV streaming services provide great deals that will allow you to do that and much more:
The University of Alabama Crimson Tide has been one of college football's storied programs, dating to its first game on Nov 11, 1892. That prestige factor has gone up another level over the past 15 years.
From head coach Nick Saban's second season in Tuscaloosa, the 2007 campaign, through Alabama's 2020 season, the Crimson Tide recorded a 163-17 record — an amazing .906 winning percentage.
Also incredibly, of the school's 18 national championships, six were won during that 14-season span while seven of Alabama's 28 Southeastern Conference titles were claimed in that same time period.
The Crimson Tide have also played in a bowl game every season since the 2004 campaign, 73 in total. And high expectations are in place for the Tide this season – that is, an SEC championship and a national title.
As a result of the massive interest in the team in Alabama and throughout much of the South, its home facility, Bryant-Denny Stadium, seats 101,821, making it one of the world's 10 largest stadiums.
With home attendances regularly exceeding 100,000, even Crimson Tide fans based in Tuscaloosa and elsewhere in Alabama are only able to watch the team play on television or online.
Fortunately, cord-cutters have plenty of options for watching the Crimson Tide as nearly all of their games are easily accessible on CBS, ABC, ESPN, ESPN2, and SEC Network. These are all available from most general live TV streaming services.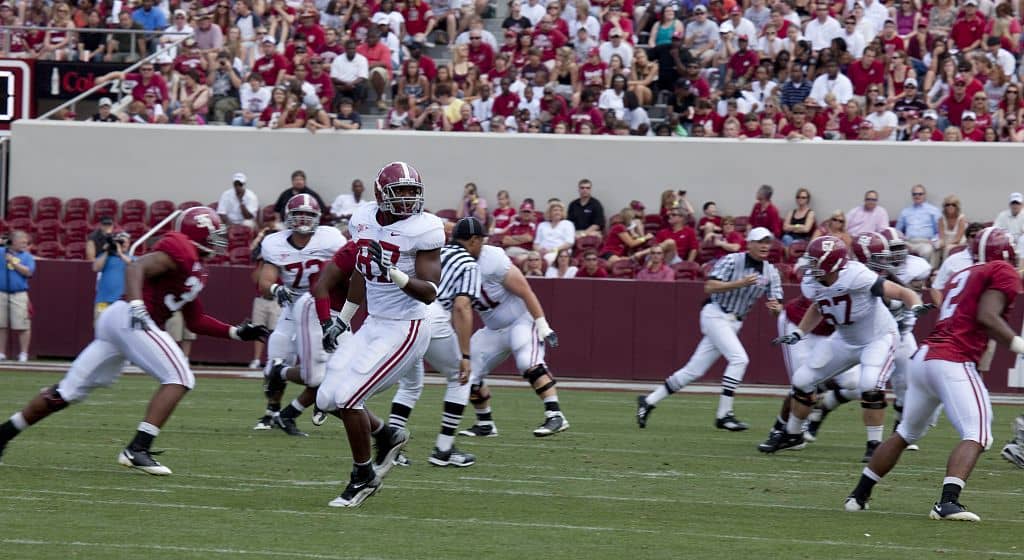 Alabama Crimson Tide 2021 Football Schedule
Alabama's schedule always includes important matchups includes their last (Iron Bowl) against the Auburn Tigers.
Where to Watch Alabama Crimson Tide Football Games
The SEC has television deals with CBS and Walt Disney Television. The latter arrangement results in conference games and home non-conference match-ups being shown on ESPN, ESPN2, and SEC Network.
In fact, all of the team's games have been broadcast on those five channels since Chattanooga's visit to Tuscaloosa on Nov 23, 2013, was only available on pay-per-view. That was the final season before the SEC Network's launch.
Since then, the Crimson Tide's only ABC-broadcast contests have been season-opening neutral-site games, which have been played every campaign since with the exception of 2020.
Meanwhile, the team's only recent appearances on ESPN2 have been home non-conference match-ups with low-profile opposition. The last time that Alabama played an SEC game on ESPN2 was a road contest versus Tennessee on Oct 25, 2014.
On rare occasions, the Crimson Tide may be shown on a different channel. This is only possible for non-conference away or neutral-site games as all bowl games that have SEC ties are shown on ABC, ESPN, and ESPN2.
This could happen on Sep 10, 2022, when Alabama plays an away game against Texas, as Fox is one of the television networks with rights to broadcast home games played by Big 12 teams.
Do You Need a VPN?
If you find you can't watch particular events because of your location, a VPN should allow you to get the access you are entitled to. It also provides extra security and unequalled privacy. See our complete VPN Guide for all you need to know.
How to Watch Alabama Crimson Tide Football Games
As a result of the considerable national interest that Alabama garners, several of the team's games are shown on network television, usually CBS but sometimes on ABC.
That means that you do not even need to subscribe to a streaming service to see the team play several times a season. You can just set up an antenna and watch for free. For example, of the team's 13 games in the 2020 season, six were on CBS.
However, with that said, you will most likely view a streaming service as a must since all NCAA football playoff games – the most important ones that Alabama plays – are broadcast on ESPN.
Hulu + Live TV

For $69.99/mo, you can subscribe to Hulu + Live TV and watch every Alabama Crimson Tide football game through it. It provides access to local CBS and ABC affiliates in addition to ESPN, ESPN2, and SEC Network. And it gives you ESPN+ and Disney+.
If you want to also check out college football games played by other teams, it offers the ACC Network, Big Ten Network, CBS Sports Network, ESPNU, Fox Sports 1 (FS1), and Fox Sports 2 (FS2) as well. Meanwhile, NFL fans will likely gravitate towards its NFL Network.
Hulu Live comes with unlimited cloud DVR (9 month storage) and the ability to stream on up to two devices at once. See our Hulu + Live TV review for all the details.
FuboTV

FuboTV ($69.99/mo) is another live TV streaming service that provides you with the ability to watch Alabama Crimson Tide football games. It includes over 100 channels with 35+ focused on live sports. It's a great service. However, it does have one significant caveat to take note of.
The SEC Network is included in the base plan for those situated in the Southeast, but you need to purchase an add-on to secure access to it if you are located in other regions of the country.
If you are in the latter category, your options are the Fubo Extra add-on ($7.99/mo) with 48 extra channels, Sports Plus with NFL RedZone add-on ($10.99/mo) with 26 extra channels, and the Sports Lite add-on ($9.99/mo) with 8 extra channels.
FuboTV's base plan comes with 1000 hours of cloud DVR storage and the ability to watch on ten devices/TVs simultaneously.
For all the details, see our FuboTV review.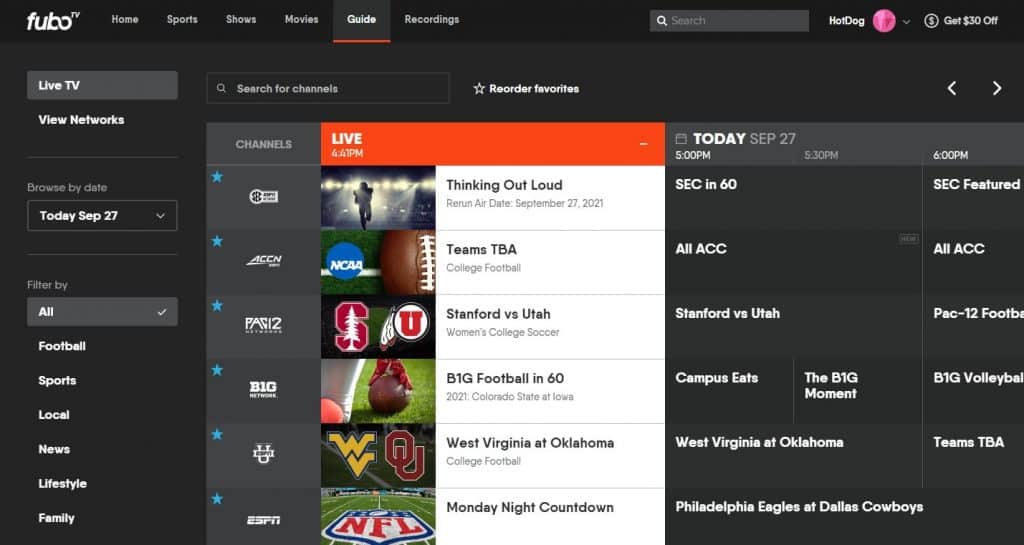 Sling TV

You can get ESPN, ESPN2, and SEC Network through the Sling Orange plan ($35/mo) and also pay for the Sports Extra add-on available with that plan ($11/mo). This will give you 45+ channels including ACC Network, Longhorn Network, Pac-12 Network, as well as national channels ESPNU, MLB Network, NBA TV, NHL Network, and more.
However, you will need to also subscribe to Paramount+ ($4.99/mo) to watch Alabama's CBS-broadcast games if you are unable to view those through the use of an antenna.
Although you do need to pay for an add-on and subscribe to a different streaming service, the total cost of $50.99/mo for this option is the lowest. This also comes with 50 hours of cloud DVR storage.
Our Sling TV guide explains everything.
Vidgo

Vidgo ($59.95/mo) is a great streaming service for college sports fans. It offers everything that you need to watch Alabama Crimson Tide football games with the exception of CBS. As with Sling TV, you can either install an antenna or subscribe to Paramount+ ($4.99/mo) to catch the team's most significant SEC regular-season games.
With Vidgo you will also be able to enjoy plenty of non-Alabama NCAA games. This is due to it carrying the ACC Network, Big Ten Network, ESPNU, FS1, FS2, and Pac-12 Networks as part of its 85+ live TV channel lineup.
Vidgo does not offer a cloud DVR but it does allow you to watch on up to three screens at once.
See our Vidgo review for all the information.
DIRECTV STREAM

DIRECTV STREAM (previously AT&T TV) provides access to all of the channels that you need: ABC, CBS, ESPN, and ESPN2 in its base Entertainment plan ($69.99/mo). You will need to upgrade to its Choice plan ($89.99/mo) to be able to watch the SEC Network.
The Choice plan is also what you should choose if you want to have an extensive selection of college football games being played elsewhere. Doing so will get you the ACC Network, Big Ten Network, ESPNU, and FS1. A bump up to its Ultimate plan ($104.99/mo) will allow you to watch CBS Sports Network and FS2 as well.
DIRECTV STREAM provides unlimited cloud DVR storage (online purchases only) and the ability to stream on up to 20 screens at one time at home (3 away from home).
All the details are in our DIRECTV STREAM guide.
Other Ways to Watch Alabama
There are other options for watching some if not all Alabama Crimson Tide games without cable TV:
Watch Alabama on TVs and Other Devices
The streaming services we've discussed will allow you to watch the Crimson Tide on most devices that are in use today.
Samsung smart TVs work with all the services except for Vidgo. LG and Vizio smart TVs work with Hulu, Sling, and FuboTV. Fubo also supports Hisense TVs. And other than DIRECTV STREAM, they all work with Android TV-based systems.
The main TV "stick" devices are supported: Amazon Fire TV, Apple TV, and Roku. And that goes for smartphones and tablets that run Android and iOS (iPhone, iPad, and even some iPods). You can also use them to cast to your Chromecast-enabled TV.
And Sling TV, FuboTV, and Hulu operate on the Xbox One. Hulu also works on the PlayStation and Nintendo Switch. And Sling TV works with the Oculus VR device.
These are the most popular streaming devices and TVs. See our individual reviews for other devices these services support.
Superpower Your Streaming With a VPN
For the sake of privacy, security, and access, you should be using a VPN. They are low-cost and easy to use. We've been using them for years and our top pick is ExpressVPN.
Wrapping Up
If you are content with only watching Alabama's biggest SEC games, including the championship game, an antenna will work for you.
However, if you want to catch all of the team's contests, including any College Football Playoff match-ups that it may play, you need to take advantage of a streaming service.
Hulu + Live TV, FuboTV, and DIRECTV STREAM will allow you to watch all the Alabama football games. You can do the same with Sling TV and Vidgo with the addition of a $4.99/mo Paramount+ subscription.
Your cheapest option is purchasing Sling TV's Orange plan ($35/mo), getting the Sports Extra add-on associated with that plan ($11/mo), and adding Paramount+ ($4.99/mo). The cheapest option for everything in one place is Hulu + Live TV ($69.99/mo) although those in the South can instead pay the same price to get all of the necessary channels through FuboTV.
How can I watch other college teams?
We've written guides on watching college football and college bowl games. And here are guides on watching particular teams:
Similarly, we have guides on watching college basketball and March Madness. We also have guides on these college basketball teams:
Latest posts by Frank Moraes
(see all)