There are Auburn fans all over the country and if they can't make a game live, they often look to their TV to keep up with the season. Cable is one way to do that, but it's not the only way anymore. Now, you can watch Auburn Tigers games online without cable and we can tell you how!
In a hurry? If you just want to start watching Auburn Tigers football now, these are our favorite services:
The Auburn Tigers have participated in college athletics since 1892, and the school is currently a member of the Southeastern Conference (SEC). It is considered to have one of the best football programs in the nation. Auburn is also competitive in basketball, softball, and golf. The Tigers won their first of five national titles in football in 1913.
Their most recent national title (2010) was their first undisputed championship and came in the same year that quarterback Cam Newton won the Heisman Trophy.
It's worth noting that the trophy was named after the man who coached the team from 1895 to 1899, John Heisman, who is still widely considered to be one of the greatest coaches in football history. Legendary professional baseball and football player Bo Jackson also attended the University of Auburn.
Where to Watch Auburn Football
Auburn Tigers football games are primarily broadcast on ESPN and SEC Network (and its substation SEC Network+). Some games also air on CBS and ABC. You can even see some games on ESPN+.
Auburn Tigers basketball fans can see games on roughly the same channels: ESPN, ESPN2, ESPNU, and SEC Network. Other Auburn sports are covered to varying degrees on ESPNU, SEC Network, and SEC Network+.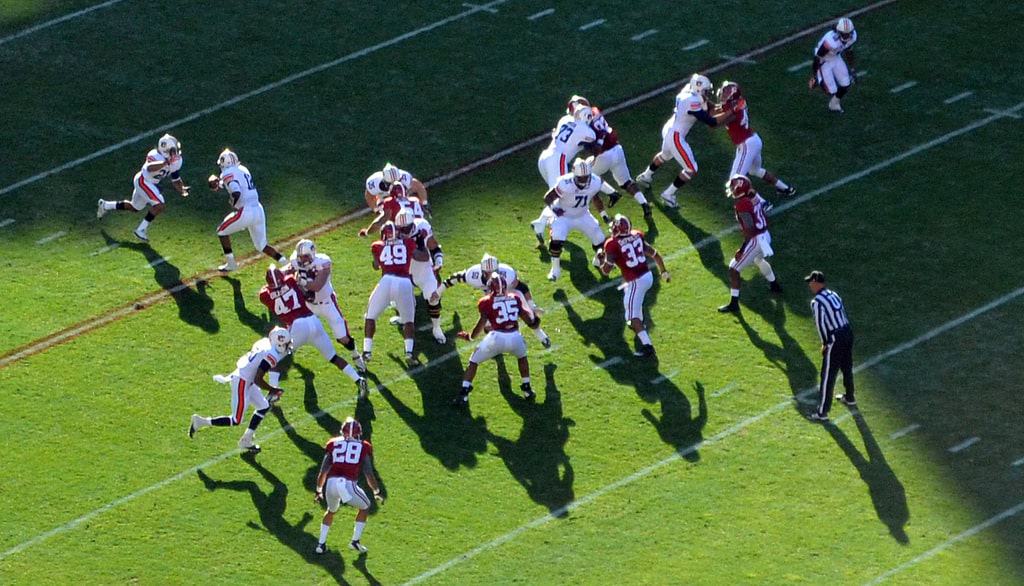 Auburn Tigers 2021 Football Schedule
You can watch all of these games with Hulu + Live TV or FuboTV.
Do You Need a VPN?
If you find you can't watch particular events because of your location, a VPN should allow you to get the access you are entitled to. It also provides extra security and unequalled privacy. See our complete VPN Guide for all you need to know.
How to Stream Auburn Tigers Football
Most streaming services will have the channels that Auburn appears on most frequently. Therefore, you should be able to find a plan that meets your needs and budget.
Most streaming platforms provide a variety of other content that will satisfy the needs of others in your home who may not care about sports or about games featuring Auburn University.
Hulu + Live TV

Hulu + Live TV offers a great overall entertainment package. It starts with their outstanding on-demand library. But it adds 85+ live channels including local network affiliates ABC, CBS, Fox, and NBC in most areas. It also gives you Disney+ and ESPN+.
You pay $69.99 each month and also get ESPN, ESPN2, and ESPNU. Additionally, you get the conference channels SEC Network, ACC Network, and Big Ten Network. Hulu plans come with the ability to stream on up to two devices at once and unlimited cloud DVR (9 month storage).
For more details, see our Hulu + Live TV review.
Vidgo

Vidgo is a great choice for NCAA fans. Its base plan for $59.95/mo gives you ESPN, ESPN2, ESPN Deportes, ESPNU, and ESPNews. You also get conference/team channels ACC Network, Big Ten Network, BYU TV, Longhorn Network, Pac-12 Network, and, of course, SEC Network.
In all, you get over 85 channels including more sports, ABC, and Fox affiliates in most areas and general channels like Disney and FX. Vidgo also offers a Premium plan for $79.95/mo, but the only major addition is beIN Sports.
The main downside of Vidgo is that it does not offer a cloud DVR. It does, however, allow you to stream on up to 3 devices at a time.
See our Vidgo review for more details.
Sling TV

The Sling Orange plan gives you 30+ channels including ESPN, ESPN2, and ESPN3 for just $35/mo. If you are an Auburn fan, however, you really need to add Sports Extra for $11/mo more. This gives you SEC Network, SEC Network+, ACCN, ACCNX, Longhorn Network, and Pac-12 Network. You also get NBA TV and MLB Network for a total of 45+ channels.
Sling TV offers many ways to tailor your plan so you can get exactly what you want without having to pay for a bunch of channels you have no interest in. If you combine your plan with Sling Blue, you can also get Fox and NBC affiliates in most areas.
All plans come with 50 hours of cloud DVR but you are limited to streaming on one device at a time.
See our Sling TV review for more information.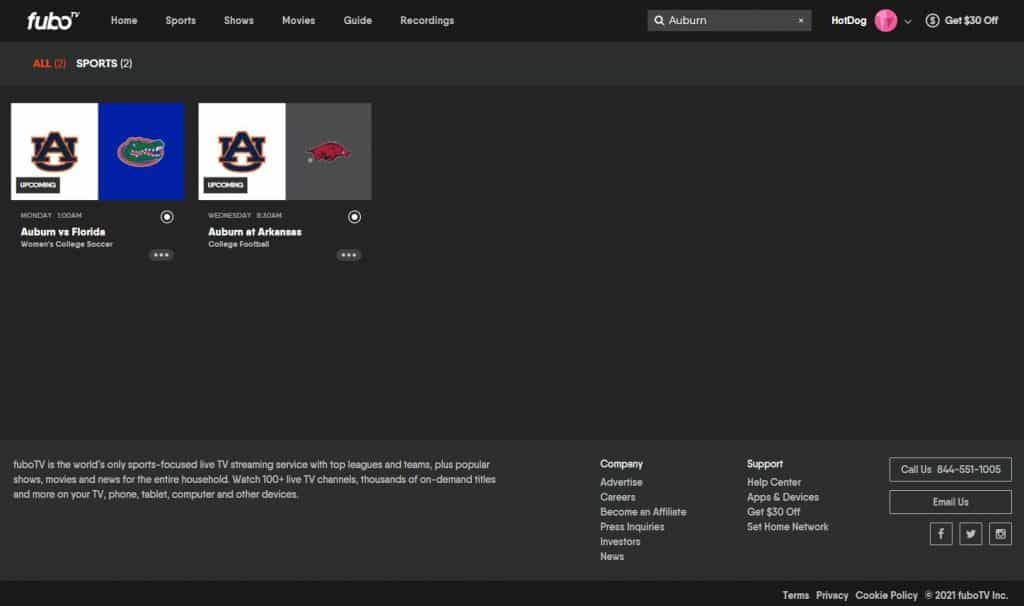 FuboTV

FuboTV is our favorite channel for overall sports coverage. It's Pro package is $69.99 a month and includes over 100 channels including 35+ that are focused on sports. These include ESPN, ESPN2, FS1, FS2, Big Ten Network, CBS Sports Network, and various beIN Sports and TUDN channels.
Auburn fans will want to upgrade with the Fubo Extra for $7.99/mo, which adds SEC Network, ACC Network, Pac-12 Network, and ESPNU in addition to 44 other sports and general channels. Or you can upgrade with Sports Plus ($10.99/mo), which adds 26 sports channels.
All FuboTV plans come with 1000 hours of cloud DVR and the ability to stream on up to 10 devices at once.
Check out our thorough FuboTV review for all the details.
DIRECTV STREAM

DIRECTV STREAM offers 4 plans starting with Entertainment for $69.99 with 65+ channels. These include ESPN, ESPN2, and FS1.
The SEC Network is available on the other three service tiers, which start at $89.99 per month. Although more expensive, DIRECTV STREAM offers the best selection of regional sports networks (RSNs) in the business, so it is worth checking out.
All plans come with an unlimited cloud DVR (when ordered online) and the incredible ability to stream on up to 20 devices at home and 3 on the road.
Our DIRECTV STREAM review explains their plans in more detail.
Other Options
There are other options for watching some if not all Auburn Tigers games without cable:
Watching Auburn Tigers Football on Streaming Devices and TVs
In almost all cases, the streaming services we've discussed will allow you to watch the Tigers on whatever devices you already own.
Other than Vidgo, all the services support Samsung smart TVs. LG and Vizio smart TVs are also supported by Hulu + Live TV, Sling TV, and FuboTV (FuboTV also supports Hisense TVs). And other than DIRECTV STREAM, all the services support Android TV-based devices.
The most common "stick" devices that plug into your TV are supported by everyone: Amazon Fire TV, Apple TV, and Roku. That's also true of mobile devices with Android and iOS. These can be used to cast live channels to your TV using Chromecast.
Popular gaming consoles are supported. Hulu + Live TV, Sling TV, and FuboTV all support the Xbox One. Hulu also supports the PlayStation and Nintendo Switch. And Sling TV lets VR fans use the Oculus.
These are the most popular streaming TVs and devices. See our individual streaming service reviews for complete lists of the supported devices.
Wrapping Up
The Auburn Tigers have one of the largest followings of all schools in the nation. Whether you are an Auburn fan, follow the SEC, or follow college sports in general, you'll want to watch this team in action.
This can be done by subscribing to your favorite streaming service today. You'll have access to your account as soon as your email and credit card information has been confirmed.
Superpower Your Streaming With a VPN
For the sake of privacy, security, and access, you should be using a VPN. They are low-cost and easy to use. We've been using them for years and our top pick is ExpressVPN.
FAQs
Which school is considered to be Auburn's biggest rival?
Auburn has had a number of rivals throughout its history. These include Georgia, Georgia Tech, and Ole Miss. However, most people would say that Alabama is the team's biggest rival today.
The two schools play each year in the Iron Bowl, and in most years, the game has significant implications regarding the SEC and national titles.
Can I watch Auburn football games without buying a cable or streaming package?
You can watch some games on CBS and ABC — depending upon where you live. This is because they broadcast a signal over the air that can be picked up by an antenna. Therefore, it is usually possible to get a signal from a local affiliate station even if you don't have access to a cable or streaming service.
Many streaming platforms offer free trials (Hulu + Live TV, FuboTV). That means that you may be able to watch a game or two without paying for service.
How can I watch other college sports?
We've written guides on watching college football and college bowl games. And here are guides on watching particular teams:
Similarly, we have guides on watching college basketball and March Madness. We also have guides on these college basketball teams:
Latest posts by Frank Moraes
(see all)