The Carolina Panthers have appeared in just one playoff game since losing the 2016 Super Bowl, but the team still has devoted fans in every part of the country. When Panthers games are not shown on national TV, there are still things fans can do to see the Cardiac Cats in action.
In a hurry? The only perfect way for US fans to get complete access to out-of-market Cardinals games is with a satellite TV plan. But there are a number of tools you can use besides that:
If you'd rather talk to someone about NFL Sunday Ticket, a support person at DIRECTV Satellite can walk you through the process. Just call 877-432-7840.
DAZN Canada is streaming every NFL game live, which means preseason, regular games, playoff games, and of course the Super Bowl.
ExpressVPN: Get the games you deserve while securing your privacy. Comes with a 30-day money-back guarantee.
NFL Game Pass: Watch any game live for NFL fans outside the US.
Television networks like to fill their sports schedules with games that will attract nationwide audiences, which means fans of less popular teams rarely get a chance to see their favorite players. Unfortunately for outside-of-Carolina fans, this is the situation with the Panthers.
Out-of-Market Games
Television networks and streaming services pay billions of dollars to secure the rights to NFL games, so it should come as no surprise to learn that they do everything they can to prevent fans from seeing the action for free. ESPN now airs Monday Night Football and Amazon has purchased the rights to stream Thursday night games.
But most fans watch the NFL on Sundays on either CBS, Fox, or NBC. NBC airs a single game each Sunday night, while CBS and Fox affiliates show games featuring teams from their local markets. When no local games are available, affiliate stations air the matchups network executives think will draw the biggest audiences.
These premium matchups are called out-of-market games. They rarely feature teams like the current Carolina Panthers unless a playoff spot is on the line or a beloved coach or legendary player is nearing a major career milestone.
Other leagues make life easy for fans who want to watch out-of-market games with streaming services that are available on popular platforms like Amazon, but the NFL still exists in a world of cable boxes and satellite dishes. At least until next season!
Out-of-Market Carolina Panthers Games Options
If you want to watch Carolina Panthers games as they happen and you don't live in the team's local market, you really don't have very many options. You can sign up for DIRECTV satellite service and order NFL Sunday ticket, or you can watch live or taped highlights. Let's take a closer look at these options.
NFL Sunday Ticket
The NFL has had an exclusive live out-of-market deal with DIRECTV since 1994, though that is about to change next year when Sunday Ticket moves to a different service (still TBA). But for now, this means Panthers fans will have to pony up for a satellite dish and DIRECTV service if they want to spend $293 to buy the Sunday Ticket NFL games package. That's a lot of money for only 17 regular season games, and you will have to come up with yet another $100 if you want to add the RED ZONE and FANTASY ZONE channels.
There is also a streaming service that allows fans without a satellite dish or DIRECTV service to watch NFL Sunday Ticket games over the internet, which sounds pretty good until you read the fine print. NFLSUNDAYTICKET.TV would be a great way to watch out-of-market Carolina Panthers games if anybody could sign up, but the service is only available to consumers who live areas where DIRECTV does not work or in buildings where satellite dishes are not permitted.
More info can be found in our NFL Sunday Ticket review.
NFL RedZone
The NFL launched its RedZone channel in 2009 to give fans without Sunday Ticket access a way to watch live professional football. Instead of showing games from beginning to end, NFL RedZone airs the most exciting plays from all of the games. You will see every touchdown, fumble and interception on NFL RedZone, and the action won't be interrupted by any ads.
Most cable TV operators and streaming services offer NFL RedZone as the channel gives them a lot of bang for the buck.
We have a page on NFL RedZone specifically for watching out-of-market games– check it out!
NFL+ Premium
You won't be able to see any live out-of-market action if you download the NFL's NFL+ Premium app, but you will be able to watch local games and catch out-of-town highlights and key moments. Local game audio and video costs $4.99 per month or $39.99 per year, and adding highlights and replays increases the price by $5 per month or $40 per year. Our NFL+ review has all the details.
VPN
VPNs don't provide any content, but they do give Carolina Panther fans a way to see games that would otherwise be blocked. Services like NFL+ Premium use geographic data to determine which games consumers have access to, but this verification process can be bypassed by connecting to a VPN with the right IP address. See our full guide to VPNs for Out-of-Market viewing for more info.
Other Options
There are other options. One is to listen to games, which you can do with NFL+ and Sirius XM. Another is to watch with friends or find a sports bar or similar to watch the game.
Live Streaming Devices for Out-of-Market Carolina Panthers Games
You will need a satellite dish from DIRECTV if you want to watch NFL Sunday Ticket games, but you won't need any special equipment if you want to keep up with the action on the NFL RedZone channel or the NFL+ Premium service. The game will render perfectly on any kind of screen, but you will need a fast connection as high-definition video uses a lot of bandwidth.
Most streaming services support the most popular streaming devices: Amazon Fire TV/Firestick, Android mobile, Apple TV, Chromecast, iOS (iPhone, iPad), Roku, and Samsung smart TVs. Many support gaming devices and other smart TVs as well.
Unfortunately, Rokus do not work with VPNs, but this isn't an issue if you set the VPN up on your router. Almost every VPN has comprehensive instructions on how to do this.
Wrapping Up
The DIRECTV Satellite Sunday Ticket package will be the only way to enjoy live out-of-market pro football games until the NFL emerges from its satellite fog and joins the rest of the world's major sports leagues in the information age. Until that day arrives, Carolina Panthers fans can watch NFL RedZone on almost all major streaming services. We recommend Sling TV and FuboTV as your best options, depending on your budget.
FAQs
Does DIRECTV STREAM offer NFL Sunday Ticket?
You will be able to find hit movies and first-run TV shows on DIRECTV STREAM, but not Sunday Ticket, sad to say. If you are in the majority of fans who follow a local team, DIRECTV STREAM will probably suit you just fine– they have all the networks, plus ESPN for Monday nights. Sign up for Amazon Prime and you'll be set.
How do I watch out-of-market games from teams besides the Carolina Panthers?
We've got individual viewer's guides for watching out-of-market NFL games for each team:
More Info on NFL Without Cable
If you still have questions, these resources should help: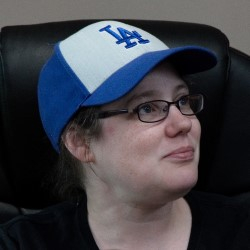 Latest posts by Alanna Baker
(see all)