Chicago football fans are legendary. No matter how badly the Bears do, from the way the fans cheer them, you'd think it was still 1985. But Bears fans outside Chicago have a hard time finding Sunday afternoon games with their TV dial. If that's you, you do have options — read on to see what they are.
In a hurry? NFL fan in the US have one option for all the Sunday games: DIRECTV's NFL Sunday Ticket. But if you're not ready to buy a satellite dish, there are some alternatives:
If you'd rather talk to someone about NFL Sunday Ticket, a support person at DIRECTV Satellite can walk you through the process. Just call 877-432-7840.
DAZN Canada is streaming every NFL game live, which means preseason, regular games, playoff games, and of course the Super Bowl.
ExpressVPN: Get the games you deserve while securing your privacy. Comes with a 30-day money-back guarantee.
NFL Game Pass: Watch any game live for NFL fans outside the US.
It's no secret that after failing to secure a spot in the playoffs last year, the Chicago Bears have an uphill battle to regain their former glory years of the mid-eighties. Dedicated fans will recall the impressive 2006-2007 season, where the Bears won the NFC Championship and faced the Indianapolis Colts in Super Bowl XLI.
Regardless of the Bears' struggles as of late, they remain a dynamic team on the field and one that's due for another comeback. Unfortunately, many fans of the team that reside outside the region find it challenging to catch all the games.
What Are Out-of-Market Games?
NFL football is one of the most accessible sports to follow due to teams playing only one weekly game. Keeping up with a favorite team is usually as simple as tuning in at kickoff.
However, regional programming is the one hurdle fans outside the broadcast area face. NFL games usually only air on Fox and CBS, with the networks prioritizing the teams located in the viewer's region.
Regional broadcasting is ideal for in-market fans supporting their local team and features the games they care about. The fans trying to cheer on their team from out-of-state often find it difficult or near impossible to see their favorite players take the field. Take the Chicago Bears, for example; a die-hard fan living in Phoenix, Arizona, won't have an opportunity to tune in for kickoff.
Enough NFL fans have demanded a solution to this problem, and there are some options. Baseball fans can subscribe to MLB.TV and hockey, along with soccer enthusiasts, have ESPN+. Football's solution to this problem is NFL Sunday Ticket.
If Sunday Ticket solves the issue, why not just subscribe to that service? Unfortunately, to get this service, you must also sign up for the DIRECTV satellite service. While a DIRECTV satellite subscription may work for some, it's not feasible for everyone.
Options for Watching Out-of-Market Chicago Bears Games
Here are some choices for Bears fans that reside out-of-market.
NFL Sunday Ticket: If fans don't mind signing up for satellite service, this option allows them to watch every Chicago Bears game televised. (Sunday Ticket review)
NFL+ Premium: At first glance, this $9.99/mo service may seem like the solution granting on-demand access to out-of-market games. However, one glance at the fine print and fans realize it includes only replays and not full games. For those on the go, this service does offer in-market live streams for mobile users and every preseason matchup. (NFL+ review)
NFL RedZone: While this service doesn't permit viewing all out-of-market games, it allows watching Sunday afternoon games simultaneously. (NFL RedZone Out-of-Market)
VPN: Another way to circumvent regional programming is for fans to appear local while, in reality, being thousands of miles away. VPNs can route online information through different regions, and while not a direct solution for watching football, it is a powerful tool nonetheless. (VPNs for Out-of-Market Viewing)
SiriusXM: A subscription to this satellite radio provider allows fans to listen to the entire game. Although a similar feature is also available on NFL+.
The Local Sports Bar/Friends: Any decent sports bar will have several televisions playing all the available games but will require fans to purchase some drinks. The best-case scenario is a friend who roots for the same team and has the capability to watch the game.
NFL RedZone
Many TV streaming services have NFL RedZone available, and here is a brief list:
VPN
A VPN is one of the most powerful methods for getting the desired content regardless of location. While it doesn't directly provide content, out-of-market NFL fans can stream their game of choice.
See our VPN guide for complete information on how to stream out-of-market games.
Unblock Your Favorite Events & Teams With a VPN
If you can't watch your favorite events or teams because of your location, a VPN will allow you to get the access you are entitled to, plus extra security and unequalled privacy. Check out our VPN Guide for everything you need to know, including our top pick ExpressVPN.

Learn how to watch March Madness!
Streaming Devices to Watch Out-of-Market Chicago Bears Games
There are a variety of streaming devices available such as Roku, Amazon FireTV, Apple TV, and Chromecast, among others. Many televisions now include smart technology for streaming content, and most gaming consoles also support it.
Some products don't support VPNs; however, there are solutions that can get VPNs working on any platform.
Wrapping Up
Those passionate Chicago Bears fans who find themselves out-of-market for televised games have options. With NFL Sunday Ticket, fans can tune into whichever game they choose with a satellite subscription. The next best solution is NFL RedZone, which fans can get on streaming TV platforms like Sling TV and FuboTV.
FAQ
Is DIRECTV STREAM a solution to watching out-of-market Chicago Bears games?
This streaming package allows watching all the televised games in-market but won't assist a Bears fan living in Phoenix, for example. NFL Sunday Ticket is only available with a satellite plan and not connected to DIRECTV STREAM services.
Besides the Chicago Bears, how do I watch out-of-market games?
Here are individual team viewer's guides for watching out-of-market NFL games:
More Info on NFL Without Cable
If you still have questions, these resources should help: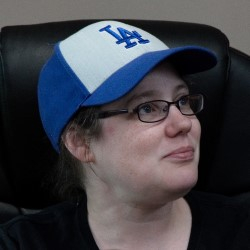 Latest posts by Alanna Baker
(see all)