Cincinnati Bengals fans can cut the cord with the assurance that they won't have to miss any touchdowns this season. There are lots of options beyond cable and satellite. We discuss them all below.
In a hurry? If you don't want to get into the technicalities of streaming services, you'll do well with any of these:
Fubo: The best streaming service for international sports also provides 130+ well-selected channels. Fubo allows you to try out its service free for 7 days.
DIRECTV STREAM: Get a great channel lineup with the best selection of RSNs in the industry. A 5-day free trial is now available for DIRECTV STREAM.
If you can't watch your favorite sports because of your location, get ExpressVPN to access the content you deserve.
Unfortunately, we don't know a streaming service in that covers this sport. But if you've already paid for the right service, and just can't watch because of your location, there is an easy way to get the content you deserve. You need a VPN, like one of the following.
| | | |
| --- | --- | --- |
| | ExpressVPN: Known as "The VPN that just works," it combines remarkable ease of use with with state-of-the-art power, speed, security, and privacy. Get three extra free months when you sign up for a year. Unleash your streaming with this top-rated VPN. | Sign Up Now |
| | Surfshark: Surfshark: Secure and easy to use with thousands of servers around the world. Of special note is its excellent collection of servers inside the US, which is great for regional sports lie NFL, MLB, and NBA. Get it now with an incredible 82% discount on a 24-month plan. | Sign Up Now |
| | NordVPN: One of the top VPNs with extremely fast servers all over the world. Great for streaming with tested perfomance on the biggest servers and included ad-blocking. Currently offering 70% discount on 2-year plans. | Sign Up Now |
If you're overwhelmed and not sure where to begin, you'll find all the answers in our full VPN guide.
Bottom line: 16 of the 17 regular season Bengals matchups will air on live TV with only one streaming (on Amazon Prime Video). The services above have you covered for the regular and postseason. See the Bengals schedule below.
The Cincinnati Bengals have been a team since 1968. Fans got a taste of success in the 1980s, but today the team has struggled quite a bit. Still, fans remain loyal in the hopes that their team will get bring home championship rings soon enough.
If you are a fan of the Bengals, you are most likely looking for a way to watch the Cincinnati Bengals games without cable. Keep reading because we can tell you exactly how to do just that!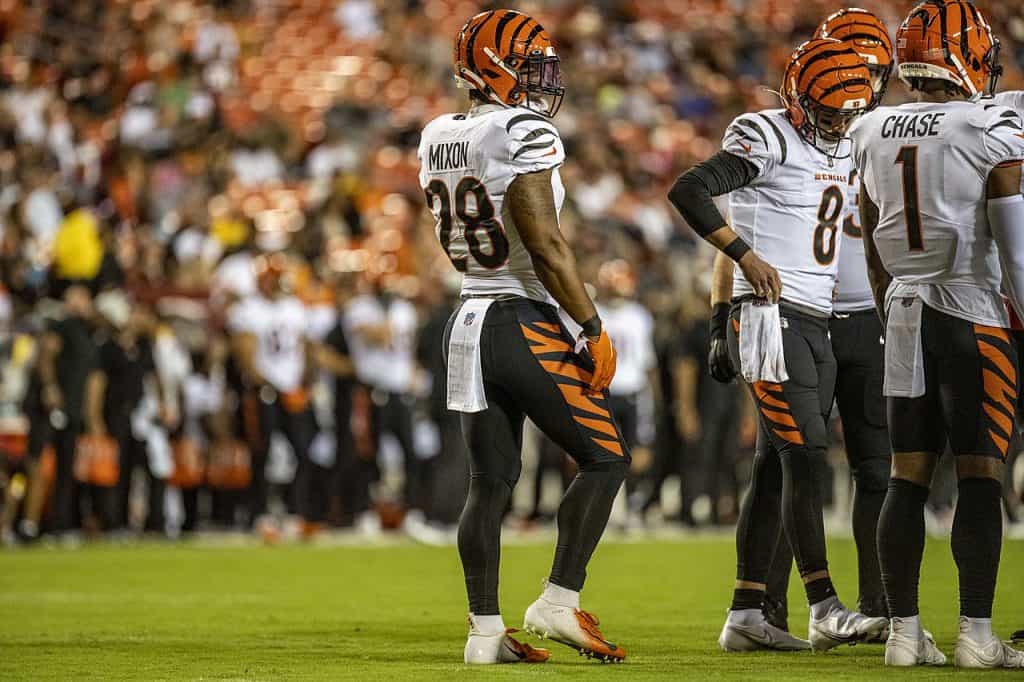 Thanks to a host of options, like FuboTV (free for 7 days) and Hulu Live fans never have to miss a game just because they cut the cord. Below we also list all the services and channels you can use to watch the Cincinnati Bengals online without cable or satellite.
What Channels Offer the Cincinnati Bengals Live Stream?
You will need a variety of local channels to watch the Cincinnati Bengals live stream, including NBC, Fox, and CBS. You also have to have channels you would previously need cable for, including ESPN and NFL Network.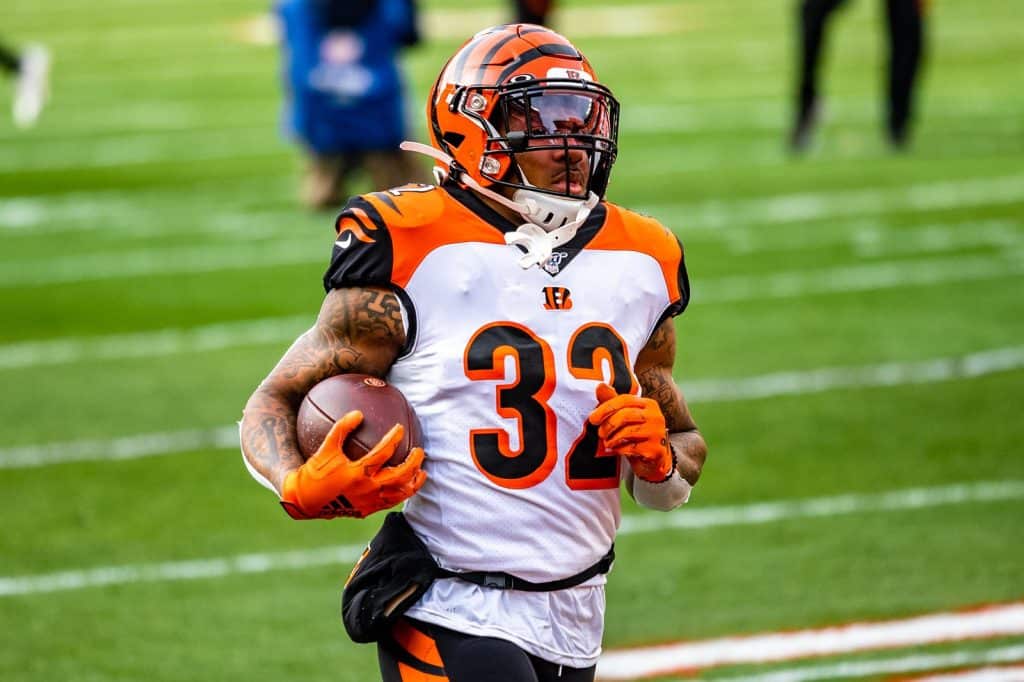 For the local channels, you should be able to use a digital antenna, but for the other channels you'll need, games air on, you are going to need one of the streaming services listed below. Many of these also come with local channels in most areas.
Unblock Your Favorite Events & Teams With a VPN
If you can't watch your favorite events or teams because of your location, a VPN will allow you to get the access you are entitled to, plus extra security and unequalled privacy. Check out our VPN Guide for everything you need to know, including our top pick ExpressVPN.
How to Watch the Cincinnati Bengals without Cable
Two of the most popular ways to watch the Cincinnati Bengals are FuboTV and Hulu Live. These streaming services are a way to avoid getting trapped with an extensive cable contract and excessive cable bill. They allow subscribers to still watch television shows, events, and sports – including games, like those played by the Cincinnati Bengals, live without cable.
These services also come without contracts and are often much more affordable.
It's as easy as choosing a service and signing up. From there you'll be able to connect your device (Roku, Chromecast, mobile devices, and more) using an Internet connection.
That's all it'll take to watch the Cincinnati Bengals online without cable! Many of these streaming services allow you to stream from just about anywhere. Now you can watch your favorite games on the go.
Out-of-Market Cincinnati Bengals Games
If you are a fan of the Bengals who lives far from Paycor Stadium in Ohio, you'll find that there are few games that feature your team. The Sunday afternoon broadcasts on Fox and CBS feature teams that are important to local fans. This is a kind of reverse blackout that fans struggle with.
If you're in this situation, check out NFL Out-of-Market Football Games to learn your options.
The primary tool for watching out-of-market games is NFL Sunday Ticket. Unfortunately, it is currently only available to DIRECTV Satellite subscribers. But this is the last year that DIRECTV has rights to it. Next year, it will almost certainly be available through a streaming service.
You may want to look into using a VPN. There can be complications, but ExpressVPN provides all the details.
Watch the Cincinnati Bengals without Cable on FuboTV
FuboTV is a complete solution to watch the Cincinnati Bengals without cable. This is an amazing service for sports fans in general because it was started with sports in mind.
Today, FuboTV offers over 120 channels with over 35 of them being sports-oriented, an on-demand library, and you can even record your games with the cloud-based DVR that comes with your service.
Here is more info on the service:
After the free trial, $74.99/mo for 120+ channels
Most locations will give you access to local channels including NBC (Sunday Night Football), FOX, and CBS
Get ESPN and NFL Network
A top overall option to watch sports online
Stream on multiple devices including mobile devices, Roku, and Amazon Fire TV
Comes with a cloud-based DVR as well as an on-demand library
You can find out more in the FuboTV review.
You can get what you want when it comes to Cincinnati Bengals games without cable using FuboTV. It has almost every channel you need without a costly cable subscription.
Not only will you get access to NFL football, but you will get a wide variety of sporting events and games including regional, state, national, and international sports.
Sign Up for a Free 7-Day Fubo Trial
Watch Cincinnati Bengals With DIRECTV STREAM
Bengals fans should seriously consider DIRECTV STREAM. It is a full cable replacement service that offers everything you expect from cable and much more. It offers 4 packages but the base (Entertainment) package gives you 75+ channels including all the ones the vast major of NLF games appear on (ABC, CBS, Fox, NBC, and ESPN).
It also comes with a modern interface that is easy to use, an unlimited cloud DVR, and streaming on unlimited devices.
Check out our DIRECTV STREAM review for details.
Get DIRECTV STREAM Free for 5 Days
Watch the Cincinnati Bengals Online via Hulu + Live TV
One of the easiest ways to watch the Cincinnati Bengals live stream is Hulu + Live TV. The service comes with 85 channels of live television, the Hulu on-demand service, local channels in most areas, and ESPN, nationwide. It also includes ESPN+ and Disney+!
More on the service below:
If you're looking for an affordable way to cut the cord Hulu Live offers all that and more. You will get a seemingly endless amount of live and on-demand television content, as well as all the sports games and content you can imagine.
There are multiple options available making the service affordable for most people.
Superpower Your Streaming With a VPN
For the sake of privacy, security, and access, you should be using a VPN. They are low-cost and easy to use. We've been using them for years and our top pick is ExpressVPN. Be sure to check out our deals page on ExpressVPN, NordVPN, SurfShark and PureVPN.
Other Options to Watch Cincinnati Bengals Online
We've just listed two major ways to stream the Cincinnati Bengals without a cable subscription – Hulu Live and FuboTV. These are not the only services, but they are some of the best.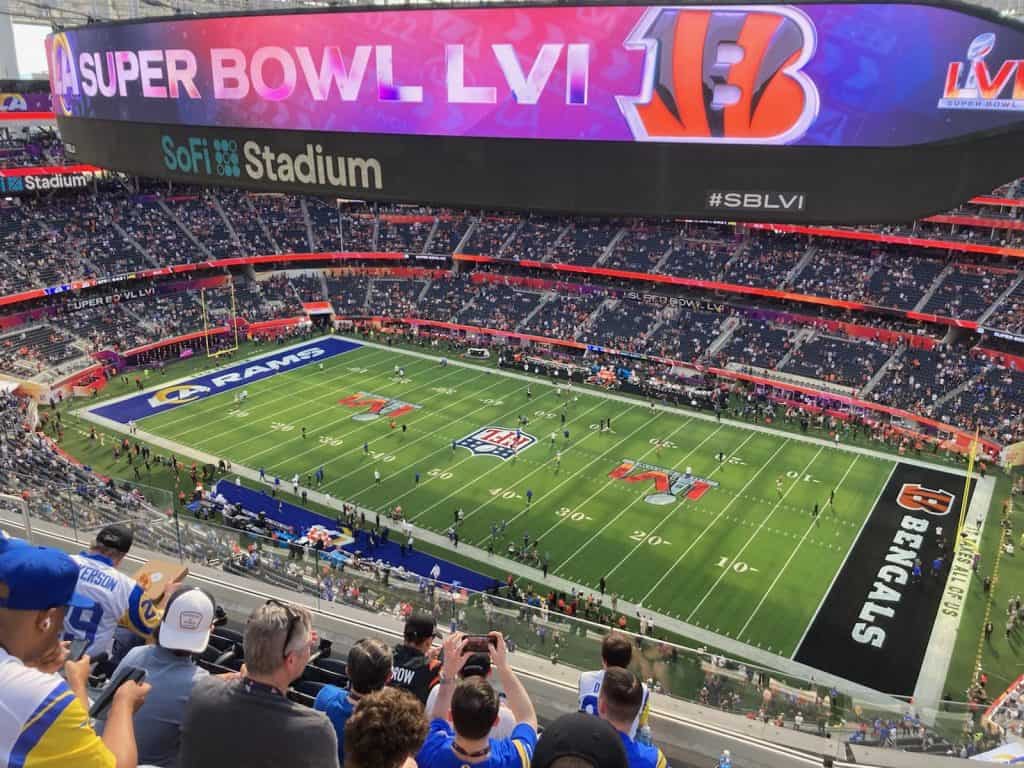 In case you are looking for something else, check out the following services, which will also provide you with access to some Cincinnati Bengals games you want to watch.
Sign Up for a Free 7-Day Fubo Trial
2022-23 Bengals Overview
The Bengals ended up with the type of season that does provide a lot of pride but with that mixed with a significant amount of pain, being one of the NFL's best teams this season but falling agonizingly close to returning to the Super Bowl for the second straight campaign. Cincinnati dropped a nail-biter to Kansas City, 23-20, in the AFC championship game.
However, it has to be said that reaching the AFC title contest in back-to-back seasons is a significant improvement over failing to win even a single playoff game prior to then back to 1990 and last playing in the AFC title contest in 1988.
Of course, regardless, the team's focus in 2023 will be on doing everything possible to get back to the Super Bowl and winning it this time, which would be the franchise's first Vince Lombardi Trophy.
During the 2022 season, the team responded to a mediocre 4-4 start by reeling off 10 straight wins, completing the regular season with a 12-4 mark and dispatching the Ravens, 24-17, and Bills, 27-10, in the playoffs before falling just short of the Chiefs.
Quarterback Joe Burrow is expected to remain with the Bengals for some time to come. In fact, he has stated that he wants to be in Cincy for his entire career. This is good news for Bengals fans everywhere.
Sign Up for a Free 7-Day Fubo Trial
Wrapping Up
Now that we've given you more information about all the streaming services you can use to watch the Cincinnati Bengals live stream without cable, you can decide about the kind of service you want.
Our top choice for Cincinnati Bengals fans is FuboTV. Fubo allows you to try out its service free for 7 days.
Sign Up for a Free 7-Day Fubo Trial
FAQs
Which TV channels do I need to watch the Cincinnati Bengals?
Most Sunday afternoon Cincinnati Bengals games play live on CBS (occasionally, they are on Fox). For Sunday Night Football games, you need NBC Sports (NBC or Peacock). Monday Night Football games air on ESPN. And Thursday Night Football games are currently on NFL Network but starting in 2022, they will be on Amazon Prime.
How do I stream NFL teams other than the Bengals?
Need more information on how to watch the NFL without cable tailored specifically to your favorite team? Click on your team below.
What radio stations are the Cincinnati Bengals on?
Cincinnati Bengals fans have no shortage of radio channels to listen to the latest games live. The Cincinnati Bengals Radio Network is managed by the franchise and broadcasts to a total of 37 radio stations. Some of the most prominent channels that host Bengals games include ESPN 1530, 102.7 WEBN, and 700 WLW. All of the radio stations that play Bengals games let fans listen in using live streaming apps.
How can I watch the Cincinnati Bengals on my phone?
Most general streaming services (FuboTV, Hulu + Live TV) allow you to watch the Cincinnati Bengals on any smartphone that runs iOS and Android. The NFL app also allows you to watch live and primetime games, but you must have a provider account to access this.
Sign Up for a Free 7-Day Fubo Trial
How many championships has the Cincinnati Bengals won?
Unfortunately, the Cincinnati Bengals have never won a championship. Although the Bengals have been around since 1966, they have remained as just one of five NFL teams that have never won any type of championship game. Additionally, the Bengals have not been able to win any playoff games since 1990. Nevertheless, the Bengals continue to invest in new players in hopes of eventually winning a championship.
How do I watch the Cincinnati Bengals game tonight?
The Cincinnati Bengals can be watched live on most of the major television networks in Cincinnati. The local affiliates of CBS (Sunday afternoon), Fox (Sunday afternoon), and NBC (Sunday night) all stream Bengals games live. Additionally, ESPN streams Bengals games on Monday nights. And Thursday night games air on NFL Network. All of these are available from the major streaming services like FuboTV.
How do I record Cincinnati Bengals live games?
Cincinnati Bengals games can be recorded by using a DVR. Most streaming services have an app called Cloud DVR that lets you record almost any football game, including Cincinnati Bengals games. Cloud DVR recordings cannot capture content from ESPN3, but they can record games on other channels that play Bengals games, including ESPN, NBC, CBS, and NFL Network. Once you have recorded a game, you can view it at any time by using your service.
Why has the Bengals vs Bills game been cancelled?
NFL cancelled the Monday night game on 2nd January, Bills vs Bengals, after Buffalo Bills' Damar Hamlin collapsed on the field during the match. He was rushed to the hospital. Fortunately, his condition has steadily improved, and he was released from Buffalo General Medical Center on January 11 to continue rehab at home.
What is the 2023 Cincinnati Bengals schedule?
Fri Aug 11 : Cincinnati vs Green Bay [Preseason]
Fri Aug 18 : Cincinnati @ Atlanta [Preseason]
Sat Aug 26 : Cincinnati @ Washington [Preseason]
Sun Sep 10 : Cincinnati @ Cleveland (CBS)
Sun Sep 17 : Cincinnati vs Baltimore (CBS)
Mon Sep 25 : Cincinnati vs Los Angeles (ESPN)
Sun Oct 1 : Cincinnati @ Tennessee (FOX)
Sun Oct 8 : Cincinnati @ Arizona (FOX)
Sun Oct 15 : Cincinnati vs Seattle (CBS)
Sun Oct 29 : Cincinnati @ San Francisco (CBS)
Sun Nov 5 : Cincinnati vs Buffalo (NBC)
Sun Nov 12 : Cincinnati vs Houston (CBS)
Thu Nov 16 : Cincinnati @ Baltimore (PRIME VIDEO)
Sun Nov 26 : Cincinnati vs Pittsburgh (CBS)
Mon Dec 4 : Cincinnati @ Jacksonville (ESPN)
Sun Dec 10 : Cincinnati vs Indianapolis (CBS)
Sun Dec 17 TBD: Cincinnati vs Minnesota
Sat Dec 23 : Cincinnati @ Pittsburgh (NBC)
Sun Dec 31 : Cincinnati @ Kansas City (CBS)
Sun Jan 7 TBD: Cincinnati vs Cleveland
Sign Up for a Free 7-Day Fubo Trial
Ditch "Big Cable" Now – 3 Simple Steps to Cut the Cord
Pick the right streaming service
Get the content you deserve with the best VPN.
Supercharge your internet provider
That's it — you'll save money, take back control, and enjoy TV more!
Page Updates
▼
▲
Updated some sub-sections. Updated some section headings. Changes to some of the sections.

Added sub-section. Updates to a section. Image changes. Added some links.

Updated one section. Image changes. More links.

Added new section. Mentioned offers. Pricing updates. Changed a few bits of content.

Added links to streaming services. Added a few links. Pricing updates. Misc changes.

Added buttons for streaming services. Added info about guide. Updated some sub-sections. Mentioned offers. Pricing updates.

Added buttons for streaming services. Added sub-section. Linking. Pricing updates. Changed a few bits of content.

Updates to a section. Changed some content in main section. More links.
Latest posts by Frank Moraes
(see all)