The Dallas Cowboys are one of the most popular franchises in professional football, and the team brings in millions of viewers every week. Cowboys fans in the Dallas-geographical area can generally watch the games free of charge via local channels such as Fox.
On the other hand, if you live outside of the geographical area, then it may be difficult to watch Cowboys games on a consistent basis. Read on to learn your options.
In a hurry? The only surefire way to wrangle up all the out-of-market Cowboys games is with NFL Sunday Ticket, which requires a satellite provider. But there are a number of tools you can use besides that:
If you'd rather talk to someone about NFL Sunday Ticket, a support person at DIRECTV Satellite can walk you through the process. Just call 877-432-7840.
DAZN Canada is streaming every NFL game live, which means preseason, regular games, playoff games, and of course the Super Bowl.
ExpressVPN: Get the games you deserve while securing your privacy. Comes with a 30-day money-back guarantee.
NFL Game Pass: Watch any game live for NFL fans outside the US.
This team is fun to watch thanks to its high-performance offense, no-nonsense defense, and strong player personalities. You could be missing out on the action because you simply live out of market.
Out-of-Market Games
The National Football League makes it easy to watch scheduled games throughout the year because the games are broadcast all over the nation. With that being said, each team will play a maximum of one game per week. The issue here is that fans may not be able to watch their favorite teams because they don't reside in the teams' respective markets.
This is where following NFL games can become difficult because most regular season games are broadcast on a regional basis. In most locations, Sunday afternoon games are generally limited to only two broadcasts via Fox or CBS. Of course, this is great news for local fans who have in-market access. Local fans of the area can easily watch the games thanks to their Fox or CBS affiliate.
Unfortunately, fans who reside in distant locations are out of luck. For example, most Dallas Cowboys games will not be shown in regions such as New York.
Other professional leagues like the NBA and MLB have solutions for this very problem because they have built platforms to support viewership like the NBA League Pass and MLB.TV. Professional soccer and ice hockey have games that are featured on ESPN+. There is a solution to handle out-of-market Cowboys games, and it's known as NFL Sunday Ticket.
The only issue here is that fans will need to subscribe to a satellite provider such as DIRECTV, which is different from the DIRECTV STREAM platform. If you don't mind going this route, then your problem is instantly solved.
Out-of-Market Dallas Cowboys Options
Here are some of the available platforms for watching out-of-market Cowboys games.
NFL Sunday Ticket is the ultimate source for Dallas Cowboys viewership because it will deliver every NFL game to subscribers outside the Cowboys' broadcast area. (NFL Sunday Ticket review)
NFL+ Premium will provide on-demand access for all out-of-market games for a price of $9.99 per month. There's a catch because this platform only shows replays of the games instead of live streams. If you don't mind waiting, then this service is a good option. NFL+ Premium does offer live, in-market games on mobile devices, including all out-of-market games for the preseason. (NFL+ review)
NFL RedZone doesn't provide out-of-market games, but fans can watch Sunday afternoon games simultaneously. This platform is a fantasy football resource via 7 hours of gameplay with teams that are inside of the red zone (within the opponent's 20-yard line). Viewers can go back and forth for keeping track of the action, and player stats are listed for reference purposes.
VPN isn't a streaming platform. It's a tool that allows people to watch Cowboys games that are blacked out. (VPN overview)
SiriusXM won't provide any video content, but it's great for listening to live game action.
Sports bars, friends, and other options can be used when all else fails. These options are perfect for enjoying the games in a social setting.
A notable mention for individuals who live outside of the US, is NFL Game Pass International. For complete details, see our review.
Unblock Your Favorite Events & Teams With a VPN
If you can't watch your favorite events or teams because of your location, a VPN will allow you to get the access you are entitled to, plus extra security and unequalled privacy. Check out our VPN Guide for everything you need to know, including our top pick ExpressVPN.
NFL RedZone
We mentioned NFL RedZone above. But it isn't available directly. You need to get it through a third-party provider
This includes Fubo TV, which offers a base plan of $74.99/mo with 120+ channels. An additional $10.99 per month will provide access to NFL RedZone and 28 other sports-based channels.
Sling TV offers NFL RedZone via its Sports Plus package. Sling's Blue plan starts at $40.00/mo, but an additional $11.00 will give you access to RedZone and 10 other sports channels.
Hulu+ Live TV starts at $69.99/mo for 85+ live channels along with Disney+ and ESPN+. NFL RedZone comes with the Sports add-on for $9.99/mo.
Vidgo offers RedZone in addition to 140+ channels in its Premium plan for $84.99/mo. YouTube TV is $72.99/mo, and RedZone is available with the Sports Plus add-on for an extra $10.99/mo.
Wrapping Up
Dallas Cowboys fans who live in far-flung areas have a few options to catch all the games. The best is NFL Sunday Ticket with DIRECTV Satellite. But also consider Sling TV or FuboTV with NFL RedZone.
FAQs
Can I use DIRECTV STREAM to watch out-of-market Dallas Cowboys games?
DIRECTV STREAM is not a good choice for out-of-market NFL fans. It's good for NFL overall. If provides you with whatever Sunday afternoon games air on your local Fox and CBS affiliates. And it allows you to watch Sunday and Monday night games. But it does not provide access to NFL RedZone at this time.
Besides the Dallas Cowboys, how do I watch other teams in out-of-market games?
Here are our viewer's guides for watching other teams out-of-market:
More Info on NFL Without Cable
If you still have questions, these resources should help:
Image cropped from New York Giants Saguon Barkley & Dallas Cowboys Jeff Heath by Jack Kurzenknabe (Public Domain).
Page Updates
▼
▲
Added FAQ section. Added table of contents. Added new section. Linking. Updated some sub-sections. Misc content updates.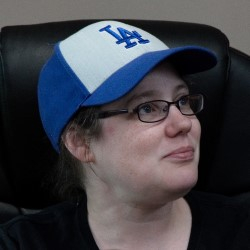 Latest posts by Alanna Baker
(see all)