Disclosure:
Your support helps keep our site running! We earn referral fees for some of the products & services we recommend.
Learn more
There's no reason that Green Bay Packers fans need to hang on to their cable contracts. They have lots of options that we discuss below.
In a hurry? But if you just want to start watching now and don't care about details, the following services will give you what you want:
FuboTV: The great allaround sports streaming service doesn't disappoint when it comes to the Green Bay Packers. Sign-up for free for a week and find out.
Hulu + Live TV: The popular on-demand streaming service has offered 85+ live channels including all the ones to watch NFL. And ESPN+. And Disney+. Try them for free for a week!
DIRECTV STREAM: All the channels to watch every Packers game. And with the Choice plan the ultimate for MLB, NBA, and NHL fans. Comes with a 14-day money-back guarantee.
Green Bay fans are known by their cheese-head hats they often wear. The Packers have been around since the 1920s. Since then they have won dozens of league championships and multiple Super Bowls.
They also have some of the most rabid fans in the league. If you're a Packers fans you probably don't miss a game. If you don't have cable, you can watch the Green Bay Packers game online.
You don't need cable to enjoy your favorite shows and sports on TV. In fact, it's easier than ever to watch sports (and more) without cable thanks to new streaming options like FuboTV (free 7-day trial).
Keep reading to learn all the ways that you can watch the Green Bay Packers online without cable.
What Channels Offer the Green Bay Packers Live Stream?
With the season underway, there are five channels you'll want access to if you want to watch the NFL. You'll need broadcast channels like ESPN and NFL Network. If you don't have cable, you can access these channels with many of the streaming services in this guide.
As for local channels, you'll need CBS, NBC, and Fox. These channels can be accessed through a streaming service depending on your location. You may also be able to get these channels using a digital antenna.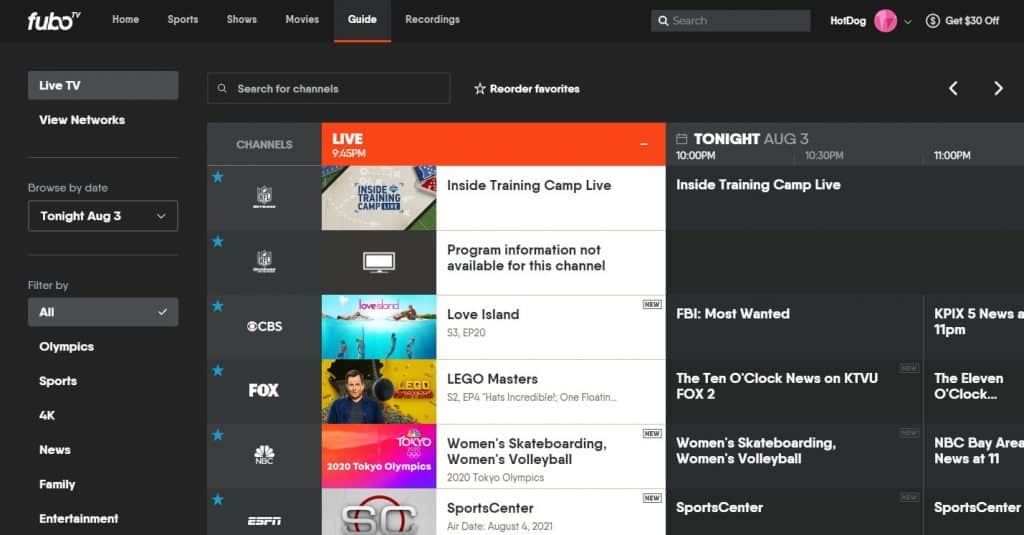 How to Watch the Green Bay Packers without Cable
There are a handful of ways to enjoy the Green Bay Packers live stream without cable. Two of the options we'll discuss first include Hulu with Live TV and FuboTV. After we talk about those options, we will give you a brief look at all of the other options out there. You'll quickly see that you can still watch everything you enjoy, and you don't need cable to do it.
Streaming services are simple to use, and they are usually fairly priced. No matter what service you choose you'll connect through the Internet and connect with a streaming device. Devices will depend on the service and where you want to stream, but include Roku, Chromecast, mobile devices, Apple TV, and other devices.
Watch the Green Bay Packers without Cable on FuboTV
FuboTV is a sports fan dream, offering a chance to watch an endless amount of sports content without cable. Start with 100+ channels and add more if you want them.
You'll also have on-demand content, TV Everywhere access, and a cloud-DVR. Sports fans will get to enjoy over 35 sports channels in the main package. More FuboTV details:
FuboTV is reasonably priced and offers plenty of entertainment whether you want to watch the Green Bay Packers or movies or family entertainment. If you miss a game, you can check it out on-demand using 3-Day Replay. The best way to learn more about FuboTV is with the free 7-day trial!
Watch the Green Bay Packers Online via Hulu + Live TV
Hulu + Live TV offers one of the top ways to watch the Green Bay Packers online. This package offers Hulu on-demand plus 85+ channels of live TV. It also comes with an outstanding on-demand library as well as Disney+ and ESPN+!
You'll also have a cloud-based DVR and a chance to add more channels to your package. Here's more on Hulu Live:
Hulu Live offers a complete cable replacement for just $69.99 per month. You'll have plenty of on-demand content and can watch TV Everywhere apps.
Streaming is possible on most devices, including mobile devices. This means you can watch the Green Bay Packers online from almost anywhere.
If you're interested in learning more, try signing up with the Hulu Live free trial!
Other Options to Watch Green Bay Packers Online
Hulu Live and FuboTV are great options. That said, there are several other services out there that you can use that offer an opportunity to watch the Green Bay Packers online without cable.
These services include: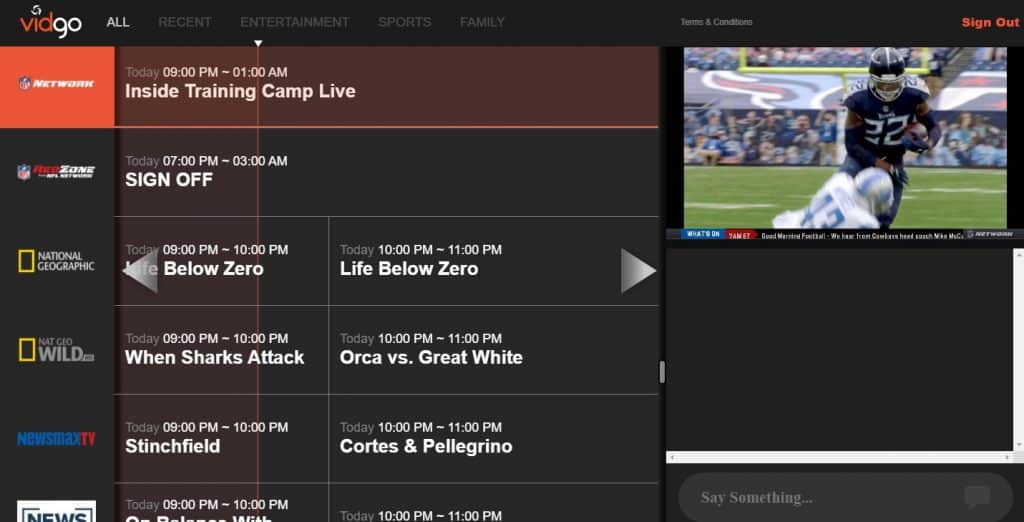 Looking for Info on How to Watch Another Team?
Need more information on how to watch NFL without cable tailored specifically to your favorite team? Click on your team below.
Streaming services are the best option for enjoying your favorite shows without the cost that frequently comes with cable. Even better, along with your live content, you often have an on-demand library with more content, and much more.
If you have questions about how to watch the Green Bay Packers online, feel free to reach out!
FAQs
Which channels do I need to watch the Green Bay Packers?
The Green Bay Packers will appear on a number of channels throughout the season, including CBS, Fox, NBC, ESPN, and NFL Network. With NFL Ticket on Directv, viewers can gain access to all of the Packers' games through a single platform. NFL Redzone, an affiliate of NFL Network, shows key moments from Packers' games, including every touchdown, alongside highlights from other games occurring simultaneously. In-market fans can also stream games live at Packers.com.
What radio stations are the Green Bay Packers on?
The Green Bay Packers have a vast radio network, stretching from WIXX-FM in Green Bay, Wis., to nearly 50 other stations around Wisconsin, including WTMJ-AM and -FM in Milwaukee, and reaching into neighboring states. The western portion of Michigan's Upper Peninsula is home to several stations while one is in Illinois (Moline) and one is in South Dakota (Sioux Falls). Westwood One Sports offers national radio coverage of select Packers games, including all postseason contests.
How do I watch the Green Bay Packers on my phone?
With most streaming services operable on Android and Apple operating systems, you should have no problem watching the Green Bay Packers on your phone. Cable replacement services, which include Hulu and FuboTV, will give you access to all the Packers games that typically appear on television. You can also use the NFL Game Pass app to watch games live and on-demand.
How many championships has the Green Bay Packers won?
The Green Bay Packers have won a total of 13 league championships, which is the most by any team in NFL history. Nine of these championships occurred before the Super Bowl was established. As such, the Packers have won four Super Bowls, the last of which was Super Bowl XLV in 2010. They have been division champions 20 times, most recently in 2020.
How do I watch the Green Bay Packers game tonight?
The Green Bay Packers game tonight can most likely be viewed on NBC, ABC, FOX, ESPN or NFL Network. Thursday Night Football games are usually on NFL Network, FOX or NBC, Saturday Night Football matchups are on FOX or ABC, Sunday Night Football games are on NBC, and Monday Night Football contests are on ESPN or ABC. In addition, Amazon Prime Video will stream most Thursday Night Football games, becoming the sole provider of many of those contests from 2022-on.
How do I record Green Bay Packers live games?
Once you've purchased a quality streaming service to watch the Green Bay Packers, you'll have no trouble recording the games as well. Most streaming services come with a "Cloud DVR" that makes recording quick and easy. With just the push of a button, you'll be able to record Packers games as they're happening. You can then go back and watch them after the fact at your own convenience.
Latest posts by Frank Moraes
(see all)