Are you a Kansas City Chiefs fan looking for a way to watch the whole season without having a cable contract? You're in luck! Not only is this easier to do than ever before, but we have all your options. Read on to find out!
In a hurry? If you just want to start watching, we think these streaming services are the best:
FuboTV: The best streaming service for international sports also provides 100+ well-selected channels. FuboTV allows you to try out its service free for 7 days.
DIRECTV STREAM: Get a great channel lineup with the best selection of RSNs in the industry. A 5-day free trial is now available for DIRECTV STREAM.
Sling TV: This low-cost service allows you to select just the channel lineup you want. Save 50% on your first month of Sling TV.
The Kansas City Chiefs are part of the AFC West division of the NFL. Like a lot of teams in the league, Kansas City has had its share of ups and downs. Still, their loyal fans continue to stay by their side and root for this popular hometown team.
There are a lot of ways to watch the Kansas City Chiefs game live stream and you don't need cable to do it. In fact, if you keep reading, you'll discover a variety of ways to watch the Kansas City Chiefs online.
This guide should have all of the details you need to get you set up and ready to stream some Kansas City Chiefs football!
You'll learn all about available services that offer the channels you need, such as FuboTV (free for 7 days) amongst others, and you'll learn a little bit about streaming along the way.
What Channels Offer the Kansas City Chiefs Live Stream?
You'll need a few set channels to watch the NFL this season. It doesn't matter if you have cable or not because all of these channels can be accessed without it.
CBS, Fox, and NBC are the local channels you'll need to watch the Kansas City Chiefs game live stream throughout the season. These channels can be found on most, if not all, of the streaming services we'll be mentioning.
Of course, local channels are dependent on your location. You can also access these channels for free with a digital antenna. As for broadcast channels, you'll need NFL Network and ESPN. Broadcast channels require a cable or streaming subscription if you want to watch them legally.
Do You Need a VPN?
If you find you can't watch particular events because of your location, a VPN should allow you to get the access you are entitled to. It also provides extra security and unequalled privacy. See our complete VPN Guide for all you need to know.
How to Watch the Kansas City Chiefs Game without Cable
You still have ways to watch your favorite TV without cable. Services like FuboTV provide packages like cable. The difference is that streaming services are often more feature-rich, and they cost less.
So, you're going to get a lot of the same things you had with cable (or more), but you'll be able to save some money!
Where streaming services are different is in the way that you connect to them. Cable is hooked up in your home and connects through a cable box. With streaming, you connect through the Internet or Wi-fi and the use of a compatible streaming device.
These devices include Roku, mobile devices, Chromecast, Apple TV, and others. This gives you more freedom in when and where you watch TV.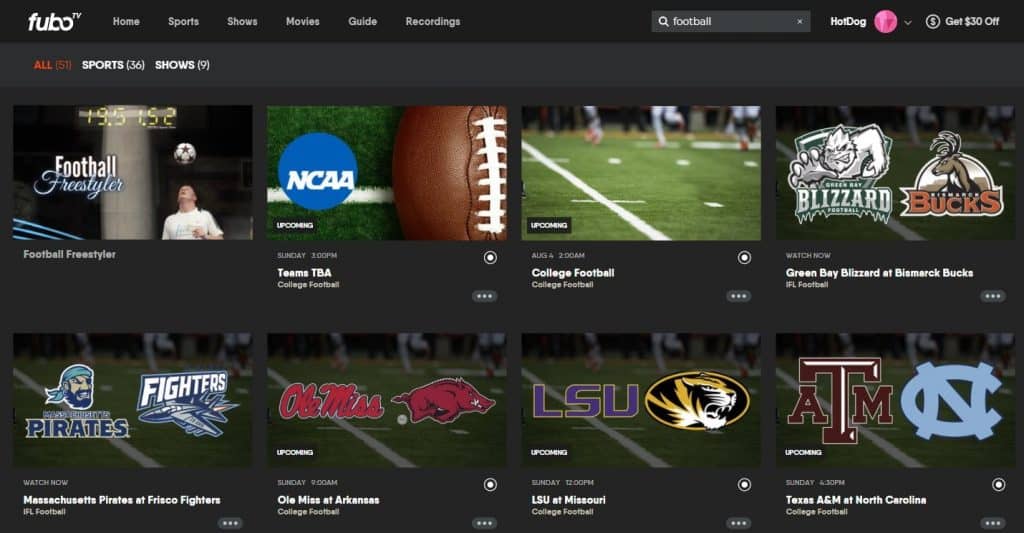 Watch the Kansas City Chiefs without Cable on FuboTV
FuboTV offers a package that comes with over 105 channels. You'll be able to watch over 35 sports channels in this package. Local channels are also included. If you miss the Kansas City Chiefs live stream you might be able to watch the game on-demand with 3-Day Lookback.
More FuboTV details:
FuboTV offers a sports-forward service that has something for everyone. You can watch live or on-demand from just about anywhere. Don't forget you can try the free for 7 days!
Watch the Kansas City Chiefs Online via Hulu + Live TV
Hulu + Live TV is the more popular options in streaming because it gives you an inexpensive way to replace cable. Not only do you have live TV, Hulu throws in all of their on-demand content, as well.
Here's more on Hulu Live:
Hulu Live is a popular choice thanks to the mix of live and on-demand content. Visit our Hulu + Live TV review to learn more.
Superpower Your Streaming With a VPN
For the sake of privacy, security, and access, you should be using a VPN. They are low-cost and easy to use. We've been using them for years and our top pick is ExpressVPN.
Other Options to Watch Kansas City Chiefs Games Online
Both Hulu with Live TV and fuboTV are great options, there are other choices you can make that will allow you to watch some or all of the Chiefs season. Here are some additional options:
Looking for Info on How to Watch Another Team?
Need more information on how to watch the NFL without cable tailored specifically to your favorite team? Click on your team below.
Streaming services give you an easy way to watch sports without paying for cable. If you still have questions on how to watch the Kansas City Chiefs online, make sure to let us know.
FAQs
Which channels do I need to watch the Kansas City Chiefs?
Those located in the Kansas City metropolitan area will be able to watch all Kansas City Chiefs games on CBS, FOX, ABC, ESPN, NBC and NFL Network. Chiefs fans situated elsewhere will be able to watch all nationally telecast contests, including all playoff games, but regular-season affairs shown on CBS and FOX will often not be broadcast in their local area. However, a subscription to NFL Sunday Ticket will grant access to those as well.
What radio stations are the Kansas City Chiefs on?
The flagship home of the Kansas City Chiefs radio network is WDAF, which is also known as 106.5 The Wolf. The network stretches considerably out from the Kansas City metropolitan area, focusing on communities throughout Kansas and Missouri while also offering coverage to areas of Arkansas, Oklahoma, Nebraska, South Dakota, Iowa, Illinois, Kentucky, Texas, Colorado and New Mexico. In addition, many Kansas City Chiefs contests, including all postseason games, are broadcast on Westwood One affiliates.
How do I watch the Kansas City Chiefs on my phone?
There are a number of streaming services available for watching the Kansas City Chiefs on your phone. Hulu, Vidgo, and FuboTV act as full cable replacements, meaning they'll give you the same access as a typical television package. The NFL's official Game Pass application also provides games both live and on demand. All of these services are compatible with Apple and Android phones, making them excellent options for Chiefs fans on the go.
How many championships has the Kansas City Chiefs won?
The Kansas City Chiefs have won two Super Bowls, two AFC championships and three AFL titles. Those Super Bowl wins came 50 years apart with the first one occurring in Super Bowl IV, following the 1969 season, and the most recent one taking place in Super Bowl LIV, at the end of the 2019 campaign. Another AFC title followed in 2020. The Chiefs were also the premier franchise of the AFL, claiming a league-record three titles (1962, 1966 and 1969).
How do I watch the Kansas City Chiefs game tonight?
The Kansas City Chiefs play afternoon and night games on ESPN, CBS, NBC and Fox. Sunday afternoon games are on CBS and NBC. They also play in some pre-season games, which are on Saturdays and Sundays on ESPN and the NFL Network. The Chiefs play one Thursday evening game per season, and it's on Fox.
How do I record Kansas City Chiefs live games?
Record games of the Kansas City Chiefs with the cloud DVR that's part of your streaming service. While ESPN3 doesn't participate in the service, you can record almost anything you stream from other sources. If you're watching the Kansas City Chiefs on the NFL Network, NBC, CBS, Fox or ESPN basic, you can just click on a button or tap on the screen to record the whole game.
What is the 2022 Kansas City Chiefs schedule?
Sat Aug 13 1:00 pm: Chiefs at Bears [P]
Sat Aug 20 4:00 pm: Commanders at Chiefs [P]
Thu Aug 25 8:00 pm: Packers at Chiefs [P]
Sun Sep 11 4:25 pm: Chiefs at Cardinals (CBS)
Thu Sep 15 8:15 pm: Chargers at Chiefs (Prime Video)
Sun Sep 25 1:00 pm: Chiefs at Colts (CBS)
Sun Oct 2 8:20 pm: Chiefs at Buccaneers (NBC)
Mon Oct 10 8:15 pm: Raiders at Chiefs (ESPN)
Sun Oct 16 4:25 pm: Bills at Chiefs (CBS)
Sun Oct 23 4:25 pm: Chiefs at 49ers (Fox)
Sun Nov 6 8:20 pm: Titans at Chiefs (NBC)
Sun Nov 13 1:00 pm: Jaguars at Chiefs (CBS)
Sun Nov 20 4:25 pm: Chiefs at Chargers (CBS)
Sun Nov 27 4:25 pm: Rams at Chiefs (Fox)
Sun Dec 4 4:25 pm: Chiefs at Bengals (CBS)
Sun Dec 11 8:20 pm: Chiefs at Broncos (NBC)
Sun Dec 18 1:00 pm: Chiefs at Texans (CBS)
Sat Dec 24 1:00 pm: Seahawks at Chiefs (Fox)
Sun Jan 1 1:00 pm: Broncos at Chiefs (CBS)
TBD: Chiefs at Raiders
Latest posts by Frank Moraes
(see all)