Disclosure:
Your support helps keep our site running! We earn referral fees for some of the products & services we recommend.
Learn more
Los Angeles Chargers can get access to the whole season without messing around with cable or satellite contracts. Read on to find out how!
In a hurry? If you aren't interested in the details, any of these streaming services should make Chargers fans happy:
FuboTV: This sports-oriented streaming services offers 100+ channels including everything you need for the NFL season. Try it out for 7 days free!
Hulu + Live TV: One of the top on-demand streaming services offers you 85+ live channels including the full list of NFL channels. Check out their 7-day free trial!
DIRECTV STREAM: Catch most games with plans starting with a line-up of 60+ channels. Try it with a 14-day money-back guarantee.
The Los Angeles Chargers got their start in LA before moving to San Diego and recently returning to the City of Angels back in 2017. They are one of two Los Angeles teams, sharing the city with the Rams.
They've made over a dozen playoff appearances and fans are hoping that they do the same thing this year. Of course, the best way to see how they play is to watch the game. With that in mind, here's how you can watch the Los Angeles Chargers online without cable.
Keep reading to learn all the details you need to find out about streaming TV without cable. We will tell you more about what channels will be airing the Los Angeles Chargers live stream and how to watch those channels without cable using services like fuboTV (free 7-day trial). Streaming is easy and you can be set up in no time. So, let's get started!
What Channels Offer the Los Angeles Chargers Live Stream?
You'll need both local and broadcast channels to watch the Los Angeles Chargers without cable. While broadcast channels, ESPN and NFL Network will require a streaming service, you have other options when it comes to local channels.
Required local channels include FOX, CBS, and NBC. These channels may be available through a streaming service, depending on the area you live. You can also watch these channels through a digital antenna.
How to Watch the Los Angeles Chargers without Cable
If you're familiar with Netflix, you know more about streaming services than you think. The difference here is that the services offer live TV and a set channel lineup similar to what you'd find on cable.
The main difference is that instead of a cable connection, you connect to your streaming service through an Internet connection and a streaming device. Compatible streaming devices will depend on the service you choose. Options include Amazon Fire TV, Apple TV, Chromecast, Roku, mobile devices, and more.
There are more than a few services that will allow you to watch the Los Angeles Chargers online. Two of our favorite options include FuboTV and Hulu Live.
We'll start by telling you more about these services, but others are available. You'll find the complete list of streaming options to watch the Los Angeles Chargers live stream without cable later in this guide.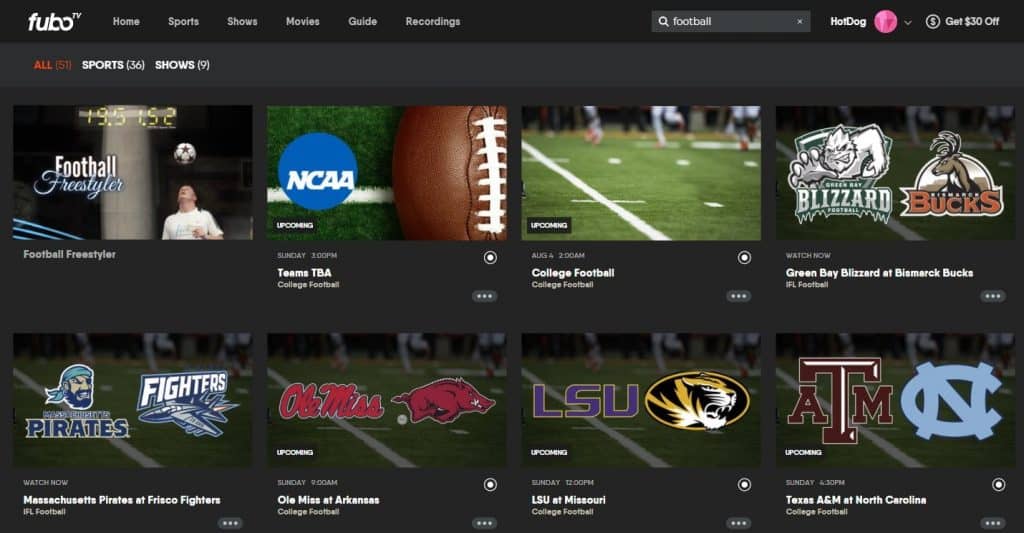 Watch the Los Angeles Chargers without Cable on FuboTV
FuboTV is a wonderful way to get your Chargers live stream each week. Local channels are included in most areas and over 100 other channels. Both ESPN and NFL Network are also included.
With this many channels, everyone should have something to watch. More FuboTV details:
FuboTV is a great choice if you want something that offers the lineup of cable without the price. You'll have plenty of channels and can add more if you want them.
In addition to live content, you'll have an on-demand library, access to a cloud-DVR, and the chance to use TV Everywhere apps. Make sure to check out the FuboTV free weeklong trial!
Watch the Los Angeles Chargers Online via Hulu + Live TV
Hulu + Live TV offers an easy and inexpensive way to replace cable. You'll start your subscription with 85+ live channels and Hulu's on-demand service. Here's more on Hulu Live:
85+ channels for $69.99 a month
Disney+, ESPN+, and Hulu's on-demand service is included
ESPN is included along with TNT, TBS, USA, Syfy, and more
Most areas include live local channels
Watch on Chromecast, iOS/Android, Apple TV, Amazon Fire TV, Roku, and more
Read our Hulu with Live TV review to learn more
Hulu + Live TV allows you to enjoy sports, news, movies, and more TV without having to pay for cable. Prices are low and you get a lot of channels and even more on-demand content.
It's easy to see why this is one of the more popular streaming options available. Make sure to give Hulu Live a shot during the Hulu Live free trial!
Other Options to Watch Los Angeles Chargers Online
Now that we've learned about Hulu with Live TV and FuboTV, let's look at the other services that you can use to watch the Los Angeles Chargers online without cable. These other options are all reasonably priced and provide a good alternative to cable services. Some other options you have, include:
Looking for Info on How to Watch Another Team?
Need more information on how to watch the NFL without cable tailored specifically to your favorite team? Click on your team below.
Streaming is an easy way to continue watching your favorite shows without being stuck in a cable contract. Hopefully, you figured out all you need to know how to watch the Los Angeles Chargers online.
If you still have questions, make sure to let us know!
FAQs
Which channels do I need to watch the Los Angeles Chargers?
If you are located in the Los Angeles metropolitan area, most Chargers games will be shown on CBS. All Sunday afternoon contests will be broadcast on a regional basis on either CBS or Fox while games played at other times will be on Fox, NBC, ESPN, ABC, NFL Network, or Amazon Prime Video.
What radio stations are the Los Angeles Chargers on?
The coverage area of the Chargers Radio Network is focused on Southern California and northern Baja California. In addition, you can listen to Chargers-produced broadcasts of games through the team's official website or a TuneIn premium subscription. However, note that the former option is not available through the accompanying app if you are outside of the Chargers market. A select number of Chargers games will also be broadcast nationally on Westwood One Sports.
How do I watch the Los Angeles Chargers on my phone?
Those looking to watch LA Chargers games on their phones can do so easily if they are in Southern California. All in-market games may be viewed through the Chargers, NFL, and Yahoo Sports apps. You can also watch many games through apps provided by those television networks if they are also being shown on your local affiliate. For those that are not, you must subscribe to a general streaming service or NFL Sunday Ticket.
How many championships has the Los Angeles Chargers won?
The Chargers have been to one Super Bowl, when the San Diego Chargers fell short of the San Francisco 49ers in Super Bowl XXIX, which was played following the 1994 season. The franchise did claim an AFL championship in 1963, however, also when the franchise was based in San Diego. The team has 15 division championships, of which only one occurred when the team was located in Los Angeles (1960).
How do I watch the Los Angeles Chargers game tonight?
Tonight's Los Angeles Chargers game will most likely be on NFL Network, ESPN, or NBC although other options include Fox, ABC, and Amazon Prime Video. Games that are broadcast on ESPN, NFL Network, or Amazon Prime Video will be simulcast on an over-the-air station in the L.A. area. Sling TV, FuboTV and the Chargers app will provide access to tonight's Los Angeles Chargers game in many situations.
How do I record Los Angeles Chargers live games?
One way to record live Los Angeles Chargers games is to take advantage of the recording options that Sling TV and FuboTV offer its subscribers. You can also skip recording them and instead purchase access to NFL Game Pass, which provides you with all archived Chargers game broadcasts. Cable and satellite providers generally provide the ability to record NFL games as well.
Latest posts by Frank Moraes
(see all)