Los Angeles Chargers can get access to the whole season without messing around with cable or satellite contracts. Read on to find out how!
In a hurry? If you aren't interested in the details, any of these streaming services should make Chargers fans happy:
Fubo: The best streaming service for international sports also provides 130+ well-selected channels. Fubo allows you to try out its service free for 7 days.
DIRECTV STREAM: Get a great channel lineup with the best selection of RSNs in the industry. A 5-day free trial is now available for DIRECTV STREAM.
If you can't watch your favorite sports because of your location, get ExpressVPN to access the content you deserve.
Unfortunately, we don't know a streaming service in that covers this sport. But if you've already paid for the right service, and just can't watch because of your location, there is an easy way to get the content you deserve. You need a VPN, like one of the following.
| | | |
| --- | --- | --- |
| | ExpressVPN: Known as "The VPN that just works," it combines remarkable ease of use with with state-of-the-art power, speed, security, and privacy. Get three extra free months when you sign up for a year. Unleash your streaming with this top-rated VPN. | Sign Up Now |
| | Surfshark: Surfshark: Secure and easy to use with thousands of servers around the world. Of special note is its excellent collection of servers inside the US, which is great for regional sports lie NFL, MLB, and NBA. Get it now with an incredible 82% discount on a 24-month plan. | Sign Up Now |
| | NordVPN: One of the top VPNs with extremely fast servers all over the world. Great for streaming with tested perfomance on the biggest servers and included ad-blocking. Currently offering 70% discount on 2-year plans. | Sign Up Now |
If you're overwhelmed and not sure where to begin, you'll find all the answers in our full VPN guide.
Bottom line: 16 of the 17 regular season Chargers games will air on live TV with one only streaming (on Amazon Prime Video). The services above have you covered for the regular and postseason. See the Chargers schedule below.
The Los Angeles Chargers got their start in LA before moving to San Diego and recently returning to the City of Angels back in 2017. They are one of two Los Angeles teams, sharing the city with the Rams.
They've made over a dozen playoff appearances, and fans are hoping that they do the same thing this year. Of course, the best way to see how they play is to watch the game. With that in mind, here's how you can watch the Los Angeles Chargers online without cable.
Are you a fan outside your team's broadcast area? Learn to get complete access with our NFL Out-of-Market Game Guide.
Keep reading to learn all the details you need to find out about streaming TV without cable. We will tell you more about what channels will be airing the Los Angeles Chargers live stream and how to watch those channels without cable using services like FuboTV (free for 7 days). Streaming is easy, and you can be set up in no time. So, let's get started!
What Channels Offer the Los Angeles Chargers Live Stream?
You'll need both local and broadcast channels to watch the Los Angeles Chargers without cable. While broadcast channels, ESPN and NFL Network will require a streaming service, you have other options when it comes to local channels.
Required local channels include FOX, CBS, and NBC. These channels may be available through a streaming service, depending on the area you live. You can also watch these channels through a digital antenna.
Unblock Your Favorite Events & Teams With a VPN
If you can't watch your favorite events or teams because of your location, a VPN will allow you to get the access you are entitled to, plus extra security and unequalled privacy. Check out our VPN Guide for everything you need to know, including our top pick ExpressVPN.
How to Watch the Los Angeles Chargers without Cable
If you're familiar with Netflix, you know more about streaming services than you think. The difference here is that the services offer live TV and a set channel lineup similar to what you'd find on cable.
The main difference is that instead of a cable connection, you connect to your streaming service through an Internet connection and a streaming device. Compatible streaming devices will depend on the service you choose. Options include Amazon Fire TV, Apple TV, Chromecast, Roku, mobile devices, and more.
There are more than a few services that will allow you to watch the Los Angeles Chargers online. Two of our favorite options include FuboTV and Hulu Live.
We'll start by telling you more about these services, but others are available. You'll find the complete list of streaming options to watch the Los Angeles Chargers live stream without cable later in this guide.
Out-of-Market Los Angeles Chargers Games
Local Los Angeles Chargers fans are lucky in that their local CBS affiliates carry every game they play Sunday afternoon. For fans outside the Chargers' broadcast area, coverage can be sketchy. They will sometimes show up, but in most areas it is rare.
There are various way to watch these games. We explain them in NFL Out-of-Market Football Games.
There is one way to easily watch all out-of-market games, NFL Sunday Ticket. But it requires that you subscribe to DIRECTV Satellite (not DIRECTV STREAM). If that's okay, you're golden. (See our Sunday Ticket review for more information.)
If you are not open to this, you can check out a VPN. There are licensing issues to consider, however. Look at our ExpressVPN guide, which has all the details.
Watch the Los Angeles Chargers without Cable on FuboTV
FuboTV is a wonderful way to get your Chargers live stream each week. Local channels are included in most areas and over 120 other channels. Both ESPN and NFL Network are also included.
With this many channels, everyone should have something to watch. More FuboTV details:
FuboTV is a great choice if you want something that offers the lineup of cable without the price. You'll have plenty of channels and can add more if you want them.
In addition to live content, you'll have an on-demand library, access to a cloud-DVR, and the chance to use TV Everywhere apps.
Sign Up for a Free 7-Day Fubo Trial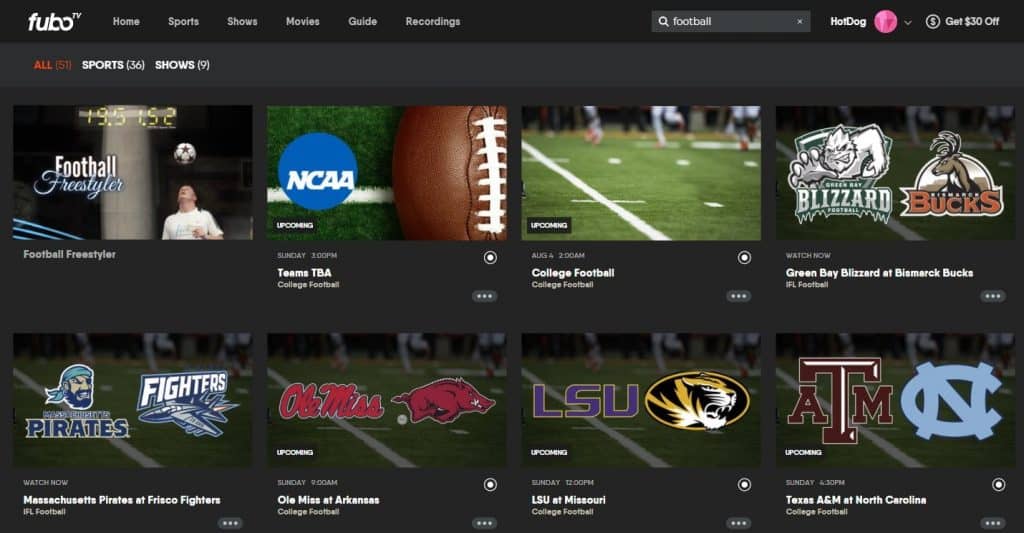 Watch Chargers With DIRECTV STREAM
Chargers fans are all covered with DIRECTV STREAM. It offers a 75+ channel lineup in its base plan for $74.99/mo. This includes all the channels you need to watch virtually every game: ABC, CBS, Fox, NBC, and ESPN — and a whole lot more. You can get other channels, including the best selection of regional sports networks in the nation, by upgrading.
All DIRECTV STREAM packages feature a modern user interface, unlimited cloud DVRs, and unlimited simultaneous streaming.
Get more information in our DIRECTV STREAM review.
Get DIRECTV STREAM Free for 5 Days
Watch the Los Angeles Chargers Online via Hulu + Live TV
Hulu + Live TV offers an easy and inexpensive way to replace cable. You'll start your subscription with 85+ live channels and Hulu's on-demand service. Here's more on Hulu Live:
85+ channels for $69.99/mo
Disney+, ESPN+, and Hulu's on-demand service is included
Most areas include live local channels
Unlimited cloudDVR (9 month storage)
Watch on Chromecast, iOS/Android, Apple TV, Amazon Fire TV, Roku, and more
Read our Hulu with Live TV review to learn more
Hulu + Live TV allows you to enjoy sports, news, movies, and more TV without having to pay for cable. Prices are low, and you get plenty of channels and even more on-demand content.
It's easy to see why this is one of the more popular streaming options available.
Superpower Your Streaming With a VPN
For the sake of privacy, security, and access, you should be using a VPN. They are low-cost and easy to use. We've been using them for years and our top pick is ExpressVPN. Be sure to check out our deals page on ExpressVPN, NordVPN, SurfShark and PureVPN.
Other Options to Watch Los Angeles Chargers Online
Now that we've learned about Hulu with Live TV and FuboTV, let's look at the other services that you can use to watch the Los Angeles Chargers online without cable. These other options are all reasonably priced and provide a good alternative to cable services. Some other options you have, include:
2022-23 Los Angeles Chargers Roundup
Although the Chargers' campaign ended in frustrating fashion on Saturday, losing a 27-0 deficit and falling to the Jaguars, 31-30, the season as a whole was an improvement over the past several. The 10 regular-season wins were the second-most since 2009, and the playoff appearance was the team's second of the past nine seasons.
Of course, as is the case for every team, the focus is always towards improvement, and the team's players, coaches, front office, and fans are all hoping for more of that in 2023. However, heading into the offseason $10 million over the salary cap will make that difficult. (Only four NFL teams are more over the cap than that.)
Sign Up for a Free 7-Day Fubo Trial
Wrapping Up
Streaming is an easy way to continue watching your favorite shows without being stuck in a cable contract. Hopefully, you figured out all you need to know how to watch the Los Angeles Chargers online.
FuboTV is our #1 pick for Chargers fans. Fubo allows you to try out its service free for 7 days.
Sign Up for a Free 7-Day Fubo Trial
If you still have questions, make sure to let us know!
FAQs
Which channels do I need to watch the Los Angeles Chargers?
If you are located in the Los Angeles metropolitan area, most Chargers games will be shown on CBS. All Sunday afternoon contests will be broadcast on a regional basis on either CBS or Fox while games played at other times will be on Fox, NBC, ESPN, ABC, NFL Network, or Amazon Prime Video.
How can I watch teams besides the Chargers?
Need further information on how to watch any NFL playoff team without cable? Click on your team below.
What radio stations are the Los Angeles Chargers on?
The coverage area of the Chargers Radio Network is focused on Southern California and northern Baja California. In addition, you can listen to Chargers-produced broadcasts of games through the team's official website or a TuneIn premium subscription. However, note that the former option is not available through the accompanying app if you are outside the Chargers market. A select number of Chargers games will also be broadcast nationally on Westwood One Sports.
How do I watch the Los Angeles Chargers on my phone?
Those looking to watch LA Chargers games on their phones can do so easily if they are in Southern California. All in-market games may be viewed through NFL+. You can also watch many games through apps provided by those television networks if they are also being shown on your local affiliate. For those that are not, you must subscribe to a general streaming service or NFL Sunday Ticket.
How many championships has the Los Angeles Chargers won?
The Chargers have been to one Super Bowl, when the San Diego Chargers fell short of the San Francisco 49ers in Super Bowl XXIX, which was played following the 1994 season. The franchise did claim an AFL championship in 1963, however, also when the franchise was based in San Diego. The team has 15 division championships, of which only one occurred when the team was located in Los Angeles (1960).
How do I watch the Los Angeles Chargers game tonight?
Tonight's Los Angeles Chargers game will most likely be on NFL Network, ESPN, or NBC although other options include Fox, ABC, and Amazon Prime Video. Games that are broadcast on ESPN, NFL Network, or Amazon Prime Video will be simulcast on an over-the-air station in the LA area. Sling TV, FuboTV and the Chargers app will provide access to tonight's Los Angeles Chargers game in many situations.
How do I record Los Angeles Chargers live games?
One way to record live Los Angeles Chargers games is to take advantage of the recording options that Sling TV and FuboTV offer its subscribers. You can also skip recording them and instead purchase access to NFL+, which provides you with all archived Chargers game broadcasts. Cable and satellite providers generally provide the ability to record NFL games as well.
What is the 2023 Los Angeles Chargers schedule?
Sat Aug 12 : @ Los Angeles [Preseason]
Sun Aug 20 : vs New Orleans [Preseason]
Fri Aug 25 : @ San Francisco [Preseason]
Sun Sep 10 : vs Miami (CBS)
Sun Sep 17 : @ Tennessee (CBS)
Sun Sep 24 : @ Minnesota (FOX)
Sun Oct 1 : vs Las Vegas (CBS)
Mon Oct 16 : vs Dallas (ESPN)
Sun Oct 22 : @ Kansas City (CBS)
Sun Oct 29 : vs Chicago (NBC)
Mon Nov 6 : @ New York (ESPN)
Sun Nov 12 : vs Detroit (CBS)
Sun Nov 19 : @ Green Bay (FOX)
Sun Nov 26 : vs Baltimore (NBC)
Sun Dec 3 : @ New England (CBS)
Sun Dec 10 : vs Denver (CBS)
Thu Dec 14 : @ Las Vegas (PRIME VIDEO)
Sat Dec 23 : vs Buffalo (Peacock)
Sun Dec 31 : @ Denver (CBS)
Sun Jan 7 TBD: vs Kansas City
Are the Chargers from LA or San Diego?
The Chargers are known as Los Angeles Chargers since 2017.
They were established in 1959 in Los Angeles, but in 1961 they moved to San Diego, changing their name to San Diego Chargers. They played in San Diego since then, until the end of the 2016 season, when they moved back to Los Angeles, changing their name back to what it originally was.
Where are the Chargers playing?
The LA Chargers are playing in the SoFi Stadium in Inglewood, California. In 2017 they moved back to Los Angeles, when they changed their name from San Diego Chargers and the stadium.
Sign Up for a Free 7-Day Fubo Trial
Ditch "Big Cable" Now – 3 Simple Steps to Cut the Cord
Pick the right streaming service
Get the content you deserve with the best VPN.
Supercharge your internet provider
That's it — you'll save money, take back control, and enjoy TV more!
Page Updates
▼
▲
Added sub-section. Updated some sub-sections. Updated some section headings. Changes to some sections.

Changed some content in main section. Added links. Misc content updates.

Updated one section. Image changes. Formatting changes.

Added new section. Added useful links. Various changes to content.

Added links to streaming services. Linking. Formatting changes.

Added buttons for streaming services. Added streaming info. Updated some sub-sections. Pricing updates. Added links.

Added buttons for streaming services. Added sub-section. Pricing updates. Linking. Image changes.

Updated one section. Reworked one section. More links.
Latest posts by Frank Moraes
(see all)