Are you a cord-cutter who's worried about losing access to the Los Angeles Rams this season? You have nothing to worry about. In fact, your hardest decision may be which alternative to choose. Read on to learn everything!
In a hurry? If you don't care about getting a fine-tuned view of the best streaming services and just want to start watching the Rams now, then you will do well with any of these streaming services:
Fubo: The best streaming service for international sports also provides 130+ well-selected channels. Fubo allows you to try out its service free for 7 days.
DIRECTV STREAM: Get a great channel lineup with the best selection of RSNs in the industry. A 5-day free trial is now available for DIRECTV STREAM.
If you can't watch your favorite sports because of your location, get ExpressVPN to access the content you deserve.
Unfortunately, we don't know a streaming service in that covers this sport. But if you've already paid for the right service, and just can't watch because of your location, there is an easy way to get the content you deserve. You need a VPN, like one of the following.
| | | |
| --- | --- | --- |
| | ExpressVPN: Known as "The VPN that just works," it combines remarkable ease of use with with state-of-the-art power, speed, security, and privacy. Get three extra free months when you sign up for a year. Unleash your streaming with this top-rated VPN. | Sign Up Now |
| | Surfshark: Surfshark: Secure and easy to use with thousands of servers around the world. Of special note is its excellent collection of servers inside the US, which is great for regional sports lie NFL, MLB, and NBA. Get it now with an incredible 82% discount on a 24-month plan. | Sign Up Now |
| | NordVPN: One of the top VPNs with extremely fast servers all over the world. Great for streaming with tested perfomance on the biggest servers and included ad-blocking. Currently offering 70% discount on 2-year plans. | Sign Up Now |
If you're overwhelmed and not sure where to begin, you'll find all the answers in our full VPN guide.
Bottom line: 16 of the 17 regular season Rams games will air on live TV with one only streaming (on Amazon Prime Video). The services above have you covered for the regular and postseason. See the Rams schedule below.
In 1936, the Rams took to the field for the first time as the Cleveland Rams. Since then, they moved to Los Angeles then to St Louis, and back to Los Angeles again.
Wherever the Rams goes, their fans follow. The Los Angeles Rams have an impressive list of conference and division championships under their belt and have another chance this year in the playoffs! If you're a fan, keep reading to find out how to watch the Los Angeles Rams online without cable.
Are you a fan outside your team's broadcast area? Learn to get complete access with our NFL Out-of-Market Game Guide.
If you're not familiar with streaming TV, this guide is for you. You'll learn all about how to watch the Los Angeles Rams live stream without a cable connection.
We'll offer some recommendations on streaming services, like FuboTV (free for 7 days), along with all the information you need to sign up and get started, so you can enjoy the Los Angeles Rams live stream without cable!
What Channels Offer the Los Angeles Rams Live Stream?
In order to watch the complete season of the Los Angeles Rams streaming without cable, you'll need five channels. NFL Network and ESPN are both available through a variety of streaming services.
You'll also need NBC, CBS, and Fox. These channels might be available live through a streaming service, but it depends on your location. If you find it difficult to find these channels in your area live, you may also be able to watch these channels using a digital antenna.
Unblock Your Favorite Events & Teams With a VPN
If you can't watch your favorite events or teams because of your location, a VPN will allow you to get the access you are entitled to, plus extra security and unequalled privacy. Check out our VPN Guide for everything you need to know, including our top pick ExpressVPN.
How to Watch the Los Angeles Rams Without Cable
If you're unfamiliar with streaming, it's easier than you might think. You use a streaming device like Roku, Apple TV, or even a computer or mobile device to connect to the streaming service or apps of your choice. The device connects to the Internet and broadcasts the content on your TV, computer, tablet, or your phone.
The hardest part might be choosing a streaming service and even that's not that difficult. As all of the services are contract-free, if you sign up and discover a service isn't for you, just cancel and try a new service.
When it comes to streaming the Los Angeles Rams, two popular options will be FuboTV and Hulu with Live TV. After we tell you about these services, we'll fill you in on the complete list of ways to watch the Los Angeles Rams without cable.
Out-of-Market Los Angeles Rams Games
You can watch all Los Angeles Rams games if you live in the local area. All the Sunday afternoon games will appear on your local network affiliates (usually Fox but sometimes CBS). But out-of-market fans will generally not find Rams games playing on their local channels (although those on the west coast should do better).
See our guide, NFL Out-of-Market Football Games. It contains all the options available to you.
The NFL does have an out-of-market plan, Sunday Ticket. But whereas NBA League Pass is available to all fans, Sunday Ticket can only be purchased through DIRECTV Satellite. If you don't mind signing up for it, then you are set.
A popular option is to use a VPN. But this is complicated because of licensing restrictions. See ExpressVPN for all the details.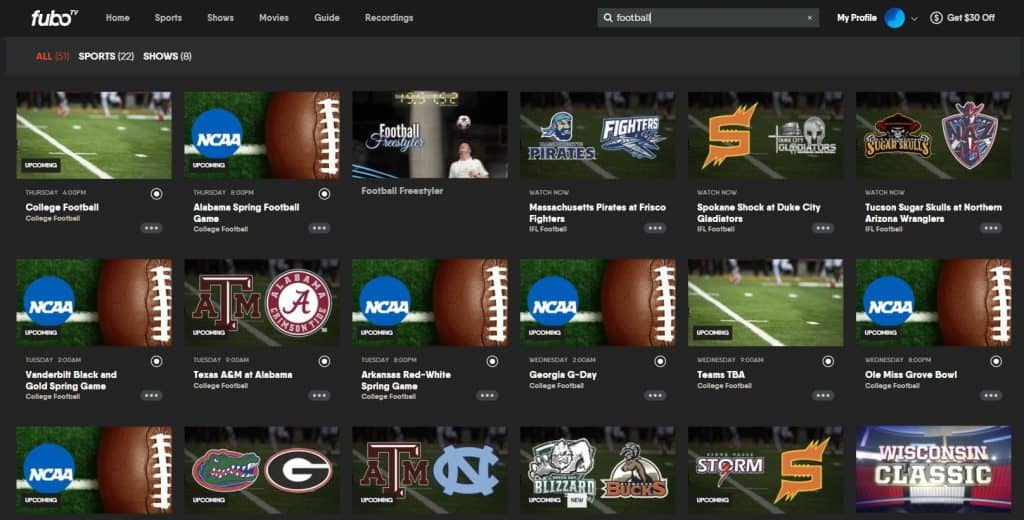 Watch the Los Angeles Rams Without Cable on FuboTV
FuboTV is fairly priced for such a larger package. Not to mention that with a free trial and no contracts, you can try FuboTV before you buy it.
Over 120 channels are included along with an on-demand library, TV Everywhere apps, and a cloud-based DVR. More FuboTV details:
$74.99/mo
Stream over 120 channels – a top way to watch sports online
ESPN, NFL Network, CBS, NBC, and FOX – everything you need for NFL
Watch live local channels in most areas
Stream on Amazon Fire TV, computers, mobile devices, Roku, Apple TV, and more
Watch on up to 10 devices at the same time
1000 hours of cloud DVR storage
Learn more in our FuboTV review.
FuboTV is an easy way to replace cable. You can take your pick between live and on-demand TV and if you like sports, you'll find plenty to watch.
More channels can be added and there are other ways to customize your subscription beyond that, too. Streaming is possible on most devices, so you'll have plenty of ways to watch.
Sign Up for a Free 7-Day Fubo Trial
Watch Los Angeles Rams With DIRECTV STREAM
DIRECTV STREAM is a good choice for Los Angeles Rams fans. For $74.99/mo, you get 75+ channels including ABC, CBS, NBC, Fox, and ESPN — everything you need to watch the entire NFL season. And for a little bit more, you can get a lot more channels.
DIRECTV STREAM comes with unlimited cloud DVR storage and the ability to stream on unlimited devices at once.
See our DIRECTV STREAM review for all the details.
Get DIRECTV STREAM Free for 5 Days
Watch the Los Angeles Rams Online via Hulu + Live TV
Hulu + Live TV has a lot to love. Over 85 channels are included, and you also get Hulu on-demand to go with all of the live content. You also get Disney+ and ESPN+. Unlimited cloud-DVR is also included. You can also use TV Everywhere apps to access WatchESPN and other apps. You can even add movie channels for a fee.
Here's more on Hulu Live:
85+ channels
ESPN+ and Disney+ included
$69.99/mo
Hulu on-demand is part of the package
Great local channel access
Watch on Apple TV, Roku, iOS/Android, smart TVs, and more
Visit our Hulu with Live TV review to find out more.
Hulu with Live TV should offer most people a great way to replace cable. Prices are low and you get a huge amount of live and on-demand content in the same package.
You can stream on most devices, which means that you'll have more ways to watch the Los Angeles Rams online.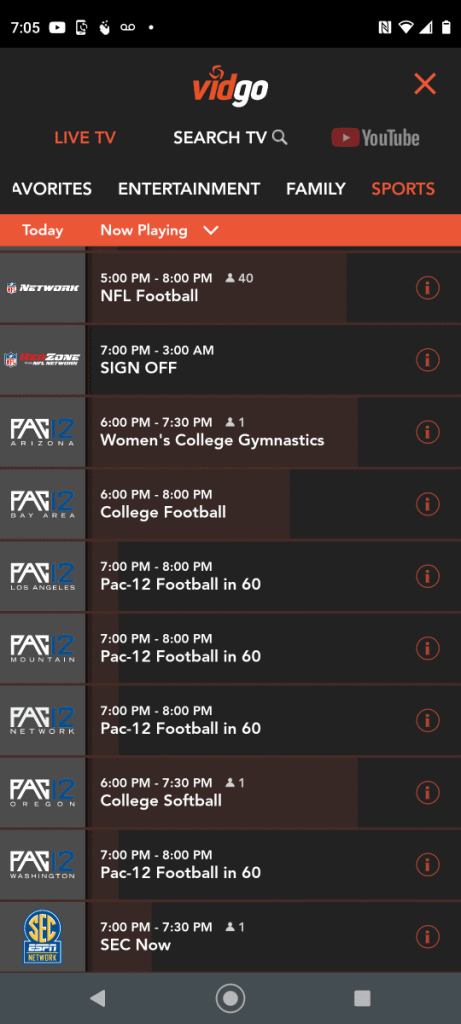 Other Options to Watch Los Angeles Rams Online
As you have already learned, Hulu Live and FuboTV are great options and they should work for a lot of people. Of course, if you want other options, you still have more choices you can choose from.
The other services that will allow you to watch the Los Angeles Rams online include:
Superpower Your Streaming With a VPN
For the sake of privacy, security, and access, you should be using a VPN. They are low-cost and easy to use. We've been using them for years and our top pick is ExpressVPN. Be sure to check out our deals page on ExpressVPN, NordVPN, SurfShark and PureVPN.
Los Angeles Rams: NFL Postseason
The Rams are hoping to get Matthew Stafford and Cooper Kupp back into the mix for next year. If that happens, the team could potentially return to the top of the NFC in a hurry. However, they may lose Stafford to a neck injury and McVay to the broadcast booth after finishing the year at 5-12. This represents one of the worst seasons in NFL history for a team coming off of a Super Bowl win.
Furthermore, the Rams are among a handful of teams that don't have a pick in the first round thanks to trades made in previous seasons.
Sign Up for a Free 7-Day Fubo Trial
Wrapping Up
That covers most of what you need to know if you want to start streaming. Did we answer all of your questions about how to watch the Los Angeles Rams online without cable? If not, make sure to let us know in the comments!
FuboTV is our top choice for LA Rams fans. Fubo allows you to try out its service free for 7 days.
Sign Up for a Free 7-Day Fubo Trial
FAQs
Which channels do I need to watch the Los Angeles Rams?
Fans can watch the Rams on various local over-the-air channels. Sunday afternoon games air on CBS and Fox. NBC airs most Sunday Night Football games. When the Rams plan on Monday Night, you'll need ESPN. For Thursday Night games, NFL Network and Fox are the main sources but Amazon Prime will be starting in 2022.
How can I watch other NFL teams?
Need more information on how to watch the NFL without cable tailored specifically to your favorite team? Click on your team below.
What radio stations are the Los Angeles Rams on?
Fans of the Los Angeles Rams can listen to games on TuneIn for the whole season. If you subscribe to NFL Sunday Ticket you get access to live audio for every game of the season. Sirius XM also provides live coverage of the NFL. Westwood One provides coverage of primetime and playoff games.
How do I watch the Los Angeles Rams on my phone?
If you are a Rams fan located in the Los Angeles area, you can use NFL+ to watch live games on your phone. If you aren't local or don't want to be limited to your mobile devices, you can sign up for a streaming service like FuboTV or Hulu + Live TV. All of these services allow you to watch on your smartphone and much more!
How many championships has the Los Angeles Rams won?
The Rams joined the NFL in 1937. Their record is 587-575-21. The most inspiring moment was winning the Super Bowl in the 1999 season. While the team has made four appearances in Super Bowls, they have also won three NFL championships. During playoffs, the Rams won 22 games and lost 27. Overall, Los Angeles Rams have won 17 division titles, 7 conference titles, 3 NFL titles, and a Super Bowl.
How do I watch the Los Angeles Rams game tonight?
On Sunday afternoons, you can usually watch Rams in action on Fox network and its affiliate channels. If it's not available on Fox, the game is likely broadcast on CBS. Sunday Night games are on NBC. Monday Night games are on ESPN. And Thursday can be viewed a combination of Fox, NFL Network, and Amazon Prime Video. You can get complete access to these with streaming services like FuboTV and Hulu + Live TV.
How do I record Los Angeles Rams live games?
Almost all streaming services provide a cloud DVR with their base plans. And all the channels that air the NFL (CBS, ESPN, Fox, NBC, NFL Network) allow you to record the games. If you have a service (eg, Vidgo) that does not include a DVR, you can easily install your own at home.
What is the 2023 Los Angeles Rams schedule?
Sat Aug 12 : vs Los Angeles [Preseason]
Sat Aug 19 : vs Las Vegas [Preseason]
Sat Aug 26 : @ Denver [Preseason]
Sun Sep 10 : @ Seattle (FOX)
Sun Sep 17 : vs San Francisco (FOX)
Mon Sep 25 : @ Cincinnati (ESPN)
Sun Oct 1 : @ Indianapolis (FOX)
Sun Oct 8 : vs Philadelphia (FOX)
Sun Oct 15 : vs Arizona (FOX)
Sun Oct 22 : vs Pittsburgh (FOX)
Sun Oct 29 : @ Dallas (FOX)
Sun Nov 5 : @ Green Bay (FOX)
Sun Nov 19 : vs Seattle (CBS)
Sun Nov 26 : @ Arizona (FOX)
Sun Dec 3 : vs Cleveland (FOX)
Sun Dec 10 : @ Baltimore (FOX)
Sun Dec 17 : vs Washington (CBS)
Thu Dec 21 : vs New Orleans (PRIME VIDEO)
Sun Dec 31 : @ New York (FOX)
Sun Jan 7 TBD: @ San Francisco
Sign Up for a Free 7-Day Fubo Trial
Ditch "Big Cable" Now – 3 Simple Steps to Cut the Cord
Pick the right streaming service
Get the content you deserve with the best VPN.
Supercharge your internet provider
That's it — you'll save money, take back control, and enjoy TV more!
Page Updates
▼
▲
Updated some sub-sections. Updated some section headings. Changes to some sections.

Reworked one section. Added some links. Misc changes to content.

Reworked one section. Various changes to content. Formatting changes.

Added new section. Image changes. Changes to formatting. Various changes.

Added links to streaming services. More links. Misc changes. Formatting.

Pricing updates. Added some more links. Misc changes.

Added buttons for streaming services. Updated some sub-sections. Pricing updates. Added useful links.

Added sub-section. Added links. Pricing updates. Image changes.

Reworked one section. Updates to a section. Linking.
Latest posts by Frank Moraes
(see all)