Are you a Miami Dolphins fan? If so, there's no reason you need to stick with your cable or satellite subscription. Read on to learn all your options to cut the cord.
In a hurry? If you don't care about all the options and just want to choose one of the best streaming services, here are our favorites:
Fubo: The best streaming service for international sports also provides 130+ well-selected channels. Fubo allows you to try out its service free for 7 days.
DIRECTV STREAM: Get a great channel lineup with the best selection of RSNs in the industry. A 5-day free trial is now available for DIRECTV STREAM.
If you can't watch your favorite sports because of your location, get ExpressVPN to access the content you deserve.
Unfortunately, we don't know a streaming service in that covers this sport. But if you've already paid for the right service, and just can't watch because of your location, there is an easy way to get the content you deserve. You need a VPN, like one of the following.
| | | |
| --- | --- | --- |
| | ExpressVPN: Known as "The VPN that just works," it combines remarkable ease of use with with state-of-the-art power, speed, security, and privacy. Get three extra free months when you sign up for a year. Unleash your streaming with this top-rated VPN. | Sign Up Now |
| | Surfshark: Surfshark: Secure and easy to use with thousands of servers around the world. Of special note is its excellent collection of servers inside the US, which is great for regional sports lie NFL, MLB, and NBA. Get it now with an incredible 82% discount on a 24-month plan. | Sign Up Now |
| | NordVPN: One of the top VPNs with extremely fast servers all over the world. Great for streaming with tested perfomance on the biggest servers and included ad-blocking. Currently offering 70% discount on 2-year plans. | Sign Up Now |
If you're overwhelmed and not sure where to begin, you'll find all the answers in our full VPN guide.
Bottom line: 16 of the 17 regular season Dolphins games will air on live TV with one streaming only (on Amazon Prime Video). The services above have you covered for the regular and postseason. See the Dolphins schedule below.
As a part of the AFC East division, the Miami Dolphins have been to over a dozen division and conference championships and even played in a Super Bowl or two. "Phins" fans are located all over the country.
While watching a game in Miami might be easy, if you're a Dolphins fan living across the country, you might rely on cable to get your Miami Dolphins live stream fix. If you're looking for an alternative option, you can watch the Miami Dolphins online without cable.
Are you a fan outside your team's broadcast area? Learn to get complete access with our NFL Out-of-Market Game Guide.
This guide has everything you need to get you started on your streaming journey. Whether you're new to streaming or you just need a way to find the Miami Dolphins live stream this season, all the bases should be covered.
Keep reading for TV channel information and a list of streaming services, like FuboTV (free for 7 days), that provides a way to watch the Miami Dolphins online.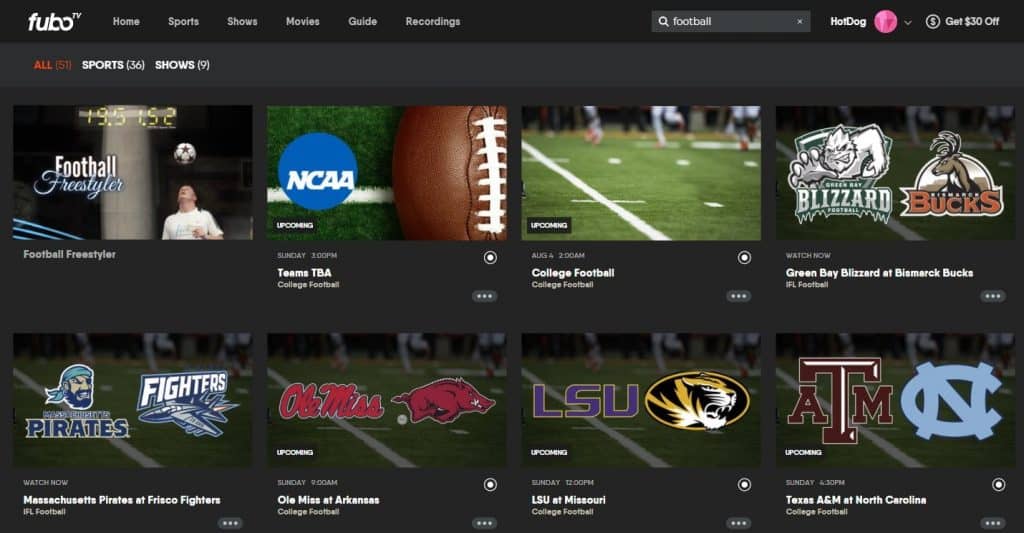 What Channels Offer the Miami Dolphins Live Stream?
Streaming the Miami Dolphins has never been easier. New streaming services are introduced all the time that give you access to more channels and more benefits. You can use streaming services to watch NBC, CBS, and Fox in certain locations.
You can also watch ESPN and NFL Network nationwide through a variety of streaming services. If you are in a more rural area and find that you can't get local channels through your streaming service, you may also be able to use a digital antenna to get these and other local channels.
Unblock Your Favorite Events & Teams With a VPN
If you can't watch your favorite events or teams because of your location, a VPN will allow you to get the access you are entitled to, plus extra security and unequalled privacy. Check out our VPN Guide for everything you need to know, including our top pick ExpressVPN.
How to Watch the Miami Dolphins without Cable
If you've cut the cord, you should find most streaming services offer a smooth transition. In most cases, people find streaming services to offer a similar service, but one that is cheaper and more feature-rich.
You will connect your streaming device (Roku, Apple TV, mobile devices, etc.) to the Internet. From there you just turn on your streaming service, choose a channel, and you're ready to watch some TV!
There are many ways that you can watch the Miami Dolphins online without cable and at some point in this guide, we will discuss them all. That said, we're going to start with FuboTV. These options provide multiple channels include most of the channels required to watch the Miami Dolphins live stream.
All of these services are available free of contract. That means you can sign up and try them before you pay anything. It also means that you can cancel before the end of the trial if you're not satisfied and you won't have to pay a thing!
Out-of-Market Miami Dolphins Games
Fans located outside the Miami Dolphins broadcast area may have a hard time watching Sunday afternoon games. The way the NFL is set up with multiple games taking place at the same time, broadcasters show the games of interest to the majority of local fans. These act like reverse blackouts.
To find out more about this, check out our NFL Out-of-Market Football Games article. It will provide you with all your options.
DIRECTV Satellite subscribers can watch all out-of-market games with NFL Sunday Ticket. But it is not available through any other provider. This will, however, change next season.
Another option is to use a VPN. You have to be careful of licensing, however. Check out ExpressVPN for information on using a VPN for the NFL.
Watch the Miami Dolphins Live Stream on FuboTV
FuboTV should offer something for everyone. This is the largest starting package in streaming with over 120 channels. More than 35 of these channels are sports channels and even more can be added to your package for a small fee. You'll also have on-demand content, TV Everywhere apps, and a cloud-DVR.
More FuboTV details:
$74.99/mo
Over 120 channels are included – tons of options to watch sports without cable online
Watch local channels live in many areas with CBS, Fox, and NBC (if you want to watch Sunday Night Football)
NFL Network and ESPN are included
1000 hours cloud DVR
Stream on mobile devices, Amazon Fire TV, computers, and more
On-demand content is available in 3-Day Replay
Learn more in our FuboTV review.
FuboTV offers a huge package for a reasonable price. After your FuboTV trial, you'll be able to enjoy for much less than cable. If you find FuboTV is not for you, you're free to cancel at any time.
Packages include many options for channel upgrades, plenty of on-demand content, and even the chance to stream on numerous devices at the same time.
Sign Up for a Free 7-Day Fubo Trial
Watch the Miami Dolphins Online via DIRECTV STREAM
DIRECTV STREAM is an excellent service for large households because you can stream on unlimited devices simultaneously. From $74.99/mo for 75+ channels. Get ESPN, FS1, and many more sports channels across four tiers. All DIRECTV STREAM plans come with unlimited cloud DVR if you sign up online.
Here's more on DIRECTV STREAM:
Over 75 channels with DIRECTV STREAM from $74.99/mo
ESPN and ESPN2 in its base plan
Local channels available in most areas
Unlimited cloud DVR
You can watch on Apple TV, Amazon Fire TV, mobile devices, computers, Roku, and more
Visit our DIRECTV STREAM here
It also has many options to add to your channels list by including the best selection of regional sports networks in the industry with its Choice plan for $99.99/mo. Sign up for a 5-day free trial today and see what DIRECTV STREAM offers and see if it is the streaming service for you. Our DIRECTV STREAM review has more details.
Get DIRECTV STREAM Free for 5 Days
Watch the Miami Dolphins Online via Hulu + Live TV
Hulu + Live TV offers many popular features including simultaneous streaming on multiple devices, a cloud-DVR, and the inclusion of Hulu's on-demand service. Packages start at over 85 channels for $69.99/mo. Due to the number of channels, this is a great choice for people that want to replace the cable.
Here's more on Hulu Live:
Over 85 channels with Hulu on-demand from $69.99/mo
Includes Disney+ and ESPN+
ESPN and NFL Network in its base plan
Most areas receive live local channels
Unlimited cloud DVR (9 month storage)
Watch on Apple TV, computers, Amazon Fire TV, mobile devices, Roku, and more
Visit our Hulu with Live TV review here.
Hulu with Live TV is a popular service that has a lot to offer. You can watch a full channel lineup live or opt for a nearly endless amount of on-demand content. There's also all the content available to you through TV Everywhere apps, like WatchESPN and many others.
A cloud DVR is also included, so you can save anything you won't be able to watch live.
Superpower Your Streaming With a VPN
For the sake of privacy, security, and access, you should be using a VPN. They are low-cost and easy to use. We've been using them for years and our top pick is ExpressVPN. Be sure to check out our deals page on ExpressVPN, NordVPN, SurfShark and PureVPN.
Other Options to Watch the Miami Dolphins Online
Hulu Live and FuboTV may be two great ways to watch the Miami Dolphins online without cable, but you have several other options if you're interested.
All of the following options will give you some or all of the channels you need to pick up a Dolphins live stream. Here are some other options:
Dolphins fans outside its broadcast area should check out our viewer's guide and NFL guide.
2022-23 Miami Dolphins Roundup
It had appeared that Miami might actually end its long drought between playoff wins when it surprised in rallying from a 17-0 deficit to the Bills on Sunday to take the lead, but Buffalo ended up pulling it out, 34-31. As a result, the Dolphins have still not won a postseason contest since the 2000 campaign.
However, simply making the playoffs was an improvement over most Dolphins seasons this century. After losing in the wild card round in 2001, Miami has only played in three playoff games: wild card matchups in 2008, 2016, and 2022.
Quarterback Tua Tagovailoa is expected to be the team's starter in 2023. He led the NFL in passer rating (105.5) this season but did not play again after entering concussion protocol on December 26.
Sign Up for a Free 7-Day Fubo Trial
Wrapping Up
Now you know all the possible ways to watch the Miami Dolphins online without cable. If you have any questions, be sure to let us know!
FuboTV is our choice for streaming Miami Dolphins games. Fubo allows you to try out its service free for 7 days.
Sign Up for a Free 7-Day Fubo Trial
FAQs
Which channels do I need to watch the Miami Dolphins?
There are a few different ways to watch Miami Dolphins games live. CBS (and occasionally Fox) carries Dolphins games on Sunday afternoon, and you can catch any Dolphins Sunday Night Football game on NBC. Fox also carries the Dolphins when they play on Thursday Night, and you'll need ESPN to watch the Dolphins on Monday Night Football.
How do I get information on viewing a different NFL team?
Need more information on how to watch the NFL without cable tailored specifically to your favorite team? Click on your team below.
What radio stations are the Miami Dolphins on?
Miami Dolphins games can be heard on several radio stations in the state of Florida. WQAM and WAXY carry most of the games that are played and can be heard in areas of South and Central Florida. ESPN Radio is an option for those who live in other areas of the country.
How do I watch the Miami Dolphins on my phone?
FuboTV, Hulu + Live TV, and other live TV streaming services allow you to watch the Miami Dolphins on iOS and Android smartphones. You can also use the NFL app to watch live and primetime games. But note that you must have a cable, satellite, or streaming provider account to access this.
How many championships has the Miami Dolphins won?
The Miami Dolphins have won a total of five AFC Championship games: 1971-72, 1972-73, 1973-74, 1982-83, and 1984-85. Coach Don Shula led the Dolphins to each of those championships as well as its only two Super Bowl titles in 1973 and 1974. The last time the Dolphins made it to the AFC Championship was in 1992-93 when they lost 29-10 to the Buffalo Bills.
How do I watch the Miami Dolphins game tonight?
On Sunday afternoons, you can usually watch Miami Dolphins games live on CBS (sometimes they air on Fox). They are on NBC on Sunday nights. The team's Monday night games are shown on ESPN. And tune in to the NFL Network to watch preseason and Thursday night games.
How do I record Miami Dolphins live games?
Other than Vidgo, all the major streaming services provide a cloud DVR. So you can record all the Miami Dolphins games that air. Even if your service doesn't provide a DVR or if you are watching OTA with an antenna, you have the option of buying one and setting it up locally.
What is the 2023 Miami Dolphins schedule?
Fri Aug 11 : vs Atlanta [Preseason]
Sat Aug 19 : @ Houston [Preseason]
Sat Aug 26 : @ Jacksonville [Preseason]
Sun Sep 10 : @ Los Angeles (CBS)
Sun Sep 17 : @ New England (NBC)
Sun Sep 24 : vs Denver (CBS)
Sun Oct 1 : @ Buffalo (CBS)
Sun Oct 8 : vs New York (FOX)
Sun Oct 15 : vs Carolina (CBS)
Sun Oct 22 : @ Philadelphia (NBC)
Sun Oct 29 : vs New England (CBS)
Sun Nov 5 : vs Kansas City (NFL NET)
Sun Nov 19 : vs Las Vegas (CBS)
Fri Nov 24 : @ New York (PRIME VIDEO)
Sun Dec 3 : @ Washington (FOX)
Mon Dec 11 : vs Tennessee (ESPN)
Sun Dec 17 : vs New York (CBS)
Sun Dec 24 : vs Dallas (FOX)
Sun Dec 31 : @ Baltimore (CBS)
Sun Jan 7 TBD: vs Buffalo
Sign Up for a Free 7-Day Fubo Trial
Ditch "Big Cable" Now – 3 Simple Steps to Cut the Cord
Pick the right streaming service
Get the content you deserve with the best VPN.
Supercharge your internet provider
That's it — you'll save money, take back control, and enjoy TV more!
Page Updates
▼
▲
Updated some sub-sections. Updated some section headings. Added some links. Removed section.

Added links to streaming services. Added info about guide. Reworked one section. Added some more links. Misc content updates.

Updated one section. Reformatting.

Updated one section. Image changes. Small layout changes.

Added new section. Pricing updates. Added a few links. Various changes to content.

Added links to streaming services. Added info about guide. Added useful links. Various content updates.

Added buttons for streaming services. Added streaming info. Reworked some sections. Updated some sub-sections. Mentioned offers.

Added new section. Added buttons for streaming services. Added sub-section. Pricing updates. Added links. Mentioned offers.

Updates to a section. Changed some content in main section. Added a few links.
Latest posts by Frank Moraes
(see all)