The NCAA Division I Men's Hockey Tournament is underway right now, leading up to the Frozen Four and the national title matchup on April 8. Sign up now for Sling Orange to be ready for the Wolverines' next game versus the Colgate Raiders on March 24 at on ESPN2!
Go Blue! It may be true that there's nothing like a live game at the Big House. But if you can't make it to Ann Arbor, Michigan, watching on TV is the next best thing. A wide variety of local and cable channels air Wolverines games throughout the college football season. Read on to learn your options.
In a hurry? If you want to cut to the chase and start watching the Wolverines without messing with details, these streaming services have you covered:
FuboTV: The best streaming service for international sports also provides 130+ well-selected channels. FuboTV allows you to try out its service free for 7 days.
Sling TV: This low-cost service allows you to select just the channel lineup you want. Save a bundle with Sling TV.
DIRECTV STREAM: Get a great channel lineup with the best selection of RSNs in the industry. A 5-day free trial is now available for DIRECTV STREAM.
If you can't watch your favorite sports because of your location, get ExpressVPN to access the content you deserve.
Unfortunately, we don't know a streaming service in that covers this sport. But if you've already paid for the right service, and just can't watch because of your location, there is an easy way to get the content you deserve. You need a VPN, like one of the following.
ExpressVPN: Premium VPN provider that just works, with 3,000+ locations in 94 countries. Supports five simultaneous devices and comes with a 30-day money-back guarantee. (ExpressVPN review)
Surfshark: Connect to over 3,200 servers in 99 countries (+ tonnes of US metro areas). Try it with a 7-day free trial.
NordVPN: Connect to over 5,000 premium servers in 60+ countries. Comes with a 30-day money-back guarantee!
If you're overwhelmed and not sure where to begin, you'll find all the answers in our full VPN guide.
Located in Ann Arbor, Michigan, the University of Michigan is one of the most prestigious schools in the United States. The football program was established in 1879, and over the past 140+ years, it has won 42 Big Ten titles and claimed 11 national championships.
The Wolverines football team is currently coached by former NFL quarterback Jim Harbaugh and plays its home games at Michigan Stadium. Michigan Stadium is often referred to as the Big House as it holds roughly 115,000 fans when at full capacity.
Sign Up for a Free 7-Day Fubo Trial
2022 Michigan Wolverines Schedule
Sat Sep 3 : Colorado State (7) at Michigan (51) (ABC)
Sat Sep 10 : Hawaii (10) at Michigan (56) (Big Ten Network)
Sat Sep 17 : UConn (0) at Michigan (59) (ABC)
Sat Sep 24 : Maryland (27) at Michigan (34) (Fox/FS1)
Sat Oct 1 : Michigan (27) at Iowa (14)
Sat Oct 8 : Michigan (31) at Indiana (10)
Sat Oct 15 : Penn State (17) at Michigan (41) (Fox)
Sat Oct 29 : Michigan State (29) at Michigan (7) (ABC)
Sat Nov 5 : Michigan (52) at Rutgers (17) (Big Ten Network)
Sat Nov 12 : Nebraska (3) at Michigan (34) (ABC)
Sat Nov 19 : Illinois (17) at Michigan (19) (ABC)
Sat Nov 26 : Michigan (45) at Ohio State (23) (Fox)
Catch all these games on the mentioned channels via FuboTV!
Unblock Your Favorite Events & Teams With a VPN
If you can't watch your favorite events or teams because of your location, a VPN will allow you to get the access you are entitled to, plus extra security and unequalled privacy. Check out our VPN Guide for everything you need to know, including our top pick ExpressVPN.

Learn how to watch March Madness!
Where to Watch the Michigan Wolverines
The Michigan Wolverines football team typically has its games broadcast on ABC, Fox, and ESPN. Games sometimes also appear on FS1. And one to three games per year will be on the Big Ten Network (BTN).
Because of the popularity of the Wolverines football team, BTN is used primarily to show games from other sports. This is especially true of men's and women's basketball.
How to Stream Michigan Wolverines Games
You don't have to stream Michigan Wolverines games. Over half of them will show on over-the-air stations like ABC and Fox each year. So you can install an antenna and watch these games for free.
If you use an antenna with Sling TV, you can not only integrate the channels with your streaming channels but you can also get BTN and ESPN. See below for details.
FuboTV

The FuboTV Pro plan is $74.99/mo and comes with well over 120 channels. These include everything you need for the Michigan Wolverines season: ABC, Fox, ESPN, FS1, and Big Ten Network (BTN).
It also comes with all of your local channels including a number of lesser-known ones. And of its 120+ channels, a third are sports-oriented. You can get even more with either the Fubo Extra ($7.99/mo) or Sports Plus ($10.99/mo) add-ons.
All FuboTV plans come with 1000 hours of cloud DVR and streaming on up to ten devices/TVs at once.
For all the details, read our FuboTV review.
Sign Up for a Free 7-Day Fubo Trial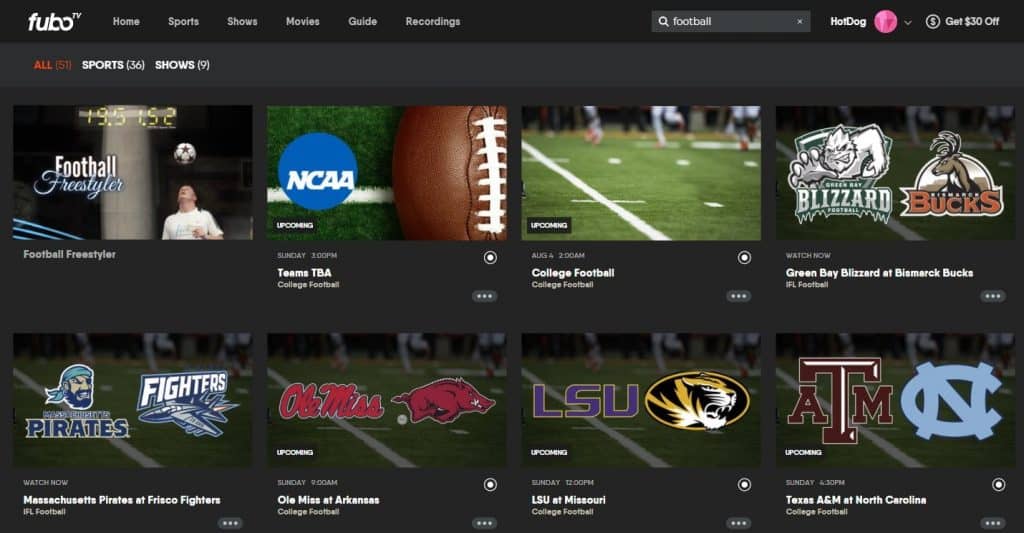 DIRECTV STREAM

The DIRECTV STREAM Entertainment package comes with roughly 80 channels and costs $74.99/mo. You get all the local network affiliates, ESPN, and FS1. If you want Big Ten Network, you need to upgrade to the Choice Plan for $99.99/mo. But if you do, you will also get access to DIRECTV STREAM's outstanding selection of RSNs.
All plans come with unlimited cloud DVR (online orders only). In addition, you can stream on unlimited devices at home and away. This makes a good choice for large households.
For more details, see our DIRECTV STREAM review.
Get DIRECTV STREAM Free for 5 Days
Sling TV

Sling TV offers two base packages. Each can be purchased on its own for $40.00/mo or the two together for $55.00/mo. Sling Blue provides Fox, so you can watch some of the Wolverines games. And you can get various other channels with low-cost Extras packages. But there is no way to get ABC unless you want to set up an antenna.
All Sling plans come with 50 hours of cloud DVR. The Blue plan allows you to watch on up to 3 devices at a time. Sling Orange limits you to one.
Our Sling TV review has more information.
Hulu + Live TV

Hulu + Live TV offers all the local network affiliates and a variety of sports networks. So you will have all you need to enjoy the entire NCAA football season: ABC, CBS, Fox, ESPN, and FS1. You'll also get most of the NCAA conference networks: BTN, ACCN, and SEC Network. In all, you get 85+ live TV channels along with Disney+ and ESPN+ for $69.99/mo.
The Hulu + Live TV plan comes with unlimited cloud DVR (9 months of storage) and the ability to watch on up to two devices at once.
Our Hulu + Live TV Review has more information.
Vidgo

The Vidgo Plus package is $69.99/mo and includes 100+ channels. For NCAA fans, it's amazing: ESPN, ESPN2, ESPNU, FS1, FS2, ACCN, BTN, Longhorn Network, the 7 Pac-12 Network channels, and SECN! It also includes local affiliates of ABC and Fox as well as a broad range of other channels.
There are two primary issues with Vidgo. The first is that its interface isn't that great. It's usable but hard to deal with after you get used to any of the other services. Secondly, it doesn't come with a cloud DVR. You can, however, set one up yourself or use a third-party system.
Vidgo allows you to watch on three devices simultaneously. For more information, see our Vidgo review.
Other Streaming Options
There are other ways to stream Michigan Wolverines games — both football and otherwise.
YouTube TV: A full-replacement cable service like Hulu + Live TV for $72.99/mo.
Network Apps: Although you will need a streaming service to login via TV Everywhere, it's often convenient to use apps from B1G, ABC, Fox, and ESPN to watch games.
ESPN+: Although you won't see any Wolverines football games here, it offers a lot of coverage of college sports including Michigan.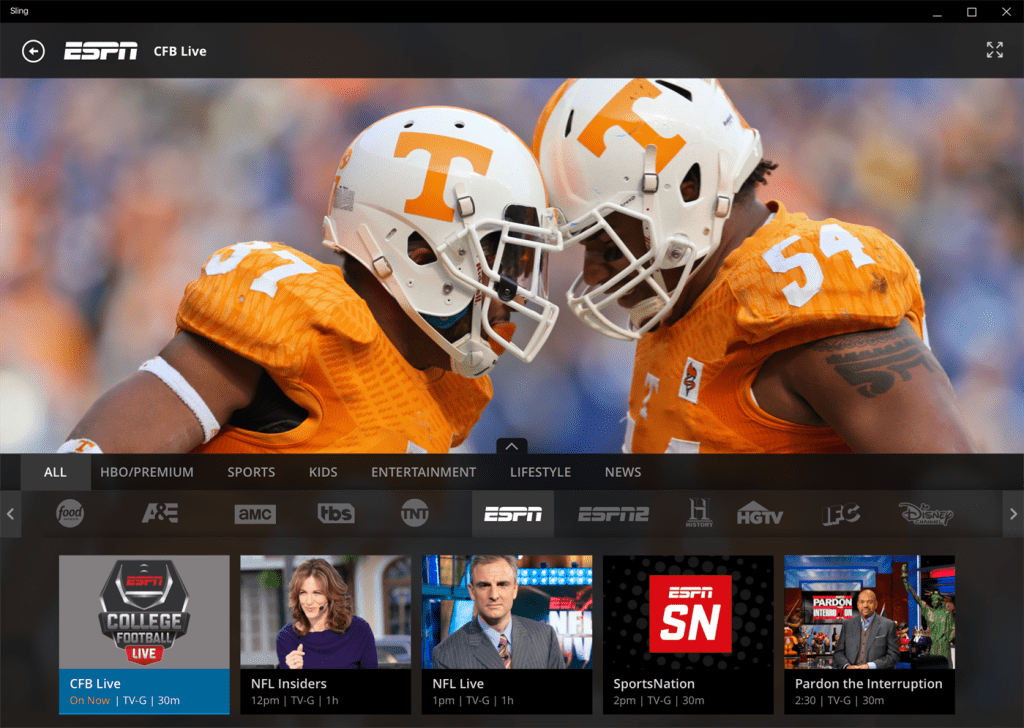 Devices for Live Streaming Michigan Wolverines Football
It's likely that whatever streaming devices or TVs you have, you can use them with the services we've discussed.
All services other than Vidgo support Samsung smart TVs. FuboTV, Hulu + Live TV, and Sling TV also all support smart TVs from LG and Vizio. And all the services (except DIRECTV STREAM) support Android TV-based devices.
All services support Amazon Fire TV, Apple TV, and Roku. That's also true of iOS and Android smartphones and tablets. And you can use Chromecast to send streamings from these devices to your TV.
The gaming system Xbox One is supported by Fubo, Hulu, and Sling. Oculus is supported by Sling TV. And Nintendo Switch and PlayStation are supported by Hulu + Live TV.
Our streaming reviews contain complete lists of supported devices. See those for details.
Sign Up for a Free 7-Day Fubo Trial
Superpower Your Streaming With a VPN
For the sake of privacy, security, and access, you should be using a VPN. They are low-cost and easy to use. We've been using them for years and our top pick is ExpressVPN. Be sure to check out our deals page on ExpressVPN, NordVPN, SurfShark and PureVPN.
Wrapping Up
The University of Michigan has one of the best football programs in the nation. This is why they are featured so often on national networks such as ABC and Fox. Thanks to the school's large following, it is relatively easy to find a streaming platform that carries not just its football but various other sports games.
You may also be able to watch games featuring the school's other programs on BTN or by subscribing to ESPN+. With many different streaming platforms to choose from, there is a good chance that you'll be able to find a plan that fits within your budget while also meeting your content consumption needs.
FAQs
Which schools are considered to be Michigan's biggest rivals?
Historically, Michigan's biggest rival is Ohio State. Each year, the two schools play each other in a game that determines the Big Ten champion. The result of this annual contest has also played a role in determining who has represented the Big Ten in the College Football Playoff (CFP).
In addition to Ohio State, Michigan has had a heated rivalry with Michigan State for most of its existence. The two schools play annually for the Paul Bunyan Governor of Michigan Cup. Other key rivals include Minnesota, Notre Dame, and Northwestern.
Who are some of the school's most famous athletes?
Tom Brady is probably the best-known Michigan football player. Famously, when he was drafted into the NFL, he went as the 199th pick in 2000 by the New England Patriots. And then, of course, Brady went on to win seven Super Bowl titles and is still playing in the NFL at the age of 44.
Chris Webber, Juwan Howard, and Jalen Rose were part of a Michigan basketball team in the early 1990s that was known as the Fab Five. Although the Fab Five did not win a national championship, Webber, Howard, and Rose would all have long careers in the NBA.
How can I watch teams besides the Wolverines without cable?
See our detailed guides about watching college football and college bowl games without cable. And see these guides for particular teams:
You can also see our guides for college basketball and March Madness. And see our guides for individual basketball teams:
Ditch "Big Cable" Now – 3 Simple Steps to Cut the Cord
Pick the right streaming service
Get the content you deserve with the best VPN.
Supercharge your internet provider
That's it — you'll save money, take back control, and enjoy TV more!
Latest posts by Frank Moraes
(see all)