USC is one of the most popular NCAA football teams. And you can watch it wherever you are. Read on to get all the details!
In a hurry? USC is featured on network TV a lot as well as the Pac-12 Network. You can get all these channels with these services:
FuboTV: The ultimate sports streaming service, it's a bit more expensive but you get a lot more. Fubo allows you to try out its service with a free trial.
Sling TV: It offers the six regional Pac 12 Network channels and is a great deal with a bunch of other sports channels. Save 50% on Sling TV now!
USC is one of college football's most storied programs, having claimed 11 national championships and nearly 900 victories. It also has storied rivalries with both in-state foe UCLA and fellow private school and historic football power Notre Dame.
Do you want to watch the Trojans compete in 2023? Do you want to do so without cable? You can with ease, but if you are looking to catch every USC game, make sure that you subscribe to a streaming service that offers the Pac-12 Network, at least until the team moves to the Big Ten in 2024.
Superpower Your Sports Streaming With a VPN

For the sake of privacy, security, and access, you should be using a VPN. They are low-cost and easy to use. We've been using them for years and our top pick is ExpressVPN. Other brands worth checking out include Hotspot Shield and CyberGhost.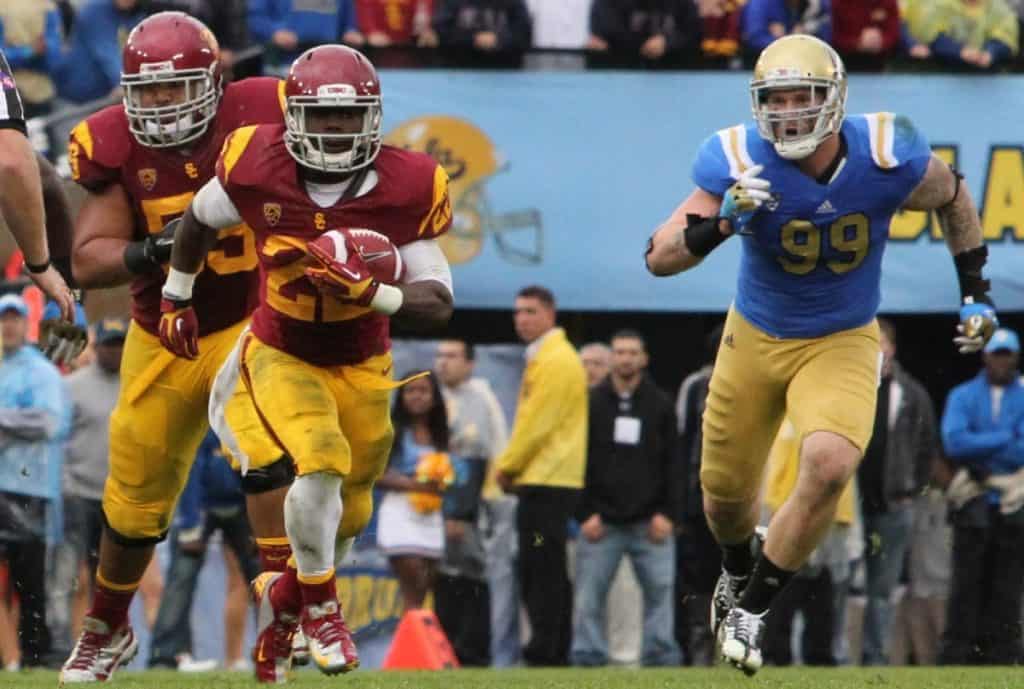 This Week's USC Trojans Football Game
Sat Sep 23 TBD: USC at Arizona State Sun Devils
USC Channels
In 2023, the Trojans will definitely be featured on NBC, Fox, and the Pac-12 Networks. However, the NBC broadcast will be a one-time instance as that network does not have an agreement with the Pac-12; the only reason why a USC matchup will be on it is because that will be a Notre Dame home game.
The Trojans' first two matchups, non-conference tilts with San Jose State and Nevada, will be shown on the Pac-12 Network while the school's Pac-12 opener versus Stanford, also a home game, will be on Fox.
Last year, under the same Pac-12 television contract, USC had multiple appearances on Fox (five), ABC (two), ESPN (three), and the Pac-12 Network (three) and was featured once on FS1.
When the Trojans move to the Big Ten in 2024, they will then be a part of that conference's television contract, which also involves Fox and FS1 as well as CBS, NBC, Peacock, and the Big Ten Network.
Stream USC Football
Of course, you are here because you want to learn how you can watch USC Trojans football games without cable. Here are several options, all of which offer access to ESPN and FS1 while many include livestreams for local ABC and Fox affiliates as well. Note that those that do not otherwise include access to ABC provide ABC game broadcasts through ESPN3.
The most important consideration if you want to watch every USC game is ensuring that you sign up for a streaming service that offers the Pac-12 Network. Conversely, this will not be important to you if you are more so focused on catching USC's biggest games as lesser-anticipated matchups are usually the ones that are sent to that channel.
Live TV Streaming Services
Fubo is our top option for watching USC football. The base plan starts at $74.99/mo and comes with over 150 channels. You can add Pac-12 Network with either the Fubo Extra ($7.99/mo) or Sports Plus ($10.99/mo) packages. (Fubo review)
Sling TV offers all of the channels that will be showing USC games. Sling Blue includes ABC, Fox, and NBC in select markets along with roughly 40 other channels for $45.00/mo. The Pac-12 Network comes with the Sports Extra add-on for $11/mo, which also including Big Ten Network, MLB Network, NBA TV, NFL RedZone and much more. (Sling TV review)
Vidgo offers access to ABC, Fox, ESPN, and FS1 as well as livestreams for each of the regional Pac-12 Networks. (Vidgo review)
DIRECTV STREAM is an option if you do not mind missing USC games that are broadcast on the Pac-12 Network. That is because it features every other channel that the Trojans could be shown on. Not only that, but those available channels are all part of the streaming service's most affordable plan, the Entertainment plan for $74.99/mo. (DIRECTV STREAM review)
Hulu + Live TV is another service to consider if you are okay with missing out on USC games that the Pac-12 Network is broadcasting as it offers all of the other channels that would show Trojans matchups for $69.99/mo. Note that this price includes Disney+ and ESPN+. (Hulu Live review)
Meanwhile, livestreams for each of the channels that will broadcast the Trojans in 2023 are available through YouTube TV with the important exception (again) of the Pac-12 Network.
All of these services provide cloud DVR storage and the ability to stream on multiple devices at the same time. See the reviews for details.
Devices for USC Football Livestreaming
All the streaming services we discussed above provide apps for most of the devices in use these days.
Amazon Fire TV, Apple TV, Chromecast, and Roku are supported universally. So are mobile devices running iOS and Android. And finally, Android TV-based smart TVs are universally supported.
Samsung smart TVs are supported by all the services other than Vidgo. Fubo, Hulu + Live TV, Sling TV, and YouTube TV support most other smart TVs from manufacturers like LG and Vizio.
Fubo, Hulu, Sling, and YouTube TV support Xbox One. Sling TV supports Oculus VR devices. Hulu has a Nintendo Switch app. And Hulu + Live TV and YouTube TV support PlayStation units.
Get more information in our streaming reviews.
USC Trojans Football
USC's football program's history dates to 1888, when the team took to the field for the first time. Since then, the Trojans have won 11 national championships that are claimed by the school although they have also been awarded six others that USC does not claim. The first one was won in 1928 while the two most recent titles and the only two since the 1970s were secured in 2003 and 2004.
The Trojans have also won 39 conference championships, dating to its first in 1927 and most recently in 2017. USC was especially impressive in conference play in the 2000s, winning seven straight league titles from 2002-08.
The LA-based school, however, had a poor run from 2018-21, recording two losing seasons in a four-year span for the first time since back-to-back losing marks in 1960-61. But the most recent of those, a 4-8 campaign in 2021, was followed by an impressive 11-3 record in 2022 and a top-15 national finish.
That 2022 campaign was Lincoln Riley's first season as USC head coach. The former Texas Tech quarterback had previously served at the helm of the Oklahoma Sooners in his first head coaching gig, from 2017-21.
USC quarterback Caleb Williams, the 2022 Heisman Trophy winner, will have a large say in if the team's recent successes will continue. He is coming off of a season in which he set the school record with 52 total touchdowns, and expectations are high for him. Presumably, his own expectations of himself are high as well.
The Trojans enter their 2023 campaign ranked sixth in the AP and USA Today Sports AFCA Coaches polls.
Memorial Coliseum
USC plays home games in one of sport's most prestigious venues, the Memorial Coliseum, which most famously played host to the 1932 and 1984 Summer Olympics. The 93,607-capacity stadium, which is adjacent to campus, was built in 1923 and has been the home of the Trojans ever since.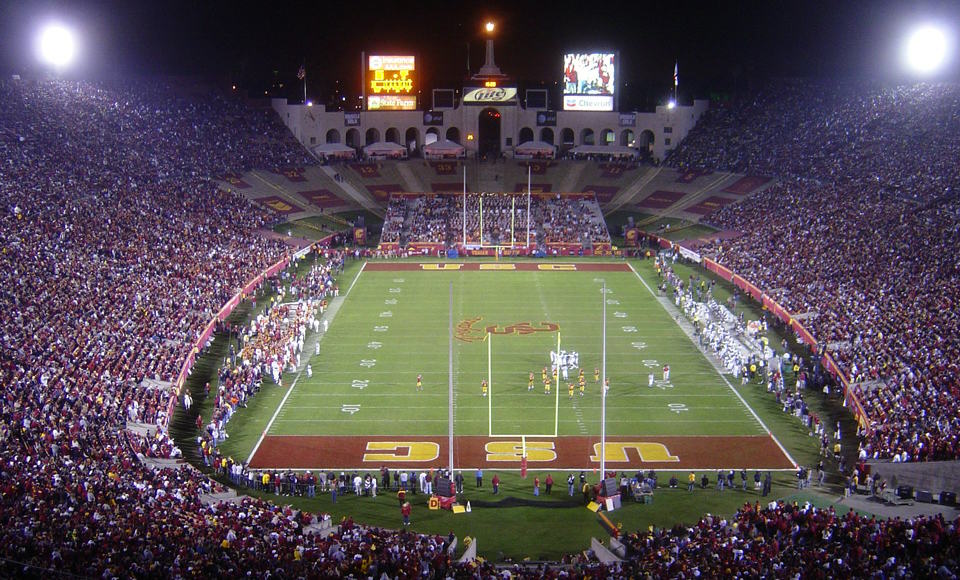 2023 USC Trojans Football Schedule
Sat Aug 26 : San Jose State Spartans (Pac-12)
Sat Sep 2 : Nevada Wolf Pack (Pac-12)
Sat Sep 9 : Stanford Cardinal (Fox)
Sat Sep 23 TBD: at Arizona State Sun Devils
Sat Sep 30 TBD: at Colorado Buffaloes
Sat Oct 7 TBD: Arizona Wildcats (ESPN)
Sat Oct 14 : at Notre Dame Fighting Irish (NBC/Peacock)
Sat Oct 21 TBD: Utah Utes
Sat Oct 28 TBD: at California Golden Bears
Sat Nov 4 TBD: Washington Huskies
Sat Nov 11 TBD: at Oregon Ducks
Sat Nov 18 TBD: UCLA Bruins
Other USC Sports
USC has one of the country's best overall athletics departments as its 112 national championships rank third, only behind Stanford (134) and UCLA (121).
The school's men's track and field program leads the way as far as NCAA titles are concerned with 26 although the most recent one was claimed in 1976. Next on that list is the men's tennis program, which has 21 trophies, including four in the previous decade, won in 2010, 2011, 2012, and 2014. Meanwhile, USC's baseball program has the most titles of any in the country with 12; its most recent was in 1998.
The school's women's program with the most national titles is water polo with six while USC's women's beach volleyball team has achieved a lot of success in its short history, winning it all five times already, in 2016, 2017, 2021, 2022, and 2023. Meanwhile, the Trojans women's volleyball team has three titles, and its women's basketball and women's soccer programs have two apiece.
Of course, with all of that said, USC's men's basketball team receives a lot of interest despite having never won an NCAA championship thanks to how popular that sport is nationwide. This squad's high water mark was reached in 1940 and 1954, when it played in the Final Four. However, much more recently, the 2020-21 Trojans men's basketball team advanced to within a game of its third Final Four trip, falling in the Elite Eight.
Unblock Your Favorite Events & Teams With a VPN

If you can't watch your favorite events or teams because of your location, a VPN will allow you to get the access you are entitled to, plus extra security and unequaled privacy. Check out our VPN Guide for everything you need to know, including our top pick ExpressVPN.

Other brands worth checking out include Hotspot Shield and CyberGhost.
Summing Up
USC's football program not only has a storied history, but a lot is expected of the 2023 Trojans, evidenced by it bringing back the 2022 Heisman Trophy winner in quarterback Caleb Williams and both major top-25 polls ranking USC sixth. As a result, many non-diehard fans will also be looking for USC broadcasts this season, which may be viewed through a number of streaming services.
Fubo is our top choice for USC fans. Fubo allows you to try out its service with a free trial.
FAQs
Who are USC's biggest rivals?
USC shares a fierce cross-city rivalry with the UCLA Bruins, who are just 15 miles away, as well as a cross-country one with Notre Dame. The former is more so based on geography while the latter features two of the sport's most storied programs. Both of these rivalries are renewed every year.
Why is USC leaving the Pac-12?
Since USC leaving the Pac-12 for the Big Ten does not make any geographical sense, most believe that the move was primarily or solely related to the financial implications as the Big Ten television contract far surpasses what USC would have experienced while remaining a Pac-12 member.
How can I watch college sports beyond the Trojans?
We have written guides about watching college football and college bowl games without cable. Here are guides for popular football teams:
And we have guides for college basketball and March Madness. Here are our team guides:
Ditch "Big Cable" Now – 3 Simple Steps to Cut the Cord
Pick the right streaming service
Get the content you deserve with the best VPN.
Supercharge your internet provider
That's it — you'll save money, take back control, and enjoy TV more!
Latest posts by Frank Moraes
(see all)