You don't need cable to catch all the pro-football action during NFL Week 14. Read on to find out how NFL fans can leave cable behind without missing any games!
In a hurry? Check out these three popular streaming services with which you can watch most NFL games live during the 2023-24 season:
If you are thinking of dumping your cable subscription, your best bet as an NFL fan is an online streaming service with live TV channels. Services like Netflix are on-demand content libraries. They do not offer live feeds showing live NFL games.
On the other hand, some on-demand services like Hulu also have live TV packages that provide you with access to the necessary NFL broadcasting channels. For example, Hulu + Live TV offers ABC, CBS, NBC, Fox, ESPN, and NFL Network — alongside other sports stations.
And some, just to be confusing, offer select live events without having any traditional live channels (Prime Video, Paramount+, Peacock).
This article covers different ways you can watch the NFL without cable, so read on to find out more.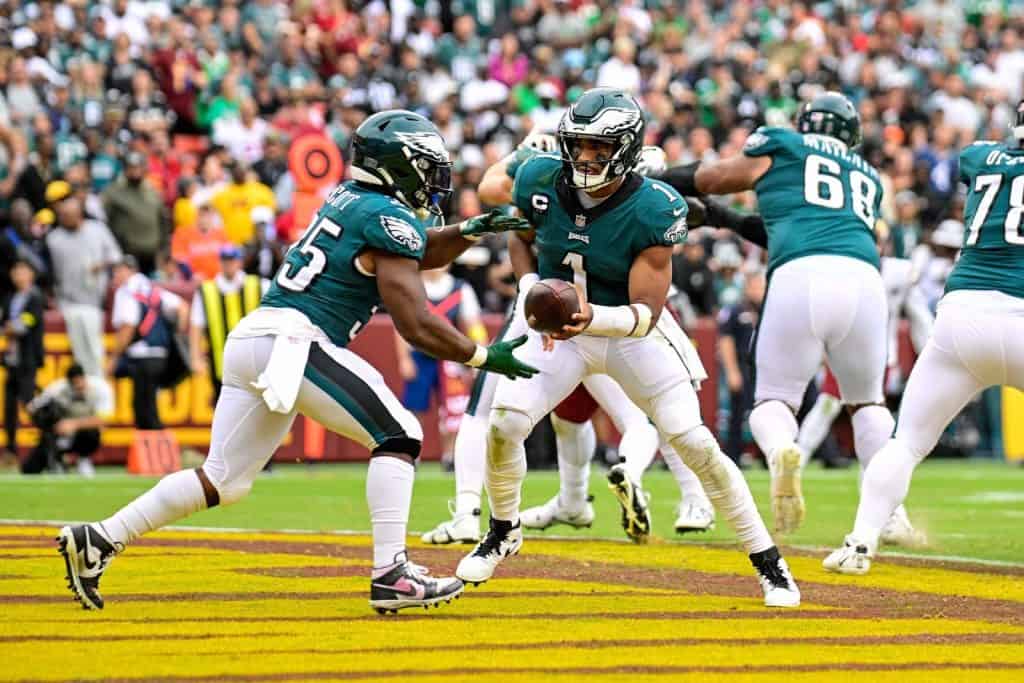 Monday's NFL Games
Here are today's NFL games:
Mon Dec 11 : Tennessee Titans at Miami Dolphins (ESPN)
Mon Dec 11 : Green Bay Packers at New York Giants (ABC)
How to Stream NFL Games
The televising of NFL games is organized, consistent, and predictable (unlike most other popular pro sports). But that doesn't keep it from being complicated and difficult to follow.
This chart will give you an overview of which streaming services carry which games, divided by when the games air.
No one service has all the games. Even if it carries all the channels, most Thursday Night Football games require Amazon Prime Video or NFL+. And there are other options for getting around regional broadcast restrictions.
You can refer to our full NFL schedule on this page to find out what channels you need for the games you want to watch.
We've got more details on each option — read on.
Fubo: Full Live NFL Game Coverage
Fubo is well-known as the streaming service for sports fans. With it, you can livestream all the national and local NFL games in your area. Fubo offers a wide variety of sports in general.
The service does an excellent job of covering just about every type of sport out there, including international events. And it offers one of the best selections of regional sports networks (RSNs) in the industry.
It features well over 150 channels of live sports, TV shows, and movies. With local channels as well as ESPN and NFL Network, you have everything you need to enjoy the NFL season online.
With the Sports Plus add-on for $10.99/mo, you will also get NFL RedZone and 30+ other sports channels.
You can check out the free trial to see if the service is right for you. See our Fubo review for more info on the service. You can also learn more in our guide about how to watch NFL on Fubo.
DIRECTV STREAM: Full Cable Replacement Service
DIRECTV STREAM is a great general streaming service. And it really stands out with its Choice plan for $108.99/mo, which includes the best selection of regional sports networks (RSNs) in the industry. It has you completely covered if you are a fan of your local MLB, NHL, or NBA team. And the same goes for the NFL.
It features well over 75+ channels in its base ($79.99/mo) plan. This includes all your local channels. The Choice plan adds NFL Network. And you can get NFL RedZone with the Premier plan ($164.99/mo) or with the Sports Pack add-on ($14.99/mo).
Check the 5-day free trial to see if the service is right for you. Also, check out our DIRECTV STREAM review for more information. (deal details)
Get DIRECTV STREAM Free for 5 Days
Hulu + Live TV: Watch the Whole 2023 NFL Season
As it stands, Hulu's live TV plan offers all four local channels you need to livestream the 2023 NFL season for $76.99/mo. It also provides ESPN and NFL Network. To get NFL RedZone, you need the Sports Add-on for $9.99/mo extra.
Alongside the 85+ channels, you get Disney+ and ESPN+. It also comes with unlimited cloud DVR storage for up to 9 months, with streaming on up to two devices at once. If you plan to watch any on-demand content with Hulu, the no-ad plan for an extra $6 may also be worth considering.
You can read our Hulu + Live TV review for more about the plan. Try one month for $76.99.
Sling TV: Low-Cost Service With Lots of NFL
Sling TV is a great deal at $40.00/mo for the Blue plan (or $5/mo more if ABC is included), which features 40+ channels. For NFL viewing, it's more of a mixed bag because it only provides local affiliates for Fox and NBC (depending on your location).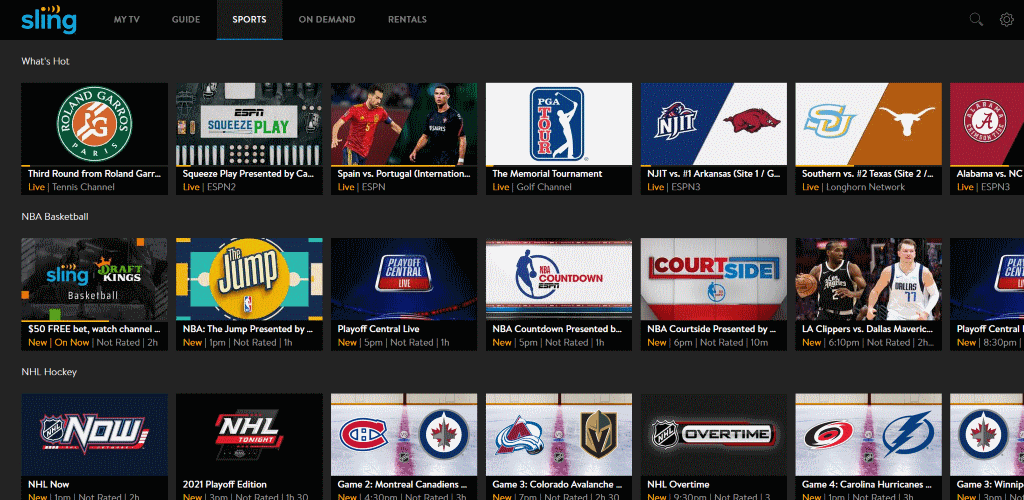 With the Sling Blue plan, you also get NFL Network. But if you want ESPN, you need the Sling Orange plan (also $40.00/mo). The real football fan should probably get the combined Orange + Blue plan for $55.00/mo. With it, you also get ESPN, ESPN2, and ESPN3.
You can get NFL RedZone with the Sports Extra add-on for $11/mo or $15/mo with the Orange + Blue plan.
If the lack of local affiliate channels bothers you, Sling TV offers a free HD antenna when you prepay two months on your subscription. They also have deals on other Sling-optimized gadgetry. In most locations, you should be able to get CBS as well.
Read our Sling TV review to learn more, plus these Sling-specific NFL guides: NFL on Sling, NFL Preseason, NFL RedZone, and Sunday Night Football. Also, head over to Sling TV's website to try the free on-demand content with a handful of free live channels.
Vidgo: Great for Football Fans
Vidgo is a great deal with a range of live TV channels. For $69.99/mo, you get 110+ channels that span the range of interests.
You get two key local channels, ABC and Fox (select markets), to livestream the NFL season, along with five ESPN channels (ESPN, ESPN2, ESPNU, ESPN Deportes, and ESPNews), and NFL Network.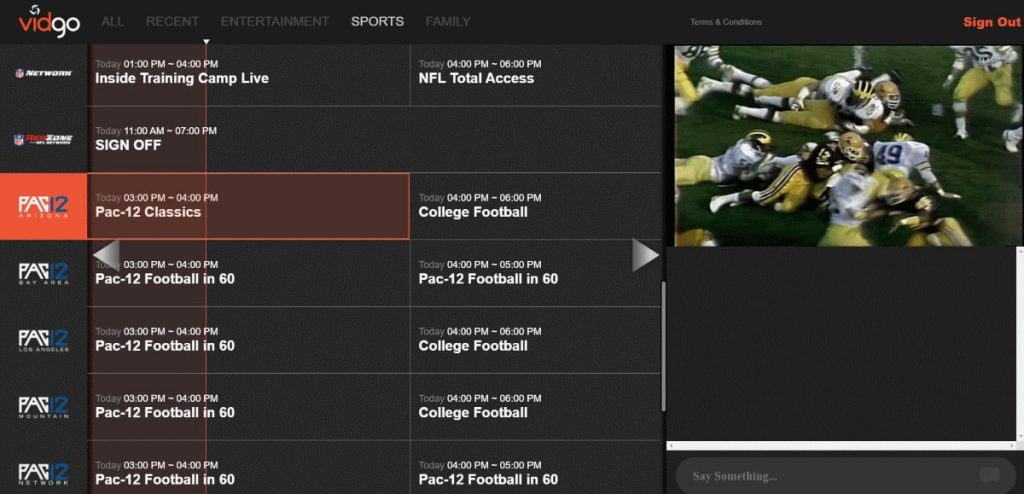 One downside of Vidgo is it only includes 20 hours of cloud DVR storage. But you can stream on up to 3 devices.
To offset the lack of NBC and CBS, you can check out Peacock and Paramount+. Learn more about Vidgo in our review. Try one month for $20.
NFL+: All In-Market Games on Mobile Devices
If you're okay with watching NFL games online using your phone or tablet, then NFL+ is for you. You can livestream all in-market and primetime NFL games — for $6.99/mo.
The subscription also includes access to all live out-of-market preseason games, live game audio, and NFL library programming.
If you normally record live games and watch them later, then NFL+ Premium is a good choice for just $14.99/mo. You get complete full and condensed game replays of all games on all devices, in commercial-free HD 720p.
The Premium plan also comes with Coaches Film, extra angles, NFL RedZone, and bonus library material like the NFL Films series Hard Knocks. Watching replays allows you to watch any game and is not limited to mobile devices.
Try NFL+ free for a week. To learn more before you buy, read our NFL+ review. If you're specifically interested in NFL+ Premium, we have a guide for that too.
Other Streaming Services for NFL
Non-Streaming Options for Watching NFL Games
We're big on streaming, but even we recognize there are some occasions when non-streaming providers are better options. Here are two alternatives to this newfangled streaming.
Watch for Free with a Digital Antenna: If you live in a location within range of the necessary towers, you can get Fox, CBS, ABC, NBC, and often a lot more — completely free to your TV. In HD! (Trust us, it's a lot of football.) Sling TV's even giving them away! Use the FCC's DTV tool to see what channels you're missing out on. Read more on antennas.
We hate to admit it, but sometimes, even for all their faults, your old, expensive (but reliable) satellite or cable provider is your best choice. With increasing competition from the streaming services, many have lowered their rates, or are offering pretty sweet deals. If you have to go this route, we recommend DIRECTV Satellite or DISH Satellite.
Devices to Livestream NFL
You can livestream NFL games on most of the streaming devices in use today using the services we've discussed above. These include the following:
There are some exceptions. Vidgo doesn't support Samsung smart TVs. Neither DIRECTV STREAM nor Vidgo supports LG or VIZIO smart TVs or Xbox systems.
Hulu + Live TV and YouTube TV support PlayStation units.
All the Channels You Need to Stream NFL Games
The simplest bet for NFL fans is to stream games with a service. What's the best service for streaming NFL games live? Here's an overview of which live TV streaming services offer the key channels:
The primetime games are provided nationally by Amazon Prime (Thursday), NBC (Sunday), and ABC/ESPN (Monday). The international games are broadcast by NFL Network other than one exclusive to ESPN+. Holiday games are streamed on a combination of TV channels.
Sunday afternoon games are broadcast between Fox and CBS. But there is a complication: the games are regionally broadcast. There are up to 13 games on any given Sunday afternoon and only 4 will be shown locally. We have a detailed guide about this issue.
Thursday Night Football on Amazon Prime Video
In the past, Amazon streamed many Thursday Night Football games. But they also aired on NFL Network or Fox. Now, Thursday Night Football is only on Amazon Prime Video.
In 2023, Thursday Night Football will feature one preseason and 16 regular season games live exclusively from Amazon. There are no Thursday night playoff games.
If your local team is playing on Thursday Night Football, one of your local networks will also air the game.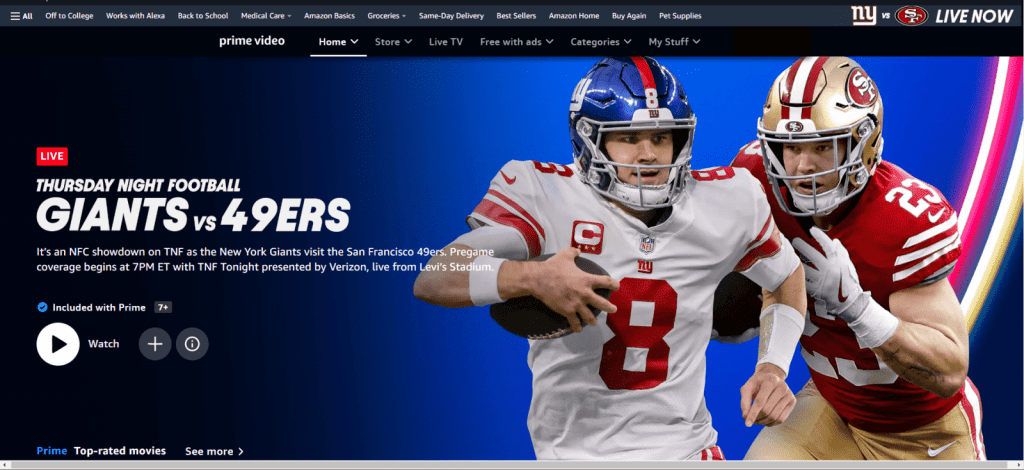 Your only other option for TNF is to watch on NFL+ — but live games are limited to your mobile device.
We have lots more info on Amazon and Thursday Night Football in our viewing guide.
Sunday Afternoon Football
Sunday afternoon is when most NFL games occur. These Sunday afternoon games air on two local channels: CBS and Fox. Each Sunday afternoon, you will have your choice of 4 games to watch. Of course, since they air in two timeslots, you will only be able to watch two of the games.
The games that are aired in your local media market will be those deemed of most interest to fans there. As a result, you will always see your local team(s) play.
Local NFL Team Channels
Here are all the local CBS and Fox affiliates that broadcast Sunday afternoon games in the local area.
The Sunday Afternoon Problem
On any given Sunday, there are anywhere from four to nine (give or take) games starting at Eastern (the "early slot"), and three to six starting between and Eastern (the "late slot"). Your local CBS and Fox affiliates will both choose a maximum of one from each slot.
In other words, on the day with the most football games, you don't have the opportunity to watch the vast majority of them.
Why do it this way? Because there are 32 teams in the NFL, which has always scheduled games primarily on Sunday afternoon. Most fans prefer to follow their local team, so the current setup works for the most number of people.
Sunday Night Football on NBC
Sunday Night Football consists of one game a week, with kickoff occurring at . This is often one of the most anticipated games of the week. NBC has exclusive rights to this game, and live
streams them on its streaming service Peacock.
Fubo, DIRECTV STREAM, and Hulu Live all have broad coverage of NBC. Sling carries it in select markets. Vidgo doesn't have it at all. You could combine Sling TV or Vidgo with Peacock to make up for this.
For more information, please see our guide to Sunday Night Football, or our guide to watching SNF on Sling TV.
Monday Night Football by ESPN Sports
Monday Night Football is presented by ESPN Sports. This means that it's usually on ESPN and ABC. But some times this season, there are two games and these channels split them.
The Manningcast is presented on ESPN2 for ten games this season. And ESPN Deportes provides Spanish-language coverage of every game airing on ESPN.
Like Thursday Night Football (although less commonly), when your local team plays, a local broadcast affiliate will simulcast the game along with ESPN. That could be CBS, Fox, or another channel depending on your location.
Get more details in our Monday Night Football guide as well as our guide to MNF on Sling TV.
Special Presentation Games
Most of the games fall into the categories above, but there are a few special circumstances throughout the season.
Sunday Morning International Games
The NFL is continuing its series of international games this year. Five are scheduled, all on Sunday mornings at .
The first London game will be at Wembley Stadium. This game will also feature an alternate real-time feed from the animated Pixar Toy Story setting of Andy's room. Toy Story Funday Football will stream live along with the game on ESPN+, NFL+, and Disney+.
The other two London games are at Tottenham Hotspur Stadium. The two games in Germany will be held at the Frankfurt Stadium.
Saturday Games
NFL schedules Saturday games once the NCAA Bowl Games start.
Sat Dec 16 (Week 15): 3 games TBD
Sat Dec 23 (Week 16): Steelers @ Bengals (NBC)
Sat Dec 23 (Week 16): Bills @ Chargers (Peacock)
Sat Dec 30 (Week 17): Lions @ Cowboys (ABC/ESPN)
Sat Jan 6 (Week 18): 2 games TBD
The unscheduled games will be chosen at some point "over the 2023 season." Traditionally, we don't have the Week 15 schedule until about a week before.
The second Week 16 game is Peacock's annual exclusive game.
Holiday Games
Deck the halls with pigskin pennants! The NFL is planning some extra festive triple headers for Thanksgiving Day and Christmas Day this year.
Thanksgiving Day (Thurs Nov 23, Week 12)
: Green Bay Packers @ Detroit Lions (Fox)
: Washington Commanders @ Dallas Cowboys (CBS)
: San Francisco 49ers vs Seattle Seahawks (NBC)
Christmas Day (Mon Dec 25, Week 16)
: Las Vegas Raiders @ Kansas City Chiefs (CBS/Nickelodeon)
: New York Giants @ Philadelphia Eagles (Fox)
: Baltimore Ravens @ San Francisco 49ers (ABC)
Christmas Eve and New Year's Eve both fall on Sunday this year, so they'll just follow the usual Sunday schedule.
Week 14 NFL
NFL Week 14 Schedule
Thu Dec 7 : Patriots at Steelers (Amazon Prime)
Sun Dec 10 : Buccaneers at Falcons (CBS)
Sun Dec 10 : Rams at Ravens (Fox)
Sun Dec 10 : Lions at Bears (Fox)
Sun Dec 10 : Colts at Bengals (CBS)
Sun Dec 10 : Jaguars at Browns (CBS)
Sun Dec 10 : Panthers at Saints (Fox)
Sun Dec 10 : Texans at Jets (CBS)
Sun Dec 10 : Vikings at Raiders (Fox)
Sun Dec 10 : Seahawks at 49ers (Fox)
Sun Dec 10 : Bills at Chiefs (CBS)
Sun Dec 10 : Broncos at Chargers (CBS)
Sun Dec 10 : Eagles at Cowboys (NBC)
Mon Dec 11 : Titans at Dolphins (ESPN)
Mon Dec 11 : Packers at Giants (ABC)
Standings
Wrapping Up
The best streaming service or network subscription for you will depend on your individual needs and budget.
If you want to cut the cord for the first time and have a fair selection of channels, one of the reviewed streaming services is a great way to get started while getting access to live NFL games.
Fubo is our top pick for NFL fans. Fubo allows you to try out its service with a free trial.
More Info on NFL Without Cable
If you still have questions, these resources should help:
FAQs
How is the National Football League structured?
The NFL is divided into 2 conferences (AFC and NFC) with 4 divisions. AFC North: Baltimore, Cincinnati, Cleveland, Pittsburgh. AFC South: Houston, Indianapolis, Jacksonville, Tennessee. AFC East: Buffalo, Miami, New England, NY Jets. AFC West: Denver, Kansas City, Oakland, LA Chargers. NFC North: Chicago, Detroit, Green Bay, Minnesota. NFC South: Atlanta, Carolina, New Orleans, Tampa Bay. NFC East: Dallas, NY Giants, Philadelphia, Washington DC. NFC West: Arizona, St Louis, San Francisco, Seattle.
What are the top NFL teams for the 2023-24 season? [Updated Sep 28th, 2023]
No one can say for sure, of course, but most of the sportsbooks have set odds on the different teams to win the Super Bowl. They disagree in minor ways with each other, but the ordering is pretty consistent for the top contenders. The change listed is from the start of the regular season.
San Francisco 49ers (↑4)
Kansas City Chiefs (↓1)
Philadelphia Eagles (↓1)
Miami Dolphins (↑6)
Buffalo Bills (↓2)
Dallas Cowboys (–)
Baltimore Ravens (↑1)
Cincinnati Bengals (↓3)
Detroit Lions (–)
Cleveland Browns (↑↑)
BetMGM has the Dolphins and Bills tied. DraftKings has the Bills and Cowboys tied, and the Ravens and Bengals also tied, with the Lions between them. Fanduel puts the Bills above the Dolphins with SF and KC tied and the Dolphins and Cowboys tied.
How do I watch NFL games in Spanish?
How you will watch NFL games in Spanish will depend on where you are watching. Prime Video, as of 2022, features an alternate Spanish-language stream of Thursday Night Football with its own on-air announcers. You can watch Sunday Night Football games (or any NBC NFL broadcast) on Telemundo or Universo. And you can watch Monday Night Football on ESPN Deportes.
Fox Sports shows some of its specially scheduled games in Spanish on Fox Deportes, but it doesn't do this for its regular Sunday afternoon games.
CBS dubs its games in Spanish; check your audio settings to switch to the Spanish language track. The NFL has announced that the Super Bowl, on CBS this year, will be covered in Spanish by TelevisaUnivision.
A low-tech but effective workaround is to mute your TV and get Spanish-language audio either through Entravision or a local Spanish-language radio station in your area. Just be aware there may be a delay between your streaming broadcast and the radio.
How do I stream NFL games on my phone?
NFL+ was made for streaming NFL games on your phone. For $6.99/mo, you can stream live any local or nationally televised game on your phone. For $14.99/mo, you can watch unlimited replays (not just on your phone), and they'll throw in NFL RedZone. You can find more details on NFL+ plans and benefits in our full NFL+ review.
You can also use any of the live TV streaming services to watch NFL games on your phone.
Can I watch NFL games using a VPN?
Yes, you can use a VPN to watch games with the streaming services reviewed above. A VPN, or Virtual Private Network, is a type of connection software that provides an extra layer of security and privacy. More relevantly, for the purposes of watching NFL games, it can change where the internet thinks you are located in the world. We recommend ExpressVPN. See our VPN NFL game viewing guide for all the details.
Superpower Your Sports Streaming With a VPN

For the sake of privacy, security, and access, you should be using a VPN. They are low-cost and easy to use. We've been using them for years and our top pick is ExpressVPN. Other brands worth checking out include Hotspot Shield and CyberGhost.
What is the NFL Network?
NFL Network is the NFL's official basic cable channel. It has news, analysis, as well as series and specials about football. It used to show Thursday Night Football before Amazon took that over. Today, the NFL Network features lots of preseason games, four out of five international games, and the Holiday Classic on Christmas Eve. It's included in most TV provider base plans, as well as NFL+ and the NFL Game Pass.
What is NFL RedZone?
NFL RedZone is a special channel that's only on the air for seven hours on Sunday afternoons. Their tagline is "Every touchdown from every game," and they deliver. Every Sunday from until , Scott Hanson breathlessly covers every amazing pass, major drive, and score. If you find yourself bored during the endless time-outs and commercial breaks, and just want to watch the exciting parts, then RedZone is for you.
You can get NFL RedZone from most TV providers, though it's always in a higher tier or add-on. It's also included with NFL+ Premium and NFL Game Pass.
Do I need NFL Sunday Ticket?
Most NFL fans do not need Sunday Ticket. The NFL has actually done quite a good job distributing games to fans. And most of it is done for free. NFL Sunday Ticket has a certain reputation as the thing serious fans fork over hundreds of dollars for but it's really just certain kinds of fans who should do so. And those are fans who are focused on one or more non-local teams.
Check out our guide to out-of-market NFL watching, which also has links to guides on how to watch specific teams, and our NFL Sunday Ticket review for further discussion.
How do Fox and CBS divvy up the Sunday afternoon games?
Up until this year, CBS had the rights to AFC games, and Fox had the rights to NFC games. If it was an inter-conference game, the away team usually determined the broadcaster. According to NFL Operations, this year this is no longer necessarily the case. However, if you examine the schedule, most games tend to follow this guideline.
How do I livestream CBS NFL games?
There are several ways to livestream CBS NFL games. One top recommendation is Fubo. However, if CBS is the only channel you're missing, you can try its parent company's streaming service, Paramount+. For just $5.99/mo, it provides live access to NFL matchups. This service only covers games that will air on CBS.
How do I watch NFL games live for free?
If you have searched for free NFL games to watch, you undoubtedly have come across a lot of services that are scams. The only legal ways to watch NFL for free are:
We recommend staying away from illegal sites. They are potentially dangerous.
Much better to install an HD antenna or subscribe to a low-cost service like NFL+.
How much of the NFL season can I watch with free trials?
There are not enough free trials to watch even half the NFL season. But you can go for a while — roughly 5 of 18 weeks. Here is a list of the services and how you can use them:
Why are some NFL games not scheduled this year?
Five games in Week 15 and all the games in Week 18 don't have dates, times, and channels assigned to them. This is to allow the NFL the flexibility to gain larger audiences. During Week 15, three games will be on Sunday, but the two games with the most viewership potential will be played on Saturday. Once the playoff picture is clear, the games will be scheduled, and we will provide it here.
Can I livestream NFL on Amazon Prime?
Yes, you can. Amazon Prime subscribers can watch most Thursday Night Football matches starting with the 2022 season, directly from the Prime Video app. Amazon Prime costs $139 per year and includes free 2-day shipping on Amazon, free video streaming, and more.
How can I watch Thursday Night Football online?
This is the second year that you will not be able to watch the whole NFL season with cable alone because most Thursday Night Football games will be available to stream only. You can watch these with Amazon Prime Video. You can also watch these games live with a subscription to NFL+, but you can only watch live on mobile devices.
How do I watch NFL playoffs online?
Once the playoffs are underway, there are plenty of ways to watch online. Options are pretty similar to the regular season, with games airing on ESPN, Fox, NBC, and CBS. So services like Fubo and Hulu + Live TV will work well for you. You can learn more in our NFL playoffs guide.
How can I watch Monday Night Football online?
To livestream Monday Night Football online, you need to have access to ESPN. The streaming services we reviewed above offer ESPN, like Fubo, Vidgo, Hulu + Live TV, and Sling TV. You can also watch on ABC. ESPN+ ($9.99/mo) streaming 12 games this year. And ESPN2 features some games with alternative commentary from Eli and Peyton Manning (aka, the Manningcast.)
How can I watch Sunday Night Football without cable?
Since Sunday Night Football airs exclusively on NBC, you need an option with that channel. The cheapest way is to use an antenna, but this will depend on where you are located. A more general option is to livestream with a service like Fubo or Hulu Live, which allows you to watch Sunday Night Football online without cable TV in most areas.
Can I livestream NFL games on ESPN+?
You can livestream a dozen games this season on ESPN+:
What's the easiest way to livestream NFL on a smart TV?
Since smart TVs support streaming apps, the easiest way to livestream NFL games on them is to check out our list of NFL-friendly streaming services and find out if your TV supports them. Supported services vary by brand of smart TV, so you'll need to check before signing up with a service.
Didn't live games on mobile used to be free on the NFL app or NFL.com?
Yes, they did. Until 2022, you could watch in-market and nationally televised games free on your mobile device with the Yahoo Sports app, the NFL app, or on nfl.com. If that sounds familiar, it's because the NFL is now charging $6.99/mo for basically the same service on NFL+.
How do I listen to live NFL games?
For those Sundays, Mondays, and Thursdays that you just cannot be in front of a screen, you have NFL on TuneIn. Listen to every score as it happens, in real-time. TuneIn offers the best audio game-day experience for cord-cutting NFL fans, all for free. You can also listen on the radio (either your local station if it's a local team, or SiriusXM NFL Radio if it's not) and via NFL+.
Can I watch NFL games on Netflix?
Netflix is an on-demand service, meaning there is no live TV on it. So you can't watch live NFL games on Netflix. Also note that past NFL games aren't on Netflix either. If you wish to watch NFL games on-demand after they air, we recommend NFL+ Premium.
How do I watch NFL games from outside the United States?
Fans outside the US need the NFL Game Pass. You'll get access to all the games. Your US-based football friends will be super jealous. Game Pass is available in most countries outside the United States (where you're supposed to use NFL+) or China. If you're in Canada, NFL Game Pass is included with your subscription to a popular sports streaming service. See our NFL Game Pass review for more information on international NFL viewing.
What were the final results of the 2022-2023 NFL regular season?
How do I watch specific NFL teams without cable?
Need more information on how to watch the NFL without cable, tailored specifically to your favorite team? Click on your team below.
Cornerback Darius Slay about to tackle Commanders wide receiver Terry McLaurin — again (2022) by Joe Glorioso/All-Pro Reels under CC BY-SA 2.0.