The Eagles pounded the Giants in the divisional game. Don't miss the NFC Championship!
The second game of the NFL Divisional Round will pit the NFC #1 seed, Philadelphia Eagles, against the New York Giants on Saturday, January 21st at Lincoln Financial Field in Philadelphia. Read on to get all your viewing options!
In a hurry? The kickoff is on Fox. The following live TV streaming services will let you watch every game of the 2023 NFL postseason:
FuboTV: The best streaming service for international sports also provides 130+ well-selected channels. FuboTV allows you to try out its service free for 7 days.
DIRECTV STREAM: Get a great channel lineup with the best selection of RSNs in the industry. A 5-day free trial is now available for DIRECTV STREAM.
Hulu + Live TV: A great overall streaming service offering 85+ live channels along with ESPN+ and Disney+. Try one month for $69.99.
If you can't watch your favorite sports because of your location, get ExpressVPN to access the content you deserve.
Unfortunately, we don't know a streaming service in that covers this sport. But if you've already paid for the right service, and just can't watch because of your location, there is an easy way to get the content you deserve. You need a VPN, like one of the following.
ExpressVPN: Premium VPN provider that just works, with 3,000+ locations in 94 countries. Supports five simultaneous devices and comes with a 30-day money-back guarantee. (ExpressVPN review)
Surfshark: Connect to over 3,200 servers in 99 countries (+ tonnes of US metro areas). Try it with a 7-day free trial.
NordVPN: Connect to over 5,000 premium servers in 60+ countries. Comes with a 30-day money-back guarantee!
If you're overwhelmed and not sure where to begin, you'll find all the answers in our full VPN guide.
Eight teams remain: the six that won their Wild Card games and two top-seeded teams that got to skip this first round. As a result, there are two divisional games on Saturday (one AFC and one NFC) and then two more on Sunday.
The winners of these contests will move on to the conference championships the following weekend. And two weeks after that is Super Bowl LVII.
Sign Up for a Free 7-Day Fubo Trial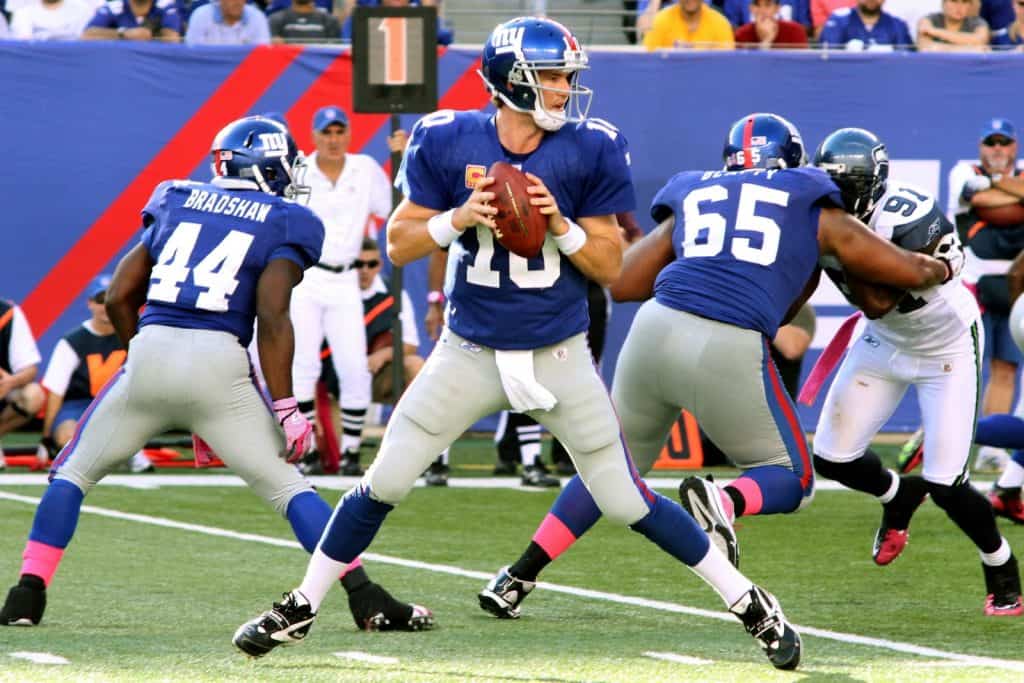 Which TV Channel Is the Giants vs Eagles Game On?
CBS (1), Fox (2), and NBC (1) share broadcasting duties for the four division games. Game two airs on Fox:
Joe Davis is scheduled to provide play-by-play with Daryl Johnston acting as analyst. Sideline reporters Pam Oliver and Kristina Pink will provide updates outside the booth.
Fox is part of a network with affiliate stations nationwide. Most likely, there is a station near you that you can pick up with a digital antenna for free. But it may be easier to stream, which we discuss below.
Superpower Your Streaming With a VPN
For the sake of privacy, security, and access, you should be using a VPN. They are low-cost and easy to use. We've been using them for years and our top pick is ExpressVPN. Be sure to check out our Cyber Monday 2022 deals on ExpressVPN, NordVPN, SurfShark and PureVPN.
How to Stream Giants vs Eagles Live
Streaming services offer many advantages over cable. The biggest advantage is that it is cheaper and you get access to a larger variety of channels than you would have with cable. Game 2 is set to air live on Fox and you can watch the game with these streaming services.
FuboTV: ($74.99/mo)The best streaming service for NFL fans. With FuboTV, not only do you get to watch the NFL regular season with CBS, ESPN, Fox, NBC, and NFL Network, but channels to please the entire family. The base package has 130+ channels. FuboTV allows you to try out its service free for 7 days. (FuboTV review)
Sling TV: ($40.00/mo): The most affordable way to watch the NFL playoffs. It only offers two local channels, NBC and Fox in the Sling Blue package. Sling Blue has 40+ news and entertainment channels, 50 hours of cloud DVR and streaming on 3 devices at the same time. (Sling TV review)
Hulu + Live TV: ($69.99/mo) The package has 85+ live TV channels, unlimited cloud DVR and streaming on 2 devices at the same time. Local channels are available including Fox so you are sure not to miss the game. (Hulu + Live TV review)
DIRECTV STREAM: ($74.99/mo) The Entertainment plan has the main local channels that will air the Playoffs, that is, NBC, CBS, and Fox. It is also well known for RSNs which it offers in the Choice plan ($99.99/mo). A 5-day free trial is now available for DIRECTV STREAM. (DIRECTV STREAM review)
Vidgo: ($59.95/mo)It offers little coverage of the local channels, that is, it only offers Fox and ABC. The base plan gets you 100+ channels and streaming on 3 devices at the same time. (Vidgo review)
YouTube TV: ($64.99/mo) Sign up today and get 100+ channels. Watch Game 2 on Fox. (YouTubeTV review)
Sign Up for a Free 7-Day Fubo Trial
Devices You Can Use to Watch New York-Philadelphia
Unlike cable, most streaming services allow you to watch on several devices from anywhere. You can also stream on multiple devices at the same time. Here are the list of streaming services that you can use to watch the matchups:
Smart TVs: All services allow you to watch on Android TV. Watch Sling TV, FuboTV, and Hulu Live on Vizio Smart TVs. Vidgo is the only one that does not support Samsung TVs. Sling TV, FuboTV, and Hulu Live support LG TV.
TV Devices: Amazon Fire TV, Apple TV, Chromecast, and Roku are all supported by the streaming services.
Mobile devices: All services support tablets, android phones, iPad, and iPhones.
Gaming consoles: You can watch Hulu Live on Playstation and Nintendo Switch. Watch FuboTV, SlingTV, and Hulu Live on Xbox.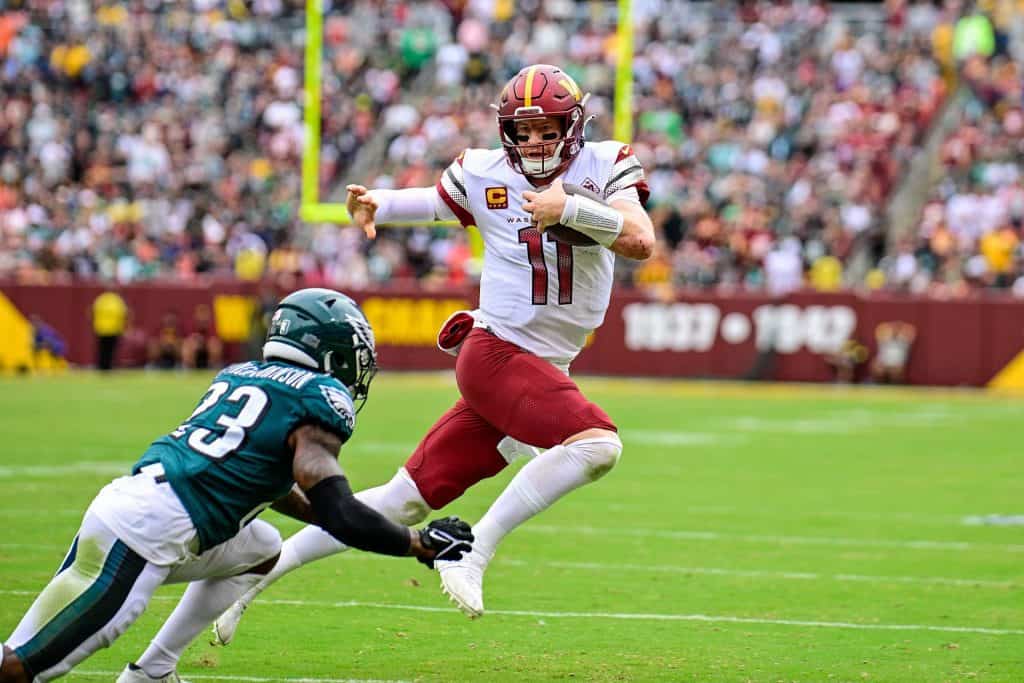 Giants vs Eagles NFL Division Game Analysis
Going into Saturday night's playoff matchup between the New York Giants (9-7) and Philadelphia Eagles (14-3), only one thing is certain: the NFC Championship Game will feature an NFC East team.
This fourth edition Giants vs Eagles playoff matchup will be significant for both teams. In addition to keeping the Superbowl dream alive and well for each, the game represents an opportunity for Daniel Jones, Jalen Hurts, and several other players to create some important signature moments.
For Jones and Hurts, reaching the NFC title game will virtually guarantee a hefty contract extension heading into the fall. With money, legacies, and a shot at representing the NFC in the Superbowl on the line, let's jump right into our Giants vs Eagles game analysis.
Players to Watch
This important playoff game will feature key individual matchups for each team. Let's have a look at a few players to watch.
Daniel Jones, Giants Quarterback
Viewed as a competent starter and little more coming into this season, Daniel Jones has had a breakout campaign in 2022, distinguishing himself as one of the best quarterbacks in the league.
Despite having the second-fewest number of downfield throws during the regular season, Jones' efficiency was on full display with a 73.6 percent completion percentage, 15-5 TD-INT ratio, and an impressive 97.4 QB rating. The keyword, however, is "clean."
But like most QBs, Jones' numbers dropped off with pressure in his face. And the Eagles know where Jones wants to go with the ball. Eagles Defensive Coordinator Jonathan Gannon has an affinity for aggressive play. And the Eagles pass rush became only the fourth team in the history of the NFL to rack up 70 sacks in a single season, he will likely see pressure all game long.
Jalen Hurts, Eagles Quarterback
When star quarterback Jalen Hurts went down in Week 15 with a right shoulder injury, the Eagles lost the next two games while he recovered. Hurts made his return in Week 18 against the NY Giants. Hurts and the Eagles won the game, but they played against the Giants' second and third string. This Saturday's NFC Divisional game will be more of a test.
Like the Giants and Jones, Philadelphia has relied on Jalen Hurts' legs to make their offense tick this season. He is the linchpin of the offense. If healthy, his threat as a runner allows Eagles Offensive Coordinator, Shane Steichen, to open up the playbook for weapons like AJ Brown and Devonta Smith.
Game Predictions For New York vs Philadelphia
Vegas has the Eagles beating the Giants by 7.5 points. Given the records of each team, this prediction is more than justified. And recent activity has caused some sportsbooks to increase the line up to 8.5 points.
That said, the Giants are playing with house money. Sometimes, the team with nothing to lose comes out victorious. And remember: the Giants were supposed to lose to the Vikings by a field goal. Instead, they won by a touchdown.
Wrapping Up
You can use most of the live TV streaming services to watch the NFC Division Game featuring New York Giants vs Philadelphia Eagles. We recommend FuboTV, which will also allow you to watch the rest of the playoff games and much more.
Sign Up for a Free 7-Day Fubo Trial
FAQs
How do I watch the second divisional playoff game for free?
The second 2023 divisional playoff game is being broadcast on Fox. Assuming you are relatively near a Fox affiliate (and you probably are), all you need to do is set up an antenna. This is not like using an antenna in decades past. All the signals are digital, and you get to watch in high-definition. Our antenna guide has all the details.
Will the Divisional Round Game 2 be on Paramount+ or Peacock?
No, Paramount+ only streams CBS. Game 3, which is the Bengals vs the Bills on Saturday, January 21, will be televised live on CBS and streaming on Paramount+, but not any of the others. Similarly, Peacock is owned by NBCUniversal and only streams NBC Sports programs. You could stream Game 1 (Jaguars vs Chiefs) on Peacock, but not any of the other three.
How do I stream the rest of this year's playoff games?
These guides give you all the information you need to watch the NFL playoffs:
See How to Stream NFL Without Cable for more information.
Latest posts by Frank Moraes
(see all)