The NFL Divisional Weekend features four games two AFC matchups and two NFC matchups. Read on to get all the details!
In a hurry? These live TV streaming services allow you to watch the NFL games from preseason, regular season, and postseason — and much more:
Fubo: The best streaming service for international sports also provides 150+ well-selected channels. Fubo allows you to try out its service with a free trial.
DIRECTV STREAM: Get a great channel lineup with the best selection of RSNs in the industry. A 5-day free trial is now available for DIRECTV STREAM.
If you can't watch your favorite sports because of your location, get ExpressVPN to access the content you deserve.
Unfortunately, we don't know a streaming service in that covers this sport. But if you've already paid for the right service, and just can't watch because of your location, there is an easy way to get the content you deserve. You need a VPN, like one of the following.
| | | |
| --- | --- | --- |
| | ExpressVPN: Known as "The VPN that just works," it combines remarkable ease of use with with state-of-the-art power, speed, security, and privacy. Get three extra free months when you sign up for a year. Unleash your streaming with this top-rated VPN. | Sign Up Now |
| | Surfshark: Surfshark: Secure and easy to use with thousands of servers around the world. Of special note is its excellent collection of servers inside the US, which is great for regional sports lie NFL, MLB, and NBA. Get it now with an incredible 82% discount on a 24-month plan. | Sign Up Now |
| | NordVPN: One of the top VPNs with extremely fast servers all over the world. Great for streaming with tested perfomance on the biggest servers and included ad-blocking. Currently offering 70% discount on 2-year plans. | Sign Up Now |
If you're overwhelmed and not sure where to begin, you'll find all the answers in our full VPN guide.
After the Wild Card round, six teams move on to the Divisional Round of the NFL playoffs. These six teams are combined with the two conference winners (that got bye weeks) for a total of 8 teams competing in 4 football games — two on Saturday and two on Sunday afternoon.
The winners of these games compete the following weekend in the conference championships. And then there is the Super Bowl two weeks after that.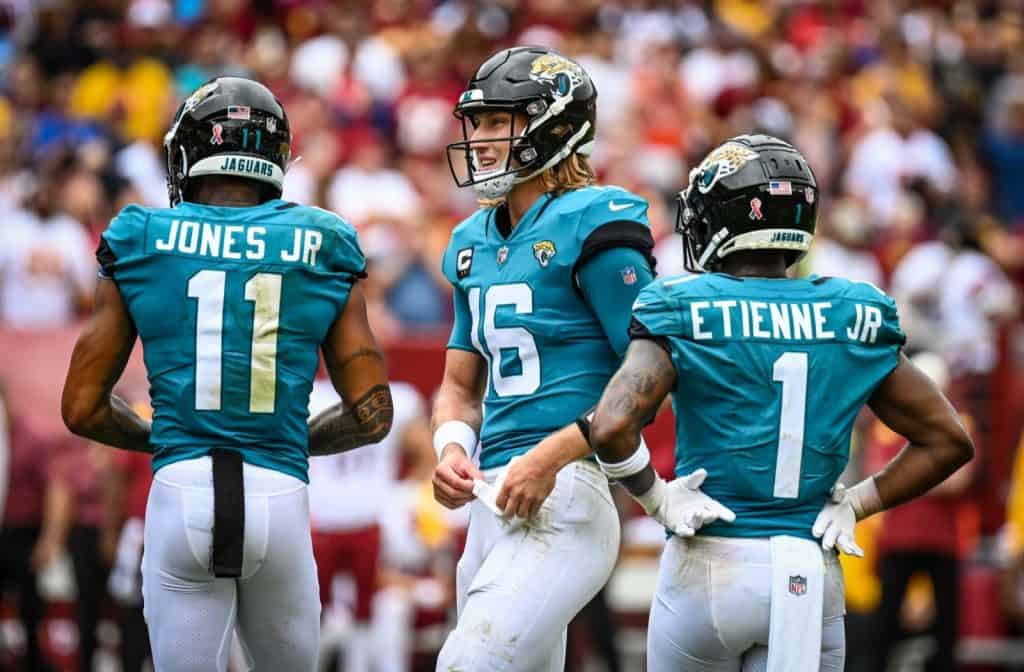 Which TV Channels Are the Divsional Games On?
The divisional games air on CBS (1), Fox (2), and NBC (1). Here is the schedule:
NBC is an over-the-air station in most areas. That means you can watch it for free if you set up a digital antenna. But if you prefer to stream, see the section below.
Superpower Your Sports Streaming With a VPN

For the sake of privacy, security, and access, you should be using a VPN. They are low-cost and easy to use. We've been using them for years and our top pick is ExpressVPN. Other brands worth checking out include Hotspot Shield and CyberGhost.
How to Watch Jaguars-Chiefs Without Cable
Live TV streaming services allow you to watch the NFL games live even when you do not have cable. The one exception is Thursday Night Football, which is exclusive to Amazon Prime Video. But this does not apply to the 2023 NFL playoffs.
The playoffs will be airing live on local network affiliates CBS, FOX, and NBC along with ESPN. If you want to watch these games, see below for the streaming services that give you access to these channels.
Peacock gives you access to NBC so you can watch all of Monday Night Football every week. Vidgo is the only streaming service that does not offer NBC, so if you already have a subscription, you can pair it with Peacock for an additional $4.99/mo. See our Peacock review for more information.
Devices For Streaming the Divisional Round Games
You can use most devices to watch the divisional games with the streaming services we've discussed above. They all support the following:
Amazon Fire TV
Android Mobile
Android TV
Apple TV
Chromecast
iOS Devices (eg, iPhone)
Roku
Samsung TVs
Web Browsers.
Other than DIRECTV STREAM, all support a number of other devices including Xbox gaming systems.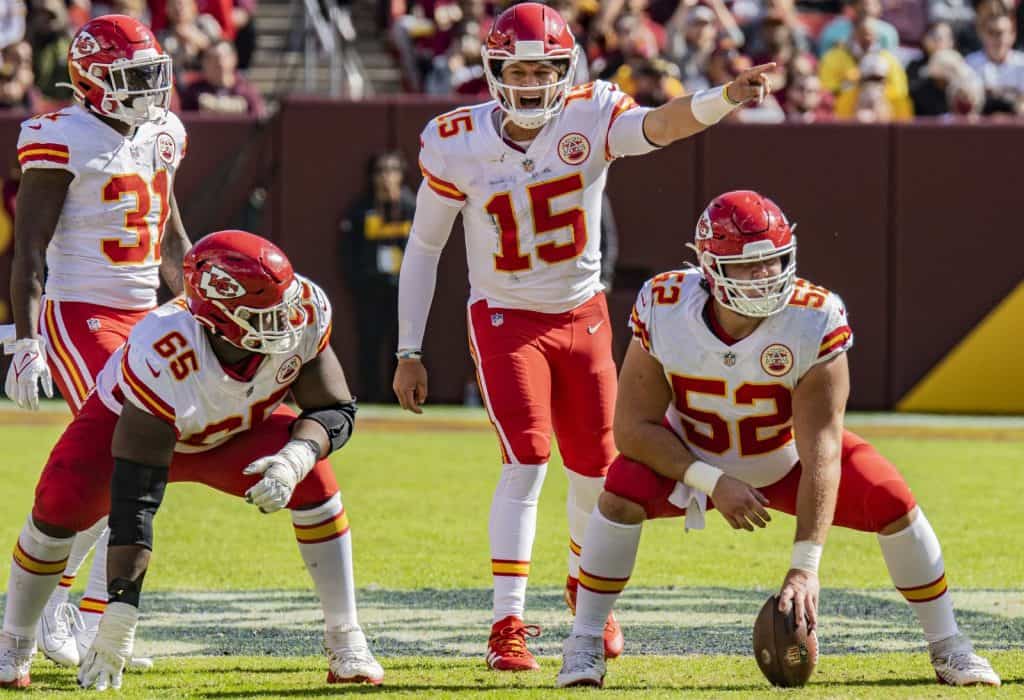 Divisional Round Analysis
Below are our analyses of the divisional games in order.
Jacksonville Jaguars vs Kansas City Chiefs Game Analysis
The Jacksonville Jaguars will travel to GEHA Field at Arrowhead Stadium to take on the Chiefs in the first of two AFC divisional round games this weekend. This is the first time these teams have encountered each other in the playoffs. Jacksonville is the fourth seed in the conference by virtue of winning the AFC South while the Chiefs are the top overall seed in the conference.
How We Got Here
The Jaguars defeated the Los Angeles Chargers 31-30 in the wild card round. Jacksonville fell behind 27-0 in the first half thanks to four Trevor Lawrence interceptions but was able to win the game on a last-second field goal by Cameron Dicker.
With a strong defeat of the Las Vegas Raiders in Week 18 of the regular season, Kansas City won the AFC and had a bye in the first round.
Players to Watch For
In addition to Trevor Lawrence, Jacksonville has a number of playmakers on offense including Evan Engram, Travis Etienne and Zay Jones. On defense, the Jags also have a number of difference makers including Rayshawn Jenkins and the other Josh Allen.
Kansas City will rely heavily on leading MVP candidate Patrick Mahomes to guide the Chiefs to victory. The Chiefs also have a number of contributors at the skill positions such as Travis Kelce and Kadarius Toney who was acquired from the Giants during the regular season.
There will also be a compelling matchup on the sidelines between Jags coach Doug Pederson and Chiefs coach Andy Reid. Both men have won championships during their tenures as head coaches and both are considered among the best offensive minds in the game today.
Keys to Victory
For most of the year, many pundits have assumed that the Chiefs will play the Buffalo Bills in the AFC title game. Therefore, Jacksonville has the benefit of playing a game that no one expects them to win. The Jaguars stay in the game by running the ball and keeping Kansas City's offense off the field as much as possible.
Kansas City will want to score early and often to put pressure on the Jaguars to keep pace. Andy Reid isn't afraid to go for it on fourth down if it means scoring touchdowns as opposed to field goals. If Kansas City can establish a lead early, it also gets their fans into the game, and a loud GEHA Stadium is one of the hardest places to play in the league.
Who Wins Jaguars-Chiefs?
While the Jags will likely keep the game close early, the Chiefs likely use their experience to pull away late. Kansas City is favored by roughly nine points going into the contest, and it wouldn't be surprising to see the Chiefs cover the spread.
Giants vs Eagles NFL Division Game Analysis
Going into Saturday night's playoff matchup between the New York Giants (9-7) and Philadelphia Eagles (14-3), only one thing is certain: the NFC Championship Game will feature an NFC East team.
This fourth edition Giants vs Eagles playoff matchup will be significant for both teams. In addition to keeping the Superbowl dream alive and well for each, the game represents an opportunity for Daniel Jones, Jalen Hurts, and several other players to create some important signature moments.
For Jones and Hurts, reaching the NFC title game will virtually guarantee a hefty contract extension heading into the fall. With money, legacies, and a shot at representing the NFC in the Superbowl on the line, let's jump right into our Giants vs Eagles game analysis.
Players to Watch
This important playoff game will feature key individual matchups for each team. Let's have a look at a few players to watch.
Daniel Jones, Giants Quarterback
Viewed as a competent starter and little more coming into this season, Daniel Jones has had a breakout campaign in 2022, distinguishing himself as one of the best quarterbacks in the league.
Despite having the second-fewest number of downfield throws during the regular season, Jones' efficiency was on full display with a 73.6 percent completion percentage, 15-5 TD-INT ratio, and an impressive 97.4 QB rating. The keyword, however, is "clean."
But like most QBs, Jones' numbers dropped off with pressure in his face. And the Eagles know where Jones wants to go with the ball. Eagles Defensive Coordinator Jonathan Gannon has an affinity for aggressive play. And the Eagles pass rush became only the fourth team in the history of the NFL to rack up 70 sacks in a single season, he will likely see pressure all game long.
Jalen Hurts, Eagles Quarterback
When star quarterback Jalen Hurts went down in Week 15 with a right shoulder injury, the Eagles lost the next two games while he recovered. Hurts made his return in Week 18 against the NY Giants. Hurts and the Eagles won the game, but they played against the Giants' second and third string. This Saturday's NFC Divisional game will be more of a test.
Like the Giants and Jones, Philadelphia has relied on Jalen Hurts' legs to make their offense tick this season. He is the linchpin of the offense. If healthy, his threat as a runner allows Eagles Offensive Coordinator, Shane Steichen, to open up the playbook for weapons like AJ Brown and Devonta Smith.
Game Predictions For New York vs Philadelphia
Vegas has the Eagles beating the Giants by 7.5 points. Given the records of each team, this prediction is more than justified. And recent activity has caused some sportsbooks to increase the line up to 8.5 points.
That said, the Giants are playing with house money. Sometimes, the team with nothing to lose comes out victorious. And remember: the Giants were supposed to lose to the Vikings by a field goal. Instead, they won by a touchdown.
Cincinnati Bengals vs Buffalo Bills Game Analysis
It is not very often that we get to see a new National Football League rivalry born over the course of a single season, but that is exactly what has happened between the Cincinnati Bengals and the Buffalo Bills in recent weeks. If we go back to the beginning of the season, these teams were far behind the Kansas City Chiefs in terms of representing the AFC and advancing to the Super Bowl, but now they are not only true contenders but also fierce rivals.
Buffalo: Regular Season Recap
As we can all remember from the week 17 Monday Night Football game when the Bills traveled to Cincinnati to wrap up the regular season, Bills safety Damar Hamlin was playing strong defense when he tackled Tee Higgins and suddenly collapsed.
The Bengals wide receiver had caught a smooth pass from quarterback Joe Burrow. He ran at a moderate pace as he brushed off Hamlin with a regular shoulder-to-the-chest maneuver, but the 24-year-old safety spun to bring the receiver down with a clean tackle.
A moment later, Hamlin was on the field getting CPR from paramedics. He had suffered cardiac arrest and was rushed to the University of Cincinnati Medical Center, where it took him a few days to regain the ability to breathe on his own.
Thankfully, Hamlin is out of the hospital and in a condition to watch his teammates face the Bengals once again, this time in the second round of the playoffs. The Bills almost didn't make it because their old rivals the Miami Dolphins were very close to winning the wildcard round, but here they are.
Cincinnati: Last Week's Playoff Game
As for the Bengals, they squeaked by the Baltimore Ravens thanks to an amazing fumble recovery by Sam Hubbard. Bengals quarterback Josh Allen certainly did his part to win the game 24-17, but Cincinnati fans are concerned that his QB rating has been lagging since before the regular season.
NFL officials decided to not resume the game suspended by Hamlin's tragic collapse, so the Bengals and Bills actually made it to the playoffs with 16 games instead of 17. Not many football analysts believed that these teams would meet again in the playoffs, but this is clearly a new NFL rivalry because of all the extraneous circumstances.
Now is the Bengals' turn to travel to Highmark Stadium, and they know that Bills fans are going to be extremely fired up. After all, they will be rooting for a victory dedicated to Hamlin.
Game Predictions For Bengals vs Bills
If we look at the betting lines in Las Vegas, the Bills are favored by just a few points. This is a game that may be decided with a field goal, a safety, or a two-point conversion. That is how little of a margin is expected.
The opening line for the game was Buffalo by just over a field goal. But in the days since, the number is pushing closer to a touchdown. But it may all come down to the Bills' home-field advantage on a Sunday afternoon, and with the comforting knowledge that Hamlin, who happens to be one of the nicest players that football fans can hope to see on their teams, is enjoying a superb recovery.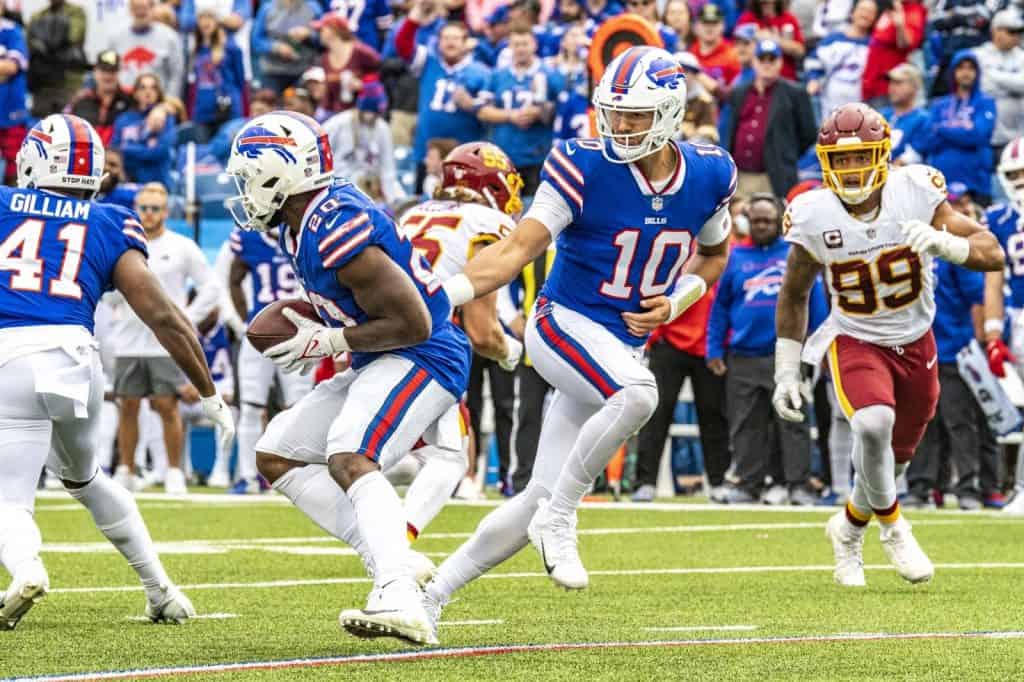 Game Analysis: Cowboys vs 49ers
Although this is not a classic rivalry in the National Football League, it will feel like it when the Cowboys travel to Levi's Stadium to play the Divisional Round against the 49ers.
With the 49ers ranked #1 in the league versus #6 for the Cowboys, we might expect San Francisco to be favored by a touchdown or more. But the line opened at 49ers -3.5. In some cases, betting has pushed that to 4 points. But we can expect this to be a close game.
Cowboys Playoffs Recap
As the underdogs, Dallas will need to dig deeper into the playbook and make better use of Dak Prescott. The Cowboys have relied on their superb running game for most of the season, and their schedule matched up with teams that did not rate high on the defensive charts.
Things will be different in San Francisco, where 49ers head coach Kyle Shanahan has relied on defensive coordinator DeMeco Ryans to build an impressive defense with star players such as Nick Bosa.
We can expect to see the Cowboys rely more on Prescott throwing to star wide receiver CeeDee Lamb, who has improved his ability to slip past defenders and find open spots.
As seen in their wildcard game against the Tampa Bay Buccaneers headed by Tom Brady, the Cowboys have a diverse playbook that includes fake punting on fourth down to maintain possession. However, their first down conversion record will be a concern against the strong 49ers defense. Then again, Prescott showed greater efficiency passing against the Buccaneers, but his offensive line will be facing a team that has accumulated dozens of sacks this season.
49ers Playoffs Recap
All eyes will be on rookie 49ers quarterback Brock Purdy as he continues to prove he can fill in for Jimmy Garoppolo. Purdy has shown great chemistry with his receivers, particularly Deebo Samuel and Brandon Aiyuk. San Francisco fans have been delighted to see a third-string rookie carry the team.
For most NFL teams that experience the misfortune of losing their star and backup quarterbacks before the playoffs, offensive coordinators tend to adjust by focusing more on rushing. But this has not been the case with Purdy and the 49ers.
The 49ers fans have enthusiastically shown their appreciation for their rookie QB. This is significant when considering that San Francisco has home field advantage.
Keys to Victory
With all the above in mind, this playoff game will likely come down to which team can better adjust to post-season circumstances. Purdy has already proven himself, and the San Francisco defense has not disappointed this season. But it may be prudent to run the ball against Dallas more than with other teams.
As for the Cowboys, their passing game will need to be deeper and more efficient if they wish to break down the 49ers' defensive strategies. Of the four Divisional Round games remaining, this one has the most potential of going into overtime.
Wrapping Up
The divisional round games can be streamed with all of the live TV streaming services we've discussed. Our top choice is Fubo, which will allow you to watch all playoff games, regular season games in your area, other sports, and general stuff.
FAQs
How can I stream the divisional playoff games for free?
The first 2023 Divisional playoff game will be broadcast on NBC. If you live relatively near an NBC affiliate station, you should be able to watch it for free with an antenna. Modern over-the-air signals are digital and high-definition so they look as good as what you will get from streaming, cable, or satellite. See our antenna guide for more information.
How do I stream other NFL playoff games?
The following guides provide details on watching the NFL playoffs:
Our article How to Stream NFL Without Cable has general information.
Page Updates
▼
▲
Added sub-section. Updated one section. Changed some content in main section. Updated some sub-sections.

Added a few links. Various changes to content.

Added new section. Changed some content in main section. More links. Misc changes.

Updated one section. Changed some content in main section. Added some more links.

Added FAQ section. Added table of contents. Updated one section. Changed some content in main section. Added links.
Latest posts by Frank Moraes
(see all)