Don't miss Super Bowl LVII. Watch it free with a Fubo free trial!
The first game of Super Wild Card Weekend is Saturday, January 14th featuring the Seattle Seahawks at the San Francisco 49ers. Cord cutters have a few options for watching this game live. Read on to learn them all!
In a hurry? The kickoff for this game is on Fox. These live TV streaming services will have you set for the entire NFL postseason and much more:
Fubo: The best streaming service for international sports also provides 150+ well-selected channels. Fubo allows you to try out its service with a free trial.
DIRECTV STREAM: Get a great channel lineup with the best selection of RSNs in the industry. A 5-day free trial is now available for DIRECTV STREAM.
If you can't watch your favorite sports because of your location, get ExpressVPN to access the content you deserve.
Unfortunately, we don't know a streaming service in that covers this sport. But if you've already paid for the right service, and just can't watch because of your location, there is an easy way to get the content you deserve. You need a VPN, like one of the following.
| | | |
| --- | --- | --- |
| | ExpressVPN: Known as "The VPN that just works," it combines remarkable ease of use with with state-of-the-art power, speed, security, and privacy. Get three extra free months when you sign up for a year. Unleash your streaming with this top-rated VPN. | Sign Up Now |
| | Surfshark: Surfshark: Secure and easy to use with thousands of servers around the world. Of special note is its excellent collection of servers inside the US, which is great for regional sports lie NFL, MLB, and NBA. Get it now with an incredible 82% discount on a 24-month plan. | Sign Up Now |
| | NordVPN: One of the top VPNs with extremely fast servers all over the world. Great for streaming with tested perfomance on the biggest servers and included ad-blocking. Currently offering 70% discount on 2-year plans. | Sign Up Now |
If you're overwhelmed and not sure where to begin, you'll find all the answers in our full VPN guide.
Which TV Channel Is the Seattle Seahawks vs San Francisco 49ers Game On?
The Wild Card games are distributed between CBS, ESPN, Fox, and NBC. Game one will be broadcast on Fox.
It will feature Joe Davis with play-by-play and Daryl Johnston with color commentary. Pam Oliver is the primary sideline reporter.
What Time Is the Game On?
Since Fox is an over-the-air station, in most areas, it's free to watch live with a digital antenna. This is a great option, but most people still choose to stream.
See our guide for the games being played.
How to Watch Seahawks-49ers Outside the US
Canadian viewers can watch the NFL playoffs with their own streaming service..
Sky Sports will be broadcasting Seahawks vs 49ers (and all the other playoff games) live in the UK and Ireland. Kayo Sports and Foxtel are showing all the playoff games in Australia.
Superpower Your Sports Streaming With a VPN

For the sake of privacy, security, and access, you should be using a VPN. They are low-cost and easy to use. We've been using them for years and our top pick is ExpressVPN. Other brands worth checking out include Hotspot Shield and CyberGhost.
How to Live Stream Seahawks vs 49ers
The playoff games will air on ESPN, NBC, CBS, ABC, and Fox. (There will be no streaming-only Thursday Night Football games on Amazon Prime Video.)
The following streaming services give you access to Fox so you can watch the Seattle Seahawks battle the San Francisco 49ers. Some offer free trials so you can watch some NFL games for free as you check if it is right for you.
Fubo (formerly FuboTV): It offers all the channels you need to watch the NFL regular season to the playoffs including all major local channels like Fox. For $74.99/mo you get 130+ live channels, 1,000 hours of cloud DVR, and the ability to stream on 10 devices at once. (Fubo review)
Sling TV: Sling Orange ($40.00/mo) offers ESPN, ESPN2, and ESPN3 and Sling Blue ($40.00/mo) offers Fox and NBC. To watch Game 1 you only need Sling Blue but to watch the Monday Night game, you should sign up for both plans for $55.00/mo. (Sling TV review)
Hulu + Live TV: Only offers one package for $69.99/mo. The plan provides local channels ABC, CBS, NBC, and Fox. You also get ESPN+ and Disney+. An unlimited cloud DVR is also available. (Hulu Live review)
DIRECTV STREAM: Get 75+ channels including ESPN, Fox, NBC, and CBS all for $74.99/mo. The base plan also offers unlimited cloud DVR and watching on unlimited devices. (DIRECTV STREAM review)
YoutubeTV: You get all major local channels and ESPN channels for $72.99/mo.
Stream Outside the US
Other than Canada and China, you can stream all of the playoffs with NFL Game Pass International.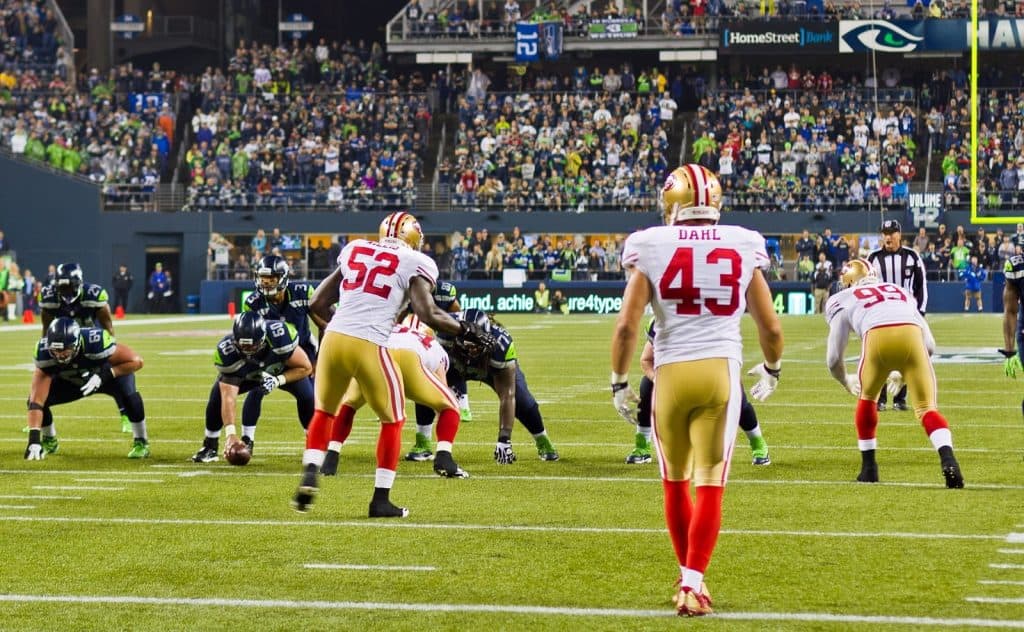 Devices For Watching Seattle-San Francisco
The streaming services are accessible through several streaming devices. Here are a list of devices you can use to watch the game through streaming services:
Amazon Fire TV
Android Mobile
Android TV
Apple TV
Chromecast
iOS Devices (eg, iPhone)
Roku
Samsung TVs
Web Browsers.
Many of these services support other devices such as the Xbox and PlayStation gaming consoles as well as different smart TVs.
Seattle vs San Francisco NFL Wild Card Game Analysis
The top two teams in the NFC West this season, the San Francisco 49ers (13-4) and the Seattle Seahawks (9-8), have been slated to play each other in the wild card round of the playoffs.
This will be just the second all-time postseason meeting between these rivals, the other being a memorable matchup in the 2013 NFC championship game. Seattle prevailed in that showdown, 23-17.
Regular Season Recap For Seahawks and 49ers
Midway through the 2022 season, it looked like the Seahawks might win the NFC West as Seattle was 6-3 heading into a trip to Germany for a November 13 matchup with the Buccaneers. Meanwhile, the 49ers were 4-4 at that point. However, that is when their respective seasons diverged significantly.
The Seahawks are going to rue that trip to Germany as a loss there kickstarted a disappointing six-game stretch that consisted of Seattle going 1-5 to drop below .500 at 7-8.
The only way that the team was able to get into the postseason was by beating the New York Jets and Los Angeles Rams in the final two weeks, the latter with a field goal in overtime. And only then after the Detroit Lions beat the Green Bay Packers in literally the last game of the regular season.
Conversely, the 49ers had just gone into their bye week on the heels of a 31-14 win over the Rams on October 30. That victory kickstarted a winning streak that is still active, currently at 10 games. This impressive run pushed San Francisco's record from below .500 at 3-4 to 13-4 and good enough for the NFC's #2 seed in the NFC.
As for head-to-head matchups, San Francisco dominated at home in a 27-7 win over the Seahawks in week two while their matchup at Lumen Field in week 15 was closer. In it, the 49ers won, 21-13. Those victories snapped a four-game winning streak that Seattle had held in the rivalry heading into 2022.
Team Comparison For Chargers vs 49ers
Coming into the playoffs, the 49ers have a power ranking of #1. The Seahawks has a power ranking of 16 — up 6 positions from the previous week. ESPN polling has the 49ers at #3 and the Seahawks at #18. We need to take these numbers with a grain of salt, but it's clear what the experts think.
So, on paper, the 49ers have to be favored in Saturday's meeting, particularly after also taking into account that they will enjoy home-field advantage in that contest. In fact, San Francisco opened in the betting odds as a 9.5- to 10-point favorite with an over/under of 42.5 to 43.
Note that the Seahawks lost to every team in the NFC South, which consisted of all four franchises carrying below-.500 marks into the postseason/offseason. On the other hand, San Francisco went 3-1 against that division with the only setback a 28-14 loss to Atlanta to drop to 3-3 on the season.
Seattle's biggest individual surprise in 2022 has been Geno Smith, who served as Russell Wilson's backup for most of the previous seven seasons before performing at Pro Bowl levels in 2022. In fact, Smith broke Wilson's franchise records for most completions (399) and passing yards (4,282) in a season.
Taking snaps on the other side of the ball has been 49ers quarterback Brock Purdy, who enters the postseason having thrown for multiple touchdown passes in his last six outings, becoming just the second rookie in NFL history to do so. That stretch included three tosses for points in the team's 38-13 win over the Arizona Cardinals on Sunday.
Purdy said following that outing that he and his teammates "haven't played to our full potential yet."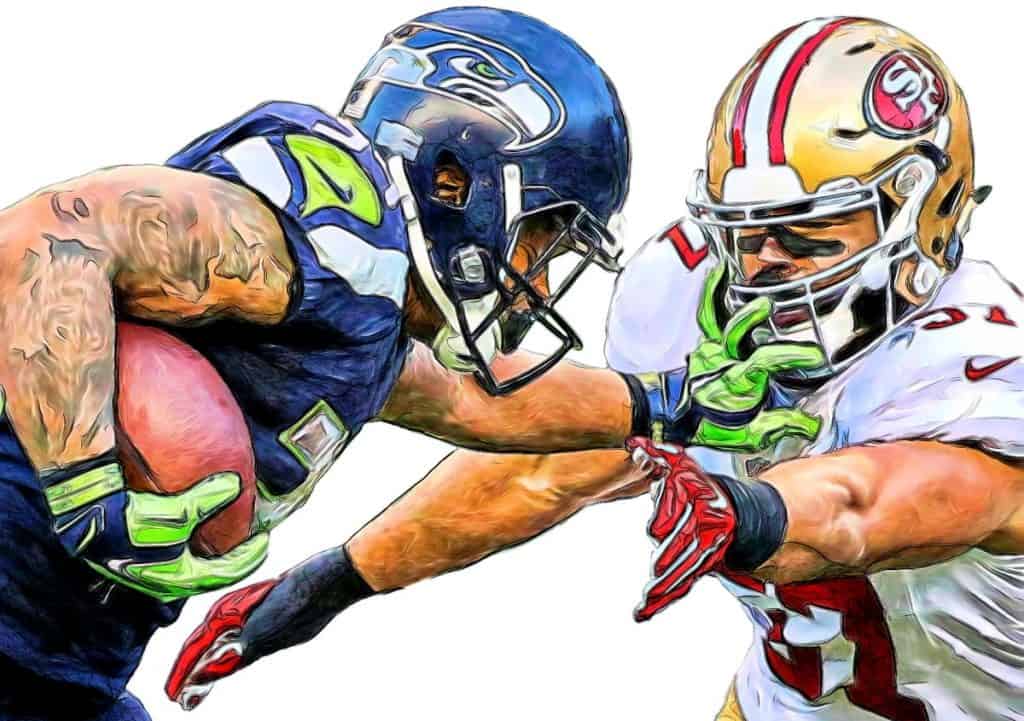 NFL Wild Card Basics
At the end of the NFL season, the 7 top teams in each conference go to the playoffs. These consist of the 4 division winners and then the 3 best teams conference-wide are the wild card teams. This often results in wild card teams having significantly better records than division winners. For example, in the 2022-23 season, the NFL East saw every team out performing the winner of the NFC South.
The top-seed team in the AFC and NFC get a bye for Super Wild Card Weekend. The remaining six teams are paired by their seed with the top team against the bottom team. Like this:
#7 Seed at #2 Seed
#6 Seed at #3 Seed
#5 Seed at #4 Seed
In this case, the San Francisco 49ers were the #2 seed in the NFC and the Seattle Seahawks were the #7 seed.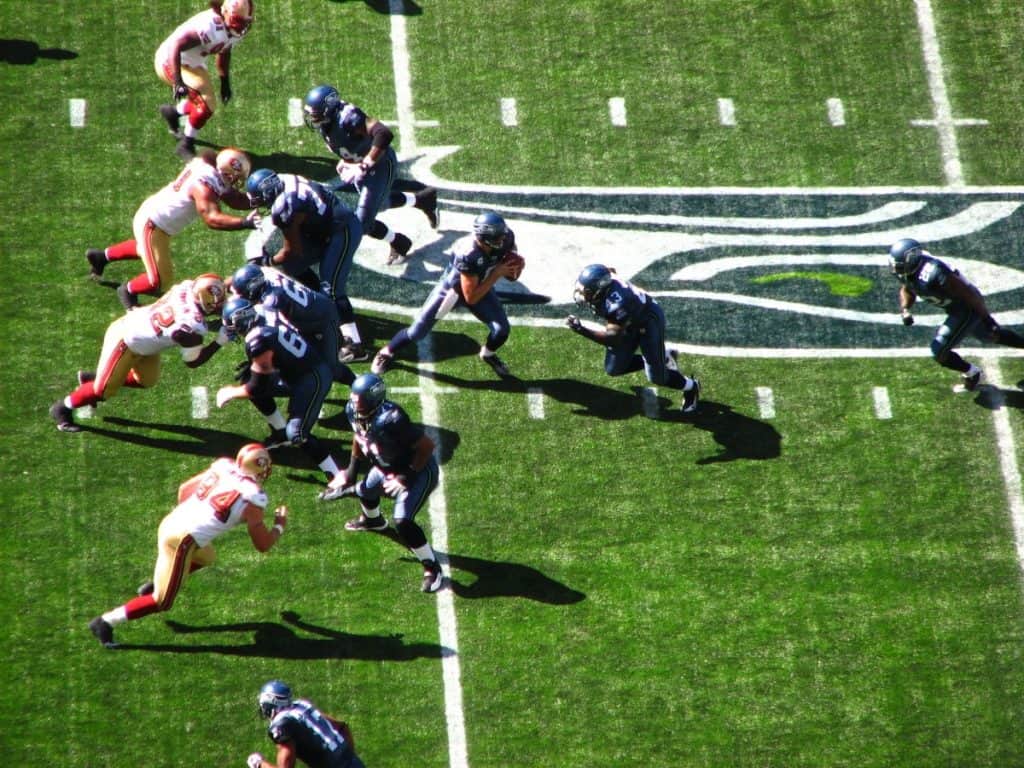 Wrapping Up
You can watch this NFL Wild Card Game with the Seattle Seahawks vs the San Francisco 49ers using a number of streaming services. Our top pick is Fubo, which will allow you to watch every game of the 2023 NFL playoffs. Fubo allows you to try out its service with a free trial.
FAQs
What channels are the NFL playoff games on?
All of the NFL playoff games are broadcast on one of four channels: CBS, ESPN, Fox, and NBC. ESPN only broadcasts one game (the final Wild Card matchup as Monday Night Football). And it will be simulcast on ABC. ESPN2 will feature the Manningcast with Peyton and Eli Manning. For Spanish-language channels, see our guide.
How do I stream other NFL playoff games?
The following guides provide details on watching the NFL playoffs:
Our article How to Watch NFL Without Cable has general information.
Page Updates
▼
▲
Updated some section headings. Updated some sub-sections. Added some links.

Added buttons for streaming services. Added sub-section. Updated one section. Updated some sub-sections. Mentioned offers.

Added new section. Added buttons for streaming services. Updates to a section. Reworked one section. Updated some of the sections.

Added table of contents. Additional links. Mentioned offers. Various content updates.

Added pricing. Changed some content in main section. Updated one section. Updates to a section. Removed section.
Latest posts by Frank Moraes
(see all)