Don't miss Super Bowl LVII. Watch it free with a FuboTV free trial!
The fifth wild card game will be on Sunday Night, January 15. You can watch Baltimore Ravens vs Cincinnati Bengals. Read on to get all the details!
In a hurry? The kickoff of this game is at on NBC. You can watch the entire NFL postseason with these streaming services:
Fubo: The best streaming service for international sports also provides 130+ well-selected channels. Fubo allows you to try out its service free for 7 days.
DIRECTV STREAM: Get a great channel lineup with the best selection of RSNs in the industry. A 5-day free trial is now available for DIRECTV STREAM.
If you can't watch your favorite sports because of your location, get ExpressVPN to access the content you deserve.
Unfortunately, we don't know a streaming service in that covers this sport. But if you've already paid for the right service, and just can't watch because of your location, there is an easy way to get the content you deserve. You need a VPN, like one of the following.
| | | |
| --- | --- | --- |
| | ExpressVPN: Known as "The VPN that just works," it combines remarkable ease of use with with state-of-the-art power, speed, security, and privacy. Get three extra free months when you sign up for a year. Unleash your streaming with this top-rated VPN. | Sign Up Now |
| | Surfshark: Surfshark: Secure and easy to use with thousands of servers around the world. Of special note is its excellent collection of servers inside the US, which is great for regional sports lie NFL, MLB, and NBA. Get it now with an incredible 82% discount on a 24-month plan. | Sign Up Now |
| | NordVPN: One of the top VPNs with extremely fast servers all over the world. Great for streaming with tested perfomance on the biggest servers and included ad-blocking. Currently offering 70% discount on 2-year plans. | Sign Up Now |
If you're overwhelmed and not sure where to begin, you'll find all the answers in our full VPN guide.
Which TV Channel Is the Baltimore Ravens vs Cincinnati Bengals Game On?
Game 5 is set to air on NBC. There are three other games also set to air on NBC. The rest are distributed among CBS, FOX, and ESPN.
The NBC on-air crew for this game will feature Mike Tirico (play-by-play), Cris Collinsworth (color), and Melissa Stark (sideline reporting).
What Time Is the Game On?
As NBC is an over-the-air station, if you have a digital antenna you can watch the channel for free in most areas. Despite this being a good option, many still prefer to watch via streaming services.
Check our detailed guide on how you can watch more games.
Watching Outside the US
Baltimore Ravens vs Cincinnati Bengals can be watched in Canada with DAZN.
Fans in UK and Ireland can watch Baltimore Ravens vs Cincinnati Bengals on Sky Sports. In Australian, it will air on Kayo Sports and Foxtel.
Superpower Your Streaming With a VPN
For the sake of privacy, security, and access, you should be using a VPN. They are low-cost and easy to use. We've been using them for years and our top pick is ExpressVPN. Be sure to check out our deals page on ExpressVPN, NordVPN, SurfShark and PureVPN.
Sign Up for a Free 7-Day Fubo Trial
How to Stream Baltimore vs Cincinnati Online Without Cable
To watch the game, you can use streaming services. The streaming services below will give you access to NBC, CBS, Fox, and ESPN channels so you can watch all the games in the playoffs. Game 5 will be airing on January 15 on NBC.
FuboTV: Get 35+ sports channels included in the 140+ channels in the Pro plan. Several add ons are available so you can catch up with all the sports you need. The Pro plan also give you access to NBC ad other local channels. In addition, there is 1000 hours of cloud DVR. All this for $74.99/mo. (FuboTV review)
Sling TV: This has to be one of the most cheapest streaming services with a variety of channels. NBC is one of the two streaming services that Sling offers in its Sling Blue package. Save 50% on Sling TV now! (Sling TV review)
Hulu + Live TV: Get 85+ channels and a huge on-demand library for $69.99/mo. Included is Disney+ and ESPN+ and a generous unlimited cloud DVR with up to 9 months of storage. Watch Game 5 on NBC. (Hulu + Live review)
DIRECTV STREAM: 75+ live channels for $74.99/mo. A 5-day free trial is now available for DIRECTV STREAM. NBC is included in the channels so you can watch the matchup. (DIRECTV STREAM review)
YouTubeTV: All the channels you need to watch the NFL playoffs are available. The plan costs $72.99/mo. (YouTubeTV review)
Watch Sunday Night Football with NBC on Peacock. To watch this game and other SNF games, subscribe to Peacock for $4.99/mo. If you have a Vidgo subscription, then this a good streaming service to pair it with as Vidgo does not offer NBC in its channel lineup.
Outside the US: Streaming Options
Get NFL Game Pass Intl to watch all of the playoffs in most countries.
Sign Up for a Free 7-Day Fubo Trial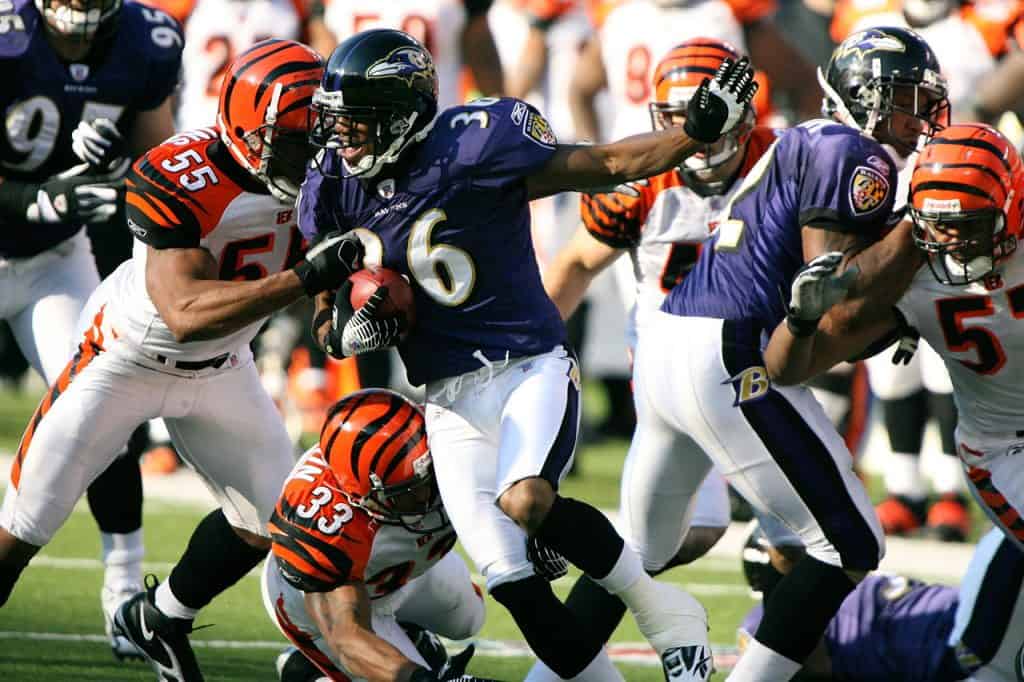 Live Streaming Devices For Watching Bengals vs Ravens
You can stream the game comfortably on most devices that you have at home. All streaming services support Android and iOS mobile devices, Android TVs, Amazon Fire TV, Apple TV, Chromecast, Roku, and Web browsers.
You can watch all the streaming services on Samsung TVs but you can watch FuboTV, Sling TV, and Hulu Live on LG TVs. Only FuboTV supports Hisense TV.
As for game consoles, Fubo TV, Sling TV, and Hulu Live support Xbox. Hulu Live allows you to watch on Nintendo Switch and Playstation 4&5.
Sign Up for a Free 7-Day Fubo Trial
Baltimore vs Cincinnati NFL Wild Card Game Analysis
Football fans who think of themselves as purists often complain that the wild card rounds before the playoffs are not as exciting as they should be. But they also admit that the regular NFL season can sometimes bring about exciting situations such as what we have seen after the holidays.
The Cincinnati Bengals and the Baltimore Ravens came out on top of the AFC North. They are not part of a traditional rivalry, but they will be once we get through their wild card game scheduled to play on Sunday, January 15, at Ohio's Paycor Stadium.
The two teams had very different seasons. The Bengals started very slow with two one-field goal losses to the Pittsburgh Steelers and Dallas Cowboys. But they finished the regular season with an 8-game winning streak.
The Ravens have been inconsistent despite starting with a win against the New York Jets. They went 1-1 with all their division rivals Cleveland Browns, Pittsburgh Steelers, and Cincinnati Bengals. Then ended the season on a two-game losing streak.
These two teams already had a Sunday matchup for their last football game of the regular season. The Ravens traveled to Cincinnati on Sunday, January 8, and they faced a team that is certainly looking like Super Bowl material.
Even with this loss of 27-16, the Ravens ended the season with a 10-7 record, and they actually played better against the Bengals than what many fans expected. The difference was in the playoff picture and the fact that Cincinnati needed a victory more than Baltimore did.
Sign Up for a Free 7-Day Fubo Trial
Ramifications For Baltimore-Cincinnati After Hamlin's Injury
The NFL is adjusting to the unexpected suspension of the January 2nd NFL game between the Buffalo Bills and the Bengals, after the cardiac arrest suffered by safety Damar Hamlin of the Bills on the field of play.
Even though the NFL decided that the outcome of this unfortunate game was not material to the postseason picture, there was greater pressure on Cincinnati to win because of its status as a favored Super Bowl contender. When the Bengals hosted the Ravens a week later, the visiting team was able to rest various starters, thus giving Cincinnati an easier path to victory.
Both teams held back during their final game of the season because they knew that the wild card game was up for grabs. The Ravens mostly stuck to running the ball and gaining yards through plays made by linebacker Roquan Smith.
But this is bound to change for the wild card game because rookie receivers such as Isaiah Likely were able to make spectacular catches that caught the Bengals' defense off-guard — even without quarterback Lamar Jackson, who is unlikely to play in this game although it looks like Tyler Huntley will be back for this game. Ever since the NFL introduced wild card rounds, rookie players have relished the extra attention brought to these games, and this is a point in favor of Buffalo.
Sign Up for a Free 7-Day Fubo Trial
Playoff Expectations For Each Team
As for the Bengals, they are actually playing better than last year, and this season's schedule keeps working out great for them. If quarterback Joe Burrow is able to continue playing at the level he has over the last few weeks, he will be able to lead his team to the red zone many times against the Ravens. He should have a lot of help from running back Joe Mixon and wide receiver Tyler Boyd.
But Baltimore may be able to exploit the absence of La'el Collins and Alex Cappa due to injuries. All in all, it looks like another victory for the Bengals, but it may come down to a few points scored in the clutch.
At the NFL Week 18, the power rankings have the Bengals at #3 and the Ravens at #14. But many prognosticators rank the Ravens substantially higher. The line started with the Bengals by less than a touchdown. But it is now setting at roughly Ravens + 9.0.
Sign Up for a Free 7-Day Fubo Trial
NFL Wild Card Basics
Here is the Wild Card round structure as we wait for the regular season's results.
Once the NFL season is over, there are normally 7 top teams that proceed to the playoffs. These 7 playoff teams entail 4 division winners and 3 best teams conference-wide. Often, the wild card teams end up having better records than the division winners. The southern divisions in both conferences, for example, have struggled this year with their top teams placing them at the bottom of other divisions.
The top-seed teams in the AFC and NFC automatically advance to the Wild Card Weekend. The other six will have to play again and win to continue. The games consist of the top team and the bottom team going head to head as below:
#7 Seed at #2 Seed
#6 Seed at #3 Seed
#5 Seed at #4 Seed
This AFC matchup features the #6 Baltimore Ravens vs the #3 Cincinnati Bengals.
Wrapping Up
Now you know all the channels you need to watch the NFL Playoffs and the streaming services that give you access to the channels. Our top pick for watching the games is FuboTV. Try it free for 7 days!
Sign Up for a Free 7-Day Fubo Trial
FAQs
Which channels will be airing the NFL playoff games?
You can watch the playoff games on NBC, CBS, FOX, and ESPN. The last Wild Card Game (Monday Night Football) is on ESPN and its simulcast on ABC. NBC and CBS air 4 games and 5 games respectively. Two games and the Super bowl will be on FOX. Our guide will give you all the information you need to watch the game in Spanish.
How do I stream more NFL playoff games?
The following guides provide details on watching the NFL playoffs:
Our article How to Watch NFL Without Cable has general information.
Page Updates
▼
▲
Added new section. Added buttons for streaming services. Added sub-section. Changed some content in main section. Reworked one section. Updates to a section. Removed section. Cleaned up list.

Reworked one section. Changed some content in main section. Added some links.

Added FAQ section. Added table of contents. Linking. Pricing updates. Various content updates.

Mentioned channel info. More links. Misc content updates. Small layout changes.
Latest posts by Frank Moraes
(see all)