Not that long ago, it was a pain to be a Denver Broncos fan without cable. But that just isn't true anymore. Now you can catch all the games without cable, contract-free, for less money. Read on to find out how!
In a hurry? If you don't care about the details and just want to start streaming Broncos games live, these services work great:
Fubo: The best streaming service for international sports also provides 150+ well-selected channels. Fubo allows you to try out its service with a free trial.
DIRECTV STREAM: Get a great channel lineup with the best selection of RSNs in the industry. A 5-day free trial is now available for DIRECTV STREAM.
Hulu + Live TV: This total entertainment streaming service provides a great on-demand selection and all the essential live TV channels.
If you can't watch your favorite sports because of your location, get ExpressVPN to access the content you deserve.
Unfortunately, we don't know a streaming service in that covers this sport. But if you've already paid for the right service, and just can't watch because of your location, there is an easy way to get the content you deserve. You need a VPN, like one of the following.
| | | |
| --- | --- | --- |
| | ExpressVPN: Known as "The VPN that just works," it combines remarkable ease of use with with state-of-the-art power, speed, security, and privacy. Get three extra free months when you sign up for a year. Unleash your streaming with this top-rated VPN. | Sign Up Now |
| | Hotspot Shield: Connect to servers in 80+ different countries and 25+ US cities. HotSpot Shield features extremely fast servers and connections and is specially tuned for use with streaming services. And you can try it risk-free with a 7-day free trial and a 45-day money-back guarantee! | Sign Up Now |
| | CyberGhost: Great low-cost service with ultra-fast servers in 90+ countries for smooth live sports streaming. It also provides great security and privacy. See if it's right for you with a free 24-hour trial and test it out with a 45-day money-back guarantee. | Sign Up Now |
If you're overwhelmed and not sure where to begin, you'll find all the answers in our full VPN guide.
Bottom line: 15 of the 17 regular season Broncos games will air on live TV with two streaming only (on ESPN+ and Amazon Prime Video). The services above have you covered for the regular and postseason. See the Broncos schedule below.
The Denver Broncos might have started off their franchise career slowly, but once they started winning, they never looked back. These days it's pretty rare for this dynamic team to see a losing season, which could be one reason fans love them so much. Home games are played at Empower Field at Mile High.
If you've recently cut the cord or you're thinking about it, this guide is for you. You'll have the chance to learn more about streaming services for watching games, such as Fubo (free trial) and others.
More importantly, you'll learn all you need to know to find out how you can watch the Denver Broncos game without cable! Keep reading and you'll see just how easy it is to make the switch from cable to streaming!
Are you a fan outside your team's broadcast area? Learn to get complete access with our NFL Out-of-Market Game Guide.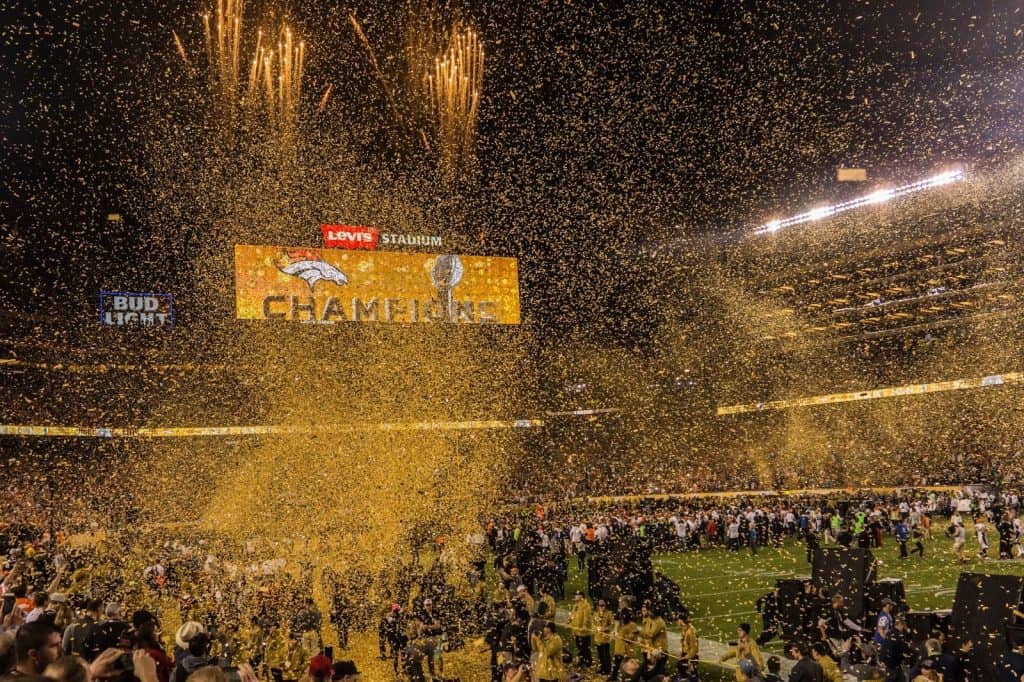 Denver Broncos Week 14
As Week 14 approaches, the Denver Broncos strive to enhance their performance and surpass their current 6-6 record.
The Broncos and Chicago Bears have been competing for worst team in the NFL. And last weekend, the Bears took the title with a 28-31 defeat — mostly due to turnovers.
Next week, the New York Jets travel to Denver to take on the Broncos. Denver is expected to win this matchup by a couple of points with a final score of 23-21.
Which Channels Do I Need to Watch the Denver Broncos?
Assuming you're looking for a complete streaming solution to watch the Denver Broncos game online, you'll need five channels to do it. You can watch all of these channels with any number of streaming services.
Another option is to watch the local channels with a digital antenna. Local channels that are required will include NBC, CBS, and FOX. You'll also need NFL Network and ESPN.
As long as you have streaming services or an antenna that allows for these channels you should be able to watch the entire season of the Denver Broncos live stream.
Unblock Your Favorite Events & Teams With a VPN

If you can't watch your favorite events or teams because of your location, a VPN will allow you to get the access you are entitled to, plus extra security and unequaled privacy. Check out our VPN Guide for everything you need to know, including our top pick ExpressVPN.

Other brands worth checking out include Hotspot Shield and CyberGhost.
How to Watch the Denver Broncos without Cable
There are TV streaming services out there that will let you watch everything you had with cable and more! When it comes to the NFL, two of our top recommendations Fubo, DIRECTV STREAM and Hulu + Live TV.
These services are fairly priced and offer a mix of local and broadcast networks to make sure you get plenty of team coverage. That said, there are other options, which will be discussed later in this guide.
If you're new to streaming services, don't worry. Signing up is easy and you can be ready to watch in minutes. There are no contracts, so if you don't like a service you can always cancel.
Once you're signed up, you just connect your streaming device (mobile devices, computers, Roku, etc.) to the Internet and sign in to the service you've chosen. From there, you just pick your program and you're ready to watch!
Out-of-Market Denver Broncos Games
Broncos fans outside the Colorado area will not generally be able to watch games on their local CBS affiliates the way local fans will. Instead, they will see games tailored to the local fans of wherever they are. To watch Broncos games, you will usually need to look elsewhere.
Since this is a common need, we've written a guide that explain everything: NFL Out-of-Market Football Games. It provides all your options.
The standard way to watch out-of-market games is with NFL Sunday Ticket. But this doesn't work for cord-cutters because it is only available through YouTube and YouTube TV. (Note: this will change next season as we discuss in our Sunday Ticket review.)
One option to consider to watch out-of-market NFL games is a VPN. It is a powerful tool. Check out ExpressVPN for details. See Black Friday deals here.
Watch the Denver Broncos without Cable on Fubo
Fubo (formerly FuboTV) starts you off with one of the largest packages in streaming. You start with over 150 channels and there are many options to add more.
More Fubo details:
$74.99/mo (Pro plan)
Watch more than 150+ channels
More than 35+ live sports channels
ESPN and NFL Network included in base plan
Stream on computers, Amazon Fire TV, iOS/Android, Roku, Apple TV, and more
Watch TV live or on-demand
Learn more in our Fubo review.
Fubo offers something for just about everyone whether you're looking for live or on-demand content. You'll have a cloud DVR with 1000 hours of storage. Streaming is possible on most devices and up to 10 devices at a time.
Watch Denver Broncos With DIRECTV STREAM
Denver Broncos fans should consider DIRECTV STREAM because it will allow them to watch the whole season. It comes with 75+ channels in its base plan for $79.99/mo. This includes ABC, CBS, Fox, NBC, and ESPN — the main channels that broadcast the NFL. You can upgrade to get even more channels.
Sports networks including NFL Network, MLB Network, FanDuel TV, Golf Channel, MLB Network, Tennis Channels, and more in the Choice plan ($108.99/mo)
NFL RedZone is available in the Sports plus add on
An unlimited cloud DVR storage comes with all DIRECTV STREAM packages
Stream on as many devices at once as you have bandwidth for.
New customers get 5-day free trial with DIRECTV STREAM.
Get complete information in our DIRECTV STREAM review.
Get DIRECTV STREAM Free for 5 Days
Watch the Denver Broncos Online via Hulu Live
Hulu + Live TV has most of what you need to enjoy the full Denver Broncos lineup this season. You'll be able to watch over 85 channels and you'll have Hulu's on-demand service with your package, too. Here's more on Hulu Live:
Hulu + Live TV has all the channels to watch Broncos football when you replace cable. In fact, for many people, this is the best option. You'll have a mix of live and on-demand content.
You'll also be able to use TV Everywhere apps and a cloud-DVR.
Superpower Your Sports Streaming With a VPN

For the sake of privacy, security, and access, you should be using a VPN. They are low-cost and easy to use. We've been using them for years and our top pick is ExpressVPN. Other brands worth checking out include Hotspot Shield and CyberGhost.
Other Options to Watch Denver Broncos Online
If you're curious about other options, this is the section for you! There are plenty of additional ways to watch the Denver Broncos online without cable. These services will either offer a complete or partial way to watch the Broncos season without cable. These options include:
Sling TV: Sling Orange + Blue is $55.00/mo with 50+ channels. You get local channels, NFL Network, ESPN channels, and more. Read the Sling TV review here, plus these Sling-specific NFL guides: NFL on Sling, NFL Preseason, NFL RedZone, Sunday Night Football, and Monday Night Football.
Paramount+: $5.99/mo covers the lineup of CBS content. Full Paramount+ review.
Vidgo: For only $69.99/mo, get some local channels, ESPN, NFL Network, and more. Read the Vidgo review here.
NFL+: Watch all local and primetime games for $6.99/mo and the complete NFL season on-demand for $14.99/mo. See our NFL+ guide. International viewers should check out NFL Game Pass.
Amazon Prime: Subscribers also have an option to watch Thursday Night Football with this service. You can watch the game through any Amazon-compatible device for no additional cost. It's another way to watch the NFL if you're a current Prime subscriber.
YouTube TV: Over 100 channels for $72.99/mo.
About the Denver Broncos
In a typical year, an NFL team would look to move on from a quarterback that finished near the bottom in most statistical categories. Unfortunately, the Broncos would incur an $85 million cap charge if they traded or cut Russel Wilson. To make matters worse, they won't have a pick in the first round as they traded it to Seattle to get Wilson.
Denver enters the offseason looking for a new coach who will have little choice but to salvage whatever he can get from the roster as it's currently built.
AFC West Standings
| | | | |
| --- | --- | --- | --- |
| Team | W | L | T |
| Kansas City Chiefs | 8 | 4 | 0 |
| Denver Broncos | 6 | 6 | 0 |
| Los Angeles Chargers | 5 | 7 | 0 |
| Las Vegas Raiders | 5 | 7 | 0 |
2023-24 Denver Broncos Schedule
How do I watch the Denver Broncos game tonight?

The Broncos play their night games on either ESPN, NBC, or NFL Network. Thursday Night Football is aired on NFL Network with many games also on Fox and Amazon Prime. Starting in 2022, only Amazon Prime Video will broadcast these games. Monday Night Football games air on ESPN. Whenever the Broncos are playing on Sunday Night Football, you'll be able to find them on NBC.
Fri Aug 11 : Broncos (17) @ Arizona Cardinals (18) [Preseason]
Sat Aug 19 : Broncos (20) @ San Francisco 49ers (21) [Preseason]
Sat Aug 26 : Broncos (41) vs Los Angeles Rams (0) [Preseason]
Sun Sep 10 : Broncos (16) vs Las Vegas Raiders (17) (CBS)
Sun Sep 17 : Broncos (33) vs Washington Commanders (35) (CBS)
Sun Sep 24 : Broncos (20) @ Miami Dolphins (70) (CBS)
Sun Oct 1 : Broncos (31) @ Chicago Bears (28) (CBS)
Sun Oct 8 : Broncos (21) vs New York Jets (31) (CBS)
Thu Oct 12 : Broncos (8) @ Kansas City Chiefs (19) (Prime Video)
Sun Oct 22 : Broncos (19) vs Green Bay Packers (17) (CBS)
Sun Oct 29 : Broncos (24) vs Kansas City Chiefs (9) (CBS)
Mon Nov 13 : Broncos (24) @ Buffalo Bills (22) (ESPN)
Sun Nov 19 : Broncos (21) vs Minnesota Vikings (20) (NBC)
Sun Nov 26 : vs Cleveland Browns (Fox)
Sun Dec 3 : @ Houston Texans (CBS)
Sun Dec 10 : @ Los Angeles Chargers (CBS)
Sun Dec 17 TBD: @ Detroit Lions (Fox)
Sun Dec 24 : vs New England Patriots (NFL NET)
Sun Dec 31 : vs Los Angeles Chargers (CBS)
Sun Jan 7 TBD: @ Las Vegas Raiders (CBS)
Wrapping Up
Replacing cable has never been easier thanks to the versatile and inexpensive streaming services. If you're still not sure how to watch the Denver Broncos online, feel free to let us know!
Fubo is our top choice for Denver Broncos fans to watch NFL from preseason games to the playoffs and Super Bowl. Fubo allows you to try out its service with a free trial.
FAQs
What radio stations are the Denver Broncos on?
KOA NewsRadio is the official radio home of the Denver Broncos. In addition, the Broncos have their games broadcast live on 103.5 The Fox and over 70 other radio stations in the western United States. If you are on the East Coast or in the midwest, you can listen to Broncos games live through SiriusXM.
How do I watch the Denver Broncos on my phone?
Fubo, Vidgo, Sling, and Paramount+ all allow you to stream Broncos games live on your phone. Additionally, you can stream many Broncos Thursday Night Football games through Amazon Prime Video. Local fans can stream live games on mobile devices using NFL+ for $4.99/mo.
How many championships have the Denver Broncos won?
The Denver Broncos have won the AFC Championship eight times and the Super Bowl three times. The Broncos won their first conference championship in 1977, and their most recent AFC title came in 2015. In 1997, Hall of Fame quarterback John Elway led the Broncos to a dramatic last-second victory over the Green Bay Packers to capture Super Bowl XXXII. Many consider this to be the greatest game in franchise history.
How do I record Denver Broncos live games?
Most streaming services provide subscribers with a Cloud DVR to record Broncos games that they won't be able to watch live. Specialty services like Paramount+ often don't have a DVR option, but you can buy one to use at home. NFL+ gives you on-demand access to all games so you don't need a DVR.
How do I watch other NFL teams?
Need more information on how to watch the NFL without cable tailored specifically to your favorite team? Click on your team below.
Ditch "Big Cable" Now – 3 Simple Steps to Cut the Cord
Pick the right streaming service
Get the content you deserve with the best VPN.
Supercharge your internet provider
That's it — you'll save money, take back control, and enjoy TV more!
Page Updates
▼
▲
Updated some sub-sections. Updated some section headings. Changes to some of the sections. Removed section.

Reworked one section. Added links. Misc changes to content.

Updates to a section. Formatting. Various content updates.

Added new section. Added some links. Pricing updates. Various changes.

Additional links. Various changes to content.

Added buttons for streaming services. Added streaming info. Updated some sub-sections. Mentioned offers. Pricing updates.

Added buttons for streaming services. Added sub-section. Pricing updates. Put related links. Mentioned offers.

Reworked one section. Updated one section. Added some links.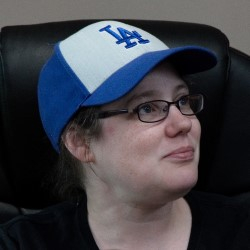 Latest posts by Alanna Baker
(see all)