Are you a Kansas City Chiefs fan looking for a way to watch the whole season without having a cable contract? No problem! Read on to find all your options.
In a hurry? If you just want to start watching, we think these streaming services are the best:
Fubo: The best streaming service for international sports also provides 150+ well-selected channels. Fubo allows you to try out its service with a free trial.
DIRECTV STREAM: Get a great channel lineup with the best selection of RSNs in the industry. A 5-day free trial is now available for DIRECTV STREAM.
Hulu + Live TV: This total entertainment streaming service provides a great on-demand selection and all the essential live TV channels.
If you can't watch your favorite sports because of your location, get ExpressVPN to access the content you deserve.
Unfortunately, we don't know a streaming service in that covers this sport. But if you've already paid for the right service, and just can't watch because of your location, there is an easy way to get the content you deserve. You need a VPN, like one of the following.
| | | |
| --- | --- | --- |
| | ExpressVPN: Known as "The VPN that just works," it combines remarkable ease of use with with state-of-the-art power, speed, security, and privacy. Get three extra free months when you sign up for a year. Unleash your streaming with this top-rated VPN. | Sign Up Now |
| | Hotspot Shield: Connect to servers in 80+ different countries and 25+ US cities. HotSpot Shield features extremely fast servers and connections and is specially tuned for use with streaming services. And you can try it risk-free with a 7-day free trial and a 45-day money-back guarantee! | Sign Up Now |
| | CyberGhost: Great low-cost service with ultra-fast servers in 90+ countries for smooth live sports streaming. It also provides great security and privacy. See if it's right for you with a free 24-hour trial and test it out with a 45-day money-back guarantee. | Sign Up Now |
If you're overwhelmed and not sure where to begin, you'll find all the answers in our full VPN guide.
Bottom line: 16 of the 17 regular season Chiefs matchups will air on live TV with one streaming (on Amazon Prime Video). The services above have you covered for the regular and postseason. See the Chiefs schedule below.
The Kansas City Chiefs are part of the AFC West division of the NFL. Like a lot of teams in the league, Kansas City has had its share of ups and downs – but these days more ups than downs. Their loyal fans continue to stay by their side and root for this popular hometown team.
There are a lot of ways to watch the Kansas City Chiefs game livestream, and you don't need cable to do it. In fact, if you keep reading, you'll discover a variety of ways to watch the Kansas City Chiefs online.
This guide should have all of the details you need to get you set up and ready to stream some Kansas City Chiefs football!
You'll learn all about available services that offer the channels you need, such as Fubo (free trial) amongst others, and you'll learn a little bit about streaming along the way.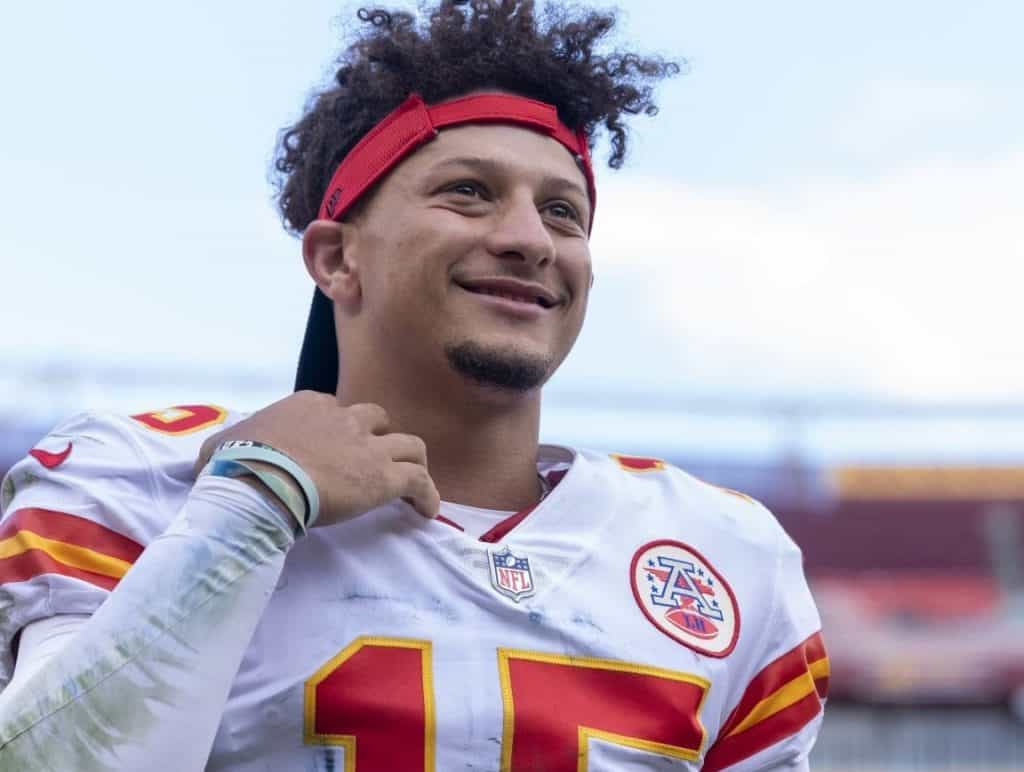 Kansas City Chiefs Week 14
The Kansas City Chiefs have a record of 8-4 as they head into Week 14.
The Chiefs have been playing well but not as well as we'd expect from a Super Bowl champ. They barely got past the New York Jets last week, 23-20.
This week, they head to Minnesota to take on the Vikings. The Chiefs are predicted to win by 5 with a final score of 29-24.
Which Channels Do I Need to Watch the Kansas City Chiefs?
You'll need a few set channels to watch the NFL this season. It doesn't matter if you have cable or not because all of these channels can be accessed without it.
Worried you'll miss Mahomes' next big play? Worry no more!
CBS, Fox, and NBC are the local channels you'll need to watch the Kansas City Chiefs game livestream throughout the season. These channels can be found on most, if not all, of the streaming services we'll be mentioning.
Of course, local channels are dependent on your location. You can also access these channels for free with a digital antenna. As for broadcast channels, you'll need NFL Network and ESPN. Broadcast channels require a cable or streaming subscription if you want to watch them legally.
Are you a fan outside your team's broadcast area? Learn to get complete access with our NFL Out-of-Market Game Guide.
Unblock Your Favorite Events & Teams With a VPN

If you can't watch your favorite events or teams because of your location, a VPN will allow you to get the access you are entitled to, plus extra security and unequaled privacy. Check out our VPN Guide for everything you need to know, including our top pick ExpressVPN.

Other brands worth checking out include Hotspot Shield and CyberGhost.
How to Watch the Kansas City Chiefs Game Without Cable
You still have ways to watch your favorite TV without cable. Streaming services, such as Fubo, provide packages just like cable. The difference is streaming services are often more feature-rich, and they cost less.
This means you'll get a lot of the same things you had with cable (or even more), but you'll be able to save some money!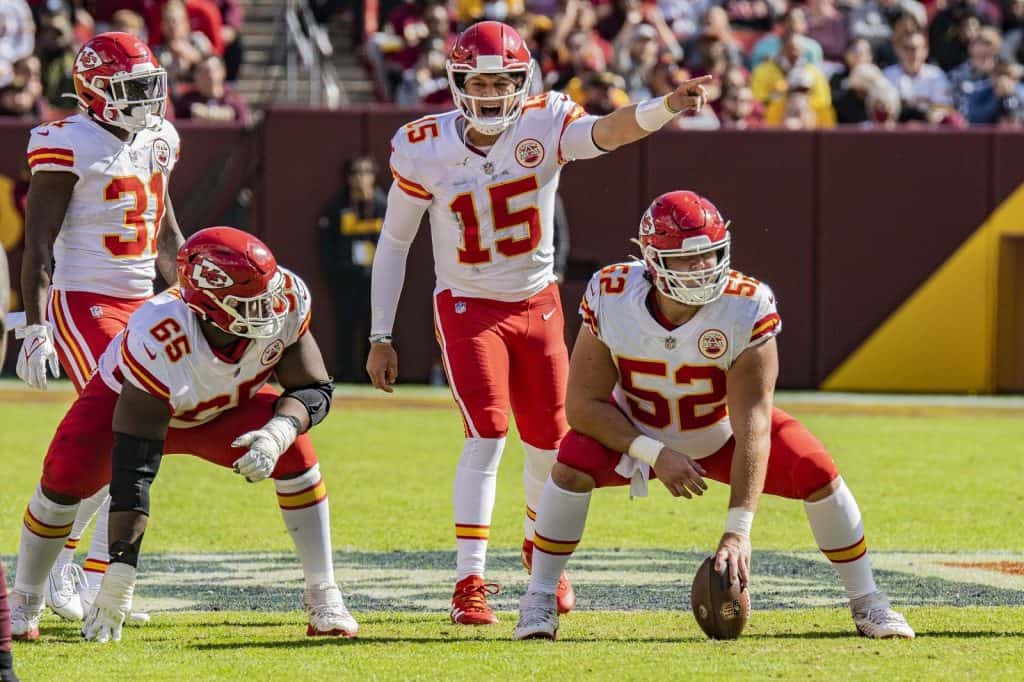 The key change when switching from cable to a streaming service is the way you connect to it. A cable service is hooked up in your home and connects through a cable box. With streaming, you connect through the Internet or Wi-fi and the use of a compatible streaming device.
These devices include Roku, mobile devices, Chromecast, Apple TV, and others. This gives you more freedom in when and where you watch TV.
Out-of-Market Kansas City Chiefs Games
Kansas City Chiefs fans who live nearby can normally just watch games on their local CBS affiliates. Fans farther away are not so lucky. Their local CBS affiliates normally show whatever NFL games will be most popular their region – and these usually don't feature the Chiefs. These fans will need to turn elsewhere to catch games.
We explain everything you need to know in our guide, NFL Out-of-Market Football Games. You will find all your options there.
The standard out-of-market package is NFL Sunday Ticket. The only way to get this is with YouTube and YouTube TV though. If this isn't a problem, NFL Sunday Ticket is your solution.
If you don't want to subscribe to YouTube TV, a great option is to watch out-of-market NFL games with a VPN. See ExpressVPN for more details (Black Friday deal).
Watch the Kansas City Chiefs Without Cable on Fubo
Fubo (formerly FuboTV) offers a package that comes with over 150 channels, including over 35 sports channels. Local channels are also included.
And if you miss the Kansas City Chiefs live stream, you should be able to watch the game on-demand with 3-Day Replay.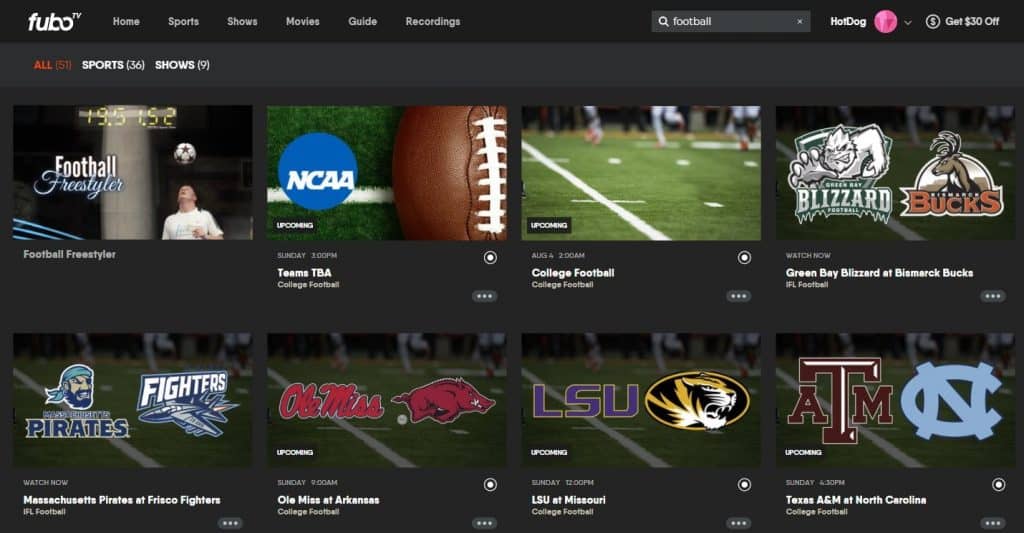 More Fubo details:
$74.99/mo after trial
150+ channels
1,000-hour cloud DVR
Local channels, including Fox, CBS, and NBC (Sunday Night Football online), are available in many locations
NFL Network is included, as well as ESPN
Great way to watch sports without cable
Watch with mobile devices, Roku, Apple TV, computers, and more
3-Day Replay allows you to watch things you missed live
Learn more in our Fubo review.
Fubo offers a sports-forward service that has something for everyone. You can watch live or on-demand from just about anywhere.
Watch Kansas City Chiefs With DIRECTV STREAM
DIRECTV STREAM's base plan gives you all the local channels you need to watch every Sunday afternoon and night game, as well as ESPN for Monday Night Football, for $79.99/mo.
It also allows you to stream on unlimited devices, which is great for large households. And you get unlimited cloud DVR storage.
Learn more in our DIRECTV STREAM Review.
Get DIRECTV STREAM Free for 5 Days
Watch the Kansas City Chiefs Online via Hulu + Live TV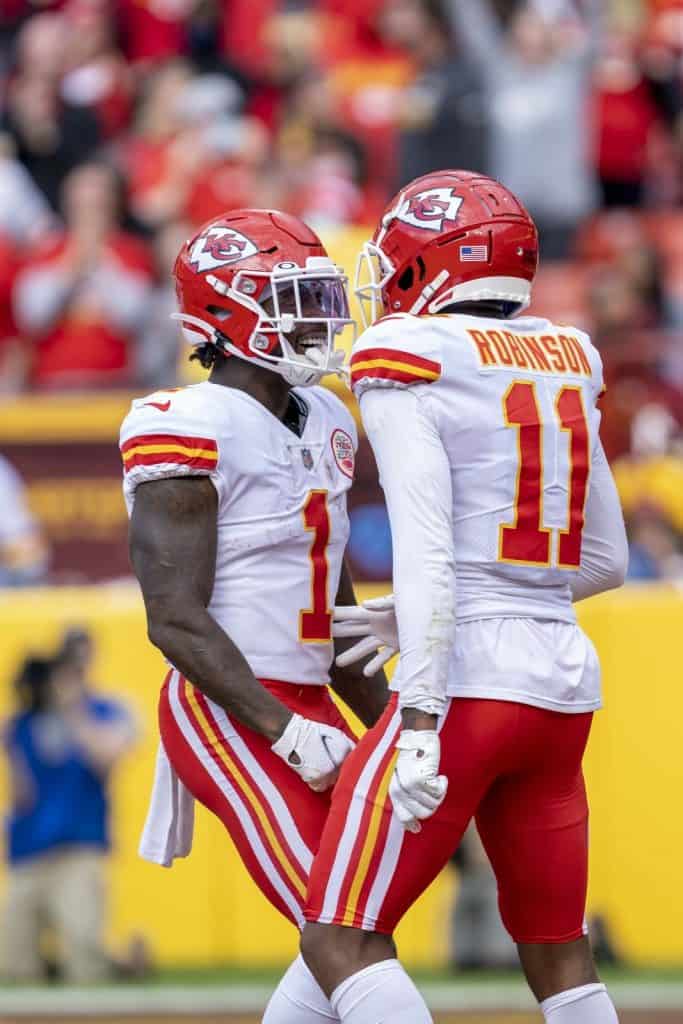 Hulu + Live TV is the more popular streaming option because it provides an inexpensive way to replace cable. Not only do you have live TV, Hulu throws in all of its on-demand content, as well.
Here's more on Hulu Live:
Hulu Live is a popular choice thanks to the mix of live and on-demand content. Visit our Hulu + Live TV review to learn more.
Other Options to Watch Kansas City Chiefs Games Online
Superpower Your Sports Streaming With a VPN

For the sake of privacy, security, and access, you should be using a VPN. They are low-cost and easy to use. We've been using them for years and our top pick is ExpressVPN. Other brands worth checking out include Hotspot Shield and CyberGhost.
Fubo, Hulu + Live TV, and DIRECTV STREAM are great options, but there are other services you can choose to watch some or all of the Chiefs' season.
Here are some additional options:
About the Kansas City Chiefs
The Chiefs (14-3) entered the postseason power rankings tied for the NFL's best record with the Philadelphia Eagles, and went 10-1 in their last 11 outings. Their last resulted in a 31-13 win over the Raiders, during which quarterback Patrick Mahomes threw for 202 yards to bring his season total to 5,608, a new NFL record. The former record, 5,562, had been set by Saints quarterback Drew Brees in 2011.
Since they clinched the AFC's top seed, Kansas City got a first-round bye, meaning they skipped the Wild Card Round. Being the number-one AFC playoff team also meant they played host to the lowest-remaining seed in the Divisional Round on January 21. The Chiefs remained at home at GEHA Field at Arrowhead Stadium for the AFC title game.
Super Bowl
The Chiefs have been one of the strongest, most consistent franchises in recent memory, having advanced to the AFC championship game for the past five seasons and playing in the Super Bowl in three of those campaigns, including in 2022.
This year, Kansas City put together a solid 14-3 regular season, going 10-1 in its last 11 regular-season outings, before dispatching the Jaguars, 27-20, and Bengals, 23-20, in the AFC playoffs. The last victory ended in dramatic fashion, with a Harrison Butker 45-yard field goal with three seconds showing on the clock and an ensuing Cincinnati kickoff return that resulted in nothing.
Head coach Andy Reid will now face his former team, the Philadelphia Eagles, who defeated a 49ers team largely without Brock Purdy in the NFC Championship game. He had a solid 14-year career in Philly, but a 4-12 season in 2012 prompted the team to let him go, and the Chiefs happily took advantage of his availability and hired him. The highlight of his time in KC has been a Super Bowl LIV victory three years ago.
Of course, quarterback Patrick Mahomes, who has been with the franchise since 2017, has been responsible for much of the team's on-field successes the last several seasons. In 2022, he set the NFL record for most total yards, 5,614, which consisted of 5,250 passing yards, 358 rushing yards and 6 receiving yards.
AFC West Standings
| | | | |
| --- | --- | --- | --- |
| Team | W | L | T |
| Kansas City Chiefs | 8 | 4 | 0 |
| Denver Broncos | 6 | 6 | 0 |
| Los Angeles Chargers | 5 | 7 | 0 |
| Las Vegas Raiders | 5 | 7 | 0 |
2023-24 Kansas City Chiefs Schedule
How do I watch the Kansas City Chiefs game tonight?

The Kansas City Chiefs play afternoon and night games on ESPN, CBS, NBC and Fox. Sunday afternoon games are on CBS and NBC. They also play in some pre-season games, which are on Saturdays and Sundays on ESPN and the NFL Network. The Chiefs play one Thursday evening game per season, and it's on Fox.
Sun Aug 13 : Chiefs (24) @ New Orleans Saints (26) [Preseason]
Sat Aug 19 : Chiefs (38) @ Arizona Cardinals (10) [Preseason]
Sat Aug 26 : Chiefs (33) vs Cleveland Browns )32) [Preseason]
Thu Sep 7 : Chiefs (20) vs Detroit Lions (21) (NBC)
Sun Sep 17 : Chiefs (17) @ Jacksonville Jaguars (9) (CBS)
Sun Sep 24 : Chiefs (41) vs Chicago Bears (10) (Fox)
Sun Oct 1 : Chiefs (23) @ New York Jets (20) (NBC)
Sun Oct 8 : Chiefs (27) @ Minnesota Vikings (20) (CBS)
Thu Oct 12 : Chiefs (19) vs Denver Broncos (8) (Prime Video)
Sun Oct 22 : Chiefs (31) vs Los Angeles Chargers (17) (CBS)
Sun Oct 29 : Chiefs (9) @ Denver Broncos (24) (CBS)
Sun Nov 5 : Chiefs (21) vs Miami Dolphins (14) (NFLN)
Mon Nov 20 : Chiefs (17) vs Philadelphia Eagles (21) (ESPN/ABC)
Sun Nov 26 : @ Las Vegas Raiders (CBS)
Sun Dec 3 : @ Green Bay Packers (NBC)
Sun Dec 10 : vs Buffalo Bills (CBS)
Mon Dec 18 : @ New England Patriots (ESPN)
Mon Dec 25 : vs Las Vegas Raiders (CBS)
Sun Dec 31 : vs Cincinnati Bengals (CBS)
Sun Jan 7 TBD: @ Los Angeles Chargers (CBS)
Wrapping Up
Streaming services give you an easy way to watch sports without paying for cable. If you still have questions on how to watch the Kansas City Chiefs online, make sure to let us know.
We recommend Fubo for Kansas City Chiefs fans. Fubo allows you to try out its service with a free trial.
FAQs
What radio stations are the Kansas City Chiefs on?
The home of the Kansas City Chiefs radio network is WDAF, which is also known as 106.5 The Wolf. The network stretches considerably out from the Kansas City metropolitan area, focusing on communities throughout Kansas and Missouri while also offering coverage to areas of Arkansas, Oklahoma, Nebraska, South Dakota, Iowa, Illinois, Kentucky, Texas, Colorado, and New Mexico. In addition, many Kansas City Chiefs contests, including all postseason games, are broadcast on Westwood One affiliates.
You can also listen to games nationwide on SiriusXM.
How do I watch the Kansas City Chiefs on my phone?
There are a number of streaming services available for watching the Kansas City Chiefs on your phone. Hulu, Vidgo, and Fubo act as full cable replacements, meaning they'll give you the same access as a typical television package. NFL+ also provides games both live and on demand. All of these services are compatible with Apple and Android phones, making them excellent options for Chiefs fans on the go.
How many championships have the Kansas City Chiefs won?
The Kansas City Chiefs have won two Super Bowls, two AFC championships and three AFL titles. Those Super Bowl wins came 50 years apart with the first one occurring in Super Bowl IV, following the 1969 NFL season, and the most recent one taking place in Super Bowl LIV, at the end of the 2019 campaign. Another AFC title followed in 2020. The Chiefs were also the premier franchise of the AFL, claiming a league-record three titles (1962, 1966, and 1969).
How do I record Kansas City Chiefs live games?
Record games of the Kansas City Chiefs with the cloud DVR that's part of your streaming service. While ESPN3 doesn't participate in the service, you can record almost anything you stream from other sources. If you're watching the Kansas City Chiefs on the NFL Network, NBC, CBS, Fox, or ESPN basic, you can just click on a button or tap on the screen to record the whole game.
Which Kansas City Chiefs players were selected for the Players All-Pro Team?
The Chiefs tied with the 49ers for most players honored, with four each. The Kansas City players are:
Quarterback Patrick Mahomes
Tight end Travis Kelce
Defensive lineman Chris Jones
Punter Tommy Townsend
Who are the Chiefs players to watch going into the postseason?
The Chiefs didn't clinch the number-one AFC seed by the always-awesome Patrick Mahomes alone (though Mahomes is in line for his second NFL MVP trophy). Here are a few KC players to keep your eye on:
Running back Jerick McKinnon has now extended his touchdown streak to six games, and with "lightning fast" fellow RB Isiah Pacheco makes a seriously formidable offensive combo.
Safeties Justin Reid and Juan Thornhill have been supercharging the Chiefs' defense in the later part of the regular season — look for them to be game-changers in the NFL playoffs.
Linebacker Nick Bolton set a Chiefs record of 180 tackles in the 2022 season; head coach Andy Reid called him "a heck of a football player."
Wide receiver Kadarius Toney might have missed out on a touchdown with the Chiefs' viral "Ring Around the Toney," but he scored an 11-yard end-around touchdown on the very next play.
Rookie George Karlaftis has stood out all season, but most recently, the round-one NFL Draft pick recovered a fumble for a turnover in the Week 18 Raiders game.
How do I watch other NFL teams?
Need more information on how to watch the NFL without cable tailored specifically to your favorite team? Click on your team below.
Ditch "Big Cable" Now – 3 Simple Steps to Cut the Cord
Pick the right streaming service
Get the content you deserve with the best VPN.
Supercharge your internet provider
That's it — you'll save money, take back control, and enjoy TV more!
Page Updates
▼
▲
Updated schedule and misc.

Added buttons for streaming services. Updated some sub-sections. Updated some section headings. Reworked some sections.

Added links to streaming services. Added sub-section. Reworked one section. Updated some sub-sections. Linking.

Changed some content in main section. More links. Misc content updates.

Reworked one section. Image changes. Mentioned offers.

Added new section. Added links. Various changes to content.

Added links to streaming services. Mentioned offers. Pricing updates. Added a few links.

Added buttons for streaming services. Put related links. Mentioned offers. Pricing updates.

Changed some content in main section. Updated one section. Added some links.
Latest posts by Frank Moraes
(see all)