Notre Dame is one of the most unusual football teams in the NCAA. Of course, they can afford to be, given how popular they are. They have been a mainstay of Saturday afternoon TV for decades. And today, it is easy to stream Fighting Irish games online. Read on to find out how.
In a hurry? Most Notre Dame games appear on network affiliates so you watch them with an antenna. If you don't want to bother with this, these live TV streaming services work great:
Established in 1887, the Notre Dame Fighting Irish football program is perhaps the most iconic in the nation. Although the team plays most of its home games at Notre Dame Stadium in Indiana, it has also participated in a series of neutral site games called the Shamrock Series.
The most recent Shamrock Series game saw the team play Wisconsin at Soldier Field in Chicago. Notre Dame has also played at Fenway Park, Yankee Stadium, and the Alamodome since 2009. The team's current coach is Brian Kelly, who has won 87 games during his 12 years with the program.
2021 Notre Dame Schedule
You can get most of these events on the aforementioned channels on FuboTV!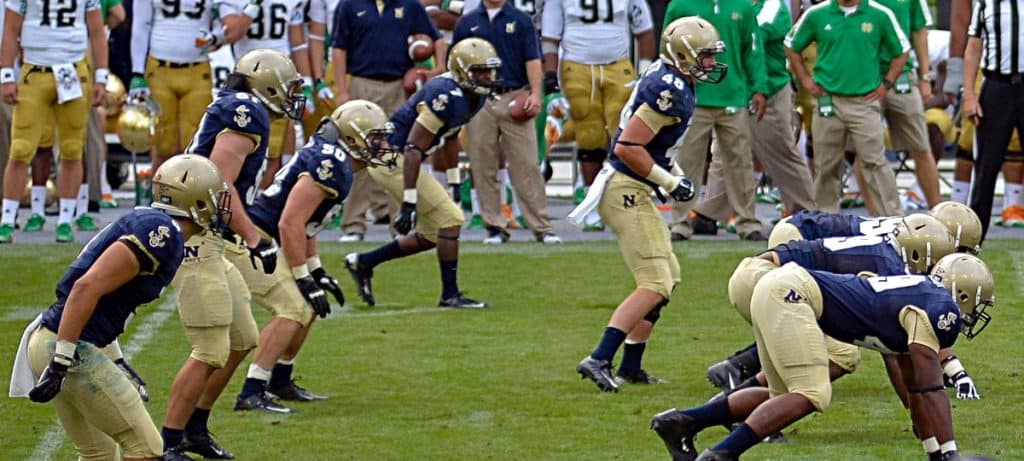 Do You Need a VPN?
If you find you can't watch particular events because of your location, a VPN should allow you to get the access you are entitled to. It also provides extra security and unequalled privacy. See our complete VPN Guide for all you need to know.
Where to Watch Notre Dame Football
Notre Dame home games are primarily broadcast on NBC, which has long held exclusive rights to those contests. However, road games are showcased on a number of channels including ABC, Fox, and ACC Network (ACCN). Games also appear on Peacock.
As an independent, the Fighting Irish routinely play teams from the Big Ten and Pac-12. They also have an informal alliance with the ACC that sees it play a game or two each year against teams from that conference. And it's not uncommon to see Notre Dame play at least one game a year against one Army, Navy, or Air Force.
Notre Dame is in the ACC for sports other than football. So their television appearances for basketball are more typical of other ACC teams: ESPN, ESPN2, and ACC Network.
How to Stream Notre Dame Football Games
Any full-cable replacement should have the local affiliates (especially NBC and Fox) to allow you to watch most games. But having ACC Network is also good.
FuboTV

FuboTV comes with the Big Four local channels in addition to the Spanish-language network channels (Univision, UniMax, Telemundo) in most areas. The base plan (Starter) features over 100 channels — over of third of which are sports-focused — for $69.99/mo.
With the Fubo Extra add-on for $7.99/mo, you get another 48 channels including the NCAA conference's ACC Network, Pac-12 Network, and SEC Network. All plans come with 750 hours of cloud DVR and the ability to stream on up to 10 devices at once.
See our FuboTV review for details.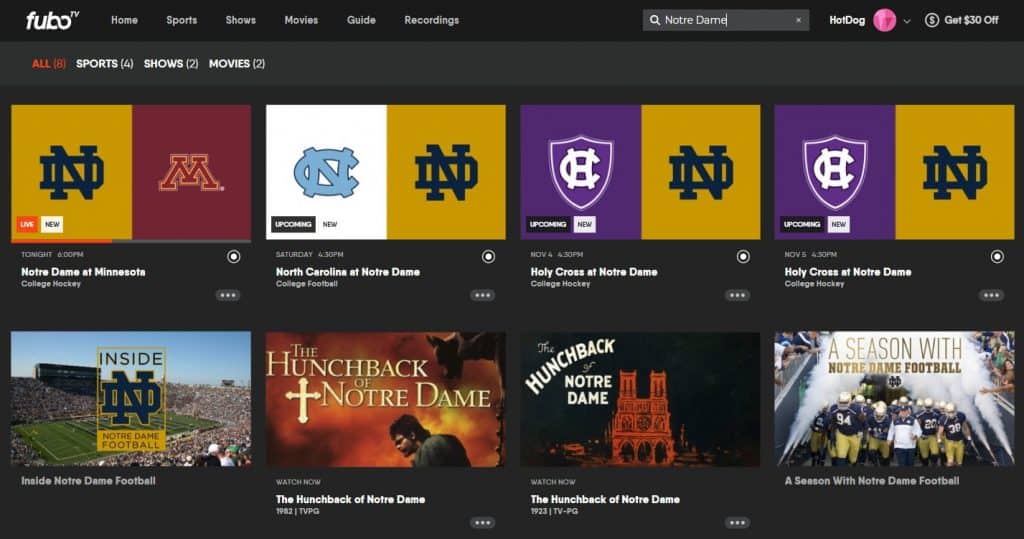 Hulu + Live TV

Hulu + Live TV provides 85+ live TV channels along with its industry-defining on-demand library for $69.99/mo. This includes all the network channels in almost all areas. And you also get ESPN, ESPN2, ESPNU, and the conference channels ACCN, Big Ten Network, and SEC Network.
You can stream on up to two devices simultaneously with Hulu Live. And you get unlimited cloud DVR with 9 months of storage.
For more information, see our Hulu + Live TV review.
Sling TV

The Sling Blue package offers 40+ channels including local NBC and Fox affiliates for $35/mo. In order to get ESPN, you need to get the Orange & Blue plan for $50/mo. You can upgrade this with the Sports Extra add-on for $15/mo more and get ACC Network, Big Ten Network, Pac-12 Network, and SEC Network. It also comes with NFL RedZone, MLB Network, and NBA TV.
All Sling TV plans come with 50 hours of cloud DVR. In terms of streaming on multiple devices, it's a bit complicated. You can stream NBC and Fox on up to 3 devices but ESPN on only one.
Our Sling TV review explains this in more detail.
DIRECTV STREAM

DIRECTV STREAM (formerly AT&T TV) provides local network affiliates pretty much everywhere, which should allow you to watch the vast majority of Fighting Irish games. You also get general sports channels like ESPN, ESPN2, and FS1.
To get ACC Network, Big Ten Network, and SEC Network, you need to upgrade to the Choice plan ($89.99/mo). This gives you other channels like ESPNU, MLB Network, and NBA TV. You also get access to DIRECTV STREAM's exceptional selection of regional sports networks.
DIRECTV STREAM provides unlimited cloud DVR and they allow you to stream on up to 20 devices at once. This makes it a great service for large households.
Read our DIRECTV STREAM review for details.
Vidgo

Vidgo is a good service for NCAA fans because it offers all the conference networks and 5 ESPN channels for $59.95/mo. It isn't as good for Notre Dame fans, however, since it doesn't include NBC. You could, however, pair it with a Peacock subscription and you would be doing well.
Another downside of Vidgo is that it does not provide a cloud DVR. But is does offer 3 simultaneous screen usage. Get all the details in our Vidgo review.
Other Options
There are other ways to watch the Notre Dame Fighting Irish:
Watch Notre Dame on TVs and Other Devices
All the streaming services we've discussed allow you to watch Fighting Irish on the most popular devices that are in use today.
Except for Vidgo, Samsung smart TVs can be used to stream Notre Dame. FuboTV, Hulu, and Sling all support LG and Vizio smart TVs. You can use Hisense TVs with FuboTV. And any smart TV built with Android TV can be used with all the streaming services except for DIRECTV STREAM.
The popular TV HDMI devices are supported by all the services: Amazon Fire TV, Apple TV, and Roku. The same is true for smartphones and tablets built on Android and iOS. And you can use them (and some web browsers) to cast to your TV using Chromecast.
FuboTV, Hulu + Live TV, and Sling TV support the Xbox One. Additionally, Hulu supports the PlayStation and Nintendo Switch. And Sling TV allows you to use the Oculus.
See our individual streaming service reviews for less popular devices that are supported.
Superpower Your Streaming With a VPN
For the sake of privacy, security, and access, you should be using a VPN. They are low-cost and easy to use. We've been using them for years and our top pick is ExpressVPN.
Wrapping Up
The Notre Dame Fighting Irish have a large national and international following. Therefore, games featuring this school are typically broadcast to a national audience. This means that it isn't hard to find streaming services that carry the channels that Fighting Irish games are likely to be played on.
Given the popularity of college sports in the United States overall, it isn't hard to find streaming services that allow you to follow any other teams that you may enjoy watching.
FAQs
Who is Notre Dame's biggest rival?
Notre Dame has many rivals throughout the United States. Each year, the school will typically take a trip to California to play Stanford or USC, and in some years, they will play both schools. Closer to home, Notre Dame would likely consider Purdue one of its biggest rivals.
Given its association with the ACC, the Fighting Irish have played in several close games with Clemson over the past several seasons. In fact, Notre Dame upset Clemson during the 2020 regular season.
Why are the Fighting Irish not aligned with a conference?
Notre Dame has been an independent team in football throughout much of its existence. This is because the school believes that it is a viable national title contender without having to join a conference. It is also wary of giving up games against Stanford, USC, and other schools that it wouldn't be able to play if it was forced to devote much of its season to playing conference opponents.
Note that the school did join the ACC in 2020 to ensure that it had a full schedule of opponents. This doesn't apply to the football team but it does other sports such as basketball.
How can I watch college teams other than the Fighting Irish?
See our guides for watching college football and college bowl games. We also have guides for specific teams:
We have similar guides for college basketball and March Madness. And we have guides for specific college basketball teams:
Latest posts by Frank Moraes
(see all)