While it's true that the Raiders moved to Las Vegas, no matter where the Raiders make their home, the fans continue to follow. Are you a fan in need of a way to watch the Raiders live stream? Read on to learn all you need to know!
In a hurry? If you just want to start watching, pick one of these streaming services and you will be set:
FuboTV: The best streaming service for international sports also provides 100+ well-selected channels. FuboTV allows you to try out its service free for 7 days.
DIRECTV STREAM: Get a great channel lineup with the best selection of RSNs in the industry. A 5-day free trial is now available for DIRECTV STREAM.
Sling TV: This low-cost service allows you to select just the channel lineup you want. Save 50% on your first month of Sling TV.
What channels do the Las Vegas Raiders games air on? Can you watch the entire Raiders season streaming online? What is streaming, anyway? All of these questions and more will be answered in the following guide.
All you need to do is sit back, read the details here, and choose the right streaming service for you!
What Channels Offer the Las Vegas Raiders Live Stream?
There are five main channels you'll need to watch the NFL without cable. Three of these channels, CBS, FOX, and NBC, can be found on streaming services, based on your location or you can get them through a digital antenna.
You'll also need ESPN and NFL Network. If you want to watch those channels legally without cable, you'll need to find them on one of the available streaming services.
Do You Need a VPN?
If you find you can't watch particular events because of your location, a VPN should allow you to get the access you are entitled to. It also provides extra security and unequalled privacy. See our complete VPN Guide for all you need to know.
How to Watch the Las Vegas Raiders Without Cable
Streaming services are easy to use and, in most cases, once you have them hooked up, you can set them, and they will be ready to go when you are.
Devices are generally plug-and-play, so it's a quick setup and you're ready to connect to the Internet, turn on your streaming service, and watch some TV! Device options include Chromecast, Roku, Apple TV, computers, gaming consoles, mobile devices, and more.
In most cases, the hardest part of getting your streaming plan set up is choosing the right one for you. FuboTV is a great option, especially when it comes to sports streaming.
So, we're going to talk about those options first. If you find they aren't for you, there are other options. You'll want to keep reading to find a more complete list of ways to watch the Las Vegas Raiders without cable.
Watch the Las Vegas Raiders without Cable on FuboTV
FuboTV provides a larger package with even more access to sports channels. 105+ channels are included. There are over 35 sports channels that are part of this package. Local channels are available in many areas and regional sports channels are included, too. More FuboTV details:
$69.99 per month
105+ channels are included with more available for a fee – tons of options to watch sports online
Live local channels are available in most areas — Fox, CBS, and NBC (needed to watch Sunday Night Football) included in lineup
ESPN is part of the package, along with NFL Network
750 hours of cloud DVR storage
Stream on Amazon Fire TV, computers, Roku, mobile devices, Apple TV, and more
Stream on up to 10 devices at once
Learn more in our FuboTV review.
FuboTV has almost everything a sports fan could need. This is also a great choice for families because the volume of channels makes it likely that everyone will find something to watch. A variety of on-demand content using FuboTV and TV Everywhere apps is also available.
The best way to try FuboTV is to use the FuboTV allows you to try out its service free for 7 days.
Watch the Las Vegas Raiders Online via Hulu + Live TV
Hulu with Live TV is just one way to stream the Las Vegas Raiders online without cable. Over 85 channels are included. This includes CBS, Fox, and NBC in most areas, as well as ESPN. This covers most of what you need to watch in the NFL and much more.
Here's more on Hulu Live:
$69.99/month
Hulu on-demand and over 85 live channels
Disney+ and ESPN+ included
ESPN can be found everywhere, and local channels are in most areas
Unlimited cloud DVR storage (9 month storage)
Watch on Chromecast, Roku, iOS/Android, Amazon Fire TV, Chromecast, and more
Stream on up to two devices at the same time
Read our Hulu with Live TV review here.
Hulu with Live TV is a great place to start if you want to replace the cable. The service is familiar to many because it comes from Hulu. All of the on-demand content is included, with the addition of many popular live channels. It's also great for sports because of the easy access to local channels.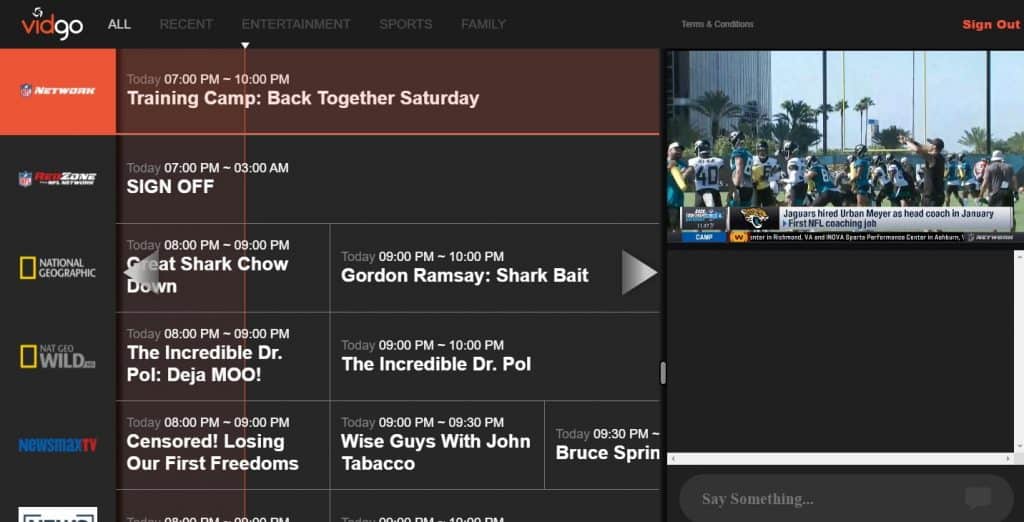 Superpower Your Streaming With a VPN
For the sake of privacy, security, and access, you should be using a VPN. They are low-cost and easy to use. We've been using them for years and our top pick is ExpressVPN.
Other Options to Watch Las Vegas Raiders Online
Hulu Live and FuboTV are great choices for sports and just TV in general. That said, there are other options that might work better for you. All of the sections below will give you a way to watch the Las Vegas Raiders online without cable.
Some or all of the channels are available for Raiders streaming. Check them out and maybe you'll find the right service for you!
Looking for Info on How to Watch Another Team?
Need more information on how to watch the NFL without cable tailored specifically to your favorite team?
Click on your team below.
FAQs
Which channels do I need to watch the Las Vegas Raiders?
Most Sunday afternoon Raiders games are aired on CBS. If you are in Las Vegas, all these games should air on CBS 8 News Now. Other afternoon games air on Fox. Night games air mostly on NBC (Sunday), ESPN (Monday), and Fox (Thursday). Starting in 2022, Thursday games will air only on Amazon Prime Video.
What radio stations are the Las Vegas Raiders on?
The Las Vegas Raiders Radio Network broadcasts games on a total of 52 stations. The flagship stations for the raiders are KRLV 920 AM and KOMP 92.3 FM. The network also has affiliates in California, Alaska, Hawaii, and other states. You can also tune in to the broadcast of any Raiders affiliate by using iHeartRadio or Westwood One. Additionally, the Raiders are on Sirius XM.
How do I watch the Las Vegas Raiders on my phone?
Las Vegas Raiders games can be easily watched on any mobile device by using a general streaming service like FuboTV or Vidgo. Paramount+ is a good source for most Raiders games. You can also use the official Raiders app or watch games live from your phone's browser by going to Raiders.com (you need to log in via TV Everywhere). Additionally, local fans can use the NFL and Yahoo! Sports apps.
How many championships has the Las Vegas Raiders won?
After the Las Vegas Raiders started in 1960, they have managed to win a total of three Super Bowls in 1976, 1980, and 1983. The team also took the AFL championship in 1967. Additionally, the Raiders have managed to make it to the playoffs a total of 22 times, and their most recent playoff game was in 2016. Historically, when the Raiders make it to the playoffs, their win rate is 39%.
How do I watch the Las Vegas Raiders game tonight?
Las Vegas Raiders games can be watched by tuning in to one of the team's local television affiliates, such as Fox, CBS, or NBC. You can also watch Raiders games on ESPN and NFL Network. Major streaming services like FuboTV and Hulu + Live TV provide live access to all these channels.
How do I record Las Vegas Raiders live games?
The best way to record Las Vegas Raiders games is to use cloud DVR, a video recording app that comes with most streaming services. When you use Cloud DVR, you can record games on all of the major television networks that host Raiders games, such as CBS, Fox, or NBC.
What is the 2022 Las Vegas Raiders schedule?
Thu Aug 4 8:00 pm: Jaguars at Raiders (NBC) [HOF]
Sun Aug 14 4:25 pm: Vikings at Raiders [P]
Sat Aug 20 7:00 pm: Raiders at Dolphins [P]
Fri Aug 26 8:15 pm: Patriots at Raiders [P]
Sun Sep 11 4:25 pm: Raiders at Chargers (CBS)
Sun Sep 18 4:25 pm: Cardinals at Raiders (CBS)
Sun Sep 25 1:00 pm: Raiders at Titans (Fox)
Sun Oct 2 4:25 pm: Broncos at Raiders (CBS)
Mon Oct 10 8:15 pm: Raiders at Chiefs (ESPN)
Sun Oct 23 4:05 pm: Texans at Raiders (CBS)
Sun Oct 30 1:00 pm: Raiders at Saints (CBS)
Sun Nov 6 1:00 pm: Raiders at Jaguars (CBS)
Sun Nov 13 4:05 pm: Colts at Raiders (CBS)
Sun Nov 20 4:05 pm: Raiders at Broncos (Fox)
Sun Nov 27 4:05 pm: Raiders at Seahawks (CBS)
Sun Dec 4 4:25 pm: Chargers at Raiders (CBS)
Thu Dec 8 8:15 pm: Raiders at Rams (Prime Video)
Sun Dec 18 8:20 pm: Patriots at Raiders (NBC)
Sat Dec 24 8:15 pm: Raiders at Steelers (NFLN)
Sun Jan 1 4:05 pm: 49ers at Raiders (Fox)
TBD: Chiefs at Raiders
Latest posts by Frank Moraes
(see all)