Are you a committed Philadelphia Eagles fan? Concerned that you will miss important games if you cut the cord? Fear not! We explain everything you need to know below!
In a hurry? The truth is, it isn't hard to watch every Eagles game of the season without cable. Just sign up with one of these services:
Fubo: The best streaming service for international sports also provides 130+ well-selected channels. Fubo allows you to try out its service free for 7 days.
DIRECTV STREAM: Get a great channel lineup with the best selection of RSNs in the industry. A 5-day free trial is now available for DIRECTV STREAM.
If you can't watch your favorite sports because of your location, get ExpressVPN to access the content you deserve.
Unfortunately, we don't know a streaming service in that covers this sport. But if you've already paid for the right service, and just can't watch because of your location, there is an easy way to get the content you deserve. You need a VPN, like one of the following.
| | | |
| --- | --- | --- |
| | ExpressVPN: Known as "The VPN that just works," it combines remarkable ease of use with with state-of-the-art power, speed, security, and privacy. Get three extra free months when you sign up for a year. Unleash your streaming with this top-rated VPN. | Sign Up Now |
| | Surfshark: Surfshark: Secure and easy to use with thousands of servers around the world. Of special note is its excellent collection of servers inside the US, which is great for regional sports lie NFL, MLB, and NBA. Get it now with an incredible 82% discount on a 24-month plan. | Sign Up Now |
| | NordVPN: One of the top VPNs with extremely fast servers all over the world. Great for streaming with tested perfomance on the biggest servers and included ad-blocking. Currently offering 70% discount on 2-year plans. | Sign Up Now |
If you're overwhelmed and not sure where to begin, you'll find all the answers in our full VPN guide.
Bottom line: 16 of the 17 regular season Eagles games will air on live TV with one only streaming (on Amazon Prime Video). The services above have you covered for the regular and postseason. See the Eagles schedule below.
Jeffrey Lurie owns the Eagles, which he purchased for $195 million in 1994. It looks like a pretty good investment today. Since that time, the team has had more winning seasons than losing seasons. But nothing has been like the 2022-23 season.
The Philadelphia Eagles have built an incredibly strong fan base over the years. While most teams have rivalries with other teams in the NFL, any franchise as old as the Eagles will have a fair share. Their list of rival teams include the Dallas Cowboys, and closer to home, the Washington Commanders, Pittsburgh Steelers and New York Giants.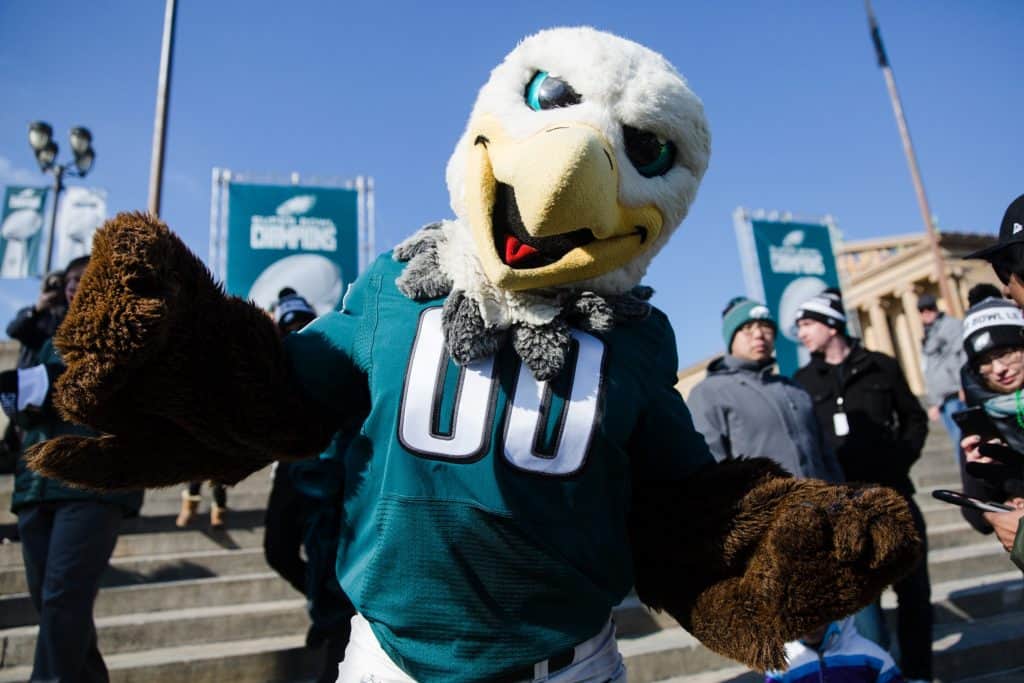 Fans make sure to watch these games and as many others as possible. Keep reading and you can learn how to watch the Philadelphia Eagles online without cable.
Are you a fan outside your team's broadcast area? Learn to get complete access with our NFL Out-of-Market Game Guide.
Watching Eagles football streaming is easy. Streaming services like FuboTV make watching TV without cable an easy and inexpensive process. If you're not familiar with how streaming services work, you'll quickly learn how easy they are to use. This guide will tell you all you need so that you can watch each Philadelphia Eagles game online without cable.
What Channels Offer the Philadelphia Eagles Live Stream?
The Eagles air on a variety of TV channels, just like all the NFL teams. Often the channel will depend on the day or time you're watching the game. Typically, you'll need local channels including Fox, CBS, and NBC. These three channels can be found in most areas through streaming services. If they are not available in your area you can also use a digital antenna to find them.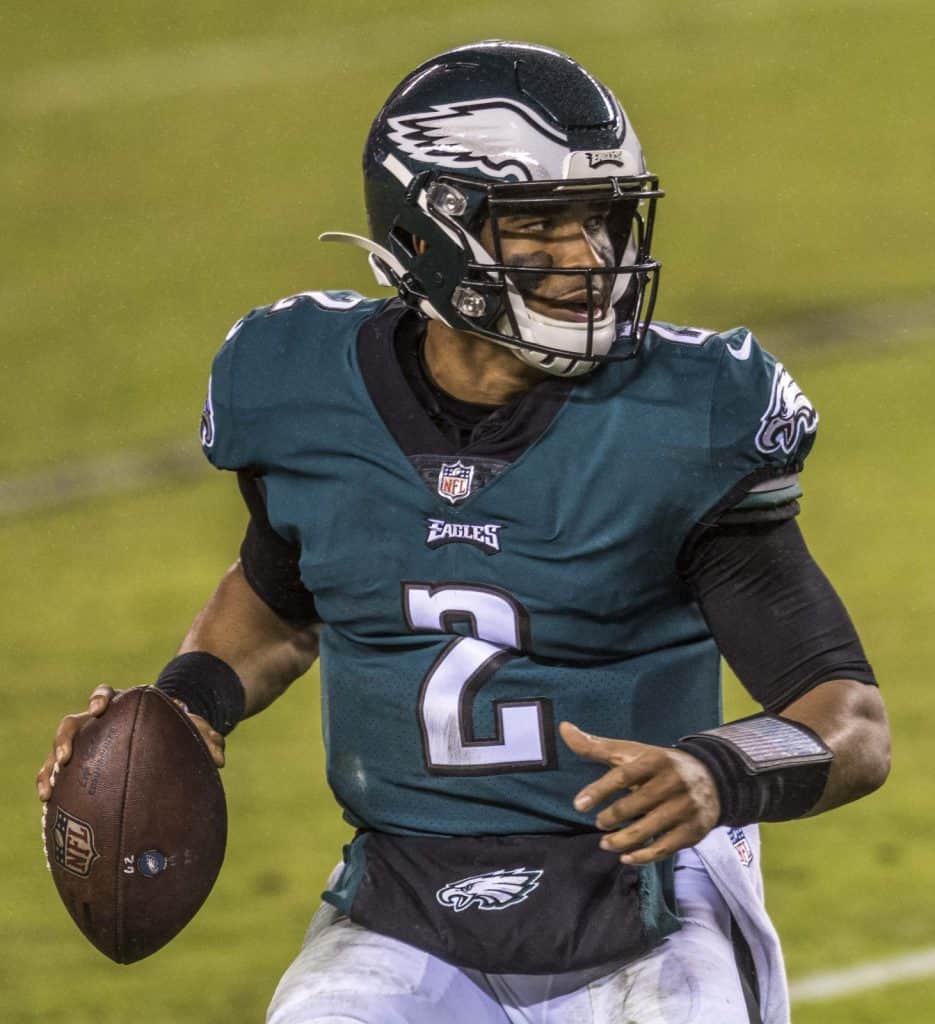 Other necessary TV channels include both ESPN and NFL Network. They are both offered through a variety of services, you'll just want to check the channel lineup to make sure they are available.
Unblock Your Favorite Events & Teams With a VPN
If you can't watch your favorite events or teams because of your location, a VPN will allow you to get the access you are entitled to, plus extra security and unequalled privacy. Check out our VPN Guide for everything you need to know, including our top pick ExpressVPN.
How to Watch the Philadelphia Eagles Game Without Cable
The first decision that you need to make to watch the Philadelphia Eagles online is what streaming service you're going to use. Multiple options are available, and we will list them all in the sections below. The first two services will include FuboTV and Hulu with Live TV. We will offer all the details you need to get set up or if you determine you want other options, you can keep reading for the full list.
Once you pick out your service, you'll know what streaming devices you can use. You will connect your device to the Internet, and this will give you access to the streaming service and many other apps.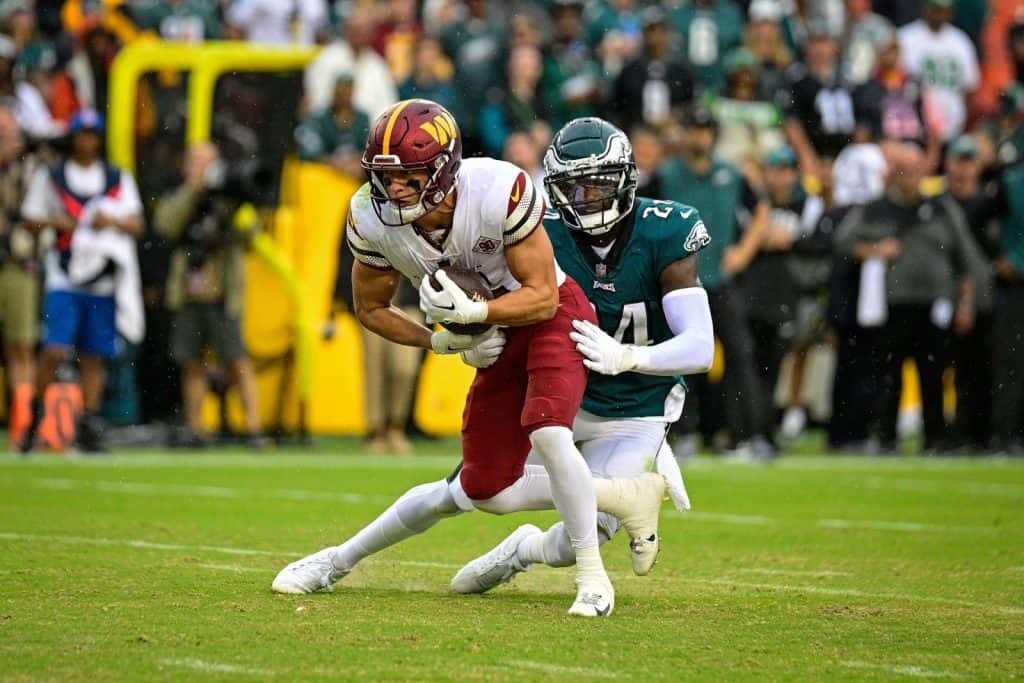 Devices include mobile devices (phones and tablets), computers, streaming boxes (Apple TV, Roku, and Amazon Fire TV), streaming sticks (Chromecast), and even gaming consoles. With this many device options, you'll have the freedom to connect just about anywhere!
Out-of-Market Philadelphia Eagles Games
Philadelphia Eagles fans in the local area will be able to watch all Sunday afternoon games on their network affiliates (usually Fox). Fans outside the area will receive sketchier coverage based on what the fans in their area are most interested in.
We are keenly aware of this problem. So we wrote a guide that explains all the issues and options, NFL Out-of-Market Football Games.
If you don't mind signing up for satellite TV, you should get NFL Sunday Ticket. It allows you to watch all out-of-market games. But if you're not up for that, you'll need to look into other options.
One option is to use a VPN. Check out ExpressVPN, which explains how to watch NFL games in more detail.
Watch the Philadelphia Eagles without Cable on FuboTV
FuboTV is a solid option that has become especially popular with sports fans. Of the 120+ channels included over 35 of them offer sports. Local TV channels are included in many areas. There are also many regional and international sports channels.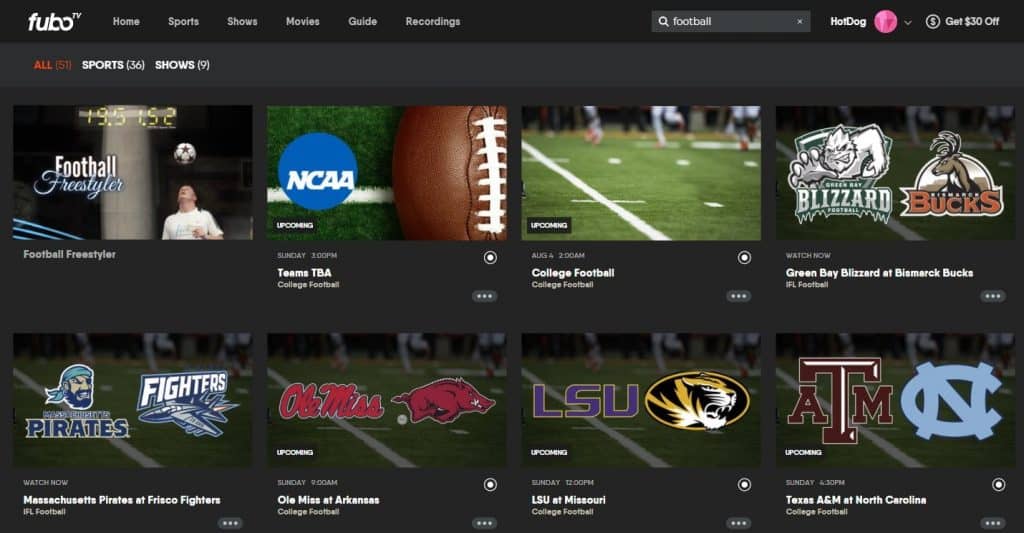 This package is $74.99/mo. More fuboTV details:
$74.99/mo
Over 120 channels including 35+ sports channels (great option to watch sports online)
Fox, CBS, and NBC (essential to watch Sunday Night Football) are offered live in most areas
NFL Network and ESPN are part of this package and available nationwide
Watch on mobile devices, Roku, Apple TV, computers, and more
Stream on 10 devices simultaneously
1000 hours of cloud DVR storage
Learn more in our FuboTV review.
FuboTV works great as a family plan. You get a lot of channels to start and many others are available. There are TV Everywhere apps and an equally impressive on-demand library, which will provide more content. A cloud-DVR is also included.
Sign Up for a Free 7-Day Fubo Trial
Watch Philadelphia Eagles With DIRECTV STREAM
DIRECTV STREAM is a good choice for Philadelphia Eagles fans. With the base plan ($74.99/mo), you get 75+ channels including the network affiliates (ABC, CBS, NBC, Fox) along with ESPN, ESPN2, and FS1. And there are many other channels if you want to upgrade.
Although DIRECTV STREAM is a legacy TV provider, it offers a modern and easy-to-use interface. And it include an unlimited cloud DVR and the ability to stream on as many devices simultaneously as you like.
Get all the details in our DIRECTV STREAM review.
Get DIRECTV STREAM Free for 5 Days
Watch the Philadelphia Eagles Game Online on Hulu + Live TV
Hulu with Live TV works well as a cable replacement. They offer more than 85 live channels, including local channels in most areas, ESPN+ and Disney+, and other popular options including ESPN.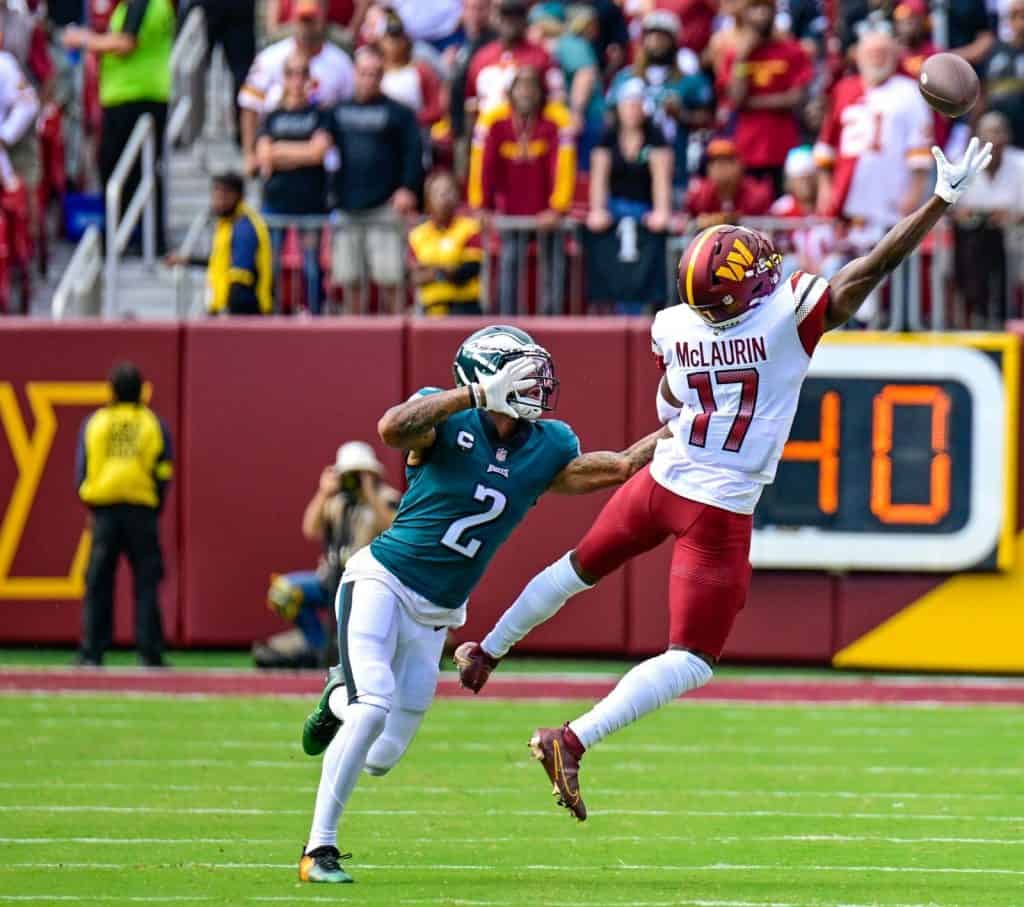 There is also an amazing amount of on-demand content included, as Hulu's on-demand service is part of this package. Here's more on Hulu Live:
$69.99/mo for 85+ channels and Hulu on-demand
ESPN, TNT, USA, FX, CNN, TBS, Syfy, and many more
Disney+ and ESPN+ included
Local channels are live in most areas
Watch on Apple TV, Amazon Fire TV, Roku, mobile devices, etc
Stream on up to two devices at once
Unlimited cloud DVR storage (9 month storage)
Read our Hulu with Live TV review for more details.
Hulu with Live TV offers a reasonable price for a robust service. You'll be able to make user profiles for the family to keep content separate and save your spot when you're watching a show.
A cloud-DVR is included. Most importantly, there are a variety of ways to upgrade your account.
Other Options to Watch Philadelphia Eagles Online
Hulu Live and fuboTV should work for most people, but other options are available that will get you a Philadelphia Eagles live stream.
Superpower Your Streaming With a VPN
For the sake of privacy, security, and access, you should be using a VPN. They are low-cost and easy to use. We've been using them for years and our top pick is ExpressVPN. Be sure to check out our deals page on ExpressVPN, NordVPN, SurfShark and PureVPN.
The following services all offer some or all of the channels that you would need for the full season of Eagles games. Here are your other options: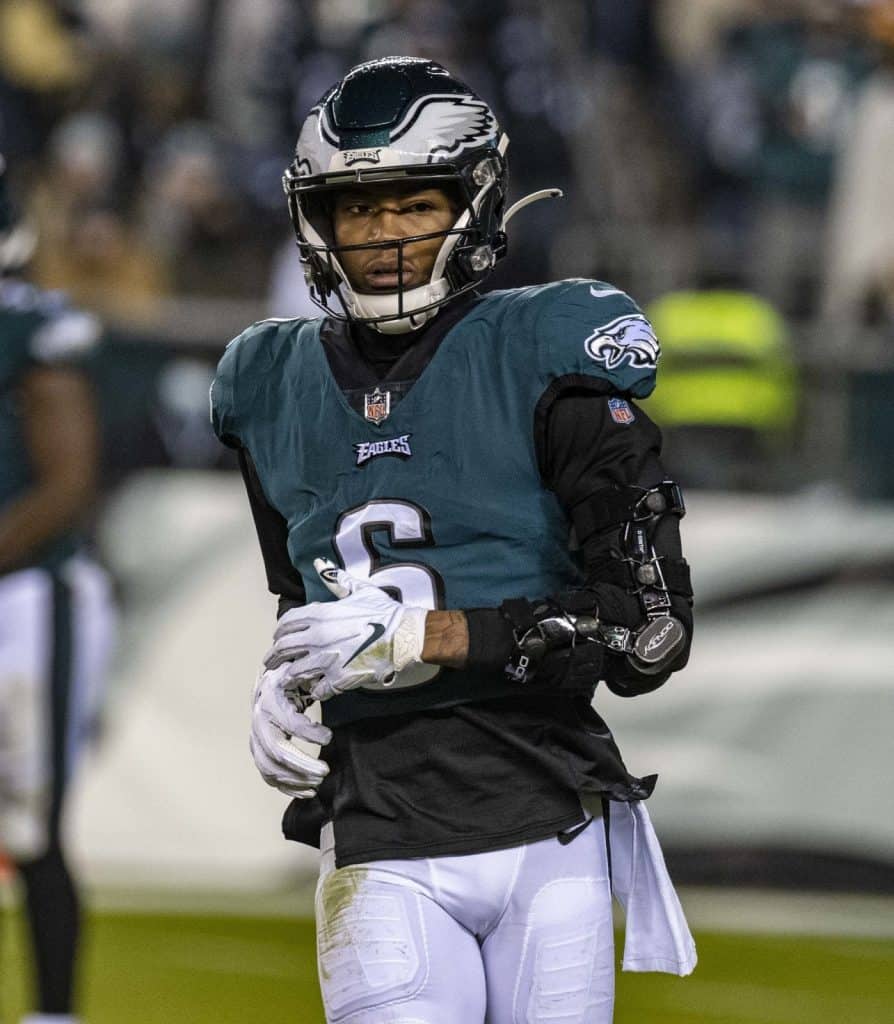 Sign Up for a Free 7-Day Fubo Trial
2023 Philadelphia Eagles Playoff Picture
The Eagles have had a great season.
Going into the Playoffs
Philadelphia clinched the #1 top seed in NFC postseason. After defeating the New York Giants, the Eagles enjoy a first-round bye and home-field advantage in the NFL Playoffs. The team is at the top of the ranking among the top in the regular season finale.
Jalen Hurts was back for this game. He joins running back Miles Sanders, who just had his best season ever. And filling out the crew is wide receiver AJ Brown, a star trade from Tennessee who was only picked in the second round of the 2019 NFL Draft. In his first three seasons, he averaged about 1,000 yards per season, with 185 total grabs and 24 touchdowns.
Offensive Coordinator Shane Steichen has created a strong offensive line. Jason Kelce, Lane Johnson, and Darius Slay of the Eagles have been selected to the NFL players' All-Pro team.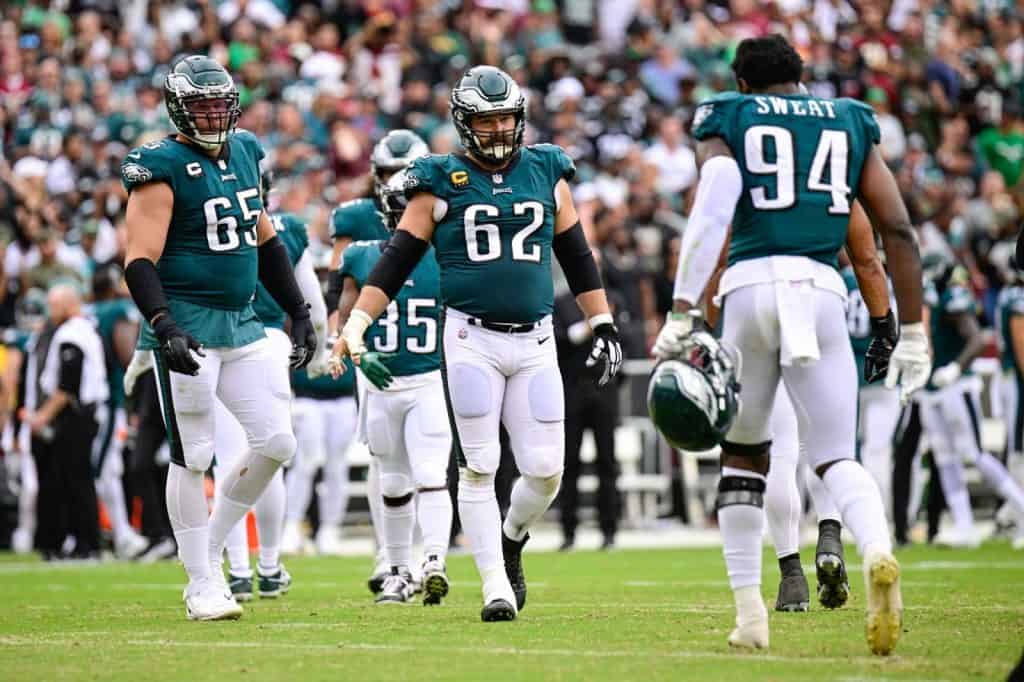 Jonathan Gannon manages the defensive side. The Eagles could see safety CJ Gardner-Johnson play because he is the team's top safety and indeed pivotal to the game.
Jake Elliott has been awarded NFC Player of the Week for NFL Week 18. It's incredible to consider how far his career has progressed since signing with the Philadelphia Eagles.
Eagles head coach Nick Sirianni is hopeful that defensive end Josh Sweat will be present for the team's playoff opener.
The bye week is a reward for regular-season success, allowing the playoff team to recuperate and prepage for a matchup in the Divisional Round.
Going Into Super Bowl LVII
The Eagles struggled down the stretch, going 1-2 in their last three regular-season outings, falling to the Cowboys, 40-34, and Saints, 20-10, before beating the Giants, 22-16, on the season's final day, dropping their record from 13-1 to 14-3.
However, the main reason for that was quarterback Jalen Hurts sitting out the pair of defeats after suffering a sprained right shoulder.
Once the postseason started, helped by an earned bye week courtesy of being the NFC's 1 seed, a healthy Hurts and his teammates ensured that there would be no issues whatsoever in the NFC playoffs, which consisted in 38-7 and 31-7 blowout victories over the Giants and 49ers, respectively.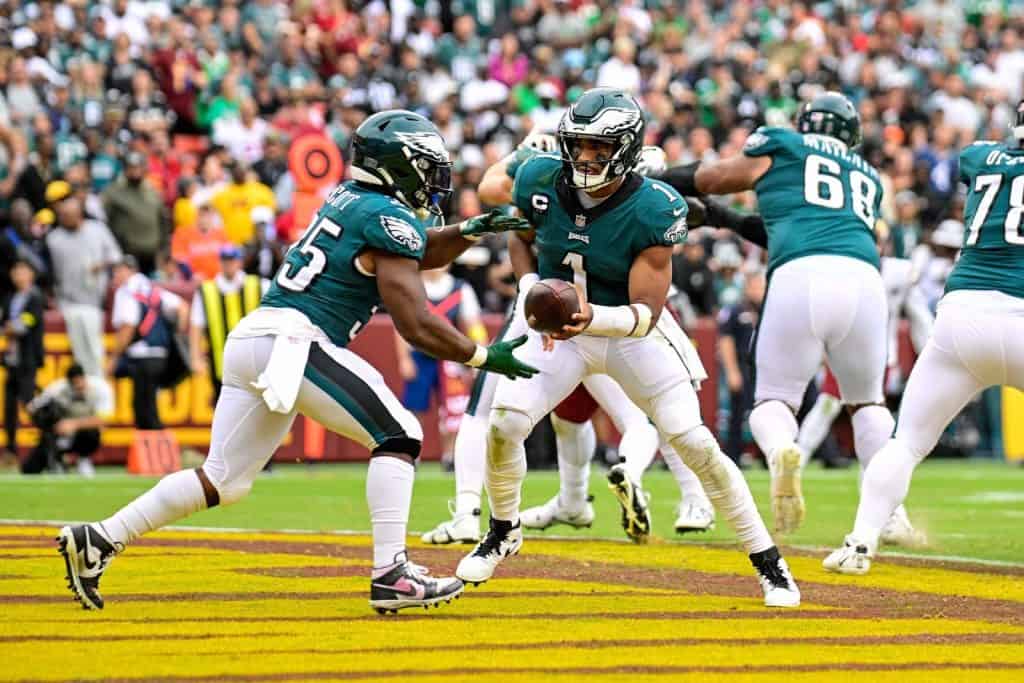 In the last outing at Lincoln Financial Field for the Conference Championship, the 49ers' offense was hampered by the early injury of Brock Purdy. But the Eagle's offense was on fire regardless.
Running back Miles Sanders contributed two rushing touchdowns while Hurts added one of his own to go with completing 15-of-25 passing attempts for 121 yards. Additionally, linebacker Haason Reddick recovered a fumble to highlight his overall solid performance.
Philadelphia will close its season with a Super Bowl showdown. They go up against the Kansas City Chiefs led by Patrick Mahomes. The team defeated the Cincinnati Bengals in a close game for the AFC Championship. The Super Bowl will be played on February 12 in Glendale, Arizona. Kickoff is at .
KC head coach Andy Reid had led the Eagles from 1999-2012, until Philly declined to extend his contract after a 4-12 campaign. However, both teams have won Super Bowls since that split, Philadelphia in 2017 and Kansas City in 2019.
Sign Up for a Free 7-Day Fubo Trial
Wrapping Up
So, that's everything you need to know to get started with most streaming services. It should also have cleared up any questions you had about how to watch the Philadelphia Eagles online without cable.
We recommend FuboTV for Philadelphia Eagles fans. Fubo allows you to try out its service free for 7 days.
Sign Up for a Free 7-Day Fubo Trial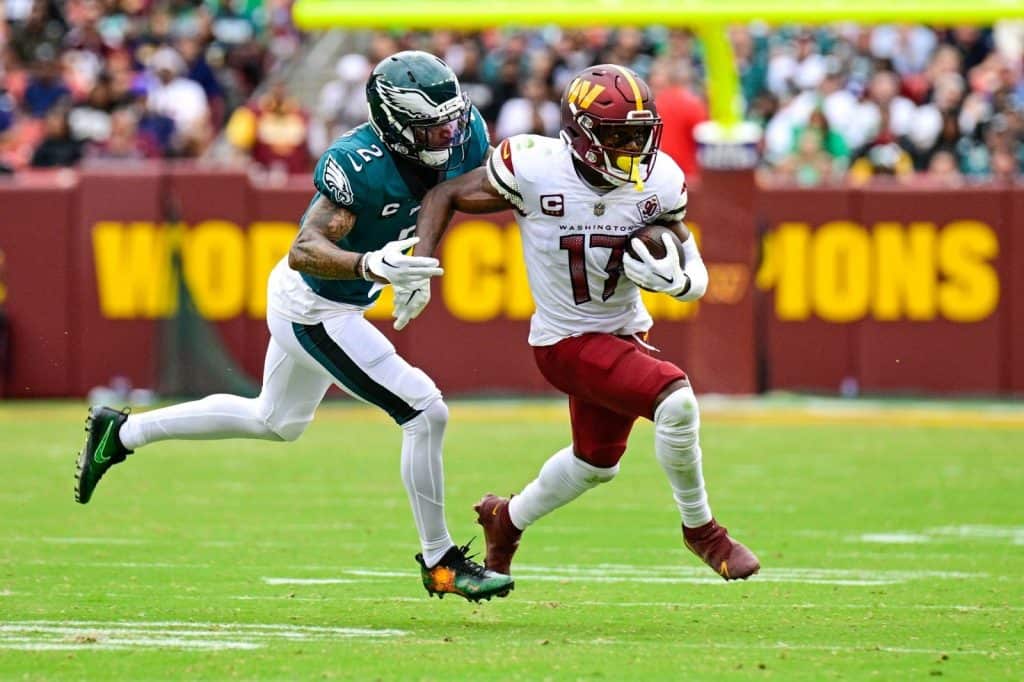 That said, if you still have questions, we're happy to answer them!
FAQs
Which channels do I need to watch the Philadelphia Eagles?
If you live in the Eagle's local market, you should be able to watch all their games on CBS, Fox, ESPN, NBC, or the NFL Network. Sunday night games are on NBC, Monday night games are on ESPN, and Thursday night games are on the NFL Network (and often Fox and Amazon Prime as well). Most Sunday afternoon games are on CBS and Fox but are not broadcast in all areas.
What radio stations are the Philadelphia Eagles on?
Local fans in the Philadelphia area can catch Eagles games on SportsRadio 94.1. The Eagles app also makes audio broadcasts available throughout the local region. Fans around the country can stream audio broadcasts with NFL+, a service available through the NFL app for both Apple and Android.
How do I watch the Philadelphia Eagles on my phone?
All the general streaming services like FuboTV and Hulu + Live TV allow you to stream Eagles games on your phone. If you live in the Philadelphia area, you can use NFL+ to watch games (but only on mobile devices). You can also get NFL Sunday Ticket to watch live games on your phone.
How many championships has the Philadelphia Eagles won?
The Philadelphia Eagles have won a total of 22 titles in their 88-year history. They have won four national titles, including three NFL Championships before the AFL-NFL merger. Their only Super Bowl victory came against the New England Patriots in the 2017 season. They have also won their conference four times and their division 14 times.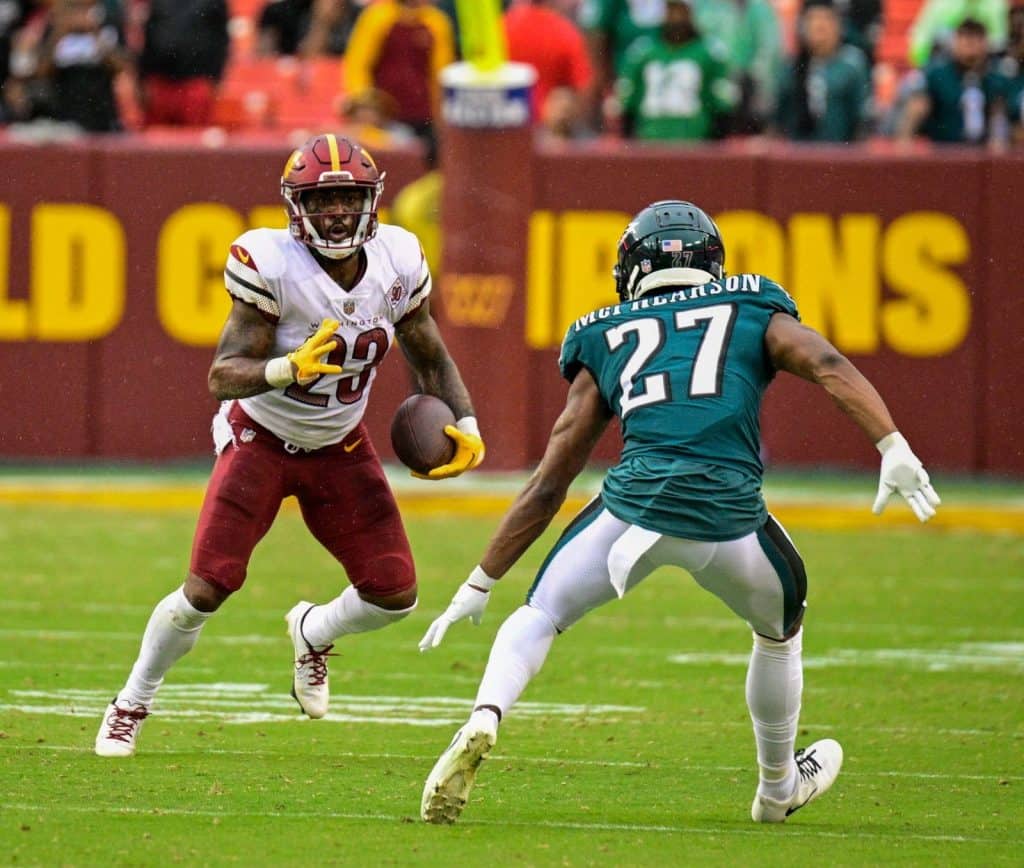 How do I watch the Philadelphia Eagles game tonight?
NBC, ESPN, and the NFL Network all broadcast night games throughout the NFL season. When the Eagles are playing on a Sunday night, you can find the game on NBC. Monday night games, meanwhile, are on ESPN. Thursday night games air on the NFL Network in addition to Fox and Amazon during much of the season. You can watch all these channels live with a cable replacement streaming service like FuboTV.
How do I record Philadelphia Eagles live games?
You can use almost any streaming service to record upcoming Eagles games. These services come with a cloud DVR that allows you to record games and other live broadcasts with the simple click of a button. You can apply this feature to most channels, allowing you to record the Eagles games no matter where they air.
How do I watch other NFL teams without cable?
Need more information on how to watch the NFL without cable tailored specifically to your favorite team? Click on your team below.
What is the 2023 Philadelphia Eagles schedule?
Fri Aug 11 : @ Baltimore [Preseason]
Thu Aug 17 : vs Cleveland [Preseason]
Thu Aug 24 : vs Indianapolis (PRIME VIDEO) [Preseason]
Sun Sep 10 : @ New England (CBS)
Thu Sep 14 : vs Minnesota (PRIME VIDEO)
Mon Sep 25 : @ Tampa Bay (ABC)
Sun Oct 1 : vs Washington (FOX)
Sun Oct 8 : @ Los Angeles (FOX)
Sun Oct 15 : @ New York (FOX)
Sun Oct 22 : vs Miami (NBC)
Sun Oct 29 : @ Washington (FOX)
Sun Nov 5 : vs Dallas (FOX)
Mon Nov 20 : @ Kansas City (ESPN/ABC/ESPN+)
Sun Nov 26 : vs Buffalo (CBS)
Sun Dec 3 : vs San Francisco (FOX)
Sun Dec 10 : @ Dallas (NBC)
Sun Dec 17 : @ Seattle (FOX)
Mon Dec 25 : vs New York (FOX)
Sun Dec 31 : vs Arizona (FOX)
Sun Jan 7 TBD: @ New York
Sign Up for a Free 7-Day Fubo Trial
Ditch "Big Cable" Now – 3 Simple Steps to Cut the Cord
Pick the right streaming service
Get the content you deserve with the best VPN.
Supercharge your internet provider
That's it — you'll save money, take back control, and enjoy TV more!
Page Updates
▼
▲
Added buttons for streaming services. Updated some sub-sections. Updated some section headings. Reworked some sections.

Added links to streaming services. Added sub-section. Added info about guide. Reworked one section. Additional links. Formatting.

Changed some content in main section. Various changes to content. Formatting.

Added new section. Image changes. Linking. Small layout changes.

Additional links. Various changes.

Added buttons for streaming services. Added streaming info. Added info about guide. Updated some sub-sections. Pricing updates. Cross linking.

Added buttons for streaming services. Added sub-section. Pricing updates. Added links. Changed a few bits of content.

Updates to a section. Additional links.
Latest posts by Frank Moraes
(see all)