If you are in Pittsburgh or even a fan across the country, you may be looking for ways to watch the Pittsburgh Steelers games this season without cable. If so, you've come to the right place. Read on to learn all your options.
In a hurry? If you just want to sign-up and start streaming, these are our favorite services for Steelers fans:
FuboTV: The best streaming service for international sports also provides 120+ well-selected channels. FuboTV allows you to try out its service free for 7 days.
DIRECTV STREAM: Get a great channel lineup with the best selection of RSNs in the industry. A 5-day free trial is now available for DIRECTV STREAM.
Hulu + Live TV: A great overall streaming service offering 85+ live channels along with ESPN+ and Disney+. Try one month for $69.99.
If you can't watch your favorite sports because of your location, get ExpressVPN to access the content you deserve.
Unfortunately, we don't know a streaming service in that covers this sport. But if you've already paid for the right service, and just can't watch because of your location, there is an easy way to get the content you deserve. You need a VPN, like one of the following.
ExpressVPN: Premium VPN provider that just works, with 3,000+ locations in 94 countries. Supports five simultaneous devices and comes with a 30-day money-back guarantee. (ExpressVPN review)
Surfshark: Connect to over 3,200 servers in 99 countries (+ tonnes of US metro areas). Try it with a 7-day free trial.
NordVPN: Connect to over 5,000 premium servers in 60+ countries. Comes with a 30-day money-back guarantee!
If you're overwhelmed and not sure where to begin, you'll find all the answers in our full VPN guide.
Bottom line: 16 of the 17 regular season Steelers games will air on live TV with one only streaming (on Amazon Prime Video). The services above have you covered for the regular and postseason. See the Steelers schedule below.
Before, you used to have to rely on cable but now thanks to streaming services like FuboTV (free for 7 days) and Hulu Live there are plenty of ways to watch the Pittsburgh Steelers online without cable.
Our streaming guide should give you all the information you need to find access to Pittsburgh Steelers games live and on-demand. Whether you are deciding to cut the cord or already have, the following services will offer you the chance to watch Pittsburgh Steelers games live with no need for cable whatsoever.
Keep reading to find out the channels you need to watch Pittsburgh Steelers games and the services that offer these channels.
Pittsburgh Steelers: NFL Postseason
By virtue of beating Cleveland in the final game of the season, the Steelers finished with a winning record for the 16th straight season under coach Mike Tomlin. The key to the offseason will be putting more talent around quarterback Kenny Pickett in an effort to continue his development. The defense will likely be led by T.J. Watt and Minkah Fitzpatrick for the foreseeable future.
Pittsburgh was 8-2 last year when Watt was in the lineup and 1-6 when he was out with a pectoral injury. The Steerers enter the 2023 league year with about $13 million in cap space.
Sign Up for a Free 7-Day Fubo Trial
What Channels Offer the Pittsburgh Steelers Live Stream?
The NFL airs on a series of channels, usually relating to the day or time that the game you're watching is on.
You can use a streaming service (based on location) or a digital antenna to watch CBS, Fox, and NBC. In bigger cities, you shouldn't have a problem getting local channels with streaming services, but more rural areas might have a harder time. If this is the case, an antenna might be the best option for you!
Are you a fan outside your team's broadcast area? Learn to get complete access with our NFL Out-of-Market Game Guide.
You'll also need NFL Network and ESPN, which are available through streaming services nationwide.
Unblock Your Favorite Events & Teams With a VPN
If you can't watch your favorite events or teams because of your location, a VPN will allow you to get the access you are entitled to, plus extra security and unequalled privacy. Check out our VPN Guide for everything you need to know, including our top pick ExpressVPN.
How to Watch Pittsburgh Steelers Games Without Cable
Streaming continues to grow into the mainstream, offering a variety of services that provide an alternative to cable. All of the services you're about to learn about connecting through the internet to the streaming device of your choice.
You can use these devices from just about anywhere as long as you have an Internet connection. Common device options include Apple TV, mobile devices, computers, Roku, and many others.
You'll need a streaming service to watch the Pittsburgh Steelers online and two of the best options are FuboTV and Hulu with Live TV. Of course, they aren't the only options.
Take a minute to learn about these choices below and if you want to consider other options, you can find a complete list of services that offer the Steelers live stream later in this guide.
Out-of-Market Pittsburgh Steelers Games
There are a lot of Steelers fans throughout the nation. And those who don't live close by find it hard to see many games. This is because most NFL games air regionally and so the games shown are the ones of most interest in a particular area. Viewer's in Tampa Bay don't see a lot of Steelers games.
We have a complete guide that addresses this issue, NFL Out-of-Market Football Games. It provides all your options.
The tool designed to solve this problem is NFL Sunday Ticket. And it is great. But it is only available to DIRECTV Satellite subscribers. It may be worth signing up. But if not, you will need to be more creative. (See our Sunday Ticket review for options.)
One tool worth looking at is a VPN. You can learn more about using one with the NFL from ExpressVPN.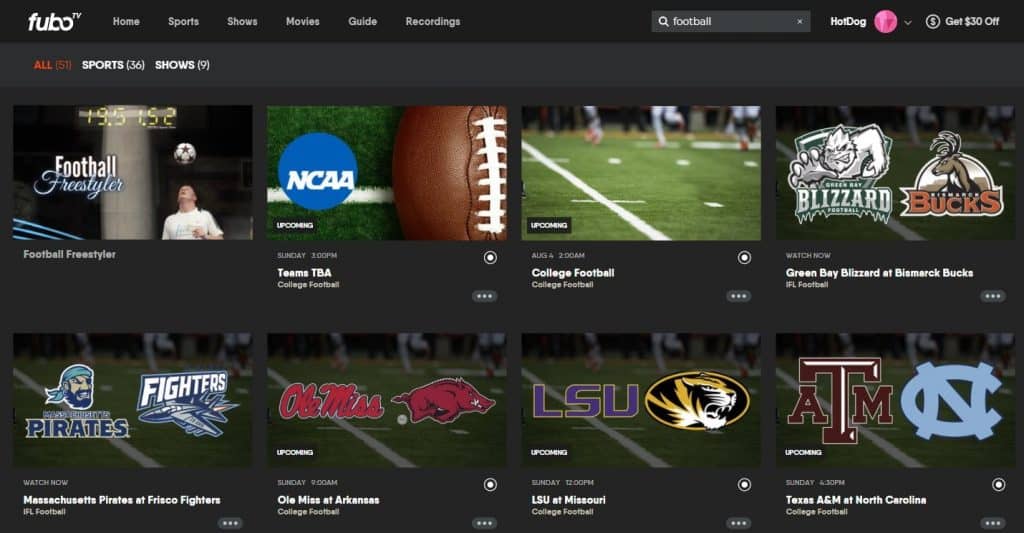 Watch the Pittsburgh Steelers Live Stream on FuboTV
FuboTV also offers a great way to watch the Steelers season online without cable. Local channels are included in many areas. You'll also have ESPN and NFL Network along with 120+ other channels. You can watch most things on-demand or you can check out TV Everywhere apps for more content.
More FuboTV details:
$74.99/mo
Get 120+ channels — one of the best ways to watch sports online without cable
Fox, CBS, and NBC (important if you want to watch Sunday Night Football) are available live in most markets
Watch NFL Network, ESPN, and 35 other sports channels
Stream on mobile devices, Roku, computers, Apple TV, and more
Watch more in the on-demand library or use TV Everywhere apps
Learn more in our FuboTV review
FuboTV has a huge channel lineup and it's filled with sports and other entertainment. Most content is available on-demand, thanks to a 3-day replay. So, if you miss something you can usually still watch it.
You can also record things to your cloud-DVR. Streaming is possible on most devices including Roku, Chromecast, and mobile devices. Make sure to try the FuboTV free weeklong trial!
Sign Up for a Free 7-Day Fubo Trial
Watch the Pittsburgh Steelers Online on Hulu Live
Hulu with Live TV offers an inexpensive yet robust service. You'll be able to create multiple profiles to watch over 85 live channels. Local channels are available in most areas. You'll also have ESPN and many other channels.
A cloud-DVR is included, though you'll likely find most previously aired content in Hulu's on-demand service, which is also included.
Here's more on Hulu Live:
85+ channels, Hulu on-demand, and a cloud-DVR for $69.99/mo
ESPN and NFL Network are available nationwide
Disney+ and ESPN+ included
Local channels can be found in most areas
Watch on most devices – Roku, Chromecast, mobile devices, etc.
Visit our Hulu with Live TV review learn more
Hulu with Live TV presents a great way to replace the cable for a fair price. You'll have plenty to watch, both live and on-demand. There's also a lot of room for customization, as you can add channels or upgrade the size of your DVR.
Superpower Your Streaming With a VPN
For the sake of privacy, security, and access, you should be using a VPN. They are low-cost and easy to use. We've been using them for years and our top pick is ExpressVPN. Be sure to check out our Cyber Monday 2022 deals on ExpressVPN, NordVPN, SurfShark and PureVPN.
Other Options to Watch Pittsburgh Steelers Games Online
Hulu Live and fuboTV will work for most people, but they aren't for everyone. If you find you're interested in learning more about other services, this is the section for you.
Here you'll find the other options that will allow you to watch the Pittsburgh Steelers online without cable. Here are your other options:
Looking for Info on How to Watch Another Team?
Need more information on how to watch the NFL without cable tailored specifically to your favorite team? Click on your team below.
Streaming services offer legal access to the channels that would otherwise require cable. The difference is that streaming services don't require contracts and you can try them before you pay for anything.
Hopefully, that clears things up, but if you're still unsure of how to watch the Pittsburgh Steelers online, we can help!
Sign Up for a Free 7-Day Fubo Trial
FAQs
Which channels do I need to watch the Pittsburgh Steelers?
Pittsburgh Steelers games will be broadcast on NBC, ABC, ESPN, NFL Network, CBS, and FOX. However, those airing on CBS and FOX, which comprise the majority of the team's contests, are only shown on a regional basis, so you would need to purchase NFL Sunday Ticket to access many of those if you are not in Western Pennsylvania. Note that Amazon Prime Video will have the sole rights to Thursday Night Football games from 2022-on.
What radio stations are the Pittsburgh Steelers on?
Steelers Nation Radio provides audio coverage of all Pittsburgh Steelers games to fans in the greater Pittsburgh metropolitan area, which includes considerable coverage in Western Pennsylvania and nearby areas of Maryland, West Virginia, and Ohio. Its flagship stations are WDVE and WBGG in Pittsburgh while Steelers Nation Radio also stretches out to Virginia and Georgia. Steelers fans not in these areas can listen to some regular-season games and all postseason contests on Westwood One Sports.
How do I watch the Pittsburgh Steelers on my phone?
You can use a variety of streaming services to watch the Pittsburgh Steelers on your smartphone. Full streaming services like Vidgo, FuboTV, and Hulu will allow you to catch all the Steelers' games live, while the NFL+ app provides some games live and others on demand. These services should work well on any Android or iOS device.
How many championships has the Pittsburgh Steelers won?
The Pittsburgh Steelers are one of the most storied franchises in the NFL, having won six Super Bowls and eight AFC championships. Those Super Bowl titles came after the 1974, 1975, 1978, 1979, 2005, and 2008 campaigns while Pittsburgh's two Super Bowl appearances that resulted in losses occurred at the ends of the 1995 and 2010 seasons. The team has also won division championships on 24 occasions: 15 AFC Central and nine AFC North titles.
How do I watch the Pittsburgh Steelers game tonight?
You can watch the Pittsburgh Steelers on your television by finding the proper channel, or you can purchase a streaming service that will bring the game directly to your device. Most night games are nationally televised, with Thursday night games on NFL Network, Sunday night games on NBC, and Monday night games on ESPN. Streaming services like Hulu and FuboTV will give you access to all of these broadcasts.
How do I record Pittsburgh Steelers live games?
Most streaming services include a Cloud DVR feature that makes it remarkably easy to record live games. You can use this feature to record the Pittsburgh Steelers as they play on CBS, Fox, or any other network. This system is convenient and easy to use, meaning you'll always have the ability to record Steelers games once you've purchased a reliable streaming service.
What is the 2022 Pittsburgh Steelers schedule?
Sat Aug 13 : Seahawks (25) at Steelers (32) [P]
Sat Aug 20 : Steelers (16) at Jaguars (15) [P]
Sun Aug 28 : Lions (9) at Steelers (19) (CBS) [P]
Sun Sep 11 : Steelers (23) at Bengals (20) (CBS)
Sun Sep 18 : Patriots (17) at Steelers (14) (CBS)
Thu Sep 22 : Steelers (17) at Browns (29) (Prime Video)
Sun Oct 2 : Jets (24) at Steelers (20) (CBS)
Sun Oct 9 : Steelers (3) at Bills (38) (CBS)
Sun Oct 16 : Buccaneers (18) at Steelers (20) (Fox)
Sun Oct 23 : Steelers (10) at Dolphins (16) (NBC)
Sun Oct 30 : Steelers (13) at Eagles (35) (CBS)
Sun Nov 13 : Saints (10) at Steelers (20) (Fox)
Sun Nov 20 : Bengals (37) at Steelers (30) (NBC)
Mon Nov 28 : Steelers (24) at Colts (17) (ESPN)
Sun Dec 4 : Steelers (19) at Falcons (16) (CBS)
Sun Dec 11 : Ravens (16) at Steelers (14) (CBS)
Sun Dec 18 : Steelers (24) at Panthers (16) (CBS)
Sat Dec 24 : Raiders (10) at Steelers (13) (NFLN)
Sun Jan 1 : Steelers (16) at Ravens (13) (NBC)
Sun Jan 8 : Browns (14) at Steelers (28) (CBS)
Sign Up for a Free 7-Day Fubo Trial
Ditch "Big Cable" Now – 3 Simple Steps to Cut the Cord
Pick the right streaming service
Get the content you deserve with the best VPN.
Supercharge your internet provider
That's it — you'll save money, take back control, and enjoy TV more!
Latest posts by Frank Moraes
(see all)