The Tampa Bay Buccaneers are the Super Bowl champs. Can they repeat in 2022? Time will tell. But you can catch the whole Buccaneers season with a cable contract. Read on to learn how!
In a hurry? If you just want to start watching the Buccaneers without cable and don't care about the details, just sign up for one of these services:
FuboTV: The best streaming service for international sports also provides 100+ well-selected channels. FuboTV allows you to try out its service free for 7 days.
DIRECTV STREAM: Get a great channel lineup with the best selection of RSNs in the industry. A 5-day free trial is now available for DIRECTV STREAM.
Sling TV: This low-cost service allows you to select just the channel lineup you want. Save 50% on your first month of Sling TV.
If you are a Tampa Bay fan, you may already know what channels the Buccaneers already air on. If you don't, the following guide will explain what those channels are. We will also tell you what services you can use, without cable, to watch Tampa Bay Buccaneers games live.
What Channels Offer the Tampa Bay Buccaneers Live Stream?
The channels you need to stream the Tampa Bay Buccaneers include FOX, CBS, NBC, NFL Network, and ESPN. All of these channels are available through many streaming services. NFL Network and ESPN will be available nationwide for everyone that subscribes to a package that offers them.
If you see local channels are available, that will depend on your location as to whether or not you get live streaming access of those channels. If it is hard to find a live option for local channels, you can always try and use a digital antenna to get those channels and more.
Do You Need a VPN?
If you find you can't watch particular events because of your location, a VPN should allow you to get the access you are entitled to. It also provides extra security and unequalled privacy. See our complete VPN Guide for all you need to know.
How to Watch the Tampa Bay Buccaneers without Cable
Streaming can seem daunting at first, but it's easy to do and is quick to pick up. It only takes minutes to sign up for a service and start streaming. You just add the streaming app to your streaming device.
Once you're connected to the internet you can open your streaming app and choose what you want to watch. Streaming devices including computers, mobile devices, gaming consoles, Roku, and many other options.
If you're worried about choosing the right streaming service, don't be. All of the options included here come with free trials and no contracts. That means you can try each service for free and if you don't like it, you can cancel right away.
With that in mind, we're going to look at two of the most popular streaming options, Hulu with Live TV and FuboTV. If you want other options, continue reading to the end of this guide for a full list of ways to watch the Tampa Bay Buccaneers online without cable.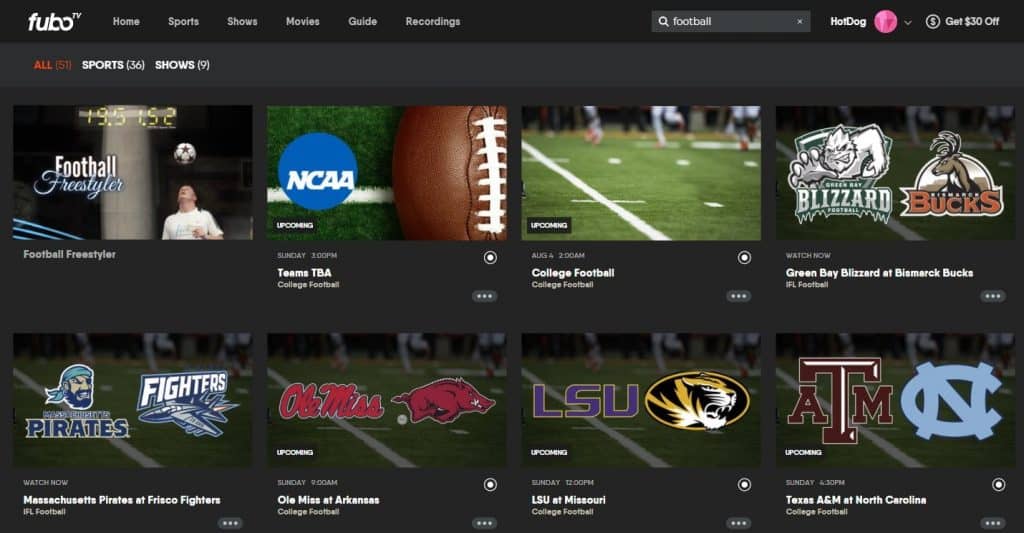 Stream the Tampa Bay Buccaneers Without Cable on FuboTV
FuboTV is a fun service that has a lot to offer. Sports fans will delight in getting sports coverage from around the globe with over 35 different sports channels. If you don't care about sports, the package actually offers 100+ channels, so you'll have plenty of general entertainment channels that have something to offer.
More FuboTV details:
$69.99 each month
Watch over 100 channels live and on demand – an excellent way to watch sports online
NBC (Sunday Night Football), FOX, and CBS are available live in most areas
NFL Network and ESPN are included
Stream on mobile devices, Roku, Chromecast, Apple TV, etc.
Learn more in our FuboTV review.
FuboTV will probably work best for sports fans that want sports channels they have a hard time finding anywhere else.
That said, with over 100 channels, there is something here for everyone. You'll be able to watch what you want, when you want, on a wide variety of streaming devices.
Make sure to give the free for 7 days a try!
Watch the Tampa Bay Buccaneers Online via Hulu + Live TV
Hulu + Live TV started out as Hulu, offering just on-demand content. After many years in the game, they've added an option for live TV. Over 85 channels are included with local channels included in many areas.
This is a great deal for current Hulu subscribers because the on-demand library is included, so the price would be rolled into one package.
And to top it all off, you get ESPN+ and Disney+ with it to make Hulu + Live TV the best entertainment plan around. Here's more on Hulu Live:
$69.99/mo
Hulu on-demand is included
ESPN and 85+ other channels are included
Disney+ and ESPN+!
Watch local channels in most areas
Watch on Chromecast, Apple TV, iOS/Android, Fire TV, Roku, and more
Visit our Hulu with Live TV review for more info.
Hulu with Live TV is going to work for people that want an equal mix of live and on-demand content for a fair price. You'll start with 85+ channels, but there are more channels that can be added on.
There's also all of the Hulu on-demand content including Hulu Originals. In short, you'll have plenty of content and you won't have to spend a lot of money to get it.
Superpower Your Streaming With a VPN
For the sake of privacy, security, and access, you should be using a VPN. They are low-cost and easy to use. We've been using them for years and our top pick is ExpressVPN.
Other Options to Watch Tampa Bay Buccaneers Online
We've looked at some great options, but that's just a fraction of ways that you can watch the Tampa Bay Buccaneers online without cable. Keep reading for a full list of options that will allow you to stream this and other NFL teams on the regular.
Other options include: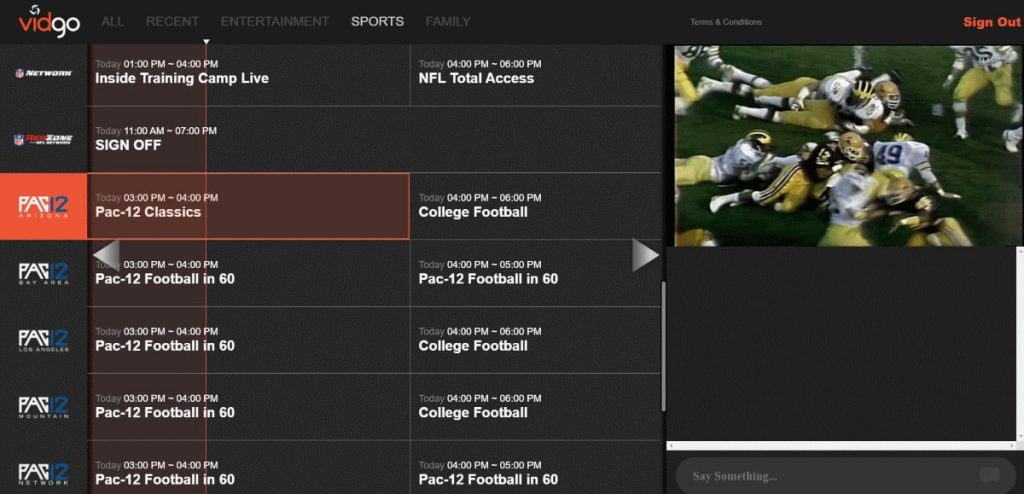 Looking for Info on How to Watch Another Team?
Need more information on how to watch the NFL without cable tailored specifically to your favorite team? Click on your team below.
That's all you need to know if you want to start streaming live TV without cable. If you have any more questions about how to watch the Tampa Bay Buccaneers online, we're here to offer any help you need!
FAQs
Which channels do I need to watch the Tampa Bay Buccaneers?
Like other NFL teams, the Tampa Bay Buccaneers play on Fox, CBS, ESPN, NFL Network, and NBC. Since the Buccaneers are in the NFC, more of their regular Sunday afternoon games air on Fox than any other station. If the Bucs are playing on Sunday Night Football, then you'll be able to watch them on NBC. ESPN carries the Bucs when they're playing on Monday Night Football, and NFL Network broadcasts their Thursday night games.
What radio stations are the Tampa Bay Buccaneers on?
A variety of local radio stations across Florida carry Tampa Bay Buccaneers games. If you aren't in Florida, then you can find Bucs games on the radio through Sirius XM. As the official radio home of the Buccaneers, 98 Rock in Tampa carries live broadcasts of every game, pregame coverage, and a post-game show.
How do I watch the Tampa Bay Buccaneers on my phone?
Several of the major streaming services let you watch Buccaneers games on your phone. FuboTV, Vidgo, and SlingTV all stream Bucs games as they happen. In addition, Amazon Prime carries Thursday night games. Every major streaming service listed above works on both Android and iOS smartphones. If you want to catch a recording of the game on your phone, you can use NFL Game Pass to watch on-demand. Local fans who don't mind being limited to mobile devices can watch for free using the NFL and Yahoo! Sports apps.
How many championships has the Tampa Bay Buccaneers won?
The Tampa Buccaneers have won two Super Bowl championships, two NFC championships, and six division championships. Most recently, the Bucs beat the Kansas City Chiefs 31-9 to win Super Bowl LV on February 7, 2021. Prior to their 2020 Super Bowl victory, the Bucs beat the Raiders 48-21 to capture Super Bowl XXXVII in 2002.
How do I watch the Tampa Bay Buccaneers game tonight?
Every Buccaneers night game is either on NBC, NFL Network, or ESPN. ESPN carries the Bucs when they play on Monday Night Football, and NFL Network carries the Bucs when they play on Thursday Night Football. When the Bucs are playing on Sunday night, you can find the game on NBC. Regardless of which night they're playing, you can use Sling TV, FuboTV, or another major streaming service to watch live.
How do I record Tampa Bay Buccaneers live games?
If you already have a streaming service that broadcasts Buccaneers games, then you can use the cloud-based DVR service that comes with it to record the stream for later viewing. In addition, NFL Game Pass records every game throughout the season. With an NFL Game Pass subscription, you can either watch a recording of the entire game or a 45-minute version with just the highlights and major plays.
What is the 2022 Tampa Bay Buccaneers schedule?
Sat Aug 13 7:30 pm: Dolphins at Buccaneers [P]
Sat Aug 20 7:00 pm: Buccaneers at Titans [P]
Sat Aug 27 7:30 pm: Buccaneers at Colts [P]
Sun Sep 11 8:20 pm: Buccaneers at Cowboys (NBC)
Sun Sep 18 1:00 pm: Buccaneers at Saints (Fox)
Sun Sep 25 4:25 pm: Packers at Buccaneers (Fox)
Sun Oct 2 8:20 pm: Chiefs at Buccaneers (NBC)
Sun Oct 9 1:00 pm: Falcons at Buccaneers (Fox)
Sun Oct 16 1:00 pm: Buccaneers at Steelers (Fox)
Sun Oct 23 1:00 pm: Buccaneers at Panthers (Fox)
Thu Oct 27 8:15 pm: Ravens at Buccaneers (Prime Video)
Sun Nov 6 4:25 pm: Rams at Buccaneers (CBS)
Sun Nov 13 9:30 am: Seahawks at Buccaneers (NFLN)
Sun Nov 27 1:00 pm: Buccaneers at Browns (Fox)
Mon Dec 5 8:15 pm: Saints at Buccaneers (ESPN)
Sun Dec 11 4:25 pm: Buccaneers at 49ers (Fox)
Sun Dec 18 4:25 pm: Bengals at Buccaneers (CBS)
Sun Dec 25 8:20 pm: Buccaneers at Cardinals (NBC)
Sun Jan 1 1:00 pm: Panthers at Buccaneers (Fox)
TBD: Buccaneers at Falcons
Latest posts by Frank Moraes
(see all)