The Texas Longhorns are one of the most popular NCAA football teams. And they are almost always featured in bowl and championship games. Thankfully, cord-cutting fans don't need to miss a moment of play. Read on to learn all your options.
In a hurry? There are only a handful of channels you need to watch the Longhorns and these streaming services will provide what you need:
The University of Texas at Austin is one of the largest and best-known football programs in the nation. For much of its existence, it has regularly competed for both conference and national titles.
The team plays its home games at Darrell K Royal-Memorial Stadium, which seats just over 100,000 people. Darrell Royal was the team's coach from 1957 to 1976, and he led them to three national championships.
Since its formation in 1893, the football program has produced a number of great players such as Earl Campbell, Ricky Williams, and Vince Young.
2021 Texas Longhorns Schedule
Get most of these channels with FuboTV, with the exception of LHN — for that you need Vidgo!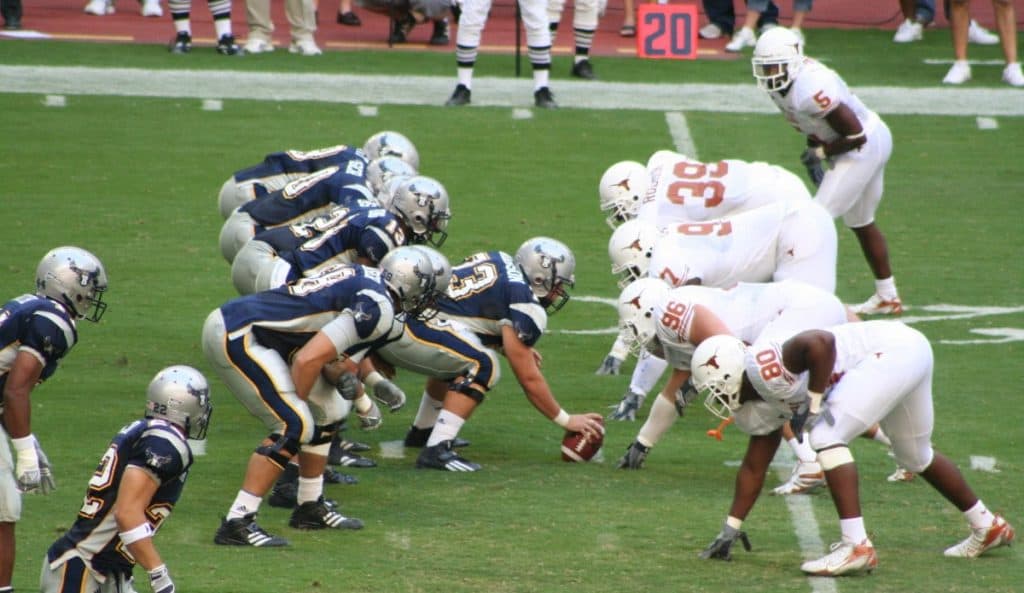 Do You Need a VPN?
If you find you can't watch particular events because of your location, a VPN should allow you to get the access you are entitled to. It also provides extra security and unequalled privacy. See our complete VPN Guide for all you need to know.
Where to Watch the Texas Longhorns
As a member of the Big 12 conference, the majority of Texas Longhorn games are broadcast on ABC and Fox. However, games will also be broadcast on Fox Sports One (FS1), ESPN, and the Longhorn Network.
The Longhorn Network generally only airs one football game per season. It focuses on other Texas sports programs — especially men's and women's basketball.
The Longhorns generally appear in at least one bowl or championship game and these are mostly shown on ESPN.
Most streaming platforms will have ABC, Fox, and ESPN while some will have all of the networks that Longhorn games are shown on.
How to Stream Texas Longhorn Games
Most of the general cable replacement services offer the channels you need to watch the majority of Texas Longhorns games. Your wider needs will probably determine what service is best for you.
FuboTV

The Fubo Pro package is $69.99 per month and comes with ESPN, FS1, and all of your local channels including ABC. Overall, you get over 100 channels including 35+ that are sports-oriented including CBS Sports Network, ESPN2, FS2, Big Ten Network (BTN), NFL Network, and multiple channels of beIN Sports and TUDN.
Although you won't be able to get Longhorn Network, either Fubo Extra ($7.99/mo) or Sports Plus ($10.99/mo) provide ACC Network (ACCN), Pac-12 Network, and SEC Network. You also get MLB Network, NBA TV, and NHL Network.
All FuboTV plans come with 750 hours of cloud DVR storage and the ability to stream on ten devices at once.
See our FuboTV review for more details.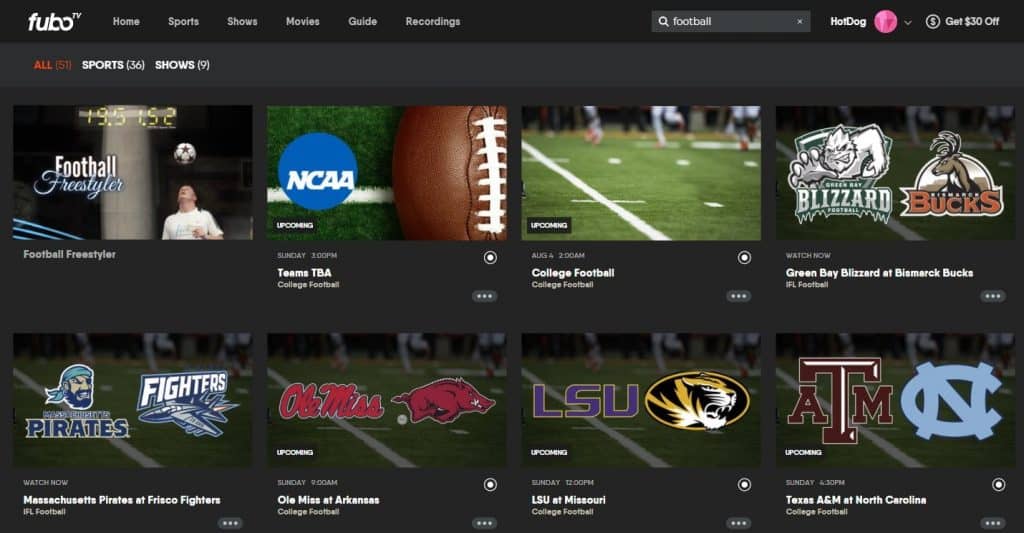 DIRECTV STREAM

DIRECTV STREAM provides roughly 80 channels for $69.99/mo. These include all your local affiliates. You also get ESPN and FS1.
The Longhorn Network isn't available but you can get ACCN, BTN, and SEC Network with the Choice plan for $89.99/mo. You also get access to DIRECTV STREAM's excellent selection of RSNs.
All plans include unlimited cloud DVR (online orders only) and the ability to stream on 20 devices at the same time.
Our DIRECTV STREAM review has more information.
Sling TV

Sling TV offers great plans but it probably isn't the best streaming service for Texas Longhorn fans. You can get Fox and FS1 with Sling Blue for $35/mo. Sling Orange provides ESPN, ESPN2, and ESPN3 for $35/mo. You can get both with 50+ channels for $50/mo.
The Longhorn Network is available through the Sports add-on package that costs $15/mo. You will also get ACCN, BTN, Pac-12 Network, and SEC Network. The main problem is that you can't get ABC with Sling. However, you can easily integrate an antenna with its interface.
Sling TV plans come with 50 hours of cloud DVR storage. You can stream on up to three devices with the Blue plan channels but are limited to a single device on the Orange plan channels like ESPN.
See our Sling TV review for more.
Hulu

Hulu + Live TV offers 85+ live channels in addition to its outstanding on-demand library. These live channels include all the local affiliates as well as ESPN, FS1, FS2, CBS Sports Network, and others. It also includes the college conference league channels ACCN, BTN, and SEC Network. This base plan costs $69.99/mo. Includes Disney+ and ESPN+!
The plan comes with unlimited DVR (9 month storage) and streaming on up to two devices at once.
Our Hulu + Live TV review has more information.
Vidgo

Vidgo offers all the channels Longhorns fans want: ABC, ESPN, Fox, FS1, and Longhorn Network. These are part of its Plus plan with 85+ channels for $59.95 per month. It also includes all of the conference networks: ACCN, BTN, Pac-12 Network, and SEC Network.
If it were just a question of channels, Vidgo would be at the top of our list for Texas fans. But it has a couple of downsides. One is that its interface is pretty clunky and doesn't come up to the level of the ones provided by FuboTV and Hulu. A potentially bigger problem is that Vidgo does not come with a cloud DVR.
Vidgo does, however, allow you to stream on 3 devices simultaneously. For more information, see our Vidgo review.
Other Options
There are other ways to watch at least some Longhorns games.
Live Streaming Texas Longhorns Football on Devices and TVs
The streaming industry supports most currently used devices. Here are the most popular.
Other than Vidgo, the services support Samsung smart TVs. Fubo, Hulu, and Sling support LG and Vizio smart TVs. And other than DIRECTV STREAM, the services support Android TV-based devices.
Amazon Fire TV, Apple TV, and Roku are universally supported. Android and iOS mobile devices are too. And you can use them (and some web browsers) to cast to TVs with Chromecast.
Fubo, Hulu, and Sling all support the gaming system Xbox One. Sling supports the Oculus. Hulu supports Nintendo Switch and PlayStation.
Check out our streaming reviews for complete lists of supported devices.
Superpower Your Streaming With a VPN
For the sake of privacy, security, and access, you should be using a VPN. They are low-cost and easy to use. We've been using them for years and our top pick is ExpressVPN.
Wrapping Up
The Texas Longhorns have one of the largest followings in the United States. Despite their lack of success on the football field in recent years, they are still a large enough draw that they were welcomed as one of the newest members of the SEC. Furthermore, their move to the SEC was credited for being the catalyst for conference realignment throughout the world of college sports.
If you want to watch the Longhorns play, you can usually do so on Fox and ABC. They will also likely be showcased on FS1 and ESPN as well as one game on Longhorn Network. The vast majority of major streaming providers have these networks available as part of their base packages. Therefore, you should have no trouble finding a plan that meets your needs and budget.
FAQs
When will the Texas Longhorns join the SEC?
The school is scheduled to join the SEC by the start of the 2025 football season. However, there is some speculation that Texas may make the move as early as 2023. The timing of the move will depend largely on the amount of money it will take to make the switch. It will also depend on when the schools brought in by the Big 12 to replace Texas and Oklahoma officially join the league.
Which teams are Texas' biggest rivals?
Oklahoma is generally considered to be Texas' biggest rival. Each year, the two teams play in the Red River Shootout as part of their conference schedule. In 2021, Oklahoma backup quarterback Caleb Williams led the team back from a 38-20 halftime deficit to defeat the Longhorns 48-55.
The team also considers a variety of other teams such as Texas A&M, Nebraska, and Baylor to be rivals. Texas currently plays Baylor on a regular basis as they are both in the Big 12. When the Longhorns join the SEC, it will represent a chance to resume their rivalry with Texas A&M.
How can I watch other college sports without cable?
Get all the details in our college football and college bowl games guides. We also have guides for particular football teams:
We also have guides for college basketball and March Madness. And we have guides for notable basketball teams:
Latest posts by Frank Moraes
(see all)