Whether you are a golf fan or just plan to watch it with your dad on Father's day, the US Open is one of golf's biggest events. In 2023, the 123rd US Open runs from Thursday June 15th through Sunday, June 18th. And thankfully, it is pretty easy to watch without resorting to a cable subscription.
In a hurry? The entire US Open is shown on NBC and USA. So any streaming service that provides NBCUniversal should work. These are our favorites:
FuboTV: The best streaming service for international sports also provides 130+ well-selected channels. FuboTV allows you to try out its service free for 7 days.
Sling TV: This low-cost service allows you to select just the channel lineup you want. Save a bundle with Sling TV.
DIRECTV STREAM: Get a great channel lineup with the best selection of RSNs in the industry. A 5-day free trial is now available for DIRECTV STREAM.
If you can't watch your favorite sports because of your location, get ExpressVPN to access the content you deserve.
Unfortunately, we don't know a streaming service in that covers this sport. But if you've already paid for the right service, and just can't watch because of your location, there is an easy way to get the content you deserve. You need a VPN, like one of the following.
ExpressVPN: Premium VPN provider that just works, with 3,000+ locations in 94 countries. Supports five simultaneous devices and comes with a 30-day money-back guarantee. (ExpressVPN review)
Surfshark: Connect to over 3,200 servers in 99 countries (+ tonnes of US metro areas). Try it with a 7-day free trial.
NordVPN: Connect to over 5,000 premium servers in 60+ countries. Comes with a 30-day money-back guarantee!
If you're overwhelmed and not sure where to begin, you'll find all the answers in our full VPN guide.
The US Open is one of the most important golf tournaments of the year. Traditionally, the final round of the event is held on Father's Day, which means that you'll always have something interesting to do with your dad on this day.
In 2022, TV coverage of the event was split between NBC and USA. Let's take a closer look at the history of this event as well as how you can watch it without the need for a cable or satellite subscription.
Sign Up for a Free 7-Day Fubo Trial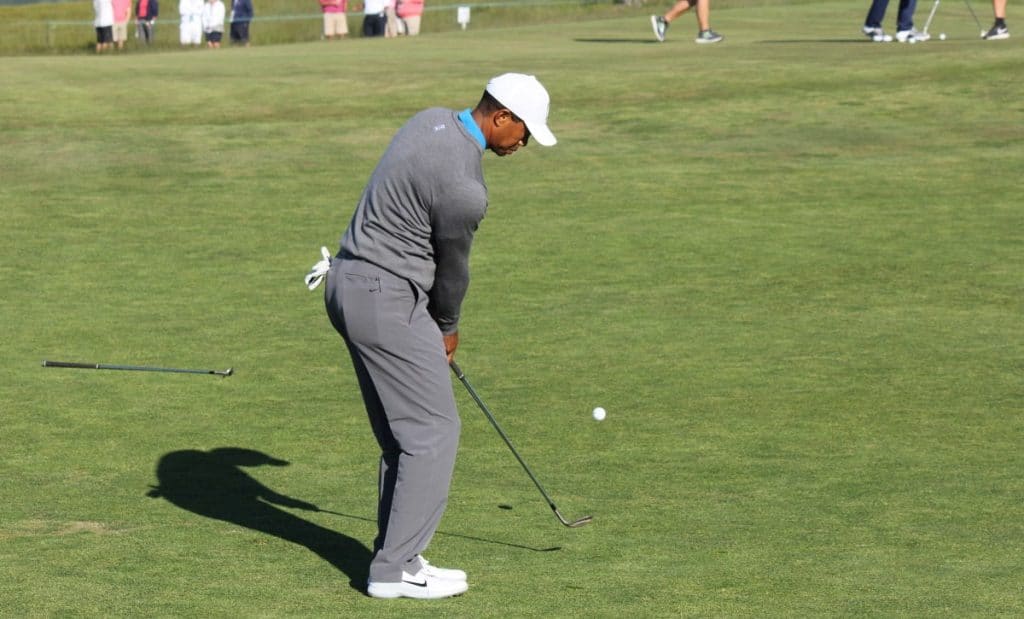 About the US Open
The first US Open tournament was played in 1895. For the first two decades that the event was held, it was common to see a British player finish atop the field in any given year.
However, an American would win the event for the first time in 1911, and since then, Americans have routinely had success in this tournament. Over the course of the 20th century, the US Open would become one of the four major tournaments sponsored by the PGA Tour.
To be eligible to take part in this event, you must have a handicap of less than 1.4, and there are two different ways that you can secure a spot in the field of 156. The first method is to earn a spot by taking part in qualifying tournaments.
Alternatively, you will automatically qualify for the US Open by winning the PGA Championship or the Masters at any point in the previous five years. Those who win the US Open are exempt from qualifying for the next 10 years.
Winning the US Amateur tournament is another way to gain entry to the field without going through a prolonged qualifying process. Amateurs who turn pro prior to the US Open may be able to qualify this way despite a change in their competitive status.
In 2021, Jon Rahm won the event by a single stroke over South African golfer Louis Oosthuizen to claim his first major championship. He was also the first person from Spain to win the US Open.
Sign Up for a Free 7-Day Fubo Trial
2022 US Open TV Schedule
All times are EDT:
Day 1: Thu Jun 16 – (USA Network)
Day 1: Thu Jun 16 – (NBC)
Day 1: Thu Jun 16 – (USA Network)
Day 2: Fri Jun 17 – (USA Network)
Day 2: Fri Jun 17 – (NBC)
Day 3: Sat Jun 18 – (NBC)
Day 4: Sun Jun 19 – (USA Network)
Day 4: Sun Jun 19 – (NBC).
Unblock Your Favorite Events & Teams With a VPN
If you can't watch your favorite events or teams because of your location, a VPN will allow you to get the access you are entitled to, plus extra security and unequalled privacy. Check out our VPN Guide for everything you need to know, including our top pick ExpressVPN.

Learn how to watch March Madness!
Stream the US Open
In 2020, NBCUniversal acquired the rights to broadcast the US Open for the third time. From 2015 to 2019, the tournament was showcased on Fox and Fox Sports One (FS1). The prestigious early summer event has also been broadcast on ABC.
The 122nd US Open will be held at The Country Club in Brookline, Massachusetts from Thu Jun 16th through Sun Jun 19th, 2022. There should be a few hours each on Thu and Fri airing on both NBC and USA. Weekend mornings will air on USA with most of the day appearing on NBC.
The key to watching the US Open is to make sure that you have both NBC and USA. Since these are both NBCUniversal channels, any streaming service with one should offer the other. Your other option is to get Peacock, which should be streaming the event as well.
If you are watching the event in Australia, you can do so on Fox Sports or on Kayo. In Canada, the US Open is typically broadcast on TSN while those who are watching in the UK can do so through Sky Sports or NOW.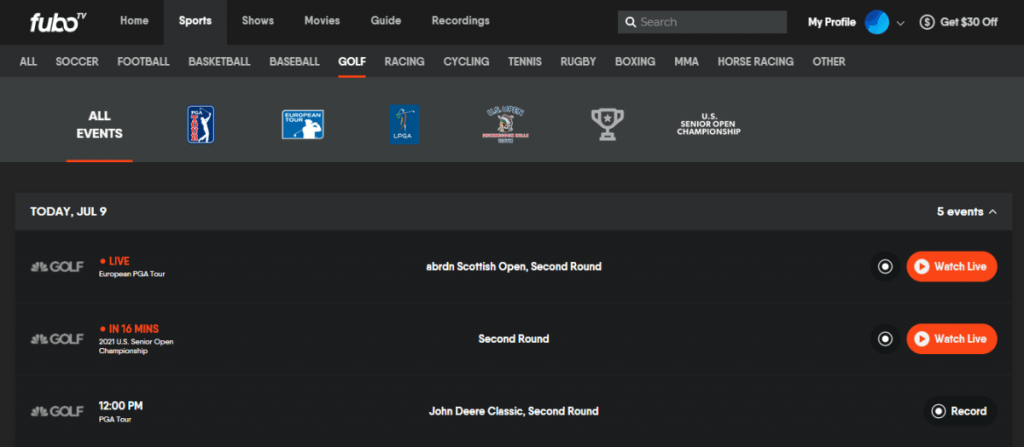 Live TV Streaming Services
There are a lot of good options to watch the US Open with live TV streaming services.
FuboTV

For $74.99/mo, FuboTV gives you access to NBC, USA, the Golf Channel and NBC Universo. In all, you get over 110 live TV channels with a broad range but a focus on sports with ESPN, ESPN2, CBS Sports Network, FS1, FS2, NFL Network, beIN Sports, and TUDN. It also offers Sports Plus ($10.99/mo) and Fubo Extra ($7.99/mo), which provide you with a lot more.
All FuboTV plans come with 1000 hours of cloud DVR and simultaneous streaming on up to ten devices. These can be upgraded as well. See our FuboTV review for all the details
Sign Up for a Free 7-Day Fubo Trial
DIRECTV STREAM

For $74.99/mo, you can subscribe to the DIRECTV STREAM Entertainment package to watch NBC along with roughly 80 other live TV channels. To get the Golf Channel, you'll need to subscribe to the DIRECTV STREAM Ultimate package, which is $109.99/mo. But for that, you get 140+ channels including all the regional sports networks (RSNs) in your area. You also get 8 Starz Encore channels.
The base plans only come with unlimited cloud DVR as long as you sign-up online. And the base plans come with an incredibly generous unlimited screens of simultaneous streaming and 3 screens on the road. For more details, see our DIRECTV STREAM review.
Get DIRECTV STREAM Free for 5 Days
Sling TV

Sling Blue offers access to NBC and USA for $40.00/mo. The Golf Channel is available through the Sling Blue Sports Extra package, which is an extra $11/mo but also includes NFL RedZone, MLB Network, MLB StrikeZone, NBA TV, NHL Network, and the Tennis Channel.
The Blue plan comes with 50 hours of cloud DVR and streaming on up to three devices at once. Of all the services, Sling TV is the most flexible. As a result, it can't be daunting to deal with all your choices. See our Sling TV review if you want to know more about this.
Hulu + Live TV

Hulu + Live TV provides 85+ live TV channels including numerous from NBCUniversal for $69.99/mo. Of special note is that this includes Hulu's industry-leading on-demand library. It's a great household entertainment service with a lot for everyone.
Its plan includes unlimited cloud DVR (9 month storage) and the ability to stream on up to two devices at once. Get all the information in our Hulu + Live TV review.
YouTube TV

YouTube TV starts at $72.99/mo and comes with all of the channels that you'll need to watch the US Open. It comes with unlimited DVR storage (9-month limit) and streaming on up to 3 devices. See our YouTube TV review.
Peacock

Peacock is a streaming service that showcases most content that airs on NBC. Much of its programming is available for free (ad-supported). To watch most live sports like the US Open, you need to subscribe for $4.99/mo.
You may also be able to stream via NBCSports.com, but you will need a subscription with one of the TV providers.
Find out more in our Peacock review.
Sign Up for Peacock Premium for 99¢/mo!
Superpower Your Streaming With a VPN
For the sake of privacy, security, and access, you should be using a VPN. They are low-cost and easy to use. We've been using them for years and our top pick is ExpressVPN. Be sure to check out our deals page on ExpressVPN, NordVPN, SurfShark and PureVPN.
Devices to Live Stream the US Open
All the live TV streaming services and Peacock support the following streaming devices: Amazon Fire TV, Android mobile, Apple TV, Chromecast, iOS, Roku, Samsung smart TVs, and web browsers.
You can use smart TVs by LG and with Android TV on Peacock, Sling TV, FuboTV, and Hulu. Vizio smart TVs are supported by Peacock, FuboTV, and Hulu. They also support the Xbox One. The PlayStation is supported by Hulu and Peacock.
These are the main devices. Others are supported. See our reviews for complete lists.
Summing Up
The US Open is one of the most prestigious golf events in the world. It routinely attracts players from Europe, Africa, and other continents who are seeking to be crowned as one of the best in the golfing world.
In 2022, live coverage of this event will be on the Golf Channel as well as on NBC throughout the four days that the tournament is contested. These channels are available through streaming services such as FuboTV and Hulu + Live TV. You can also stream the US Open live on Peacock.
Sign Up for a Free 7-Day Fubo Trial
FAQs
What is a special exemption?
A special exemption is an invitation to a tournament given to those who have a history of success at a given tournament or given course. In some cases, these exemptions are given to players who can draw an audience to the event even if they don't necessarily have a chance of winning it.
Phil Mickelson was given a special exemption to the 2021 US Open, and the first exemption was given to Ben Hogan in 1966. A total of 53 exemptions have been given to nearly three dozen players since Hogan was offered an opportunity to enter a tournament without qualifying for it.
Only one player, Hale Irwin in 1990, has ever won the US Open with a special exemption.
What were the results of recent US Open events?
2012: Webb Simpson (Olympic Club) 281 (+1)
2013: Justin Rose (Merion Golf Club) 281 (+1)
2014: Martin Kaymer (Pinehurst Resort) 271 (-9)
2015: Jordan Spieth (Chambers Bay) 275 (-5)
2016: Dustin Johnson (Oakmont Country Club) 276 (-4)
2017: Brooks Koepka (Erin Hills) 272 (-16)
2018: Brooks Koepka (Shinnecock Hills) 281 (+1)
2019: Gary Woodland (Pebble Beach Golf Links 271 (-13)
2020: Bryson DeChambeau (Winged Foot Golf Club) 274 (-6)
2021: Jon Rahm (Torrey Pines) 278 (-6)
2022: Matt Fitzpatrick (The Country Club) 274 (-6).
How can I watch other golf events?
The following guides will help golf fans that want to leave their cable bills behind.
We also have a guide for watching the Golf Channel.
Ditch "Big Cable" Now – 3 Simple Steps to Cut the Cord
Pick the right streaming service
Get the content you deserve with the best VPN.
Supercharge your internet provider
That's it — you'll save money, take back control, and enjoy TV more!
Latest posts by Frank Moraes
(see all)