Looking for information about the Stanley Cup? See our NHL Playoff Finals Guide for everything you need to know!
After some fits and starts, the NHL is back in full-swing! If you are a fan, you can't do better than to get your live TV from a streaming service whether you're a fan of the local team or one across the nation. Read on to learn all you need to know!
In a hurry? Since the season has already started, you may want to skip the deep dive and just start watching. These are our top picks for enjoying the whole NHL season:
FuboTV: This full cable replacement service gives you over 100 channels with tons of sports including access to the regional sports networks (RSNs) of 9 NHL teams. FuboTV allows you to try out its service free for 7 days.
DIRECTV STREAM: A more expensive service but with access to the RSNs of 24 NHL teams! A 5-day free trial is now available for DIRECTV STREAM.
ESPN+: Although there are blackouts of games with your local team, $6.99/mo gives you access to the vast majority of NHL games. It's even cheaper by the year or with the Hulu/Disney+ bundle!
The following guide will explain everything you need to know to watch NHL online. Whether you're looking for preseason, regular season, or championship games, you should be able to watch hockey online thanks to live streaming services like fuboTV (free for 7 days).
If you've cut the cord, there are several ways you can stream NHL without cable and they are all discussed below!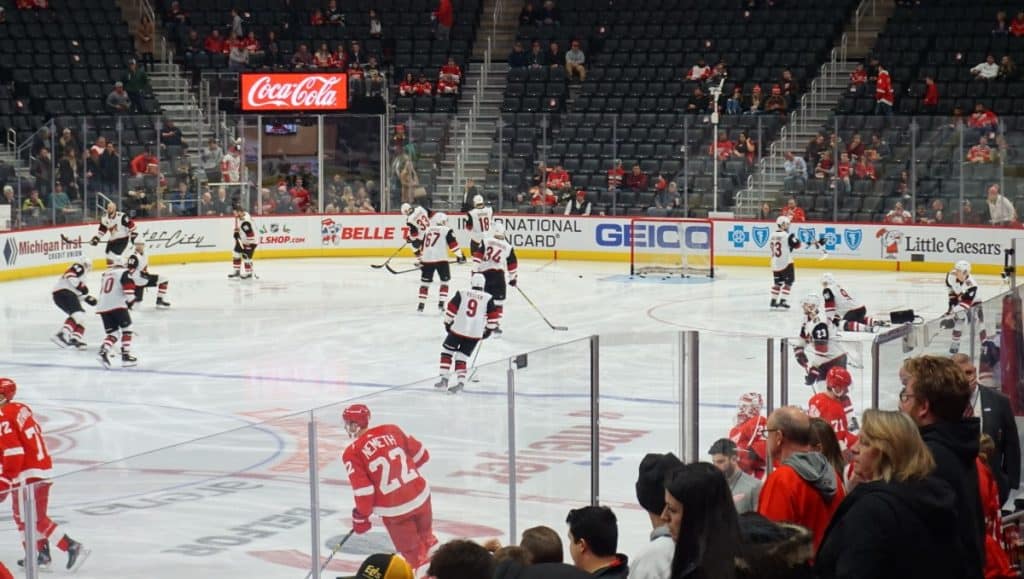 Channels You Need to Watch NHL Games Online without Cable
NHL coverage is available on many different channels but things have changed a lot starting in 2021. NBCUniversal used to air a lot of NHL games. But with the current restructuring of its sports division, they dropped their contract with the league.
Here are the national channels that air NHL games:
Regional Sports Networks
But nationally broadcast games are only part of the picture. As with MLB and NBA, NHL games are primarily broadcast by regional sports networks (RSNs). In a particular area, the RSN will broadcast nearly all of the regular-season games of the team in that area.
Note that ESPN+ provides most games but only out-of-market. So you won't get to see any of the games involving your local team(s). Otherwise, you need to content yourself with nationally televised games or sign up with a service that offers you the appropriate RSN.
DIRECTV STREAM offers almost all of them and is the only source for the Bally Sports channels, but it costs $89.99 per month. If you are covered by an RSN included with FuboTV or Hulu + Live TV, you should go with them since they are each only $69.99 per month.
| | | | |
| --- | --- | --- | --- |
| Team (RSN) | DirecTV | FuboTV | Hulu |
| Anaheim Ducks (Bally SoCal) | ✅ | ❌ | ❌ |
| Anaheim Ducks (Bally San Diego) | ✅ | ❌ | ❌ |
| Arizona Coyotes (Bally Arizona) | ✅ | ❌ | ❌ |
| Boston Bruins (NESN+) | ✅ | ✅ | ❌ |
| Carolina Hurricanes (Bally South) | ✅ | ❌ | ❌ |
| Chicago Blackhawks (NBC Chicago) | ✅ | ✅ | ✅ |
| Colorado Avalanche (Altitude Sports) | ✅ | ❌ | ❌ |
| Columbus Blue Jackets (Bally Ohio) | ✅ | ❌ | ❌ |
| Dallas Stars (Bally Southwest) | ✅ | ❌ | ❌ |
| Detroit Red Wings (Bally Detroit) | ✅ | ❌ | ❌ |
| Florida Panthers (Bally Florida) | ✅ | ❌ | ❌ |
| Los Angeles Kings (Bally West) | ✅ | ❌ | ❌ |
| Minnesota Wild (Bally North) | ✅ | ❌ | ❌ |
| Nashville Predators (Bally South) | ✅ | ❌ | ❌ |
| New Jersey Devils (MSG+) | ✅ | ✅ | ❌ |
| New York Islanders (MSG+) | ✅ | ✅ | ❌ |
| New York Rangers (MSG+) | ✅ | ✅ | ❌ |
| Philadelphia Flyers (NBC Philadelphia) | ❌ | ✅ | ✅ |
| Pittsburgh Penguins (AT&T SN Pittsburgh) | ✅ | ✅ | ❌ |
| San Jose Sharks (NBC Bay Area) | ✅ | ✅ | ✅ |
| St Louis Blues (Bally Kansas City) | ✅ | ❌ | ❌ |
| St Louis Blues (Bally Midwest) | ✅ | ❌ | ❌ |
| Tampa Bay Lightning (Bally Sun) | ✅ | ❌ | ❌ |
| Vegas Golden Nights (AT&T SN RM) | ✅ | ✅ | ❌ |
| Washington Capitals (NBC Washington) | ✅ | ✅ | ✅ |
Do You Need a VPN?
If you find you can't watch particular events because of your location, a VPN should allow you to get the access you are entitled to. It also provides extra security and unequalled privacy. See our complete VPN Guide for all you need to know.
How to Watch NHL without Cable: At a Glance
If you've cut the cord, you'll find multiple ways to watch NHL all the way through the Stanley Cup Finals without cable. It should be noted that these options will cost some money, though the cost will generally be lower than cable and satellite (outside of temporary deals).
There is one way to watch NHL games for free: get a digital antenna. ABC will air 11 games during the 2021-2022 season. Of course, most streaming services will provide you access to these games too.
Using Live Streaming Services to Watch NHL Online
When you first make the decision to cut the cord, it can be daunting. It may lead you to try and find a replacement for some of the channels you've lost. This is where a streaming TV service comes in handy. Luckily, there are plenty of services available and all of them offer something for everyone.
From Hulu Live to FuboTV, live TV streaming options offer packages at a lower cost with a large selection of channels. In most cases, a channel lineup will include everything from sports and news to other entertaining options. Smaller packages may contain only 20-30 channels, but you can find larger packages with over 100 channels. These streaming packages work a lot like cable packages, they just allow you the freedom to watch where you want at a lower price.
The main difference beyond a lower bill is that these services work by streaming through an Internet connection. You'll also need the proper device to stream your favorite shows. The following devices are supported by all the services (see our reviews for more options):
Amazon Fire TV
Android mobile devices
Apple TV
Chromecast
iOS devices (iPhones, iPads)
Roku devices
Samsung smart TVs
Web browsers.
Once you pick and sign up for a service, it will be easy to watch NHL without cable. So don't stop now! Keep reading so you can learn more about the recommended services available to stream NHL without cable.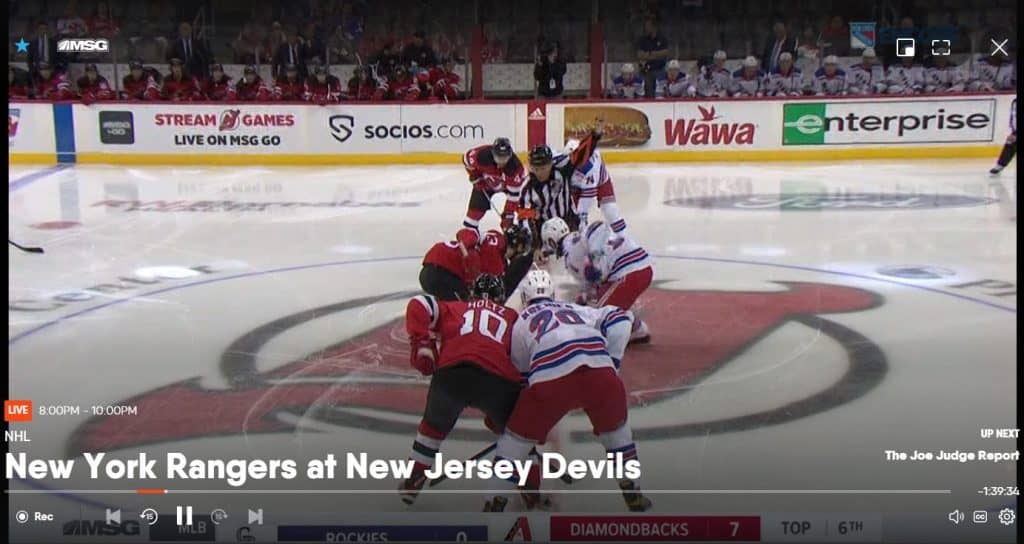 FuboTV Lets You Watch Hockey Online All Season

When it comes to streaming live sports, it's hard to beat FuboTV. This popular streaming service boasts over 100 channels, many of which offer local, national, and international sports.
For fans wanting to watch hockey online, FuboTV offers regional sports networks in many US markets (see table above). They also provide ESPN, CBS Sports Net, and much more. For $7.99/mo more, you can get Fubo Extra, which gives you NHL Network and 47 other channels.
$69.99 a month — pay month to month and cancel any time
No contracts
Over 100 channels
Record NHL games and more with 1000 hours of cloud DVR storage
Stream on all the devices above plus Hisense, LG, and Vizio smart TVs as well as Xbox One gaming systems
Our FuboTV review has a whole lot more info.
The FuboTV free for 7 days is a great way to try it out and see if it's right for you while you watch NHL online free for a week!
Superpower Your Streaming With a VPN
For the sake of privacy, security, and access, you should be using a VPN. They are low-cost and easy to use. We've been using them for years and our top pick is ExpressVPN.
Hulu + Live TV is a Great Way to Watch NHL Without Cable

You can watch hockey online along with plenty of other sports and TV shows, thanks to Hulu with Live TV. Everything you need for hockey streaming, with the exception of NHL Network is available in its 85+ channel package. This includes sports access for baseball, basketball, and other sports, as well as both local and network TV.
Even better, because of the close connection with ESPN+, over 75 NHL games will stream directly to Hulu. It provides access to only a few RSNs, but if you are in one of those regions, that's an added benefit.
Hulu Live is an affordable option that provides many of the channels you might have had with cable, but for a cheaper price. Using Hulu with Live TV is simple. Most people will be able to figure things out in no time. It works on most streaming devices. Here are some added details:
Offers 85+ channels of live TV and Hulu's on-demand service
Costs just $69.99 per month
No commitments – no contracts or termination fees
Includes ESPN, TNT, ABC
One of the top ways to watch sports without cable
Stream on the devices listed above plus LG and Vizio smart TVs and the gaming systems Xbox, PlayStation, and Nintendo Switch
Hulu + Live TV offers a large enough package to provide all kinds of entertainment. The only thing missing to watch NHL without cable is NHL Network. You can learn more with our Hulu + Live TV review.
DIRECTV STREAM Is the King of RSNs

To get good hockey coverage with DIRECTV STREAM, you need to step up to its Choice plan for $89.99/mo. But if you do, you should be very happy. They offer the RSNs associated with the vast majority of teams. In most cases, they are simply the only option.
Additionally, this plan comes with NHL Network, ESPN, TNT, and ABC. You should be able to see all the games you want this season.
The plan comes with only unlimited cloud DVR storage as long as you sign-up online. But it allows you to stream on up to 20 devices at once at home or 3 away from home. So it's a great package for large households.
See our DIRECTV STREAM review for all the details.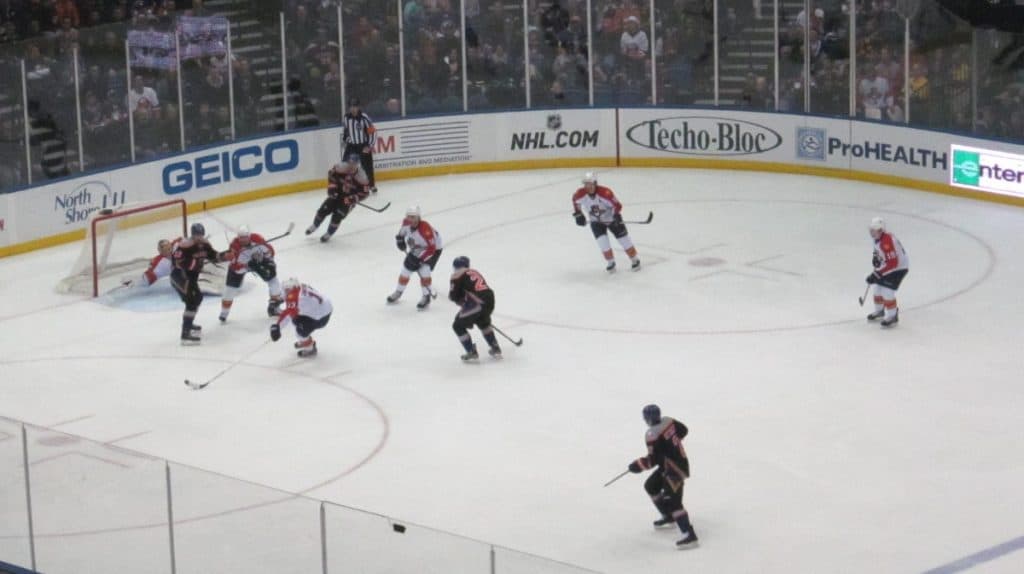 ESPN+ for Out-of-Market NHL

NHL.TV used to provide access to all out-of-market (non-blackout) games — very much like MLB.TV or NBA League Pass. But it was shut down and largely moved to ESPN+, which now airs the vast majority of NHL games each season.
If you want access to the maximum number of games and you don't live in the local market of the team you follow (this is important!), this is a great way to get it. It should be mentioned that ESPN+ is a sports-only service. It doesn't provide other kinds of channels or local channels. It doesn't even provide the other ESPN channels.
But at $6.99 per month or $69.99 per year, it's hard to beat. For all the details, see our ESPN+ review.
ESPN+ is going to be best for fans not living near their teams or diehard fans that want to watch as many games as possible that don't mind if the local games won't air in live stream. It's actually a great addition to a complete cable replacement service like FuboTV.
Other Ways to Watch NHL Without Cable
While the streaming services above are great options, there are other ways to watch hockey online without a cable subscription. Here are some of the other options out there which will allow you to watch NHL online.
Sling TV: The Orange packages includes ESPN and TNT for $35 /mo. You can get NHL Network with the Sports Extra add-on for $11/mo more. Our Sling TV review has more details.
YouTube TV: Get 85+ channels including ABC, ESPN, and TNT for $64.99/mo. It does offer a handful of RSNs but even less than Hulu. Our YouTube TV review is a great source of information.
All of the services above are similar to Hulu Live and other streaming services. The differences are in price, number of devices you can stream on, and channel availability.
Wrapping Up
That's it! Those are the best ways that you can watch NHL without cable. As there is no real, legal option to watch hockey without cable, a streaming service will be required if you want to watch without a cable or satellite subscription.
You can learn more about streaming sports in our guide that details how to watch sports online. If you want to get rid of cable without sacrificing your favorite shows, we can help you find the service you need that won't break the bank!
Latest posts by Frank Moraes
(see all)