MotoGP is one of the most exciting sports in the world and the word is getting out. It's always had some coverage on TV but it has gotten much more the last few years. Read on to learn how to watch it.
In a hurry? Both CBS and NBC have been investing in MotoGP so any services that provide stations associated with them should do well. We have all the details below but these are our top live TV streaming picks:
Fubo: The best streaming service for international sports also provides 130+ well-selected channels. Fubo allows you to try out its service free for 7 days.
DIRECTV STREAM: Get a great channel lineup with the best selection of RSNs in the industry. A 5-day free trial is now available for DIRECTV STREAM.
If you can't watch your favorite sports because of your location, get ExpressVPN to access the content you deserve.
Unfortunately, we don't know a streaming service in that covers this sport. But if you've already paid for the right service, and just can't watch because of your location, there is an easy way to get the content you deserve. You need a VPN, like one of the following.
| | | |
| --- | --- | --- |
| | ExpressVPN: Known as "The VPN that just works," it combines remarkable ease of use with with state-of-the-art power, speed, security, and privacy. Get three extra free months when you sign up for a year. Unleash your streaming with this top-rated VPN. | Sign Up Now |
| | Surfshark: Surfshark: Secure and easy to use with thousands of servers around the world. Of special note is its excellent collection of servers inside the US, which is great for regional sports lie NFL, MLB, and NBA. Get it now with an incredible 82% discount on a 24-month plan. | Sign Up Now |
| | NordVPN: One of the top VPNs with extremely fast servers all over the world. Great for streaming with tested perfomance on the biggest servers and included ad-blocking. Currently offering 70% discount on 2-year plans. | Sign Up Now |
If you're overwhelmed and not sure where to begin, you'll find all the answers in our full VPN guide.
Grand Prix motorcycle racing is one of the most exciting events that you can watch on television today. One of the things that make professional motorcycle racing so special is the fact that you can't actually buy or ride the bikes that competitors use while competing on the roads of Austin, Le Mans, and Silverstone.
Let's take a closer look at the history of MotoGP, why it attracts such a large audience, and how you can watch it without the need to have a cable subscription.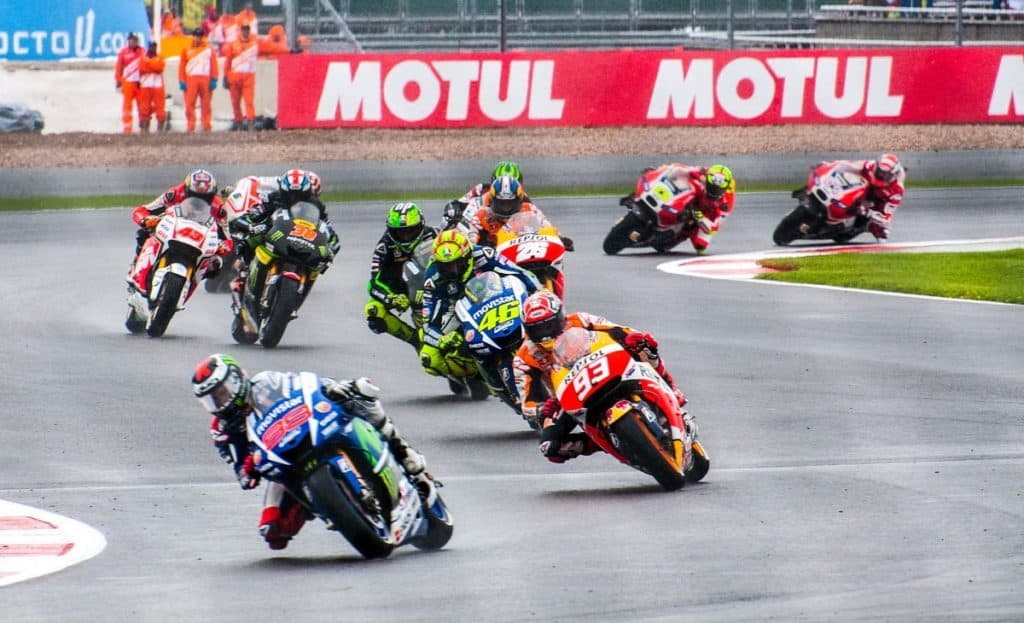 All About MotoGP
The Grand Prix motorcycle circuit was officially established in 1949, which was when the Fédération Internationale de Motocyclisme (FIM) was created. This governing body allowed riders to contest a series of races under a unified set of rules and regulations.
In 2002, MotoGP was created to serve as the highest level of competition among those who were pursuing an FIM World Championship. The other three classes are Moto2, Moto3, and MotoE. In 2019, the MotoE class was created to allow those who preferred to use electric motorcycles a chance to compete against other elite racers.
In the MotoGP division, bike engines can have a capacity of no more than 800 cc and carry no more than 6.9 gallons of gas in their fuel tanks. Prior to the creation of the MotoGP, the largest bikes had engine sizes of 500 cc. There is no limit to the number of cylinders a bike can have in its engine. However, as a practical matter, most bikes have four cylinders as opposed to two.
If there are any rules disputes, teams and manufacturers can appeal to FIM for clarification. In the event that this isn't enough to resolve the dispute, the matter can be brought to Dorna Sports for a final ruling. Dorna Sports owns the commercial rights to the Grand Prix of motorcycle racing.
Honda, Suzuki, and Yamaha are three of the top companies that build bikes for the various MotoGP events. The tires for these vehicles are almost always supplied by Michelin. Dunlop supplies tires for the Moto2 and Moto3 events, and companies such as Augusta, GasGas, and KTM build bikes for those who compete at the Moto2 and Moto3 levels.
Sign Up for a Free 7-Day Fubo Trial
Current State of MotoGP
In 2022, Francesco Bagnaia won the MotoGP rider championship while Ducati won the constructer's championship. Valentino Rossi is considered to be one the greatest riders of the 21st century having won nine championships. However, many would consider Mike Hallwood to be the greatest of all time. Hallwood competed primarily in the 1960s and won over 80% of the races that he entered in 1966.
Here are the current (Feb 2022) top MotoGP racers:
Fabio Quartararo
Francesco Bagnaia
Joan Mir
Jack Miller
Johann Zarco
Marc Marquez
Brad Binder
Aleix Espargaro
Maverick Vinales
Pol Espargaro
2023 MotoGP Schedule
Mar 26: Grande Premio TISSOT de Portugal — Francesco Bagnaia
Apr 2: Gran Premio Michelin de la Republica Argentina — Marco Bezzecchi
Apr 16: Red Bull Grand Prix of the Americas — Alex Rins
Apr 30: Gran Premio MotoGP Guru by Gryfyn de Espana — Francesco Bagnaia
May 14: SHARK Grand Prix de France — Marco Bezzecchi
Jun 11: Gran Premio d'Italia Oakley
Jun 18: Liqui Moly Motorrad Grand Prix Deutschland
Jun 25: Motul TT Assen
Aug 6: Monster Energy British Grand Prix
Aug 20: CryptoDATA Motorrad Grand Prix von Osterreich
Sep 3: Gran Premi Monster Energy de Catalunya
Sep 10: Gran Premio Red Bull di San Marino e della Riviera di Rimini
Sep 24: Grand Prix of India
Oct 1: Motul Grand Prix of Japan
Oct 15: Pertamina Grand Prix of Indonesia
Oct 22: MotoGP Guru by Gryfyn Australian Motorcycle Grand Prix
Oct 29: OR Thailand Grand Prix
Nov 12: PETRONAS Grand Prix of Malaysia
Nov 19: Qatar Airways Grand Prix of Qatar
Nov 26: Gran Premio Motul de la Comunitat Valenciana
Unblock Your Favorite Events & Teams With a VPN
If you can't watch your favorite events or teams because of your location, a VPN will allow you to get the access you are entitled to, plus extra security and unequalled privacy. Check out our VPN Guide for everything you need to know, including our top pick ExpressVPN.
How to Stream MotoGP
There is no one place to stream MotoGP. It depends upon where you are and very often what the event is.
United States
Both Paramount Global (formerly ViacomCBS) and NBCUniversal present MotoGP.
Paramount Global
CBS Sports offers limited coverage of various motorsports events throughout the year. Generally speaking, most events that are shown on CBS are also available for streaming on Paramount+ at the same time. However, in some cases, races may be shown on this service on a slight delay. Other events air on CBS and CBS Sports Network.
NBCUniversal
NBC broadcasts a handful of MotoGP events as they take place. If you have access to Peacock Premium, it should be possible to watch these events through that streaming service.
Until recently, most MotoGP races would air on a tape delay on NBCSN in the United States. However, NBCSN no longer exists, and most shows, live events, and other content that aired there has migrated to USA. As with the main NBC station, anything that airs on USA can generally be seen on Peacock.
Live TV Streaming Services
Vidgo and Philo don't offer either NBC or CBS channels so don't much help watching MotoGP. Sling TV does offer NBC channels so it might be worth a look. The following services offer both:
Sign Up for a Free 7-Day Fubo Trial
Outside of the United States
In Canada, most MotoGP races are shown on REV TV, and in many cases, these events are broadcast live. BT Sports shows MotoGP in the UK. If you are watching MotoGP in Australia, you'll do so on Fox Sports, and in Brazil, you can catch your favorite motorcycle races on ESPN.
In Austria, Germany and Italy, DAZN had the rights to these events until 2021, and it may still be possible to watch historic races that took place prior to the expiration of the rights deal. The rights deals are still in place in Switzerland and Spain through the end of 2022.
Finally, you can likely watch your favorite motorcycle races and shows on websites such as Motorsport.tv and MotoGP Video Pass. These services are typically made available to viewers in most countries throughout the world.
Devices to Live Stream MotoGP
All the services above support the most popular streaming devices:
Amazon Fire TV
Android mobile
Apple TV
Chromecast
iOS (iPhone,iPad)

Roku

Samsung TV

Web browsers

.
Except for DIRECTV STREAM, all the services support Android TV-powered TVs, LG and VIZIO TVs, and Xbox gaming systems. Some also support the PlayStation.
Our streaming reviews have complete details.
Wrapping Up
Grand Prix motorcycle racing is one of the oldest competitions in the world. Today, the best racers typically compete in the MotoGP division as they can use larger and more powerful bikes. In most cases, the Moto2, Moto3, and MotoE divisions are for teams that have less money to operate with.
You can generally watch MotoGP events on streaming services such as Paramount+, Peacock, and live TV streaming services like FuboTV.
Superpower Your Streaming With a VPN
For the sake of privacy, security, and access, you should be using a VPN. They are low-cost and easy to use. We've been using them for years and our top pick is ExpressVPN. Be sure to check out our deals page on ExpressVPN, NordVPN, SurfShark and PureVPN.
FAQs
Is Valentino Rossi still racing?
Valentino Rossi retired from active competition at the completion of the 2021 season. During his career that spanned more than two decades, he won nine world titles and is often considered to be the best racer of the 21st century. He teamed up with a variety of builders such as Honda, Yamaha, and Ducati while competing in the top level of FIM motorcycle racing.
Are any MotoGP races free to watch?
You can watch free highlights of races after they conclude by visiting MotoGP.com. However, for the most part, you only get free access to professional motorcycle racing events by signing up to a streaming service. In some European countries, races are broadcast on over-the-air stations that you can access with an antenna.
How can I watch auto racing besides MotoGP?
The following guides explain everything:
Ditch "Big Cable" Now – 3 Simple Steps to Cut the Cord
Pick the right streaming service
Get the content you deserve with the best VPN.
Supercharge your internet provider
That's it — you'll save money, take back control, and enjoy TV more!
Page Updates
▼
▲
Updated some sub-sections. Updated some section headings. Image changes.

Image changes. Cross linking. Small layout changes.

Added buttons for streaming services. Pricing updates. Changed a few bits of content.

Cross linking. Various changes to content.

Added useful links. Misc content updates.

Added sub-section. Added some links. Mentioned offers. Changed a few bits of content.

Linking. Pricing updates. Misc changes.
Latest posts by Frank Moraes
(see all)