Disclosure:
Your support helps keep our site running! We earn referral fees for some of the products & services we recommend.
Learn more
The Daytona 500 is one of the top sporting events of the year. Its appeal goes way beyond NASCAR fans. As a result, cord-cutters should have no problem watching live.
In a hurry? The Daytona 500 airs on Fox and these streaming services offer it and a whole lot more for much less than a cable contract will cost you:
FuboTV: Offers great access to local affiliates like Fox in its 100+ channel lineup. Try it with a free 7-day trial!
Hulu + Live TV: Adds 85+ live TV channels to its awesome on-demand library. Try it free for 7 days!
Sling TV: This low-cost streaming service offers Fox in most areas. Try it for a month for just $10!
Football fans aren't the only ones who look forward to a major sporting event in the month of February. In addition to the Super Bowl, the Daytona 500 takes place during this month, and it represents the beginning of the NASCAR Cup Series season.
Known as the Great American Race, it has surpassed the Indianapolis 500 as the most popular race to watch on television in the United States. However, the Daytona 500 is still a distant second to the Indianapolis 500 in terms of attendance and international viewership.
What Is the Daytona 500?
Qualifying races are held one week before the Daytona 500. This sets the top two driver positions (front row for the race). The remainder of the field is set by two qualifying races.
The Daytona 500 takes place at the Daytona Speedway in Florida, and to win the race, a driver must be the first to complete 200 laps around the track. Assuming that the race lasts a full 200 laps, a competitor will drive about 500 miles over the course of about three to four hours.
However, because of NASCAR race protocols, it's possible for a driver to complete more than 200 laps at this event in a given year. In 2020, it took 209 laps to finally declare a winner.
Each Daytona 500 is divided into three stages of between 65 and 70 laps. A race may be declared official after the conclusion of the second stage or at any point after the 100th lap. The race has been shortened multiple times in the past because of rain and track conditions, and in 1974, the Daytona 500 was shortened because of the ongoing energy crisis.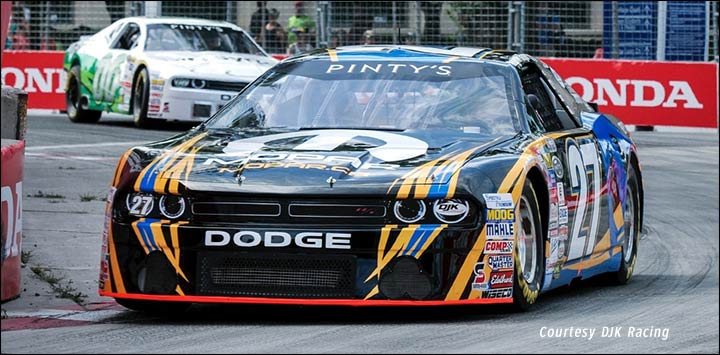 NASCAR and Cup Series
In addition to the prestige of winning this race, a strong performance can increase a driver's chances of making the playoffs.
To qualify for the playoffs, a competitor must win a race, attempt to qualify for all races, and be in the top 30 in points at the end of the regular season.
A total of 16 drivers will qualify for the postseason tournament that typically lasts through November of each year.
Where Does the Daytona 500 Air?
In 2022, the Daytona 500 takes place on:
Sunday, Feb 20 2:30 pm (EST).
In the United States, the race airs on Fox.
In Canada, the race will be shown nationally on TSN while it will be shown on KAYO Sports in Australia.
If you are watching the race in the United Kingdom, you can get live coverage through Premier Sports, which is available for a fee through Sky Sports or Virgin Media.
Finally, those who want to watch this event in New Zealand may need to subscribe to TrackPass. This is a streaming service offered by NASCAR that provides access to live events, highlights from previous races, and other content.
TrackPass is also available to those in the United States and most other countries who want to keep tabs on their favorite drivers without the need for a cable subscription.
Ways to Watch the Daytona 500
Besides cable and satellite subscriptions, there are two main ways to watch the Daytona 500: antenna and streaming service.
Antenna
Assuming that you are relatively close to a Fox affiliate station (and most people in the US are), you can watch the race live using an antenna. Don't scoff at this! If you haven't used an antenna since over-the-air (OTA) TV went digital, you probably have a very distorted idea of it.
It's easy to set up an antenna. And it will allow you to watch the Daytona 500 in high definition. And depending upon where you live, you'll be able to watch a lot more. There aren't just the standard channels, there are also independent channels and many (Many!) subchannels.
Streaming Services
Most of the cable-replacement streaming services offer Fox as part of their channel lineups. The costs range from $35/mo to $70/mo.
FuboTV ($64.99/mo): This is an exceptional streaming service for general viewers and sports fans alike. It offers over 100 channels in its base plan and many more with reasonably-priced extras. All plans come with the ability to stream on up to 3 devices at once and 250 hours of cloud DVR. See our FuboTV review for all the details.
Hulu + Live TV ($64.99/mo): This plan starts with the standard Hulu on-demand library and adds 85+ channels including a well-rounded selection that should please any household. It comes with 50 hours of cloud DVR and simultaneous streaming on up to two devices at once. For more information, see our Hulu + Live TV review.
Sling TV ($35.00/mo): With Sling Blue, you get 40+ channels including Fox and NBC. Although it doesn't offer nearly as many channels are other services, you have lots of options for add-ons. And the channels you do get are good. The plan allows you to stream on up to 3 devices simultaneously and to record up to 50 hours with the cloud DVR. Our Sling TV review have more.
DIRECTV STREAM ($69.99/mo): Although a bit more expensive than the others, the formerly-named AT&T TV makes moving from cable the easiest. With this plan, you get roughly 80 channels. And there are many upgrade options. Plans only include 20 hours of cloud DVR. But they make up for it in offering 20 simultaneous screens to watch on — fabulous for a large household. See our DIRECTV STREAM review for more information.
Vidgo ($55.00/mo): This inexpensive streaming service offers ABC and Fox including a good collection of 85+ channels including lots of sports and family-oriented channels. It allows you to watch on up to three devices but does not include a DVR. Check out our Vidgo review for more.
YouTube TV ($64.99/mo): Provides a plan similar to Hulu + Live TV. They are the top two live streaming services and so have grown more similar over time. YouTube offers more live channels but Hulu's on-demand library is far superior.
Streaming Devices and TV for the Daytona 500
Regardless of the streaming devices you now own, chances are that you can watch the Daytona 500 on them.
All the streaming services allow you to watch on Amazon Fire TV, Apple TV, and Roku. The same is true for mobile devices using Android and iOS. And they all allow you to cast to your TV using Chromecast.
All the streaming services (except Vidgo) support Samsung smart TVs. FuboTV, Hulu + Live TV, and Sling TV support all the smart TVs by LG and Vizio. All of them (except DIRECTV STREAM) support Android TV-based devices.
Xbox One is supported by FuboTV, Sling TV, and Hulu + Live TV. And Hulu supports the PlayStation.
Our individual streaming reviews include complete lists of supported devices.
You should also be able to watch on the Fox Sports app, but you will need to have a TV provider and login via TV Everywhere.
FAQs
Where Is the Daytona 500 Held?
This race takes place at the Daytona International Speedway in Daytona Beach, Florida. It is actually the first of two races that this venue hosts in a given year. Each August, the Coke Zero Sugar 400 is held at the track, and it traditionally signals the close of the Cup Series regular season.
What Channel Is the Daytona 500 On?
If you are watching the race in the United States, it will be showcased on Fox and on the radio through Motor Racing Network (MRN). It may also be seen on TrackPass in the United States and most other countries throughout the world. Most streaming services such as FuboTV, Sling, and Hulu carry Fox as part of their base service package. It is worth noting that these services are typically only available to American viewers.
Who Won the Last Daytona 500?
Michael McDowell won the 2021 Daytona 500 race. It was his first-ever NASCAR Cup Series win. He had been behind but leaders Joey Logano and Brad Keselowski wrecked in the last lap of the race. This took out several other notable racers including Kyle Busch, Austin Cindric, and Bubba Wallace.
Alex Bowman got pole position for the race but crashed in lap 14 taking him out of the race. Here are all the drivers who finished in 2021:
Michael McDowell of Front Row Motorsports (Ford)
Chase Elliott of Hendrick Motorsports (Chevrolet)
Austin Dillon of Richard Childress Racing (Chevrolet)
Kevin Harvick of Stewart-Haas Racing (Ford)
Denny Hamlin of Joe Gibbs Racing (Toyota)
Ryan Preece of JTG Daugherty Racing (Chevrolet)
Ross Chastain of Chip Ganassi Racing (Chevrolet)
Jamie McMurray of Spire Motorsports (Chevrolet)
Corey LaJoie of Spire Motorsports (Chevrolet)
Kyle Larson of Hendrick Motorsports (Chevrolet)
Cole Custer of Stewart-Haas Racing (Ford).
How Can I Listen to the Daytona 500?
You can listen to the Daytona 500 through MRN, which is broadcast through a series of affiliate radio stations throughout the country. You can also listen to the race on SiriusXM NASCAR Radio or by subscribing to TrackPass. If you do subscribe to TrackPass, you can listen to a live stream of the race online. It may also be possible to listen to live streams online through a MRN affiliate's website.
Latest posts by Frank Moraes
(see all)