Watch Man City and Inter in the 2022-23 UEFA Final on June 10th.

Watch it on CBS with Fubo!
The world of international soccer is large. It used to be hard for fans to gain access to games — with or without cable. But that has changed. Read on to learn all you need to know to watch the biggest leagues and tournaments.
In a hurry? You have many good options for watching soccer. These are our top choices — although they go great together!
Soccer or football, as it is more commonly referred to, is the most popular sport in the world. No matter what you prefer to call it, there are fans everywhere and they are all loyal to the FCs of their choosing.
Sign Up for a Free 7-Day Fubo Trial
Still, there are a lot of misconceptions where soccer is concerned. For example, many people think that you can't watch most games in the United States. That's absolutely untrue. As soccer becomes more popular in the States, it becomes easier to find games no matter where they are played.
Get all the information to watch MLS this week!
In the sections below, you'll find the channels you need and where to stream them to get the most soccer coverage possible. Whether you're looking for ways to stream the World Cup, MLS Cup, Super Cup, La Liga, Copa America, UEFA Champions League, Premier League, or one of the other tournaments, you'll be able to watch without cable.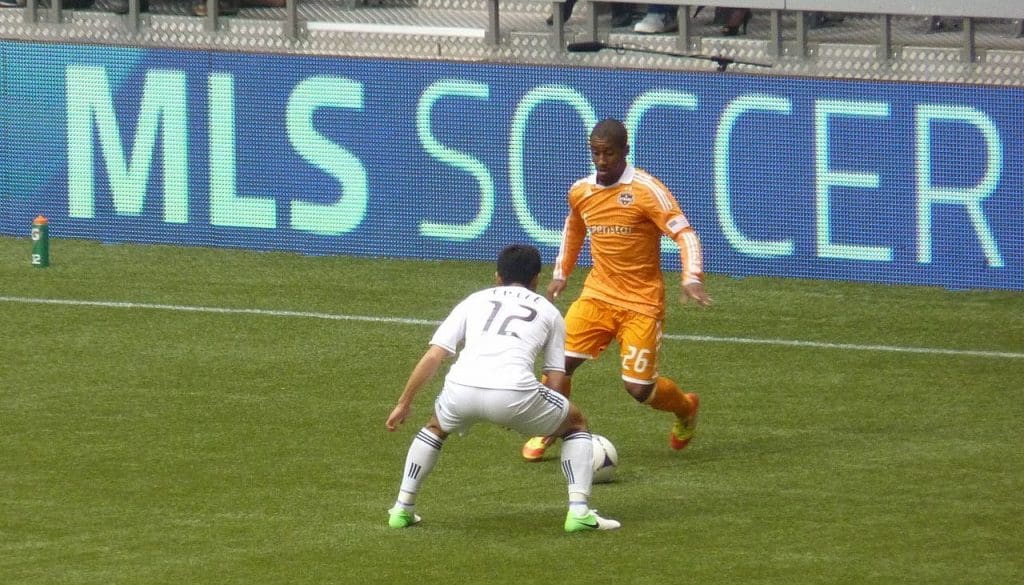 Soccer Leagues and Tournaments
The spread of soccer around the world consists of an interesting mixture of leagues and cups played by clubs and international teams. Everything is interconnected with the best clubs in their countries generally playing in continental championships, which are titled Champions Leagues in most continents. And national teams also take part in continental championship events as well as World Cups and, for senior women's teams, the Olympics.
The simplest way to think of the soccer world is like an interconnected pyramid in a way. Here is a look at some of the planet's most important leagues and clubs, first the men, then the women.
Domestic Leagues
The domestic game is the bread-and-butter of the sport. That is where clubs play the vast majority of their matches. Teams in England, Spain, Italy, Germany, and France highlight Europe. Brazil has some of South America's best sides. And Mexico and the US set the pace in North America.
England
England's top teams play in the Premier League although the second-tier Championship has clubs that would do well in many other countries' top leagues. Below that are League One, League Two, National League, and so on.
Hundreds of teams play in the FA Cup while sides in the top four levels take part in the EFL Cup. Almost all clubs in the English system are English, but five, none of which are in the Premier League, are Welsh. Some of England's best sides are Arsenal, Chelsea, Liverpool, Manchester City, and Manchester United.
Spain
La Liga is where all Spanish clubs want to play. Below that is La Liga 2 and so on.
Meanwhile, the Copa del Rey is the country's top cup competition. The Supercopa de Espana features the previous season's league and cup champions and runners-up.
Barcelona and Real Madrid are the biggest clubs in Spain. Soccer games between these clubs are such a big deal that they have their own name: El Clasico.
Italy
Italy's top league is Serie A. It is followed by Serie B, Serie C, and Serie D.
Its premier cup competition is the Coppa Italia. Meanwhile, the Supercoppa Italiana features the previous campaign's Serie A and Coppa Italia winners.
Top Italian sides include Atalanta, AC Milan, Inter Milan, Juventus, Lazio, Napoli, and Roma.
Germany
The Bundesliga is Germany's top league. In it are clubs such as Bayern Munich and Borussia Dortmund, but it tends to be strong from top to bottom.
Below that league are the 2. Bundesliga and 3. Liga while the DFB-Pokal is the country's premier cup competition. Both the Bundesliga and DFB-Pokal enjoy tremendous attendances.
France
The ambition of every French club is to play in Ligue 1. Paris Saint-Germain has dominated as of late, winning seven of eight titles, although Lille claimed the 2020-21 trophy.
It is followed by Ligue 2 and Championnat National. Meanwhile, the Coupe de France attracts thousands of teams every year.
Brazil
Brazil has an interesting structure in which clubs play in both national and state leagues. For example, Coritiba Foot Ball Club takes part in the Campeonato Paranaense for teams in Parana as well as the Campeonato Brasileiro Série A for Brazil's top sides. (See our guide for Portuguese coverage and all about the top teams to watch.)
The country's top domestic cup is the Copo do Brasil.
Mexico
Liga MX and Liga de Expansion are Mexico's top two leagues.
One feature that sets Mexico's league system apart from most in the world is its use of Apertura and Clausura campaigns, which are essentially half-seasons.
Mexico also incorporates playoffs like many countries in the Americas. Unfortunately, the Copa MX has not had a stable timetable or format over the past several years.
US and Canada
Major League Soccer is where this sport is concentrated in the US and Canada. Teams are spread across the US and are in Montreal, Toronto, and Vancouver, BC.
Many of MLS's highest attendances are in Cascadia, where the Portland Timbers, Seattle Sounders, and Vancouver Whitecaps play. However, Atlanta United has set the league pace in that category since joining MLS in 2017.
The MLS Cup playoffs decide its champion, and the US Open Cup and the Canadian Championship are those respective countries' top cup competitions.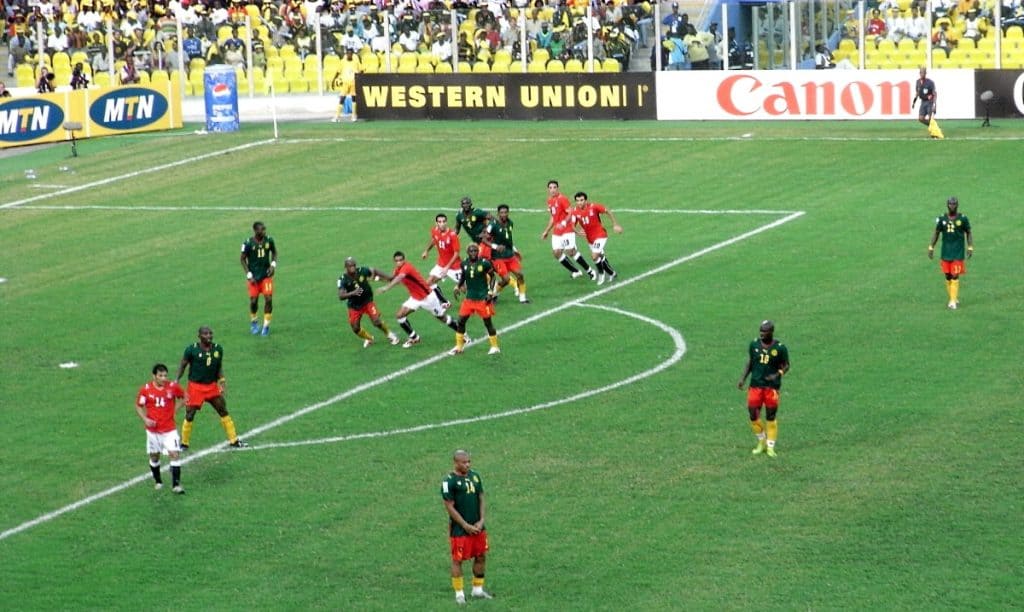 International – Club Tournaments
Throughout the world, a country's top teams usually participate in that continent's version of the Champions League. These include the UEFA Champions League (Europe), AFC Champions League (Asia), OFC Champions League (Oceania), CAF Champions League (Africa), CONCACAF Champions League (North America), and Copa Libertadores (South America).
Meanwhile, those teams that are based in Europe have two other competitions that they attempt to qualify for if they are not able to make the Champions League or are later eliminated from it. These are the UEFA Europa League and UEFA Europa Conference League. All three of those finals are played in May or June, the latter month usually only applying to the Champions League in some years.
However, note that the European competitions will undergo significant changes from the 2024-25 campaign on. Most significantly, each Champions League group stage team will play 10 matches against 10 different opponents as opposed to today's six contests versus three other teams.
Meanwhile, in the US, the MLS Cup winner, the teams with the best regular-season records in the Eastern and Western Conferences, and the US Open Cup trophy holder secure spots in the CONCACAF Champions League. Generally, if any team takes up two or more of those spots, whichever side had the next best regular-season record will qualify as well to fill the US' allotment of four teams. With that said, the CONCACAF Champions League format will experience a notable revamping in 2024.
There is also a FIFA Club World Cup for the best teams from each continent. The number of clubs, how often it is held, and its format are in flux. It is believed that the next edition will be an expansive 24-team affair, probably to initially take place in 2022 or 2023. The previous format had been held annually and involved the six continental champions and the current titleholder of the host country's top league.
Sign Up for a Free 7-Day Fubo Trial
International – Country Tournaments
In few sports are national teams as important to fans and others as it is in soccer. But this does depend on the specific country. It is less the case in, for example, England.
Here is a list of the major international competitions that are competed in by senior national teams.
World Cup
The crown jewel of the sport is the FIFA World Cup. This is held every four years and features the best teams, 32 of them in 2022 and 48 in 2026.
Nov 21, 2022 – Dec 18, 2022: FIFA World Cup
The World Cup first took place in 1930 in Uruguay, and its 2022 edition is set for Qatar. Heading into that 2022 tournament, Brazil has the most trophies with five while Germany and Italy have secured that valuable piece of hardware on four occasions apiece. Meanwhile, France won the most recent event, in 2018.
Qualifying for the World Cup takes years and features every national team that is interested in entering, which is usually nearly all of them.
Euros
The UEFA European Championship, usually referred to simply as the Euros, is the same type of competition as the World Cup but solely for the best national teams in Europe.
It first took place in 1960. It was only a four-team affair then. Euro 2024 will feature 24 sides. Its 23 qualifiers will head to Germany.
Gold Cup
North America's continental championship event for national teams is the CONCACAF Gold Cup. This competition is held every two years, and, partially as a result of that, sometimes teams do not call up top players for it, particularly if they are also busy with FIFA World Cup qualifying that year.
The Gold Cup was first held in 1991, but its predecessor, the CONCACAF Championship, dates to 1963. The inaugural edition of the earlier competition was played in El Salvador and won by Costa Rica.
The US claimed the 1991 Gold Cup, which it hosted as well. The US and Mexico have dominated this event with, entering 2023, the US claiming seven trophies, Mexico eight, and Canada one.
Finalissima
The Finalissima is the name of the relaunched CONMEBOL–UEFA Cup of Champions. It was last played in 2022 when Argentina defeated Italy 3-0. The next event is in 2025.
The women's event took place in 2023 and featured England and Brazil. The final score was 1-1 with England winning on penalties.
Other Continental Championships
The showcase event in Asia is the AFC Asian Cup. Africans push for qualification to the Africa Cup of Nations. Those in Oceania have a goal of playing in the OFC Nations Cup. And the premier competition in South America is the Copa America.
The last one in that group is the most prestigious of these as top South American sides are amongst the world's best.
Also, both UEFA and CONCACAF have recently created Nations League competitions, which are more like league systems with promotion and relegation between every edition.
Both also double as Euros and Gold Cup qualifying, respectively. The UEFA version provides some teams for the play-off round of World Cup qualifying as well.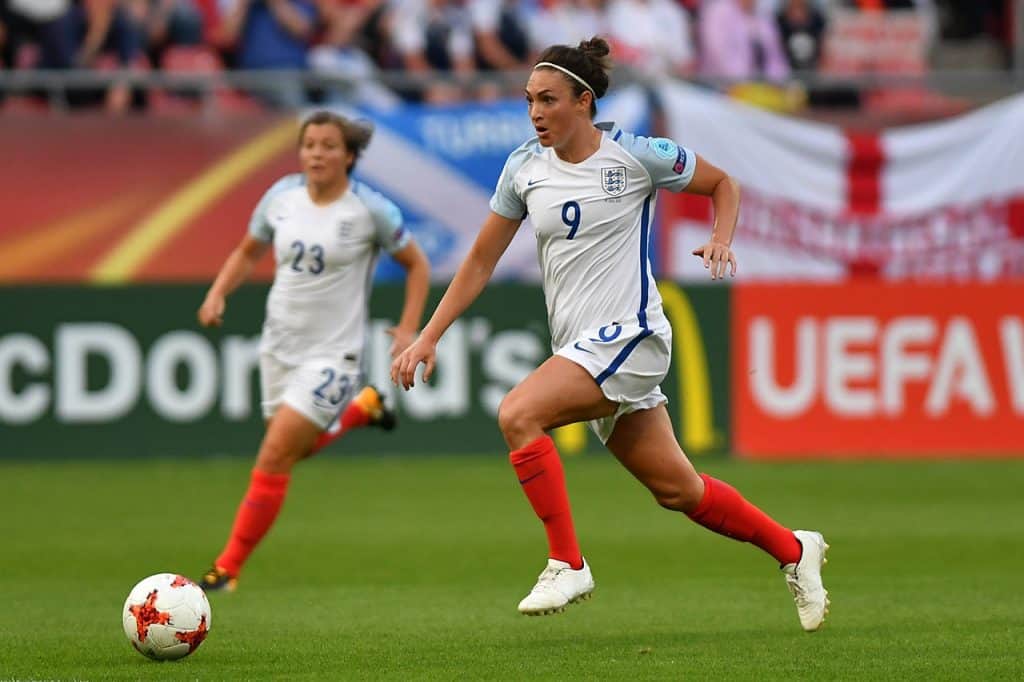 Women's Competitions
Women's soccer is formatted similarly to the men's side.
Women's World Cup
The FIFA Women's World Cup is the showcase event for women's players. It was initially held in 1991 in China with 80-minute matches as organizers had erroneously thought that women could not handle 90-minute contests. That mistake was rectified for the 1995 edition.
The US has claimed the most Women's World Cup titles with four, including the first one in 1991, 1999 (a historic edition with massive attendances that was hosted by the country), 2015, and 2019. Germany is the only other multiple winner, lifting the trophy in 2003 and 2007.
Qualifying for the Women's World Cup is not as extensive as it is for the men's as fewer soccer matches are generally played. Also, qualifying competitions often double as continental championships. That is, the AFC Women's Asian Cup serves as a Women's World Cup qualifying event as well.
All national associations are eligible to enter Women's World Cup qualifying. The majority do but not at as high a percentage as occurs on the men's side.
Sign Up for a Free 7-Day Fubo Trial
Olympics
On the women's side, the Olympics feature full national teams. This 12-squad affair necessitates a much tougher qualifying process to get through than is the case for the Women's World Cup.
The US has also dominated the Olympics, having won gold four times (1996, 2004, 2008, and 2012). The only other gold medalists are Canada, Germany, and Norway. They have claimed gold once apiece.
Also note that England, Wales, Scotland, and Northern Ireland are not eligible for the Olympics as the International Olympic Committee does not recognize them as individual national teams. However, Great Britain is eligible to compete.
Note that the Olympics on the men's side showcases mostly youth (U-23) teams, not senior sides.
Continental Championships – National Teams
Each of the continents holds championship events although most of them double as Women's World Cup qualifying.
The one primary exception to that is the Women's Euros, also known as the UEFA Women's Championship, which is a standalone event. In it, Germany has dominated, having won it eight times. The only other winners are Norway (twice), Netherlands (once), and Sweden (once).
Also, the CONCACAF W Gold Cup, which will initially take place in 2024, is expected to be a standalone event.
The other continental championships, all of which have historically doubled as Women's World Cup qualifying, are the AFC Women's Asian Cup, OFC Women's Nations Cup (Oceania), Africa Women Cup of Nations, and the Copa América Femenina (South America).
UEFA Women's Champions League
The world's premier international women's club competition is the UEFA Women's Champions League. It features top teams from nearly all European countries with 72 taking part and 16 advancing to its group stage.
Historically, Lyon has set the pace with seven trophy wins while Frankfurt has claimed the hardware on four occasions. Other multiple winners have included Turbine Potsdam, Umea, and VfL Wolfsburg — each has won this twice.
National Women's Soccer League
The NWSL is believed by most to be the world's top women's soccer league. It is based entirely in the US although there has been talk of expanding to Canada.
Its reach is not as large as MLS's as just 12 teams take part in the NWSL, but the league does stretch from coast to coast and has clubs in cities such as Chicago, Houston, and Orlando.
The North Carolina Courage, Portland Thorns, and former FC Kansas City are the league's lone multiple title winners, each having won the competition twice.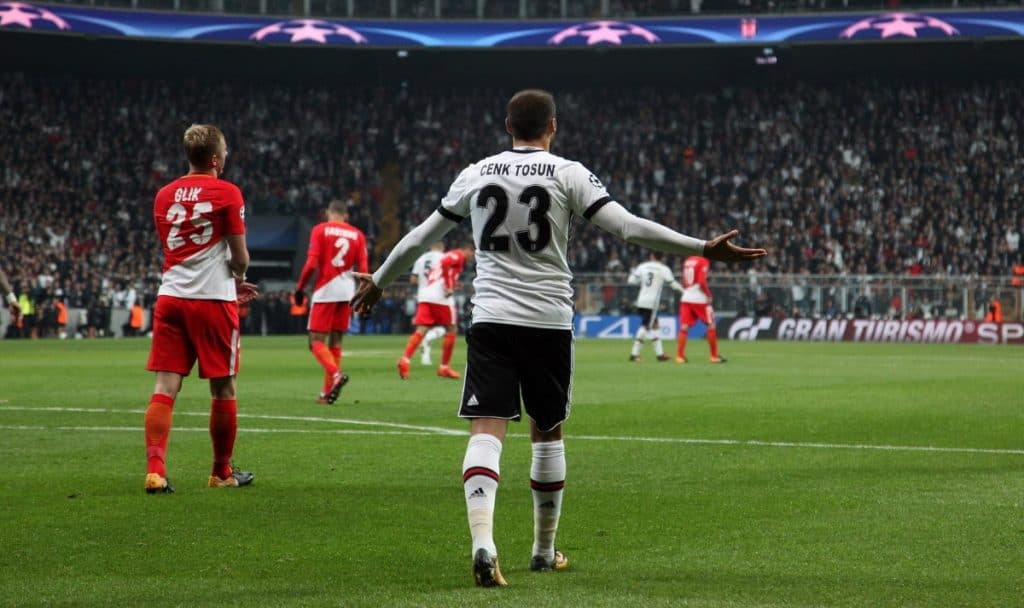 Unblock Your Favorite Events & Teams With a VPN
If you can't watch your favorite events or teams because of your location, a VPN will allow you to get the access you are entitled to, plus extra security and unequalled privacy. Check out our VPN Guide for everything you need to know, including our top pick ExpressVPN.
Where to Watch Soccer on TV
For fans in the US, it can be confusing to find where exactly the matches will be playing on TV. We will discuss streaming below, but here are the families of channels/services that cover the most important leagues and tournaments:
AFC Champions League: CBS Sports
AFC Women's Asian Cup: CBS Sports
Africa Cup of Nations: beIN Sports
Africa Women Cup of Nations:
Bundesliga: ESPN
CAF Champions League: beIN Sports
Campeonato Brasileiro Série A: CBS Sports
CONCACAF Champions League: Fox Sports, TUDN
CONCACAF Gold Cup: Fox Sports
Copa América Femenina:
Copa Libertadores: beIN Sports
FIFA World Cup: Fox Sports
FIFA Women's World Cup: Fox Sports
La Liga: ESPN
Liga MX: TUDN
Ligue 1: beIN Sports
MLS: ESPN
National Women's Soccer League: CBS Sports
OFA Champions League:
OFC Women's Nations Cup:
Olympics: NBC Sports
Premier League: NBC Sports
Serie A: CBS Sports
UEFA Champions League: CBS Sports
UEFA European Championship: Fox Sports
UEFA Europa League: CBS Sports
UEFA Europa Conference League: CBS Sports
UEFA Women's Champions League: DAZN
Note in this list that CBS will indicate Paramount+, NBC Peacock, ESPN ESPN+
Sign Up for a Free 7-Day Fubo Trial
Streaming Soccer: At a Glance
The true soccer fanatic should probably go all out and get:
Even with all that, the total cost is just 109.95 per month — far less than most cable plans. But Paramount+ alone for just $4.99/mo offers an amazing amount of soccer coverage.
Of course, you'll be getting a lot more in terms of sports. And a tremendous amount of non-sports: news, entertainment, music, movie, and family channels.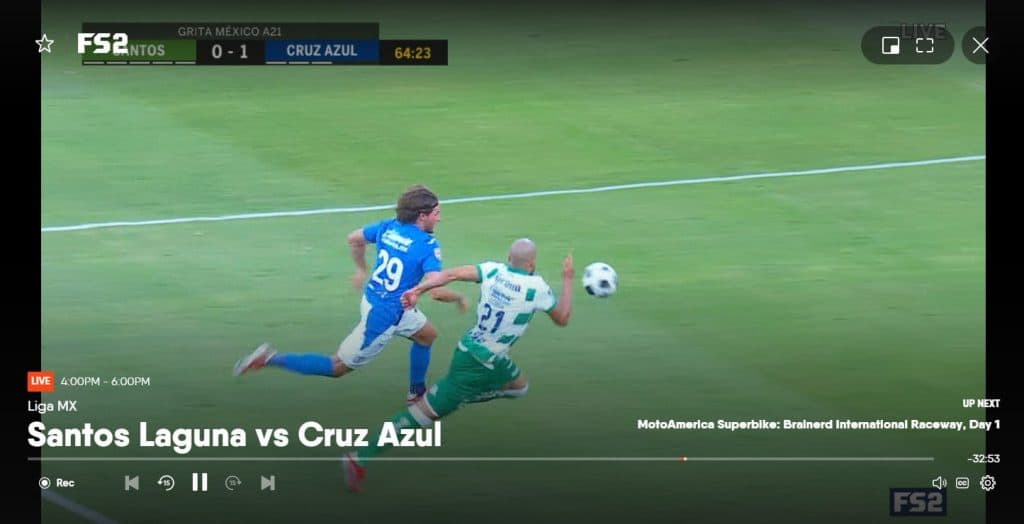 Stream Soccer Online Without Cable
There are many advantages to streaming over cable. The biggest is probably that it is cheaper. But more important to some is the lack of a contract. And it is convenient. If you are on the road, you can take TV with you.
But for soccer fans in the US, the biggest advantage of streaming is that you have much greater access to the channels you need. That's true of the more unusual ones like beIN Sports and TUDN. And it's true of single-source streaming services like Paramount+.
Fubo

Fubo (formerly FuboTV) started as a sports streaming service specializing in soccer. Today, they offer something for everyone, but they haven't forgotten where they came from. You'll still find loads of soccer coverage here on networks like ESPN, FS1, FS2, CBS Sports Network (CBSSN), beIN Sports, TUDN, and many others.
You can get the International Sports Plus for an extra $6.99/mo. It includes the channels Fox Deportes, Zona Futbol, ESPN Deports, GolTV (English and Spanish), TyC Sports, Fox Soccer Plus, and more
The base package is $74.99/mo. It comes with a total of 120+ channels and about two-thirds of them are non-sports focused so there's something for everyone. These include all your local channels (ABC, CBS, Fox, NBC) as well as the major Spanish ones (Telemundo, Univision, UniMas, and Universo). And general "cable" channels like Animal Planet, BET, Comedy Central, Discovery, E! and so on.
All Fubo plans come at least 1000 hours of cloud DVR and streaming on up to ten devices. Fubo offers a free for 7 days for all plans.
See our Fubo review for all the details.
Sign Up for a Free 7-Day Fubo Trial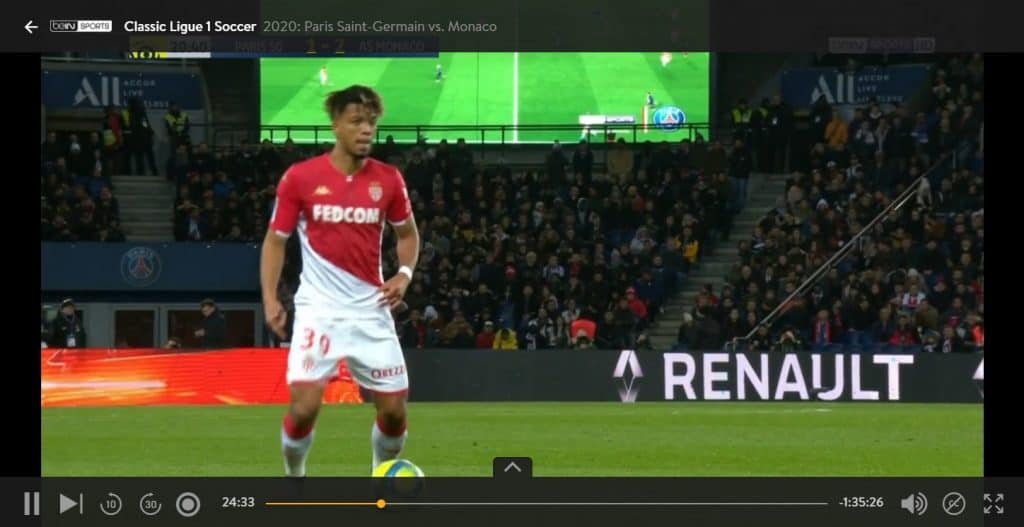 Sling TV

Sling TV is one of the cheapest ways to stream sports without cable. As soccer requires more channels than some other sports, your best option is to choose the Orange + Blue package. This will cost you $55.00/mo for 50+ channels including ESPN, Fox, and NBC.
You don't get any CBS channels, so you should definitely combine this with a Paramount+ subscription for an extra $4.99/mo. ESPN+ is a good idea too for another $9.99/mo ($99.99/yr). And fans of Premier League will want to pick up Peacock, which has about half of all the EPL matches.
This plan comes with 50 hours of cloud DVR storage. Simultaneous streaming is a bit complicated. You can watch on up to three devices at once for Fox and NBC channels. But you are limited to one with the ESPN channels.
See our Sling TV review for more information.
Hulu + Live TV

Hulu + Live TV is probably our favorite overall streaming service. It comes with 85+ well-chosen live TV channels, industry-standard on-demand library, Disney+, and ESPN+. You get all that for $69.99/mo.
In terms of soccer, Hulu Live is less impressive. But it still includes a lot! In particular, you will get access to pretty much all Bundesliga, La Liga, and MLS matches. And you also get CBS and CBSSN. But you will miss out on the many TUDN and beIN Sports channels.
Hulu + Live TV comes with unlimited cloud DVR (9 month storage) and streaming on up to two devices at the same time. For more information, see our Hulu + Live TV review.
YouTube TV

YouTube TV offers a similar plan to Hulu Live. It provides a few more channels and is slightly less expensive at $72.99/mo. But it doesn't include ESPN+.
It does, however, allow you to get very limited access to beIN Sports if you add the Sports Plus add-on for $10.99/mo more. Soccer fans are probably better off with Fubo.
Superpower Your Streaming With a VPN
For the sake of privacy, security, and access, you should be using a VPN. They are low-cost and easy to use. We've been using them for years and our top pick is ExpressVPN. Be sure to check out our deals page on ExpressVPN, NordVPN, SurfShark and PureVPN.
Specialty Streaming Services for Soccer
Increasingly, soccer leagues and tournaments are appearing on specialty streaming services. These are usually thought of as on-demand services but they air live soccer (and other sports).
Paramount+: CBS Sports has invested more in soccer than any of the other networks. This streaming service is just $4.99/mo for coverage of UEFA and $9.99/mo for Serie A (Italy, Brazil), AFC, and NWSL. (Paramount+ review)
ESPN+: ESPN is the major competitor of CBS when it comes to soccer. It costs only $9.99/mo or $99.99/yr (but check out the Hulu Bundle for a great deal). It includes coverage of La Liga, Bundersliga, and MLS. (ESPN+ review)
Peacock: Although the base plan is free, if you want live sports, you need to upgrade to the Premium plan for $4.99/mo. It doesn't offer as much soccer as the other two, but it includes two big ones: Premier League and Olympics. (Peacock review)
Fanatiz: An independent OTT service that includes all the channels you need to stream just about every Latin American top league, plus Ligue1, Süperlig, handball, polo, and more, all for $9.99/mo. (Fanatiz review)
Devices and TVs to Live Stream Soccer
All the streaming services we've highlighted above allow you to watch on pretty much all the devices around these days. Check out our reviews for complete details.
For now, we will highly the two most important streaming services: Paramount+ and Fubo. They both support these devices:
Amazon Fire TV
Android mobile
Android TV
Apple TV
iOS devices
Chromecast
LG TVs
Roku
Samsung TVs
Vizio TVs
Web browsers
Xbox One.
Paramount+ also supports the PlayStation.
Wrapping Up
Cable was never that good for soccer fans. It's better now. But streaming is far better still. You can get all the major soccer channels by signing up with Fubo.
And if you add on Paramount+, ESPN+, Peacock Premium, well, you'll be in soccer nirvana. But we will not be held accountable if your work suffers!
Sign up today!
Sign Up for a Free 7-Day Fubo Trial
FAQs
When did soccer become an Olympic event?
Soccer (football) wasn't at the very first Olympics in 1896. But it was in 1900 and every year since then. At that first event, only 3 teams competed: Great Britain, France, and Belgium. Great Britain won the gold. It's gotten ever more popular since with women's soccer added in 1996. At the 2016 Games, 16 men's teams and 12 women's teams competed with Brazil and Germany (respectively) getting gold.
How do I watch specific soccer leagues and events?
These guides give you detailed information:
Ditch "Big Cable" Now – 3 Simple Steps to Cut the Cord
Pick the right streaming service
Get the content you deserve with the best VPN.
Supercharge your internet provider
That's it — you'll save money, take back control, and enjoy TV more!
Page Updates
▼
▲
Updated some sub-sections. Updated some section headings. Mentioned offers.

Added some more links. Pricing updates.

Added buttons for streaming services. Image changes. Added a few links. Pricing updates.

Image changes. Pricing updates. Added links.

Added sub-section. Image changes. Updated some sub-sections. Cross linking. Deleted unneeded sub-section.

Image changes. More links. Pricing updates.

Added new section. Added links to streaming services. Mentioned channel info. Updated some sub-sections. Updated one section. Reworked one section. Cleaned up list.

Updates to a section. More links. Formatting.
Latest posts by Frank Moraes
(see all)