The UEFA Champions League is a soccer competition that brings together the top teams in Europe. If you're living in the United States, Champions League Soccer can be watched on a number of channels online. Read on to learn how.
In a hurry? If you don't want to jump into all the details and just want to start watching Champions League soccer, these services will make you happy:
Paramount+: Since CBS has the rights to the games, you can see them all with this service for just $4.99/mo. Try it free for 7 days!
FuboTV: This great sports streaming service will give you Champions League and much more with CBS, CBSSN, Univision, UniMas, Galavision, and TUDN. FuboTV allows you to try out its service free for 7 days.
Hulu + Live TV: Gives you access to the CBS channels and 85+ others along with its outstanding on-demand service.
Watch the whole Champions League season with Paramount+!
The UEFA Champions League is the most-watched club soccer competition in the world. It features teams such as Chelsea, Paris Saint-Germain, Barcelona, and Bayern Munich — all of which enjoy considerable worldwide interest.
This interest also comes from the United States, where the UCL final draws about 4 million viewers, well in excess of the MLS Cup final, ahead of most Stanley Cup Finals games, and on par with an average NBA Playoffs contest.
Fortunately, it is easy to stream all UCL matches from the play-off round in the US. All that you need to do is subscribe to Paramount+ ($4.99/mo).
The only circumstance that causes streaming Champions League matches to get complicated is if you want to watch qualifying round match-ups (the phase the precedes the play-off round and the group stage).
In that case, one or both participating clubs might offer their own streams of matches while Paramount+ does offer access to a select number of games from that initial phase of the competition.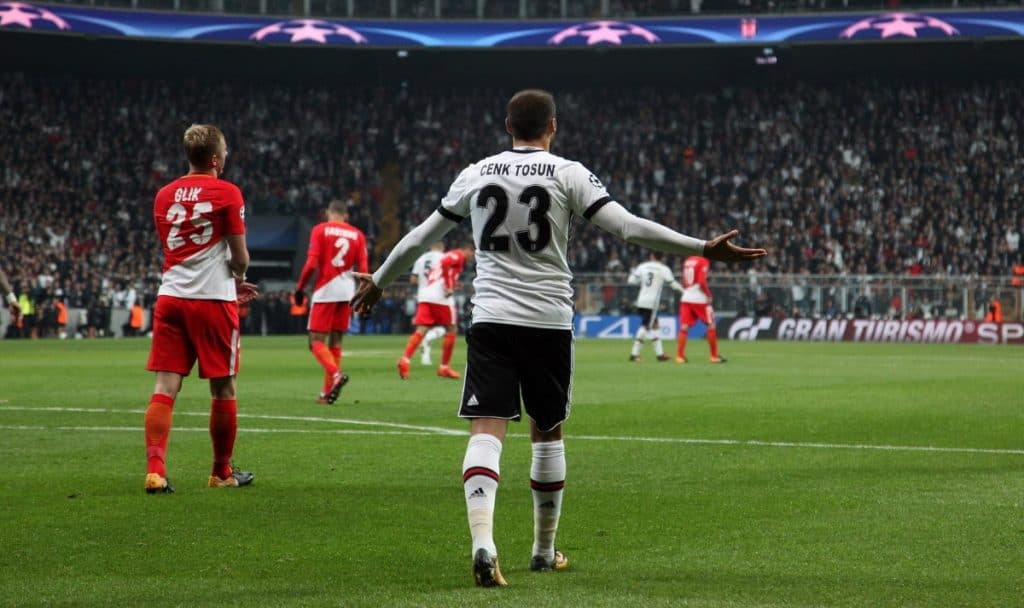 What Is the UEFA Champions League?
The UEFA Champions League is Europe's club soccer championship competition. It is one of six similar competitions that take place around the world.
The others are the CONCACAF Champions League (North America), Copa Libertadores (South America), CAF Champions League (Africa), AFC Champions League (Asia), and OFC Champions League (Oceania). However, Europe's version is by far the most-watched.
At least one club from every UEFA country (except Liechtenstein) takes part in the UCL. (The only reason Liechtenstein does not is that it does not have a national league.)
However, the majority of these 54 nations do not have any representation remaining once the competition reaches the 32-team group stage. For example, the 2021-22 group stage featured clubs from just 15 countries.
Early Rounds
How those numbers get whittled from 80 teams to the 32 in the group stage is through the playing of six rounds of competition prior to that point: two preliminary rounds, the first, second, and third qualifying rounds, and the play-off round.
Those matches start in June, just a month after the previous season's final had taken place. They run until late August before the group stage commences in September.
The play-off matches are among the most intense of the entire competition. This is when clubs find out if they are going to enjoy the riches of the Champions League group stage or instead play in the much less lucrative UEFA Europa League group stage.
These play-off matches are also treated the same as group stage matches in that Paramount+ streams all of them and the famous Champions League anthem is played before kickoff, which is not the case prior to matches played in previous rounds.
Group Stage
The 32 teams that remain or were automatically placed in the group stage are then split into eight groups. There they play the other three squads that they have been grouped with, once at home and once away.
After those six matches are played, the top two sides move on to the round of 16. The third-place clubs head to the Europa League knockout round playoffs. And the fourth-place finishers see their European journeys come to an end.
Knockout Phase
The Round of 16, quarter-finals, and semi-finals each consist of two matches between the paired set of teams with each hosting one contest. Whoever scores the most goals moves on.
Those who have watched Champions League matches in the past should note that which team has the most away goals is now irrelevant as UEFA removed that as a tie-breaker prior to the start of the 2021-22 competition.
The final, which is the only match of the entire competition to be played on the weekend, is held at a predetermined site.
2022-23 Champions League Schedule
Qualifying

Preliminary: Jun 21, Jun 24
First Round: Jul 5-6, Jul 12-12
Second Round: Jul 19-20, Jul 26-27
Third Round: Aug 2-3, Aug 9

Playoff: Aug 16-17, Aug 23-24
Group State

Matchday 1: Sep 6-7
Matchday 2: Sep 13-14
Matchday 3: Oct 4-5
Matchday 4: Oct 11-12
Matchday 5: Oct 25-26
Matchday 6: Nov 1-2

Round of 16: Feb 14-15, Feb 21-22, Mar 7-8, Mar 14-15
Quarterfinals: Apr 11-12, Apr 18-19
Semifinals: May 9-10, May 16-17
Final: Jun 10
The final will be played in Istanbul at the Atatürk Olympic Stadium.
Do You Need a VPN?
If you find you can't watch particular events because of your location, a VPN should allow you to get the access you are entitled to. It also provides extra security and unequalled privacy. See our complete VPN Guide for all you need to know.
Where Can I Watch the UEFA Champions League?

With a Paramount+ subscription ($4.99/mo), you can watch all UEFA Champions League matches from the play-off round through the group stage and the knockout phase to the final. Yes, it is as simple as that. In addition, the final is shown on CBS, which you can view with an antenna and television.
Sign Up for a Free 7-Day Paramount + Trial
Live CBS Channels Coverage
If you get a subscription to a streaming service that offers CBS Sports Network (CBSSN), you can also watch a few UCL matches through that, but that selection is limited.
For example, you could only watch six matches of the 2020-21 knockout phase on CBSSN: two rounds of 16 match-ups and the four semi-final contests. However, getting access to CBSSN and CBS does get you the competition's biggest match-ups: the semis and the final.
Keep in mind that CBSSN also provides extensive coverage before and after Champions League games. Meanwhile, if you are not focused on a single match, consider watching The Golazo! Show, which provides whip-around coverage of each of the 2:45 p.m. ET matches, showing all of their goals.
It is on CBSSN and streamable through Paramount+. American football fans compare The Golazo! Show with the NFL RedZone's coverage of that sport's games on fall Sundays.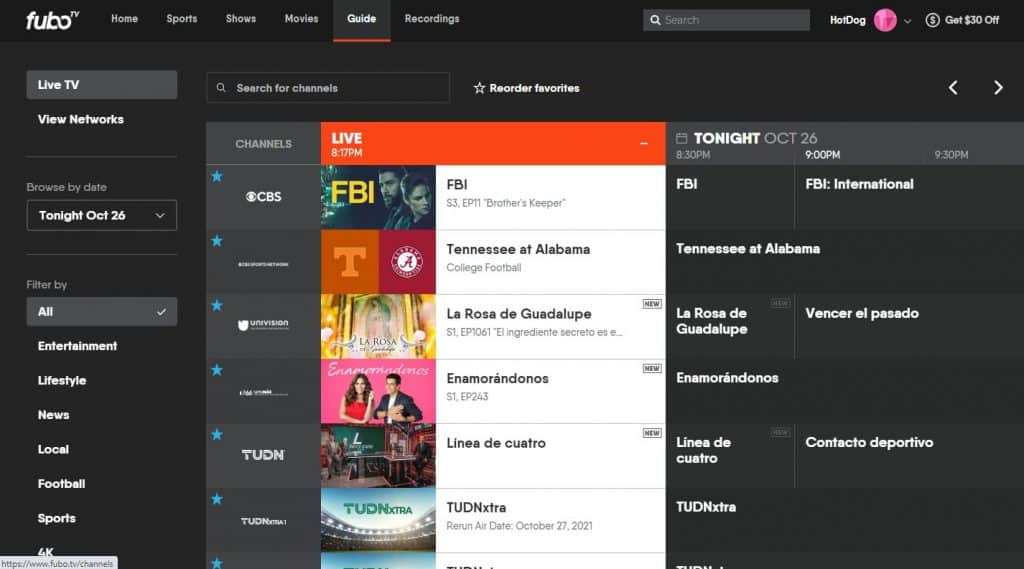 Spanish-Language Coverage
You have a few options if you prefer Spanish-language commentary. This includes many non-Spanish speakers because of the enthusiasm of the announcers or simply because they would rather not listen to the English-speaking commentators that are available through Paramount+, CBSSN, and CBS. But going this route is not quite as straightforward as purchasing a Paramount+ subscription is.
For example, of the 16 group stage matches that were played on Oct 19 and 20, 2021, one was shown on over-the-air Univision, three were on over-the-air UniMas, and two were on Galavision, a pay channel.
Four also aired on TUDN, a sports-oriented channel, but those were simulcasts of the Univision- and UniMas-broadcast matches. In addition, eight were on TUDNxtra, its online streaming service that is available to those who already have access to TUDN through other means.
In addition, Univision NOW ($10.99/mo) provided subscribers with online-only access to six matches over that two-day span, the ones that aired on Univision, UniMas, and Galavision, while PrendeTV (free) offered access to two others that were not broadcast on any American television channels.
General Streaming Services

FuboTV is the best option for soccer fans. In terms of the Champions League, FuboTV offers CBS and CBSSN. And provide great Spanish-language coverage with Univision, UniMas, Galavision, and TUDN. In all, you get well over 100 channels for $69.99/mo.
This includes over 35 sports-oriented channels including ESPN, ESPN2, FS1, FS2, and 10 channels of beIN Sports. And you can get even more with add-ons. See our FuboTV review.

Another option is DIRECTV STREAM. You can get Univision, UniMas, and Galavision through that streaming service's Choice plan ($89.99/mo), but you would need to upgrade to its Ultimate plan ($104.99/mo) to also receive TUDN and CBSSN.
Check out our DIRECTV STREAM review.

Hulu + Live TV deserves a mention. It doesn't provide any of the Spanish Language channels, but it does offer CBS and CBSSN for $69.99/mo. And it comes with a great overall live TV channel lineup in addition to its industry-leading on-demand library as well as ESPN+ and Disney+.
Read our Hulu + Live TV review.
On another note, YouTube TV offers much the same as Hulu + Live TV — also for $64.99/mo.
Sign Up for a Free 7-Day Fubo Trial
TVs and Devices to Live Stream Champions League Soccer
All of the streaming services that we've discussed provide support for the vast majority of streaming TVs and devices in use today. We'll look a bit closer at Paramount+ and FuboTV but see our reviews of them for the complete list of supported devices.
Both these services support smart TVs from LG, Samsung, Vizio, and all that use the Android TV specification.
They also both support the popular TV devices Amazon Fire TV, Apple TV, and Roku.
You can also watch Champions League matches on phones and tablets that run Android and iOS. And you can use these with Chromecast to cast the game to your TV.
Both services support the Xbox One gaming system. Paramount+ also supports the PlayStation.
Sign Up for a Free 7-Day Paramount + Trial
Wrapping Up
The bottom line is that if you would like English-language coverage of UEFA Champions League matches from the play-off round on, purchase a subscription to Paramount+ ($4.99/mo). At that price, you can also afford a live TV streaming service.
If you want access to a streaming service that offers CBS, CBSSN, and Spanish-language broadcasts, your best options are FuboTV ($69.99/mo) and DIRECTV STREAM ($104.99/mo).
Superpower Your Streaming With a VPN
For the sake of privacy, security, and access, you should be using a VPN. They are low-cost and easy to use. We've been using them for years and our top pick is ExpressVPN.
FAQs
How do teams qualify for the UEFA Champions League?
How teams qualify depends on which country they are from. While every European nation with the exception of Liechtenstein sends at least one team, the champion of its top league, some send more. The top 15 countries, rated by their clubs' European performances over the past few years, send at last two with the fifth- and sixth-place nations sending three and the top four countries sending their previous season's first-, second-, third-, and fourth-placed sides.
The previous season's UCL and Europa League winners are also guaranteed spots.
To get to the group stage, clubs need to either navigate the qualifying and play-off rounds or be automatically entered into the group stage, the latter situation affecting 26 sides. As a result, 54 other clubs are fighting for just six slots in that lucrative stage of the competition.
What teams are in the 2021-22 UEFA Champions League group stage?
Fifteen countries are represented in the 2021-22 UEFA Champions League group stage:
England: Liverpool, Manchester City, Manchester United, Chelsea
Portugal: Benfica, Sporting CP, Porto
Spain: Real Madrid, Atletico Madrid, Sevilla, Villarreal, Barcelona
France: Paris Saint-Germain (PSG), Lille
Italy: AC Milan, Inter Milan, Atalanta BC, Juventus
Switzerland: Young Boys
Austria: FC Red Bull Salzburg
Belgium: Club Brugge
Netherlands: Ajax
Germany: Bayern Munich, Borussia Dortmund, Vfl Wolfsburg, RB Leipzig
Sweden: Malmo FF
Russia: Zenit Saint Petersburg
Ukraine: Dynamo Kyiv, Shakhtar Donetsk
Moldova: Sheriff Tiraspol
Turkey: Besiktas.
When was the UEFA Champions League first held?
The first Champions League took place during the 1955-56 season. The then-named European Cup featured 16 teams from 16 countries, all of which were selected on the basis of reputation, not how they did in their previous league seasons. Spain's Real Madrid knocked off France's Reims, 4-3, in the final, which was played in Paris' Parc des Princes, the home of Paris Saint-Germain.
What is the cheapest way to watch UEFA Champions League matches?
The cheapest and also the simplest way to watch UEFA Champions League matches is with a Paramount+ subscription for just $4.99/mo. This will grant you access to all matches from the play-off round on, including the group stage and all knockout phase contests. Sporadic match-ups in the qualifying rounds are available as well.
What were the results of the 2021-23 UEFA Champions League?
Round of 16 – Leg 1

Tue Feb 15: PSG (1) vs Real Madrid (0)
Tue Feb 15: Sporting CP (0) vs Manchester City (5)
Wed Feb 16: RB Salzburg (1) vs Bayern (1)
Wed Feb 16: Inter (0) vs Liverpool (2)
Tue Feb 22: Chelsea (2) vs LOSC Lille (0)
Tue Feb 22: Villarreal (1) vs Juventus (1)
Wed Feb 23: Benfica (2) vs Ajax (2)

Round of 16 – Leg 2

Tue Mar 8 3:00 pm: Bayern (7) vs RB Salzburg (1)
Tue Mar 8 3:00 pm: Liverpool (0) at Inter (1)
Wed Mar 9 3:00 pm: Manchester City (0) vs Sporting CP (0)
Wed Mar 9 3:00 pm: Ral Madrid (3) vs PSG (1)
Tue Mar 15 4:00 pm: Manchester United (0) vs Atlético de Madrid (1)
Tue Mar 15 4:00 pm: Ajax (0) vs Benfica (1)
Wed Mar 16 4:00 pm: Juventus (0) vs Villarreal (3)
Wed Mar 16 4:00 pm: LOSC Lille (1) vs Chelsea (2)

Quarter-Finals – Leg 1 (Apr 5-6)

Tue Apr 5: Benfica (1) vs Liverpool (3)
Tue Apr 5: Manchester City (1) vs Atlético de Madrid (0)
Wed Apr 6: Villarreal (1) vs Bayern (0)
Wed Apr 6: Chelsea (1) vs Real Madrid (3)

Quarter-Finals – Leg 2 (Apr 12-13)

Tue Apr 12: Bayern (1) vs Villarreal (1)
Tue Apr 12: Real Madrid (2) vs Chelsea (3)
Wed Apr 13: Atlético de Madrid (0) vs Manchester City (0)
Wed Apr 13: Liverpool (3) vs Benifica (3)

Semi-Finals – Leg 1 (Apr 26-27)

Tue Apr 26 3:00 pm: Manchester City vs Real Madrid
Wed Apr 27 3:00 pm: Liverpool vs Villarreal

Semi-Finals – Leg 2 (May 3-4)

Tue May 3 3:00 pm: Villarreal (2) vs Liverpool (3)
Wed May 4 3:00 pm: Real Madrid (3) vs Manchester City (1)

Final (May 28)

Sat May 28 3:00 pm: Liverpool (0) vs Real Madrid (1)
How do I watch other soccer leagues without cable?
We have created guides to help you watch other soccer leagues:
Latest posts by Frank Moraes
(see all)