The Women's World Cup is still a ways away. It runs from July 20th through August 20th 2023. But it's never too early to plan. And there is tons of great women's soccer to enjoy before that — if you know where to watch!
In a hurry? In the US, the World Cup will be televised on Fox and Telemundo. These streaming services will have you covered:
FuboTV: The best streaming service for international sports also provides 100+ well-selected channels. FuboTV allows you to try out its service free for 7 days.
DIRECTV STREAM: Get a great channel lineup with the best selection of RSNs in the industry. A 5-day free trial is now available for DIRECTV STREAM.
Sling TV: This low-cost service allows you to select just the channel lineup you want. Save 50% on your first month of Sling TV.
The Women's World Cup is one of the most popular sports events in the United States, particularly so when the US national team is playing in the final.
In fact, the most-watched soccer broadcast in US history is the 2015 Women's World Cup final, which the US claimed with a 5-2 win over Japan. Its 26.7 million viewers surpassed the 26.5 million that saw the 2014 World Cup final, a 1-0 win for Germany over Argentina.
Prior to then, the long-held record for most-watched soccer broadcast in the US was the 1999 Women's World Cup final. It was watched by 17.9 million.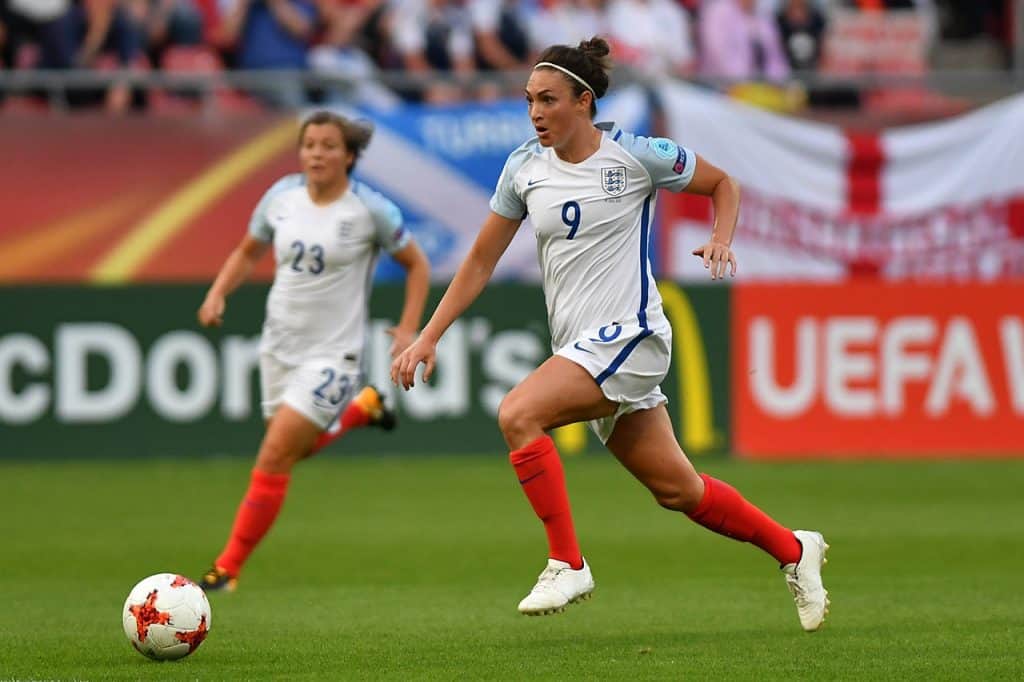 What Is the FIFA Women's World Cup?
The FIFA Women's World Cup is nearly identical to the FIFA World Cup that involves many of the best men's national teams.
Just like for the men's edition, qualifying is held for the Women's World Cup, and the qualified teams head to the host country or countries for a month-long summer tournament every four years to crown a world champion.
History of the Women's World Cup
The first Women's World Cup was played in 1991. The matches then were only 80 minutes long although there was no reason for that to be the case other than an unfounded belief that women were not physically fit enough to play 90-minute contests. This was rectified with 90-minute matches in 1995.
Although the first edition garnered tremendous crowds in China, interest in it in the US was nearly nonexistent. When the USA team returned home with the trophy, it was met at New York's John F Kennedy International Airport by three reporters and one photographer. It was not until 1999 when interest in this event really took off as fans packed NFL stadiums for USA matches.
The Americans have dominated this event, winning four of the eight contested through 2019.
In that last edition, the US defeated Women's Euro holder Netherlands, 2-0, in the final to complete the competition with an impressive 7-0-0 mark. Sweden claimed the third-place match, defeating England, 2-1. The four losing quarterfinalists were Norway, France, Italy, and Germany.
2023 FIFA Women's World Cup
The 2023 Women's World Cup is set to be the first hosted by two countries. It will be co-hosted by Australia and New Zealand. It is also set to be the first one to feature 32 teams. The 2019 edition had 24 while the 1991 competition had 12.
Qualification for the 2023 Women's World Cup runs from Sep 16, 2021 through Feb 23, 2023. The US and 2020 Summer Olympics gold medalist Canada have been scheduled to participate in qualifying from Jul 9 to 24, 2022, as CONCACAF's top eight teams play for four direct qualification spots and two playoff places.
Do You Need a VPN?
If you find you can't watch particular events because of your location, a VPN should allow you to get the access you are entitled to. It also provides extra security and unequalled privacy. See our complete VPN Guide for all you need to know.
Broadcasters for the FIFA Women's World Cup
Fox owns the rights to the FIFA Women's World Cup through at least the 2023 edition. It has held them since 2015. As a result, you should expect 2023 Women's World Cup matches to be broadcast on Fox, Fox Sports 1 (FS1), and Fox Sports 2 (FS2).
In 2019, Fox broadcast 22 matches, FS1 aired 27, and three were on FS2. Expect a generally similar breakdown in 2023 although the significant time difference may change things up.
NBC owns the Spanish-language rights in the US for that same period with matches on Universo, Telemundo, and Telemundo Deportes in 2019. That year, Telemundo broadcast 21 matches, including the final, Universo aired 24 contests, and Telemundo Deportes' app had exclusive coverage of seven games.
Canadians can watch the 2023 Women's World Cup on CTV, TSN, and RDS while those in the United Kingdom may view the games on BBC and ITV.
Aussies and New Zealanders looking to celebrate their countries' hosting of this event will be able to watch all matches played by their own national team plus other key contests, such as the final, on free-to-air outlets. Complete coverage will be available through Optus Sport and Sky Sport, respectively.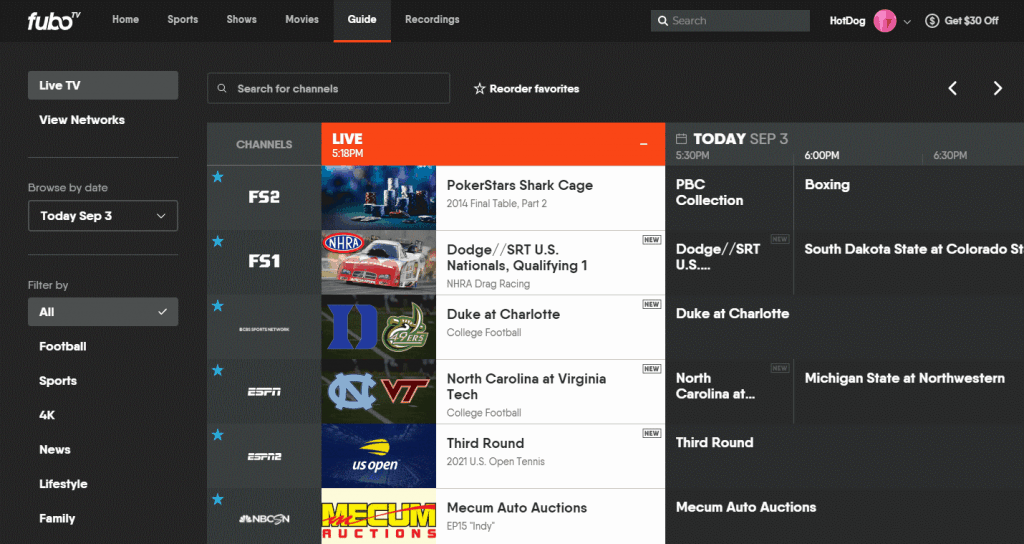 How to Watch the World Cup
The easiest way to watch the FIFA Women's World Cup is to sign-up for a streaming service. All of these will allow you to watch most if not all of the broadcast matches:
FuboTV: Provides all the English and Spanish channels that air the World Cup as part of its 100+ channel lineup for $69.99/mo. It also includes 750 hours of cloud DVR and streaming on up to 10 devices. See our FuboTV review for details.
DIRECTV STREAM: In order to get all the World Cup channels, you will need to go up to its Ultimate plan for $104.99/mo. But this includes over 130 channels including its outstanding selection of regional sports networks (RSNs). This makes it a great deal for baseball, basketball, and hockey fans. Get all the details in our DIRECTV STREAM review.
Sling TV: The Blue Plan gives you Fox and FS1 for $35/mo. You can get FS2 by adding Sports Extra for $11/mo, which includes other channels like MLB Network, NBA TV, and NHL Network — all for just $46/mo! Our Sling TV review has more information.
Hulu + Live TV: Although not quite as good for sports as Fubo, this $69.99/mo plan will allow you to watch all of the World Cup with its 85+ channel lineup. It includes unlimited cloud DVR with 9 months of storage and simultaneous streaming on up to two devices. For more information, see our Hulu + Live TV review.
Vidgo: Offers all the World Cup channels and 100+ more for just $59.95/mo. It does lack a DVR but that might be a sacrifice worth making. Our Vidgo review has the details.
YouTube TV: Get all the World Cup as part of its 85+ channel lineup. Read our YouTube TV review for more.
You don't have to stream the World Cup, however. If you are okay just watching the matches that air on Fox (40% of them during the 2019 event), you can set up an HD antenna and watch for free. It's easier (and better) than you think! See our guide for all the details.
TVs and Devices to Live Stream the World Cup
We live in a streaming world so it should be no surprise that most of the streaming services we've discussed will allow you to watch the FIFA Women's World Cup on most devices. All the services support these popular devices:
Android Fire TV
Android mobile devices
Apple TV
Chromecast
iOS mobile devices (iPhone, iPad)
Roku.
All the services other than Vidgo support recent model Samsung Smart TVs. And all the services other than DIRECTV STREAM support devices based on Android TV.
Fubo, Hulu, and Sling all support LG and Vizio smart TVs in addition to the Xbox One and X/S gaming systems. Hulu also supports the PlayStation.
These are just the most popular devices. See the streaming service reviews linked to above for complete lists.
Superpower Your Streaming With a VPN
For the sake of privacy, security, and access, you should be using a VPN. They are low-cost and easy to use. We've been using them for years and our top pick is ExpressVPN.
Wrapping Up
Americans wanting English-language coverage of the FIFA Women's World Cup should ensure that they have access to Fox-related channels, including its flagship network and FS1 and FS2. Current options include FuboTV, Hulu + Live TV, Sling TV, DIRECTV STREAM, and Vidgo.
FAQs
Where is the 2023 FIFA Women's World Cup?
Australia and New Zealand have been slated to co-host the 2023 FIFA Women's World Cup from Jul 20th to Aug 20th. Six stadiums in five cities in Australia and four stadiums in four cities in New Zealand will play host to the games. The opening match is set for Auckland, New Zealand, with the final taking place in Sydney. Australia's and New Zealand's national teams are guaranteed to play at home through the semifinals.
When was the first FIFA Women's World Cup played?
The first FIFA Women's World Cup was played in 1991 in China. The US claimed the trophy, defeating Norway, 2-1, in the final. Michelle Akers scored the match-winner in the 78th minute of the 80-minute match. That historic goal completed a brace for her and was her competition-leading 10th goal.
This event was not referred to as a "World Cup" at the time. Its official name then was the FIFA World Championship for Women's Football for the M&M's Cup. This was later retroactively changed.
What were the results of the 2019 FIFA Women's World Cup?
Only the top 4 teams are ranked. They were:
USA
Netherlands
Sweden
England.
The other four teams to make the playoffs were:
France
Germany
Italy
Norway.
Teams that played in the group round but didn't make to the playoffs:
Argentia
Australia
Brazil
Cameroon
Canada
Chile
China
Jamaica
Japan

New Zealand
Nigeria
Scotland
South Africa
South Korea
Spain
Thailand.
How do I watch soccer other than the FIFA Women's World Cup?
These guides will help you watch other soccer leagues and events:
Latest posts by Frank Moraes
(see all)