The 2022-23 UEFA Quarter-Final is upon us. Watch it on Paramount+!
Every two years, the CONCACAF Gold Cup is held with the best soccer teams of the northern portions of the Americas. And thanks to streaming services, it's easy to watch it all. Read on to find out how.
In a hurry? To watch the CONCACAF Gold Cup, you need Fox channels. These streaming services will provide these and much more:
FuboTV: The best streaming service for international sports also provides 130+ well-selected channels. FuboTV allows you to try out its service free for 7 days.
Sling TV: This low-cost service allows you to select just the channel lineup you want. Save a bundle with Sling TV.
DIRECTV STREAM: Get a great channel lineup with the best selection of RSNs in the industry. A 5-day free trial is now available for DIRECTV STREAM.
If you can't watch your favorite sports because of your location, get ExpressVPN to access the content you deserve.
Unfortunately, we don't know a streaming service in that covers this sport. But if you've already paid for the right service, and just can't watch because of your location, there is an easy way to get the content you deserve. You need a VPN, like one of the following.
ExpressVPN: Premium VPN provider that just works, with 3,000+ locations in 94 countries. Supports five simultaneous devices and comes with a 30-day money-back guarantee. (ExpressVPN review)
Surfshark: Connect to over 3,200 servers in 99 countries (+ tonnes of US metro areas). Try it with a 7-day free trial.
NordVPN: Connect to over 5,000 premium servers in 60+ countries. Comes with a 30-day money-back guarantee!
If you're overwhelmed and not sure where to begin, you'll find all the answers in our full VPN guide.
The CONCACAF Gold Cup and its qualifying competition, the CONCACAF Nations League, are two of the most significant events that CONCACAF organizes. The latter involves national teams from all of its member states while the former features the best of those.
To watch the Gold Cup accompanied by English commentary, you need to have access to Fox, Fox Sports 1 (FS1), and Fox Sports 2 (FS2) while Nations League matches may be watched with a Paramount+ subscription ($4.99/mo). Univision and its related channels and streams provide Spanish commentary for both events.
Sign Up for a Free 7-Day Fubo Trial
What Is CONCACAF?
CONCACAF is the soccer governing body for countries in North and Central America, the Caribbean, and a small portion of South America: French Guiana, Guyana, and Suriname. It is one of six regional bodies. The others are:
Of its 41 members, 35 are also FIFA members and eligible to take part in FIFA World Cup qualifying. The exceptions are Bonaire, French Guiana, Guadeloupe, Martinique, Saint Martin, and Sint Maarten.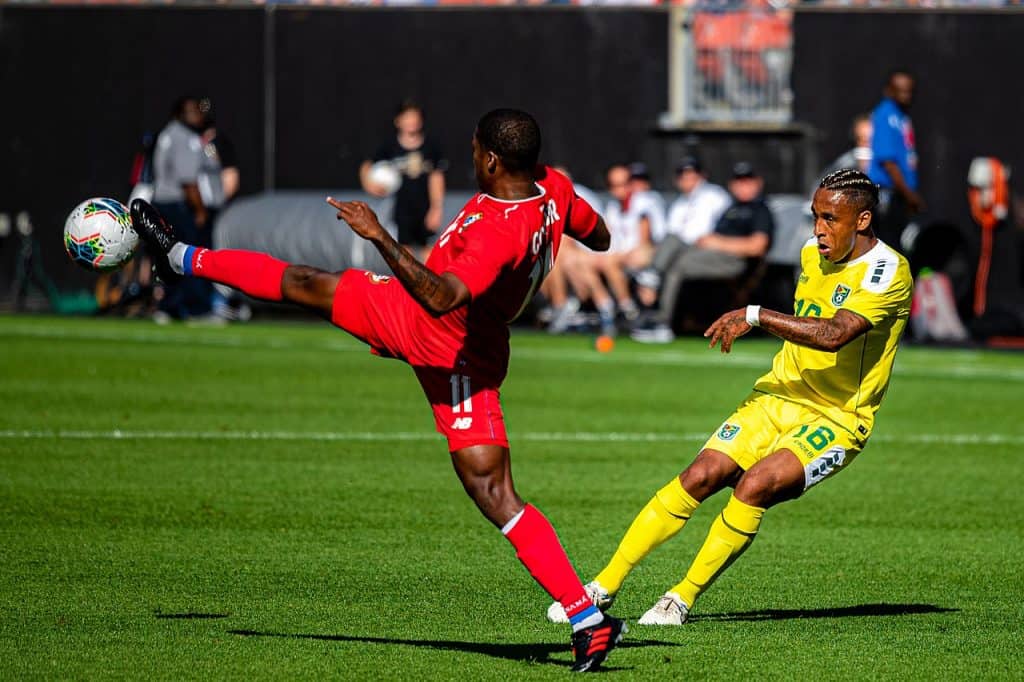 Unblock Your Favorite Events & Teams With a VPN
If you can't watch your favorite events or teams because of your location, a VPN will allow you to get the access you are entitled to, plus extra security and unequalled privacy. Check out our VPN Guide for everything you need to know, including our top pick ExpressVPN.

Learn how to watch March Madness!
What Is the CONCACAF Gold Cup?
The CONCACAF Gold Cup is an every-two-year event featuring the CONCACAF region's top men's national soccer teams. It has been held on a roughly-once-every-two-years basis since its inaugural edition in 1991. Other regional championship events took place prior to then, dating to 1963.
Its matches are almost always held in the United States, and the US has at least co-hosted every edition. The handful of games played elsewhere have been in Mexico (1993 and 2003), Canada (2015), Costa Rica (2019), and Jamaica (2019). All finals except for the ones in 1993 and 2003 were held in the US; the two exceptions were played in Mexico City.
The US and Mexico have dominated this event with the former taking the trophy on seven occasions and the latter doing so eight times. Canada stunned the soccer world when it garnered the hardware in 2000.
National teams from other continents are sometimes invited to take part. These have included Brazil (1996, 1998, and 2003), Colombia (2000, 2003, and 2005), Peru (2000), South Korea (2000 and 2002), Ecuador (2002), South Africa (2005), and Qatar (2021 and 2023). The 2021 and 2023 competitions have been slated to be comprised of 15 CONCACAF countries and Qatar.
The 2023 Gold Cup is scheduled for June 26 to July 16 of that year.
What Is the CONCACAF Nations League?
After the UEFA Nations League proved to be a popular event on the other side of the Atlantic Ocean, CONCACAF wanted to take advantage of that format and created the CONCACAF Nations League.
This event features CONCACAF's 41 national teams, which are separated into three leagues with four groups within each of those three leagues. The league assignments are based on results in the last edition of the competition resulting in teams being promoted and relegated. Specifically, all of the first-place sides in Leagues B and C move up, and all of the last-place countries in Leagues A and B move down.
The four League A group winners also face off in two semifinals and a final to determine the Nations League champion.
This competition serves as qualification for the Gold Cup as well. For the 2019-20 Nations League, the eight first- and second-place teams in League A and the four first-place sides in League B earned automatic Gold Cup spots.
Advancing to the Gold Cup qualification playoffs were the third-/last-place sides from League A, the second-place teams in League B, and the Group C winners. Those 12 countries played two rounds of matches to get reduced to the final three qualifiers.
Confusing matters was CONCACAF referring to those two qualification rounds as Gold Cup Prelims — considering them to be a part of the Gold Cup competition proper.
Most fans and commentators did not view them as such. However, that designation meant that broadcasters with rights to the Gold Cup also had the rights to these matches.
Which Channels Broadcast Gold Cup and Nations League Matches?
The rights for the Gold Cup and Nations League are awarded separately.
English-Language Channels
Fox owns English-language rights for the Gold Cup within the US. In 2021, it broadcast one match on Fox, a group stage showdown between the US and Canada. FS1 broadcast most of the competition with 24 games and FS2 broadcast six. Fox Soccer Plus also broadcasts part of the 2021 Prelims (the final rounds of Gold Cup qualifying).
Paramount+ handles the streaming of Nations League contests with some matches airing on CBS Sports Network. It is possible that future Nations League contests will be on CBS, but that is unlikely.
Spanish-Language Channels
Univision holds Spanish-language rights within the US for both the Gold Cup and Nations League. It broadcasts matches from those competitions on Univision, UniMás, Galavision, and TUDN. It also offers a number of them through PrendeTV, its free streaming service.
The broadcast and streaming rights vary widely throughout CONCACAF's region and throughout South America with limited coverage elsewhere. CONCACAF streams a number of matches on YouTube for many of those not in the Americas.
Superpower Your Streaming With a VPN
For the sake of privacy, security, and access, you should be using a VPN. They are low-cost and easy to use. We've been using them for years and our top pick is ExpressVPN. Be sure to check out our deals page on ExpressVPN, NordVPN, SurfShark and PureVPN.
Streaming the Gold Cup and Nations League
Several streaming services provide you with the ability to watch Gold Cup and Nations League matches.
FuboTV

For $69.99/mo, FuboTV offers Fox, FS1, FS2, CBS, CBS Sports Network, Univision, UniMás, Galavision, and TUDN.
This ensures that you are covered for all English- and Spanish-language television broadcasts of Gold Cup and Nations League matches and just need to also get access to Paramount+ ($4.99/mo) and PrendeTV (free) for complete access to those competitions.
See our FuboTV review for complete details.
Sign Up for a Free 7-Day Fubo Trial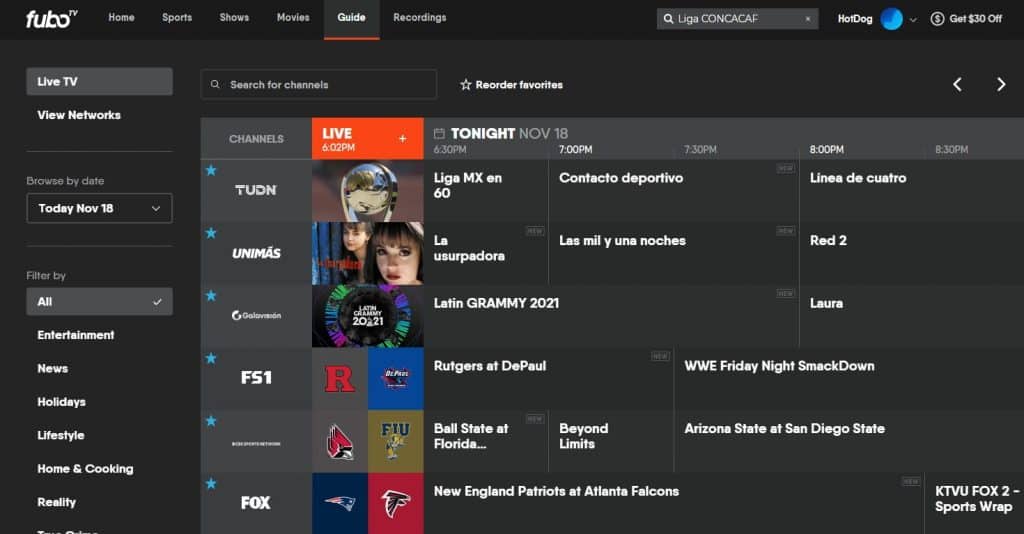 DIRECTV STREAM

The DIRECTV STREAM (formerly AT&T TV NOW) Ultimate plan for $104.99/mo gets you complete coverage of the Gold Cup and Nations League with all the local channels as well as CBSSN, FS1, FS2, and TUDN. Related channels available on more affordable plans include CBS, Fox, FS1, Univision, Galavision, and UniMás.
See our DIRECTV STREAM review for details.
Get DIRECTV STREAM Free for 5 Days
Sling TV

Sling TV will cover you for the Gold Cup itself, but that is it. That is because it only offers FS1 and Fox with its Blue plan ($40.00/mo), plus FS2 if you also purchase its Sports Extra add-on ($11/mo). You cannot access CBS, CBSSN, or any Univision-related channels through Sling.
Sling TV is the most customizable streaming service so check out our review to see what you can do with it. You can, for example, integrate an antenna and get your local CBS affiliate, or pair Sling with Paramount+ (only $4.99/mo). If you pick up Peacock (also $4.99/mo), you'd be all set to watch every English Premier League match on the schedule.
Hulu + Live TV

Hulu + Live TV for $69.99/mo provides access to CBS, CBS Sports Network, Fox, FS1, and FS2, ensuring that you can watch all English-language broadcasts of these competitions. However, it does not offer any Univision-related channels.
YouTube TV offers a similar plan for the same price that allows you to watch all the games.
For more information, see our Hulu + Live TV review.
Vidgo

Vidgo ($59.95/mo) is another one that will take care of you if you are solely focused on the Gold Cup as it offers Fox, FS1, and FS2, but it does not provide access to CBS, CBSSN, or any Univision-related channels. It's an overall good streaming service for sports fans.
See our Vidgo review for more.
Paramount+

Paramount+ ($4.99/mo) provides access to all English-language Nations League broadcasts available in the US, including matches that are also broadcast on CBSSN and, in rare cases, CBS. However, keep in mind that this only applies to the Nations League as Fox owns English-language Gold Cup rights in the US.
Our Paramount+ review has more information.
Get Paramount+ for 7 Days Free
PrendeTV
PrendeTV is a free streaming service offered by Univision that provides streaming access to a number of these matches.
Streaming Devices for the Gold Cup
It's pretty easy to find a streaming service that will allow you to watch CONCACAF matches on your streaming devices. The major exception is the free PrendeTV. At this time, it is only available on web browsers, Android devices, and iPhones. The other services support most devices.
Samsung smart TVs are supported by all the streaming services except for Vidgo. Fubo, Hulu, and Sling support LG and Vizio smart TVs. And all the services support Android TV-based devices except for DIRECTV STREAM.
Amazon Fire TV, Apple TV, and Roku are supported by all the services. The same is true of Android and iOS mobile devices. And Chromecast can be used to cast from mobile devices and web browsers to your TV.
FuboTV, Sling TV, and Hulu + Live TV work on Xbox One gaming systems. The PlayStation works with Hulu.
See the reviews we linked to above. They contain complete lists of supported devices for each service.
Wrapping Up
Depending on your personal preferences, your likely best options to watch the CONCACAF Gold Cup and CONCACAF Nations League are FuboTV ($69.99/mo) and DIRECTV STREAM ($104.99/mo). Both offer all of the channels that broadcast matches from those two competitions.
If you want to get absolutely everything, you should combine those plans with Paramount+ ($4.99/mo) and PrendeTV (free) for complete coverage.
Sign Up for a Free 7-Day Fubo Trial
FAQs
When is the next CONCACAF Gold Cup?
The next CONCACAF Gold Cup has been scheduled for June 26 through July 16, 2023. It will most likely be hosted by the US, but that decision will probably not be made until late 2022 or early 2023. Sixteen teams will take part; 15 are expected to be decided on their Nations League play and, for some, playoff matches while Qatar will return as a non-CONCACAF invited guest to round out the field.
Which teams are in CONCACAF?
CONCACAF is comprised of:
Anguilla
Antigua and Barbuda
Aruba
Bahamas
Barbados
Belize
Bermuda
Bonaire
British Virgin Islands
Canada
Cayman Islands
Costa Rica
Cuba
Curacao
Dominica
Dominican Republic
El Salvador
French Guiana
Grenada
Guadeloupe
Guatemala
Guyana

Haiti
Honduras
Jamaica
Martinique
Mexico
Montserrat
Nicaragua
Panama
Puerto Rico
Saint Kitts and Nevis
Saint Lucia
Saint Martin
St Vincent and the Grenadines
Sint Maarten
Suriname
Trinidad and Tobago
Turks and Caicos Islands
United States
US Virgin Islands.
All are invited to participate in the Nations League and are eligible for the Gold Cup. However, six cannot take part in FIFA World Cup qualifying: Bonaire, French Guiana, Guadeloupe, Martinique, Saint Martin, and Sint Maarten. This is because FIFA deems them to be parts of other countries (eg, Guadeloupe as a part of France).
How do I watch other soccer leagues without cable?
These guides explain how to watch other popular soccer leagues:
Ditch "Big Cable" Now – 3 Simple Steps to Cut the Cord
Pick the right streaming service
Get the content you deserve with the best VPN.
Supercharge your internet provider
That's it — you'll save money, take back control, and enjoy TV more!
Latest posts by Frank Moraes
(see all)