Disclosure:
Your support helps keep our site running! We earn referral fees for some of the products & services we recommend.
Learn more
MLS Finals are over with New York City FC beating Portland Timber in a shootout. The next season starts Feb 26th. In the meantime, there's plenty of other soccer to watch!
MLS fans won't want to miss the excitement that comes during the MLS Cup Playoffs. If you're a cord-cutter, you can still watch each match as it happens. In fact, thanks to streaming services, you'll have plenty of ways to watch the MLS playoffs online without cable. Read on to learn all your options.
In a hurry? Where exactly MLS Cup playoffs will show can be a bit complicated, but these streaming services will provide you with access to a lot of games:
ESPN+: This specialty streaming service provides access to all out-of-market MLS games.
FuboTV: Provides access to all the games on ESPN and FS1 in addition to a reasonable choice of regional sports networks (RSNs). Try it free for 7 days!
DIRECTV STREAM: The best source for RSNs; if they support your home team, this is worth the extra money. Try it with a 14-day money-back guarantee!
The MLS Cup playoffs are the culmination of an eight-month journey that 27+ soccer clubs take part in, leading to the MLS Cup final, which is simply referred to as MLS Cup. This is the most significant United States- and Canada-based soccer competition, featuring the top teams in those two countries.
MLS's attendances are amongst the world's best. Its 2019 average of 21,265 ranked eighth, only behind the Bundesliga (43,445), Premier League (38,182), La Liga (26,933), Serie A (24,931), Chinese Super League (24,076), Ligue 1 (22,833), and Liga MX (22,788).
How can you stream the matches? Fortunately, an ESPN+ subscription ($6.99/mo) will allow you to watch a significant number of games – all the out-of-market broadcasts. Otherwise, you will need to purchase access to a streaming service that offers ESPN– and Fox-related channels.
See General Streaming Services for the details.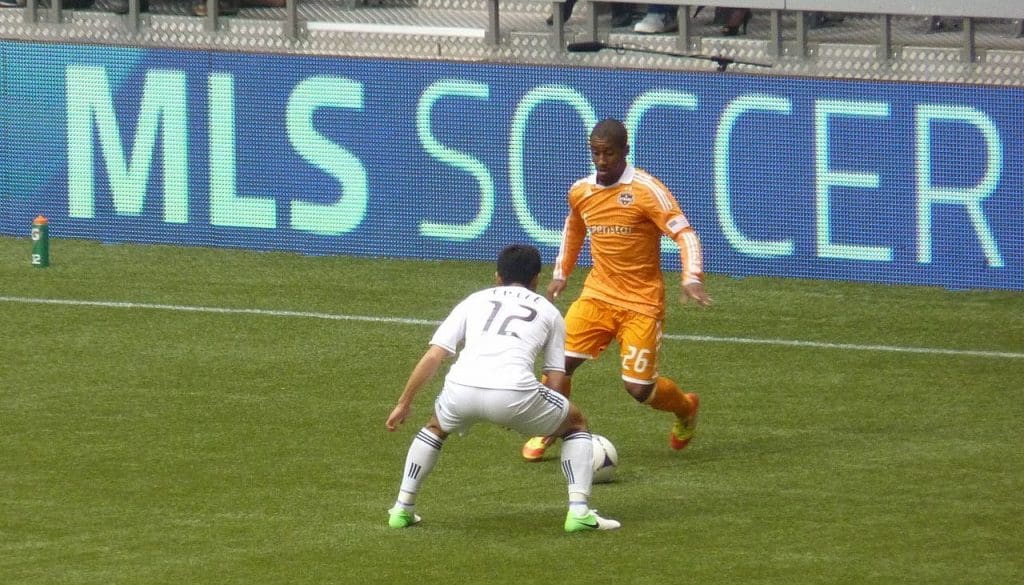 What Is MLS?
MLS stands for Major League Soccer, a league that was created in connection with the 1994 World Cup. The US had to agree to establish a fully professional league such as MLS in order to be awarded hosting rights for that event.
The first league season took place two years later. Eric Wynalda's 88th-minute goal secured a 1-0 win for his San Jose Clash over DC United in MLS's inaugural match.
After starting with 10 clubs that year, the league has gradually grown. It has made particularly significant jumps since 2014, moving from 19 clubs that season to 27 in 2021 and 29 in 2023.
Regular Season
Unlike the vast majority of soccer leagues around the world, which have balanced schedules, the number of matches an MLS team plays against each opponent varies significantly. In fact, several teams do not even play each other. For the 2021 season, each of the clubs plays every other one in its conference two or three times and then just two or three opponents from the other conference once apiece.
The Eastern Conference, as of 2021, consists of Atlanta United, Chicago Fire, Columbus Crew, DC United, FC Cincinnati, Inter Miami, CF Montreal, Nashville SC, New England Revolution, New York City FC, New York Red Bulls, Orlando City SC, Philadelphia Union, and Toronto FC.
The Western Conference is comprised of Austin FC, Colorado Rapids, FC Dallas, Houston Dynamo, Sporting Kansas City, LA Galaxy, Los Angeles FC, Minnesota United, Portland Timbers, Real Salt Lake, San Jose Earthquakes, Seattle Sounders FC, and Vancouver Whitecaps.
However, things are constantly in flux. Charlotte FC will join the festivities in 2022 while St Louis City will do so in 2023. MLS has not released what the conference alignments will be from 2022 on.
When you look at the conference tables, note that "wins" is the first tie-breaker with "goal difference" being second.
MLS Playoffs
The MLS Cup playoff format is relatively simple. The top seven teams in both the Eastern and Western Conferences qualify with the top club in each receiving a bye in the first round.
Otherwise, it is a March Madness-type setup with one game per match-up and no reseeding. That one-match format throughout replaced the previous one, which included two legs apiece in the middle two rounds, in 2019.
Whichever club had the best MLS season record amongst the two participating teams is the host for the match. If the contest is tied at the end of 90 minutes, 30 minutes of extra time will be played in their entirety. If the score is also tied at the end of 120 total minutes, the teams will participate in a penalty shootout.
In 2021, the playoffs will run from November 19th to the middle of December. This may change in 2022.
2021 MLS Cup Playoff Schedule
Nov 20 2:30 pm: Philadelphia (1) vs New York (0)
Nov 20 5:00 pm: Kansas City (3) vs Vancouver (1)
Nov 21 3:00 pm: New York City (2) vs Atlanta (0)
Nov 21 5:30 pm: Portland (3) vs Minnesota (1)
Nov 23 8:00 pm: Nashville (3) vs Orlando (1)
Nov 23 10:30 pm: Seattle (0) vs Salt Lake (0)
Nov 25 4:30 pm: Colorada (0) vs Portland (1)
Nov 28 3:00 pm: Kansas City (1) vs Salt Lake (2)
Nov 28 5:30 pm: Philadelphia (1) vs Nashville (1)
Nov 30 7:30 pm: New England (2) vs New York City (2)
Dec 4 6:00 pm: Portland (2) vs Salt Lake (0)
Dec 5 3:00 pm: Philadelphia (1) vs New York City (2)
Dec 11 3:00 pm: Portland (1) vs New York City (1)
All times are EST.
You can catch all the remaining MLS games via FuboTV!
Other Competitions
Similar to the rest of the world, MLS clubs do not solely play in their league competition.
One added event to each team's fixture list is a domestic cup, the US Open Cup for American-based sides, and the Canadian Championship for the three clubs that are based north of the border. Although the latter was played in 2021, the US Open Cup was not but is expected to return in 2022.
Additionally, the clubs attempt to qualify for continent-wide competitions, most notably the CONCACAF Champions League, this region's version of the UEFA Champions League. Both domestic cup winners are assured of a spot as are the MLS Cup champions.
So are the teams that won the regular-season titles in both the Eastern and Western Conferences with one caveat. Canadian teams can only qualify through winning the Canadian Championship; the other aforementioned spots are solely for US-based sides.
Note that the CCL is being significantly revamped with its 2024 edition with many more US- and Canada-based clubs taking part, up to a maximum of 12 total from those two countries.
Meanwhile, the Leagues Cup is an international event involving MLS and Liga MX clubs, four apiece, although this is being revamped as well, starting with its 2023 edition.
The final continental competition is the Campeones Cup. This features the previous campaign's MLS champion taking on the previous season's top club from Mexico.
The FIFA Club World Cup could also feature one or more MLS clubs at some point in the future. Currently, the only way this can occur is if one claims the CONCACAF Champions League trophy. No MLS team has ever participated in the Club World Cup.
Where Can I Watch MLS?
On a national level, Fox and ABC/ESPN own broadcasting rights for MLS matches. During the 2021 regular season, 12 were carried on over-the-air television, five on ABC and seven on Fox.
Additionally, six MLS Cup playoff contests will receive like coverage, four of which will be on ABC and one on Fox. In addition, ESPN (or ESPN2) showed 27 regular-season matches in 2021 while Fox Sports 1 (FS1) broadcast 25.
Spanish-Language Broadcasts
Those looking for national Spanish-language broadcasts can find them on Univision-related channels, such as Univision, UniMas, and TUDN, as well as on ESPN Deportes and Fox Deportes.
Over-the-air Univision and UniMas broadcast 11 and 14 regular-season matches, respectively. Univision will air two playoff matches, and UniMas will broadcast the final in addition to ABC. ESPN Deportes and Fox Deportes will split coverage of the other playoff matches.
TUDN simulcasts all Univision- and UniMas-shown games.
Other Broadcasts
Canadians can find Toronto FC and Vancouver Whitecaps matches on TSN and CF Montreal contests on TSN and TVA Sports. In addition, seven matches were broadcast on CTV in 2021. TSN and TVA Sports will team up to show all 13 MLS Cup playoff matches.
In the US, local coverage varies, depending on the club. Regional sports networks will broadcast a team's matches to its coverage area in some cases while local over-the-air stations will show matches in others.
Local coverage will be the case for the first two playoff matches as far as English-language broadcasts go while Univision and TUDN will show those two games to a national audience in Spanish.
How to Watch MLS
You have a number of options to stream MLS. There are specialty services as well as full cable replacement services.
Specialty Services
There are a few specialty streaming services to watch MLS games.
ESPN+
ESPN+ ($6.99/mo) provides you with the ability to watch all out-of-market broadcasts of matches (ie, all games but those featuring the local team and those airing on national channels). In addition to the regular season, it provides the first two playoff games.
See our ESPN+ review for details.
Univision NOW
Univision NOW ($10.99/mo) offers online access to all matches broadcast on Univision and UniMas.
DAZN
DAZN ($20 CAD/mo) live streams all non-telecast matches in Canada. Those that are broadcast live on a television channel will be made available on-demand through DAZN 48 hours after said broadcast. See our DAZN review for more information.
General Streaming Services
There are a lot of general streaming services that provide access to MLS.
FuboTV

FuboTV ($64.99/mo) is your best option if you want access to both MLS's English- and Spanish-language broadcasts as it offers Fox, FS1, ESPN, ABC, Univision, UniMas, and TUDN. (Note that you need to get the International Sports Plus add-on for $6.99/mo or Latino Plus add-on for $19.99/mo to watch games on ESPN Deportes and Fox Deportes.)
You might also receive access to one or more RSNs that show locally produced MLS games. You also get 250 hours of cloud DVR storage and the ability to stream on three devices simultaneously.
See our FuboTV review for more details.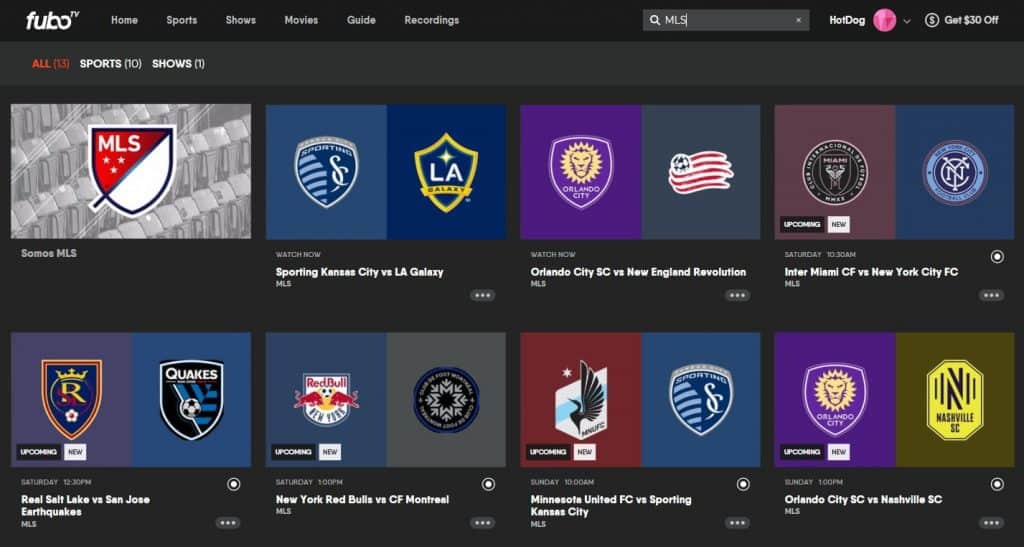 Hulu + Live TV

Hulu + Live TV ($64.99/mo) offers ABC, Fox, ESPN, and FS1 and the ability to get Fox Deportes and ESPN Deportes through the Espanol add-on for $4.99/mo. Univision, UniMas, and TUDN are not available through this service, but you could combine Hulu + Live TV with Univision NOW to get a complete offering.
Hulu + Live TV does offer several RSNs that show MLS matches to local audiences. It allows you to stream on up to two devices at once and store 50 hours of DVR material.
Our Hulu + Live TV review provides all the details.
Note that YouTube TV offers a very similar plan with 85+ channels for $64.99/mo.
DIRECTV STREAM

DIRECTV STREAM (formerly AT&T TV) provides access to several MLS-related channels with its Entertainment plan ($69.99/mo). Its offerings of RSNs is where it most shines with almost all Bally Sports and NBC Sports channels. But you would need to upgrade to its Choice plan ($84.99/mo) to get those.
At this level, you get MLB Network and NBA TV. At the Ultimate level ($94.99/mo), you get NHL Network. UDN, ESPN Deportes, and Fox Deportes are only available through its Deportes package ($5/mo).
Read our DIRECTV STREAM review for more information.
Sling TV

To watch MLS action through Sling, you will need to get its combined Orange & Blue plan ($50/mo) as the Orange one has the ESPN channels while the Blue one offers Fox-affiliated sports channels.
Note that although ABC is not available with either and Fox is only available in select markets, you can access games shown on those channels through Sling TV's access to ESPN3 and Fox Live
Our Sling TV review has more details.
Devices to Live Stream MLS
You can watch MLS games on most streaming TVs and devices currently in use.
ESPN+
Subscribers use the EPSN app to watch ESPN+.
Samsung and Android TV smart TVs are supported. So are the popular HDMI devices Amazon Fire TV, Apple TV, and Roku.
iOS and Android phones and tablets are supported. These can also be used to cast to your TV with Chromecast (built-in or external).
You can also watch on a number of gaming systems: Xbox One, PlayStation, and Oculus.
Univision Now
Univision Now supports all the devices ESPN+ does except for the Samsung smart TVs and the gaming systems.
DAZN
DAZN supports all of the ESPN+ devices in addition to the LG and Vizio smart TVs.
General Services
FuboTV supports the same devices except for the gaming systems. It only supports the Xbox One. It also supports LG, Vizio, and Hisense smart TVs.
Hulu + Live TV supports all the ESPN+ devices plus LG and Vizio smart TVs and the Nintendo Switch but not the Oculus.
DIRECTV STREAM supports all the ESPN+ devices except for Android TV and all the gaming systems.
Sling TV supports the ESPN+ devices except for the PlayStation. And it supports the LG and Vizio smart TVs.
Wrapping Up
If you are US-based and looking for English-language coverage of MLS matches, ESPN+ and FuboTV will serve you well. But it's worth checking out Hulu + Live TV, DIRECTV STREAM, and Sling TV.
FAQs
Which teams play in MLS?
The MLS' Western Conference includes:
Austin FC
Colorado Rapids
FC Dallas
Houston Dynamo
LA Galaxy
Los Angeles FC (LAFC)
Minnesota United
Portland Timbers

Real Salt Lake
San Jose Earthquakes
Seattle Sounders
Sporting Kansas City
Vancouver Whitecaps.
Its Eastern Conference includes:
Atlanta United
Chicago Fire
Columbus Crew
DC United
FC Cincinnati
Inter Miami
CF Montreal
Nashville SC

New England Revolution
New York City FC
New York Red Bulls
Orlando City SC
Philadelphia Union
Toronto FC.
Fourteen of those will participate in the 2021 MLS Cup playoffs. Charlotte FC will join the league in 2022, and St Louis City will do so in 2023.
Which channels are MLS games on?
MLS games are broadcast nationally on ABC, Fox, FS1, ESPN, Univision, UniMas, UDN, ESPN Deportes, and Fox Deportes to those located in the US. Various local outlets will also provide regional coverage of non-nationally telecast games. Canadians can watch live match coverage on CTV, TSN, and TVA Sports.
How can I stream other soccer leagues without cable?
These guides show you how to watch other soccer leagues:
Latest posts by Frank Moraes
(see all)