The 2022-23 UEFA Round of 16 is upon us. PSG plays Bayern Munich on February 14th at . Watch it on Paramount+!
MLS may not have the popularity of the NFL, but it is now about on par with NHL and so it's widely available to watch on television. And the 2023 season returns Saturday, February 25th with a match between LA Galaxy and LAFC. Read on to learn how to watch it all without cable.
In a hurry? Finding the MLS matches you want to watch can be tricky. Here are your best options:
DIRECTV STREAM: The best source for RSNs; if they support your home team, this is worth the extra money. A 5-day free trial is now available for DIRECTV STREAM.
FuboTV: Provides access to all the national channels that air MLS games (even unusual ones like TUDN) as well as many RSNs. FuboTV allows you to try out its service free for 7 days.
ESPN+: This specialty streaming service provides access to all out-of-market MLS games.
Major League Soccer continues to improve its status as one of the most significant professional sports leagues in the US. It is now the third-most attended one in the country with about 20,000 attending every match.
In fact, some teams average quite a bit more than that; Atlanta United is the best example at 50,000 per contest. Those figures also make MLS one of the 10 most-attended soccer leagues in the world.
Sign Up for a Free 7-Day Fubo Trial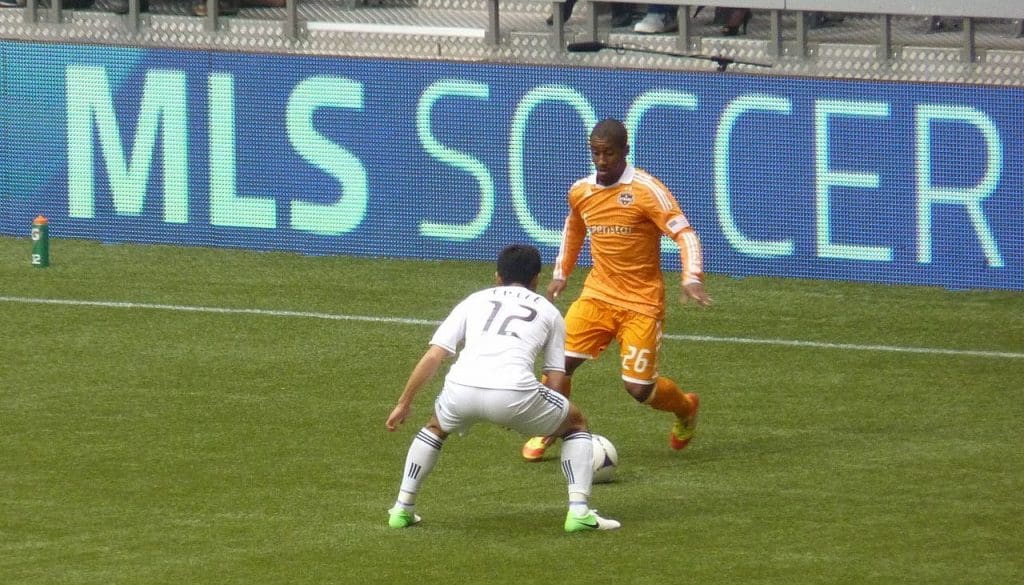 MLS Basics
Major League Soccer is the top soccer league in the US.
History
MLS was created as part of the deal with FIFA that awarded the US hosting rights to the 1994 World Cup. In the first match in league history, which was played on April 6, 1996, at San Jose's Spartan Stadium, Eric Wynalda scored the winning goal in the San Jose Clash's 1-0 victory over DC United.
The league has always been home to some big-name players, more recently as the result of its designated player rule, which was adopted in 2007. It allows teams to sign those marquee names to much larger contracts than they provide to most of the players on their squads. Some of the biggest names of that inaugural season included Carlos Valderrama, Jorge Campos, Alexi Lalas, and Tony Meola.
However, MLS did experience some significant growing pains. The league made rule changes that were thought to be more attractive to US-based sports fans. These included utilizing shootouts to break tie scores during regular-season matches and the use of a countdown clock.
But these were met with backlash from traditional soccer fans. And worse, the changes did little to attract non-soccer fans to the sport and to the league.
A significantly positive change that later occurred was the creation of soccer-specific stadiums. These are stadiums that were not only designed with this sport in mind as far as the pitch goes but also attendance-wise. These tended to be in the 20,000-30,000-seat range, which fit most clubs' attendance figures much more closely. And they generally created better atmospheres than playing at NFL stadiums.
The first one, Crew Stadium, was built in Columbus, Ohio, and numerous clubs now play in them.
Current Structure
MLS's 2022 membership consists of 28 clubs, which are split into 14-team Eastern and Western Conferences. Within their respective conferences, everybody plays everybody else twice, once at home and once away. Each team's other eight games are played against eight of the teams in the other conference. That makes for a 34-match regular season.
Its regular-season calendar is similar to MLB's but extends a little longer on both sides. In 2022, that consisted of a start in late February and the campaign ending a week and a half into October.
The MLS Cup playoffs follow, ending a month later. Seven teams in each conference advance to postseason play with the first-place sides receiving first-round byes. All four playoff rounds consist of single matches, which can have extra time and a penalty shootout, if necessary.
Sign Up for a Free 7-Day Fubo Trial
Other Competitions
Similar to the rest of the world, MLS clubs do not solely play in their league competition.
One added event to each team's fixture list is a domestic cup, the US Open Cup for American-based sides, and the Canadian Championship for the three clubs that are based north of the border. Although the latter was played in 2021, the US Open Cup was not but is expected to return in 2022.
Additionally, the clubs attempt to qualify for continent-wide competitions, most notably the CONCACAF Champions League, this region's version of the UEFA Champions League. Both domestic cup winners are assured of a spot as are the MLS Cup champions.
So are the teams that won the regular-season titles in both the Eastern and Western Conferences with one caveat. Canadian teams can only qualify through winning the Canadian Championship; the other aforementioned spots are solely for US-based sides.
Note that the CCL is being significantly revamped with its 2024 edition with many more US- and Canada-based clubs taking part, up to a maximum of 12 total from those two countries.
Meanwhile, the Leagues Cup is an international event involving MLS and Liga MX clubs, four apiece, although this is being revamped as well, starting with its 2023 edition.
The final continental competition is the Campeones Cup. This features the previous campaign's MLS champion taking on the previous season's top club from Mexico.
The FIFA Club World Cup could also feature one or more MLS clubs at some point in the future. Currently, the only way this can occur is if one claims the CONCACAF Champions League trophy. No MLS team has ever participated in the Club World Cup.
Unblock Your Favorite Events & Teams With a VPN
If you can't watch your favorite events or teams because of your location, a VPN will allow you to get the access you are entitled to, plus extra security and unequalled privacy. Check out our VPN Guide for everything you need to know, including our top pick ExpressVPN.
Streaming MLS Matches
MLS matches can be watched through a variety of channels and streaming services.
National Broadcasts
A notable percentage of MLS matchups can be watched on national outlets. Several of them are even shown on network television, requiring just an antenna to view. These include ABC, Fox, Univision, and UniMas.
ESPN, ESPN2, Fox Sports 1 (FS1), and TUDN broadcast matches to national audiences as well. All games shown on ESPN and ESPN2 are also simulcast on ESPN Deportes while all matches that are being showcased on FS1 are featured on Fox Deportes as well.
In addition, all matchups featured on Univision and UniMas are live-streamed on Twitter.
Out-of-Market Games
If you are looking to watch a team play any or all of its matches that are not being shown on national television, but you are not located near that club, you will most likely need to take advantage of ESPN+ for $9.99/mo.
This service provides access to a tremendous selection of sporting events. These include a considerable number of soccer matches being played worldwide, features out-of-market MLS contests, an offering that is promoted as MLS Live on ESPN+.
In-Market Games
If you are a fan of your local MLS team, things are considerably more varied. But you have options.
Eastern Conference
Atlanta United FC: Bally Sports South and Bally Sports Southeast team up to provide coverage of roughly half of the matches that this club plays to those located throughout most of their broadcast areas.
CF Montreal: This Canadian club's local broadcast reach is national as all of its games are shown on TVA Sports, a national French-language sports channel that is based in Quebec. A few are also on CTV.
Charlotte FC: TV 64 (WAXN-TV) and Telemundo Charlotte, which is appropriately named WSOC, provide local coverage of this club's matches. Several affiliate stations situated elsewhere in North Carolina and in South Carolina do the same.
Chicago Fire FC: WGN-TV provides local coverage of a considerable majority of Fire matches. The network has also come to an agreement with the club to broadcast a Fire-focused program, No Little Plans.
Columbus Crew: Locally produced Crew matches are split between Bally Sports Ohio and Bally Sports Great Lakes with the two combining to broadcast nearly all of its contests. Pre- and post-match shows are shown as well.
DC United: NBC Sports Washington is the local English-language television partner for DC United while locally produced matches are also shown on Telemundo 44, a Spanish-language channel that offers local fans the option to view these games with an antenna.
FC Cincinnati: Star 64 (WSTR-TV), Cincinnati's MyNetworkTV affiliate, is the local broadcasting partner for the club. This channel had shown the team's games its final years in the United Soccer League, and that arrangement was carried over to its MLS days.
Inter Miami CF: CBS 4 (WFOR-TV) and My TV 33 (WBFS-TV) team up to broadcast locally produced Inter Miami matches accompanied by English-language commentary to those in their broadcast areas. UniMas Miami is its local Spanish-language television home.
New England Revolution: In the Boston area, WBZ Channel 4 and myTV38 (WSBK-TV) split local coverage of Revolution matches while WPRI 12 provides access to those same broadcasts to fans located in the Providence, RI, area.
New York City FC: The YES Network offers NYCFC matches to those who are situated in this regional sports network's broadcast area. It has done so since 2015, the club's inaugural season. Broadcasts include a 30-minute pre-match show.
New York Red Bulls: The MSG Network is the local broadcast partner for the Red Bulls. In fact, it has served in that role ever since the club, then known as the NY/NJ MetroStars, started play in 1996, MLS's inaugural season.
Orlando City SC: Fox 35 Orlando Plus (WRBW), which is a MyNetworkTV affiliate found at channel 65, is where fans located in central Florida can watch their local club play on a regular basis.
Philadelphia Union: PHL17 (WPHL-TV), Philadelphia's MyNetworkTV affiliate, provides access to most of the locally produced Union matches to those located in the area while 6 ABC (WPVI-TV) and NBC Sports Philadelphia may show a small selection as well.
Toronto FC: All TFC matches are shown nationally in Canada on TSN while some of the club's games are broadcast on CTV as well.
Sign Up for a Free 7-Day Fubo Trial
Western Conference
Austin FC: The CW Austin (KNVA) and KBVO are the channels that local Austin FC fans should tune into in order to watch their club play when it is not featured on national television. Most of these locally produced matches, around three-quarters, are on The CW Austin.
Colorado Rapids: Altitude Sports is the local broadcaster for this club's matches. This regional sports network is available throughout a 10-state region, giving the Rapids one of the largest geographical reaches in the league.
FC Dallas: TXA 21 (KTXA), an independent over-the-air station, is FC Dallas' English-language local broadcast partner – it has been so since the 2015 campaign. Estrella TV Dallas (KMPX) offers local Spanish-language coverage to fans here.
Houston Dynamo FC: AT&T SportsNet Southwest has been the local home for Dynamo matches since 2022. That arrangement allows those throughout Texas except for the Austin and Dallas metropolitan areas to regularly watch this team play.
LA Galaxy: Fans looking to watch the Galaxy play need to tune into Spectrum SportsNet in most cases. This regional sports network is available throughout Southern California as well as in the Las Vegas metropolitan area and Hawaii.
Los Angeles FC: KCOP 13 and Estrella TV KRCA 62 are the local broadcast partners for LAFC, the former providing match coverage that is accompanied by English-language commentary and the latter with Spanish-speaking announcers describing the action.
Minnesota United FC: This club also has an arrangement with two local broadcast partners with many of its matches are simulcast on both. These are Bally Sports North and The CW Twin Cities (WUCW). Bally Sports Wisconsin also shows most of these matches.
Nashville SC: MyTV30 (WUXP) provides access to the majority of games that Nashville SC plays to fans in its broadcast area. Pregame and postgame shows, both lasting 30 minutes, are included in the coverage.
Portland Timbers: Fox 12 Oregon (KPTV) and Fox 12 Plus team up to bring local access to most Timbers matches with a majority of these on Fox 12 Plus. Its television network also stretches southward to Eugene (MyTV 23, KEVU-CD) and Medford (My 48, KFBI-LD).
Real Salt Lake: RSL fans also get to enjoy coverage of their team play via free, over-the-air means as MyUtahTV (KMYU) telecasts these matches to those located in its coverage area. Thirty-minute pre- and post-game shows are part of every broadcast.
San Jose Earthquakes: NBC Sports Bay Area and NBC Sports California split local coverage of Earthquakes matches. Viewers should also note that roughly a sixth of those will be bumped to NBC Sports Bay Area Plus or NBC Sports California Plus.
Seattle Sounders FC: Fox 13 Seattle (KCPQ) and Fox 13+ showcase Sounders matches throughout the regular season with most of these being shown on Fox 13+. This arrangement has been in place since 2018.
Sporting Kansas City: The Independent station 38 The Spot (KMCI-TV) is the local home for the majority of SKC broadcasts. The club's arrangement with this independent station, which is available over the air, went into effect in 2022.
Vancouver Whitecaps FC: All Whitecaps matches are broadcast to a national audience within Canada on TSN while a select number, just two in the case of the team's 2022 slate, are simulcast on CTV.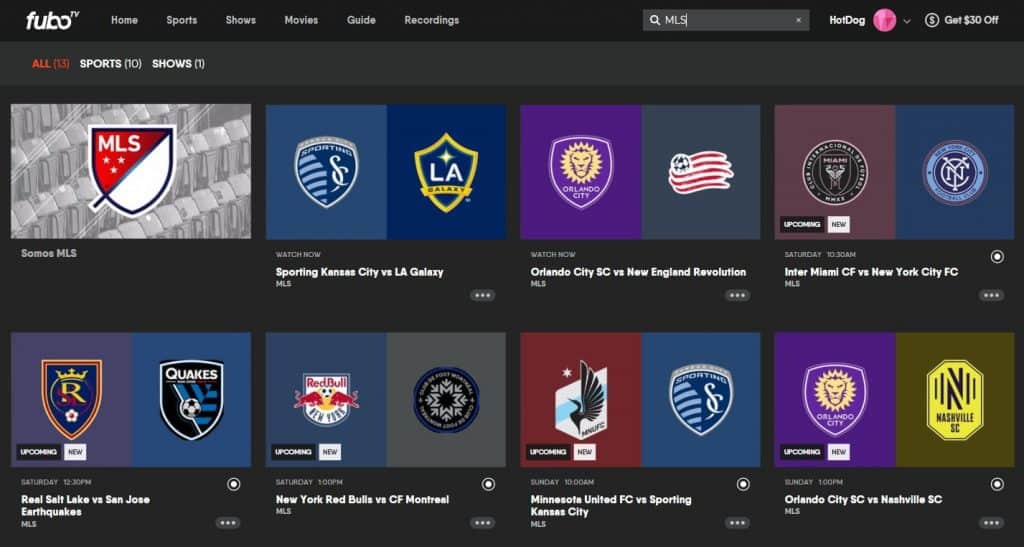 Streaming Services for MLS
Different live TV streaming services offer access depending on where you live and what teams you are interested in.
Sign Up for a Free 7-Day Fubo Trial
Other Streaming Services
There are a few specialty streaming services to watch MLS games.
ESPN+
ESPN+ ($9.99/mo) provides you with the ability to watch all out-of-market broadcasts of matches (ie, all games but those featuring the local team and those airing on national channels). In addition to the regular season, it provides the first two playoff games.
See our ESPN+ review for details.
Univision NOW
Univision NOW ($10.99/mo) offers online access to all matches broadcast on Univision and UniMas.
DAZN
DAZN ($20 CAD/mo) live streams all non-telecast matches in Canada. Those that are broadcast live on a television channel will be made available on-demand through DAZN 48 hours after said broadcast. See our DAZN review for more information.
Devices to Live Stream MLS Matches
All the streaming services support most popular devices:
Amazon Fire TV
Android mobile devices
Apple TV
Chromecast
iOS mobile devices (iPhone, iPad)
Roku
Web browsers.
DIRECTV STREAM also offers its own device if you like. It, FuboTV, and others also support recent Samsung smart TVs.
All the services except for DIRECTV STREAM support Android TV devices.
Fubo, Hulu, Sling, and YouTube also support LG and VIZIO smart TVs as well as Xbox gaming consoles. Sling offers the Oculus. And Hulu and YouTube support the PlayStation.
Superpower Your Streaming With a VPN
For the sake of privacy, security, and access, you should be using a VPN. They are low-cost and easy to use. We've been using them for years and our top pick is ExpressVPN. Be sure to check out our Cyber Monday 2022 deals on ExpressVPN, NordVPN, SurfShark and PureVPN.
Wrapping Up
MLS matches are available through a variety of means. In numerous cases, fans can watch local broadcasts on over-the-air television while many nationally broadcast matches are available through those same means to all located in the US.
However, one significant benefit of note for a club utilizing a regional sports network for local broadcasts is its generally larger reach beyond its home metropolitan area.
Keep in mind that many of these teams provide free streams of locally produced matches while ESPN+ ($9.99/mo) is a tremendous resource as it offers online access to all out-of-market broadcasts.
Sign Up for a Free 7-Day Fubo Trial
FAQs
What channel is the Sounders game on?
If you are looking to watch today's Sounders match and are located in the Seattle metropolitan area, your first stops should be Fox 13+ and Fox 13 Seattle. Conversely, if it is being shown nationally, then check out your local Fox, ABC, Univision, and UniMas affiliates as well as ESPN, ESPN2, ESPN Deportes, FS1, Fox Deportes, and TUDN.
How do I watch the MLS Cup playoffs?
How to watch the MLS Cup playoffs depends on the specific television and streaming options for the match that you are interested in. Possibilities include ABC, ESPN, ESPN2, ESPN Deportes, Fox, FS1, Fox Deportes, Univision, UniMas, and TUDN in the US and TSN, CTV, and TVA Sports in Canada. MLS Cup 2021 was shown on ABC, UniMas, TUDN, TSN, and TVA Sports.
How do I watch other soccer leagues and events without cable?
These guides explain everything you need to know:
Ditch "Big Cable" Now – 3 Simple Steps to Cut the Cord
Pick the right streaming service
Get the content you deserve with the best VPN.
Supercharge your internet provider
That's it — you'll save money, take back control, and enjoy TV more!
Latest posts by Frank Moraes
(see all)