The 2022 Australian Open runs from Mon Jan 17th through Sun Jan 30th. It's one of the biggest events in tennis the whole year. Cord-cutters don't need to worry about missing any of the action since the entire event is aired on standard channels provided by the major streaming services.
In a hurry? The Australian Open will be shown on ESPN, ESPN2, and The Tennis Channel. Here are our favorite streaming services that allow you to watch most if not all of the action:
FuboTV: The best streaming service for international sports also provides 120+ well-selected channels. FuboTV allows you to try out its service free for 7 days.
Sling TV: This low-cost service allows you to select just the channel lineup you want. Save 50% on your first month of Sling TV.
DIRECTV STREAM: Get a great channel lineup with the best selection of RSNs in the industry. A 5-day free trial is now available for DIRECTV STREAM.
If you can't watch your favorite sports because of your location, get ExpressVPN (plus their 'Black Friday' deal) to access the content you deserve.
Unfortunately, we don't know a streaming service in that covers this sport. But if you've already paid for the right service, and just can't watch because of your location, there is an easy way to get the content you deserve. You need a VPN, like one of the following.
ExpressVPN: Premium VPN provider that just works, with 3,000+ locations in 94 countries. Supports five simultaneous devices and comes with a 30-day money-back guarantee. (ExpressVPN review)
Surfshark: Connect to over 3,200 servers in 99 countries (+ tonnes of US metro areas). Try it with a 7-day free trial.
NordVPN: Connect to over 5,000 premium servers in 60+ countries. Comes with a 30-day money-back guarantee!
If you're overwhelmed and not sure where to begin, you'll find all the answers in our full VPN guide.
The Australian Open is the first major tennis tournament of the calendar year, and it takes place at Melbourne Park in Melbourne, Australia. It is generally considered to be the most important sporting event in the country. It attracts hundreds of thousands of visitors each year. A total of AUD $80 million was awarded to the various champions of the 2021 tournament.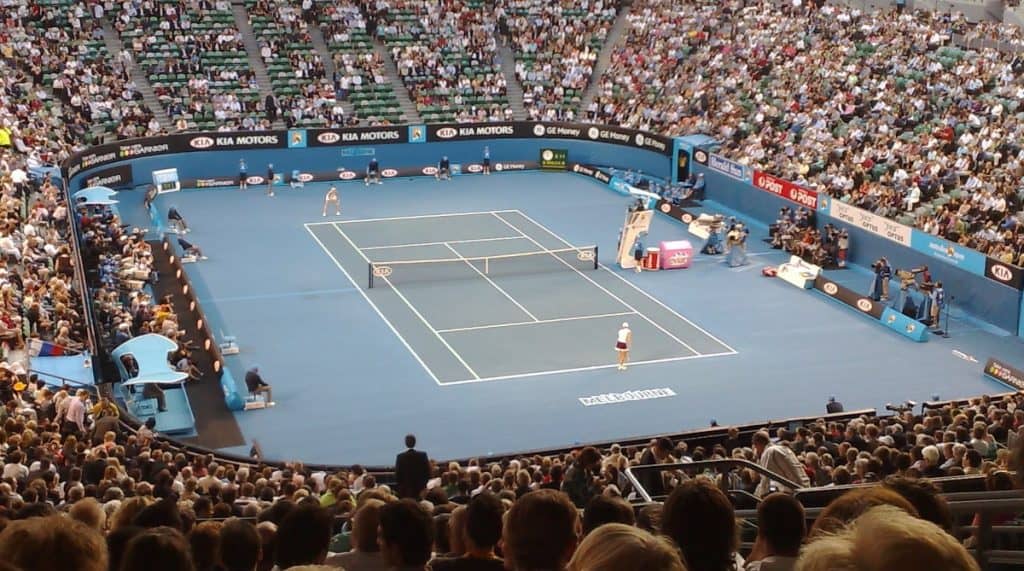 Australian Open Background
This tournament was first played in 1905. It was originally referred to as the Australasian Championships. In 1924, it earned its designation as a major tournament by the International Lawn Tennis Federation (ILTF). The ILTF is now known as Tennis Australia, and it is responsible for organizing and running the Australian Open each year.
In 1927, it was renamed the Australian Championships. It wasn't until 1969 that it got its current name.
Venue
In 1972, it was decided that the tournament would be held in Melbourne each year. Between 1905 and 1971, the event had a number of host cities including Sydney, Brisbane, and Perth.
The event was also held in New Zealand in 1906 and 1912. One of the key reasons why the location of the Australian Open changed so frequently was because it was difficult to travel long distances during the first half of the 20th century.
Therefore, holding the tournament throughout the country was seen as a way to make the event more accessible to a larger number of players. But Australia's relatively remote location meant that it drew few international participants from outside of Asia until the 1950s.
Between 1972 and 1987, the tournament was played at the Kooyong Tennis Club. In 1988, the event finally moved to Melbourne Park where it has been held ever since. Unlike other venues that host Grand Slam tennis events, this complex has a retractable roof and other tools to ensure that matches can be held in relative comfort.
Surfaces
Until 1988, the tournament was contested on a grass surface. However, since the move to Melbourne Park, players have competed on a variety of artificial surfaces that are designed to mimic the look and feel of grass.
One of the key advantages to using an artificial surface is that it is made from materials that do a better job of repelling heat. This is important because January is the peak of the summer season in Melbourne. This means that players have to deal with extreme levels of heat and humidity.
Recent Results
Novak Djokovic has won the event each of the last three years on the men's side while Naomi Osaka is the defending women's champion.
Rod Laver, Arthur Ashe, and Roger Federer are among the biggest names to win the men's tournament since 1969.
Serena Williams, Maria Sharapova, and Margaret Court are among the notable names to win the women's version of the tournament.
Unblock Your Favorite Events & Teams With a VPN
If you can't watch your favorite events or teams because of your location, a VPN will allow you to get the access you are entitled to, plus extra security and unequalled privacy. Check out our VPN Guide for everything you need to know, including our top pick ExpressVPN.
Where to Watch the Australian Open
In the United States, you can watch the Australian Open on ESPN, ESPN2, and the Tennis Channel. But the final matches are normally on ESPN.
In Australia itself, the event is covered by Nine Network. Sky broadcasts it in New Zealand. Eurosport broadcasts it to the UK and most of Europe and Africa. TSN (English) and RDS (French) bring the event to Canada. beIN Sports covers most of the Middle East.
NHK airs it in Japan. Sony 6 has broadcasting rights in India, Pakistan, and nearby countries. Most of Asia other than China is covered by Fox Sports Asia. China is covered by a number of different providers including CCTV and Fox Sports Asia (in hotels). The rest of the world is covered mostly by ESPN International.
2022 Australian Open Schedule
The sections with (e) indicate that they occur in the evening and (m) indicates mornings relative to EST.
Sun Jan 16 (e): Men's/Women's (round 1)
Mon Jan 17 (m): Men's/Women's (round 1)
Mon Jan 17 (e): Men's/Women's (round 1)
Tue Jan 18 (m): Men's/Women's (round 1)
Tue Jan 18 (e): Men's/Women's (round 2)
Wed Jan 19 (m): Men's/Women's (round 2)
Wed Jan 19 (e): Men's/Women's (round 2)
Thu Jan 20 (m): Men's/Women's (round 2)
Thu Jan 20 (e): Men's/Women's (round 3)
Fri Jan 21 (m): Men's/Women's (round 3)
Fri Jan 21 (e): Men's/Women's (round 3)
Sat Jan 22 (m): Men's/Women's (round 3)
Sat Jan 22 (e): Men's/Women's (round 4)
Sun Jan 23 (m): Men's/Women's (round 4)
Sun Jan 23 (e): Men's/Women's (round 4)
Mon Jan 24 (m): Men's/Women's (round 4)
Mon Jan 24 (e): Men's/Women's Quarter-finals
Tue Jan 25 (m): Men's/Women's Quarter-finals
Tue Jan 25 (e): Men's/Women's Quarter-finals
Wed Jan 26 (e): Men's/Women's Quarter-finals
Thu Jan 27 (m): Women's Semi-finals
Thu Jan 27 (e): Mixed Doubles Final
Thu Jan 28 (m): Men's Singles Semi-finals
Fri Jan 28 (e): Women's Singles Final
Sat Jan 29 (m): Men's Doubles Final
Sat Jan 29 (e): Women's Doubles Final
Sun Jan 30 (m): Men's Singles Final
Live TV Stream Services
In the US, you have many good options for streaming the Australian Open live.
FuboTV

For $69.99 per month, FuboTV gives you access to ESPN and ESPN2. The Tennis Channel is available as part of the Fubo Extra ($7.99/mo) or Sports Extra ($10.99/mo). The base plan comes with over 100 channels. With Fubo Extra, the number jumps to over 150.
All FuboTV plans come with 1000 hours of cloud DVR and streaming on up to ten devices at once. For more information, see our complete FuboTV review.
Sling TV

ESPN and ESPN are part of the Sling Orange base service plan, which is $35 per month. You'll also be able to get the Tennis Channel as part of the Sling Orange Sports Extra plan, which is $11/mo. This gives you 45+ channels including MLB Network, NBA TV, and NHL Network.
One downside of Sling Orange is that you can stream on only one device at a time. But that isn't a big deal for a lot of people. And the plan does come with 50 hours of cloud DVR. There's more information in our Sling TV review.
Hulu + Live TV

Hulu + Live TV costs $69.99 per month and comes with the entire family of ESPN networks in addition to ESPN+ and Disney+. Unfortunately, it does off Tennis Channel, so you will miss out on earlier matches.
Still, it allows you to watch the most important matches of the Open as well as a wide variety of professional football, basketball and other events throughout the year.
All Hulu + Live TV plans come with unlimited cloud DVR and simultaneous streaming on up to two devices. See our Hulu + Live TV review for more.
Other Streaming Options
Both YouTube TV and Vidgo offer the ESPN channels but neither offers Tennis.
The base DIRECTV STREAM plan ($69.99/mo) comes with ESPN and ESPN2. The Tennis Channel comes with the Choice package for $89.99/mo. But you do get a lot more than that including access to the best selection of regional sports networks (RSNs) in the industry.
TVs and Devices to Live Stream the Australian Open
All the services we discussed above support most of streaming devices you are likely to have: Amazon Fire TV, Android mobile, Android TV, Apple TV, Chromecast, iOS (eg, iPhone), VIZIO and LG smart TVs, Roku, Samsung smart TVs, Xbox systems, and web browsers.
Nintendo Switch and PlayStation systems are supported by Hulu. Sling TV supports the Oculus VR system.
There are other less popular streaming devices that are also supported. Check our reviews for complete details.
Superpower Your Streaming With a VPN
For the sake of privacy, security, and access, you should be using a VPN. They are low-cost and easy to use. We've been using them for years and our top pick is ExpressVPN. Be sure to check out our Black Friday deals on ExpressVPN, NordVPN and SurfShark.
Summing Up
One of the most anticipated sporting events of the year, the Australian Open takes place during the final two weeks of January. Live coverage of the event is available throughout the globe, but if you live in the United States, you'll likely watch it on ESPN, ESPN2, and The Tennis Channel.
Many streaming platforms offer these networks, which means that you can keep tabs on your favorite athletes without the need for a cable subscription. Our top picks are Sling TV and FuboTV.
How to Watch Live Tennis Without Cable
See the following guides for more information:
Ditch "Big Cable" Now – 3 Simple Steps to Cut the Cord
Pick the right streaming service
Get the content you deserve with the best VPN.
Supercharge your internet provider
That's it — you'll save money, take back control, and enjoy TV more!