UFC Fight Night: Fiziev vs Gamrot is this Saturday, September 23rd with prelims at , and the main card at . Watch it all on ESPN+!
UFC numbered events are some of the biggest events on the sports calendar. But you aren't going to casually happen upon them while channel surfing. You need to plan. But it isn't that hard. Read on to learn how.
In a hurry? If you are a total MMA fanatic and just can't get enough, the UFC Fight Pass is a must. For the big events, you will need to purchase the PPV events that are available through ESPN. You can purchase them as well as getting access to all the Fight Night events by signing up with ESPN+.
The Ultimate Fighting Championship (UFC) is the most famous mixed martial arts league in the world. It features the top fighters in the world at various weight classes who compete for championship belts, bragging rights, and prize money.
Let's take a closer look at the history of the UFC, why it has developed such a large following, and how you can watch UFC events without the need for a cable subscription.
Get ESPN and ESPN + With Hulu!
How UFC Works
The UFC was founded in 1993 by a group of people including Rorion Gracie and Art Davie. During the promotion's early years, there were no weight classes or a sophisticated ruleset.
Generally speaking, the only things that fighters couldn't do were bite their opponents or hit them in the groin. This was because the goal of the UFC was to test various MMA styles to see which was the most effective over the broadest range of fighting conditions.
In fact, according to UFC President Dana White, the first UFC event was supposed to be the only one that took place. The decision to run additional events came after the first show was a hit among viewers.
As the promotion matured, it developed a complex set of rules designed to protect fighters and to help it present MMA as a legitimate sport. Today, there are nine weight classes for male competitors and four weight classes for female competitors.
Surprisingly, formal weight classes did not emerge because smaller fighters were losing to larger ones. Instead, competitors began to use multiple fighting styles, which meant that the only way to determine a fighter's skill was to pair him or her against fighters of similar size and weight.
In 2001, UFC was purchased by Zuffa, LLC. Then, in 2016, Zuffa's parent company bought out its partners for $1.7 billion. Dana White is still president of the UFC and is generally considered to be the public face of the company. It's believed that Zuffa's purchase of UFC was the reason why it was able to survive and grow during the course of the 21st century.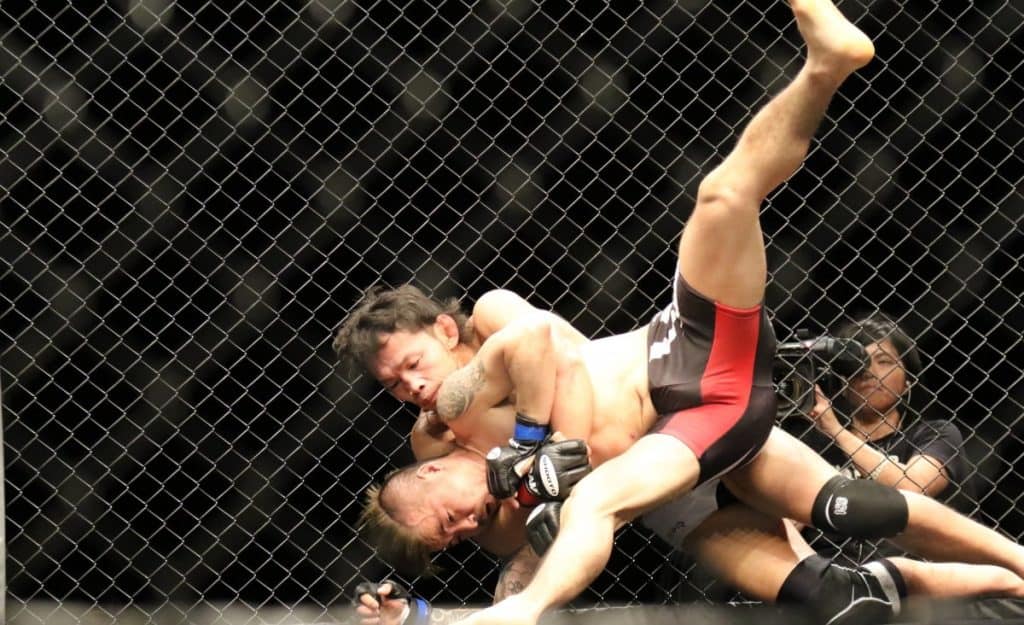 UFC Events
If a live event has a number at the end of it, this is typically an indication that it is a UFC pay-per-view event. As a general rule, PPV events typically feature the promotion's most important fights featuring its most marketable stars. It's not uncommon for one of the UFC's top titles to be on the line in the main event.
Generally, the undercard matches will air on ESPN+ (and sometimes ESPN itself). It is only the main card matches that are PPV.
UFC Fight Night is shown exclusively on ESPN+. (In the past, this show was broadcast on Spike, Fox, and other networks.) Each event typically consists of bouts featuring competitors looking to prove themselves to Dana White. White is the person who is responsible for making matches within the UFC, so having him as an ally can be a boon to any competitor's chances of long-term success within the promotion.
Here are the upcoming events (EDT):
Oct 4 : Dana White's Contender Series: Season 7, Week 9
Oct 7 : UFC Fight Night: Dawson vs Green
Oct 10 : Dana White's Contender Series: Season 7, Week 10
Oct 14 : UFC Fight Night: Yusuff vs Barboza
Oct 21 : UFC 294: Makhachev vs Oliveira 2
Nov 4 : UFC Fight Night: Blaydes vs Almeida
Nov 11 : UFC 295: Jones vs Miocic
Nov 18 : UFC Fight Night: Allen vs Craig
Dec 2 : UFC Fight Night
Dec 9: UFC China Fight Night
This Week in The Octagon
Grasso and Shevchenko clashed in a closely contested match that ended in a split draw at Noche UFC in Las Vegas. Despite the outcome, Grasso managed to hold on to the UFC women's flyweight title. This bout was an immediate rematch following Grasso's previous victory over Shevchenko, where she claimed the belt six months prior.
The fight proved to be intense, with both fighters having their moments. Grasso successfully dropped Shevchenko in the second round, while Shevchenko retaliated by nearly finishing Grasso with a mounted guillotine choke in the third round. As the fight concluded, Grasso aggressively landed punches from Shevchenko's back.
Next week, we have UFC Fight Night: Fiziev vs Gamrot on September 23rd. Here is the day's schedule:
: Prelims

Daniel Argueta vs Miles Johns
Tim Means vs Andre Fialho
Jacob Malkoun vs Cody Brundage
Mohammed Usman vs Jake Collier
Mizuki Inoue vs Hannah Goldy
Tamires Vidal vs Montserrat Rendon

: Main event (ESPN+)

Rafael Fiziev vs Mateusz Gamrot
Bryce Mitchell vs Dan Ige
Marina Rodriguez vs Michelle Waterson-Gomez
Bryan Battle vs AJ Fletcher
Ricardo Ramos vs Charles Jourdain
Dana White's Contender Series: Season 7, Week 7 fight card includes:
Shamil Gaziev vs Greg Velasco
JaCobi Jones vs Daniel James Allen
Stephanie Luciano vs Talita Alencar
Dylan Mantello vs Kaynan Kruschewsky
Igor da Silva vs Jhonata Silva
How to Live Stream UFC
Lower-level UFC matches can by watched with UFC Fight Pass. The major events air on ESPN+ (and sometimes ESPN).
UFC on ESPN
ESPN+ is a streaming service that you can purchase on its own or as part of a bundle with Disney+ and Hulu + Live TV. On its own, ESPN+ costs $9.99/mo or $99.99/yr. In addition to UFC events, you'll get access to college and professional football games, golf tournaments, and more. It's an excellent streaming service for sports fans.
ESPN is a cable channel that is available through most streaming services. You can get both with Hulu + Live TV for $69.99/mo. This comes with 85+ live TV channels including ESPN, ESPN2, ESPNU, ESPNews, and many more. Plus you get Disney+ and ESPN+.
You can get all the details in our Hulu + Live TV review.
UFC Fight Pass
UFC Fight Pass is a subscription service that features a variety of sports such as kickboxing, traditional boxing, and submission grappling. It also features MMA matches from around the world in addition to UFC events a month after they have aired on ESPN or ESPN+.
It is critical to have if you are a big UFC fan and you want to watch qualifying and other lesser matches. If your interest is primarily with major events, ESPN+ should work well.
UFC Outside the United States
If you are attempting to watch UFC events from outside the United States, you will likely be able to do so by subscribing to UFC Fight Pass. This service is generally available everywhere outside of Latin America.
In Australia, UFC events are broadcast on Kayo Sports, Fetch TV, and several other networks. In the United Kingdom, you'll be able to watch your favorite fighters on BT Sport.
In Canada, you can watch events in English on TSN and in French by watching RDS. DAZN is another option for UFC fans who are trying to watch fights from Germany, Italy or Spain.
Streaming Devices to Watch UFC
ESPN+ and UFC Fight Pass both support most streaming devices:
Amazon Fire TV
Android mobile
Android TV
Apple TV
Chromecast
iOS (iPhone, iPad)
Samsung smart TVs
Xbox One
Web browsers.
ESPN+ supports a few devices that UFC Fight Pass does not: Oculus VR system, PlayStation 4, and Xfinity cable boxes.
Wrapping Up
The UFC is probably the most successful MMA promotion in the world in terms of revenue and viewership. Fortunately, there are many different ways that you can watch your favorite athletes compete without having to go past your monthly television budget.
ESPN and ESPN+ are typically available without the need for a cable subscription. You can get them both with Hulu + Live TV. If you are outside of the United States, UFC Fight Pass and DAZN will likely be available in your area.
FAQs
What is the difference between UFC Fight Night and UFC numbered events?
The UFC Fight Night events are showcased on what some still refer to as "free TV." The UFC numbered events are typically only available to those who are willing to pay $74.99 for the right to watch them on ESPN+. It's worth noting that you can pay $99.98 to purchase a single PPV event and an annual subscription to ESPN+.
Is UFC Fight Pass worth getting?
If you are a fan of combat sports, Fight Pass is certainly worth getting. In addition to UFC events, you'll get access to select PRIDE, Strikeforce, and EliteXC events. If you live outside of the United States, subscribing to this service may be the easiest way to get the content that you want when you want it.
Page Updates
▼
▲
Reworded some things. Formatting changes.

Changed a few bits of content. Reformatting.

Updated some sub-sections. Updated some section headings. Changed a few bits of content.

Added useful links. Misc content updates.

Image changes. Added some links. Formatting.

Added links. Formatting. Misc content updates.

Updated some sub-sections.
Latest posts by Frank Moraes
(see all)