Disclosure:
Your support helps keep our site running! We earn referral fees for some of the products & services we recommend.
Learn more
Volleyball is a popular sport — enough so that it supports professional leagues around the world. It also thrives throughout the NCAA. Read on to learn everything you need to know about watching it without cable.
In a hurry? US volleyball fans can watch as much as they want with the ESPN family of channels. These are our favorite services for watching the game:
Hulu + Live TV: Includes all the ESPN and League channels as well as ESPN+!
FuboTV: If your sports diet goes beyond volleyball, this is a great service worth checking out. FuboTV allows you to try out its service free for 7 days.
Sling TV: This low-cost streaming service will get you everything you need for just $46/mo. Save 50% on your first month of Sling TV.
Coming up: NCAA Men's volleyball and NCAA Women's beach volleyball seasons are over. Get ready for the NCAA Women's volleyball season coming this August with the tournament in December! See schedule below.
Volleyball is one of the world's most popular sports although, unsurprisingly, that popularity varies from country to country as do the types of teams that are supported.
For example, college volleyball has a notable amount of interest in the United States while everywhere else where the sport is popular has its fanbase focused on the professional side of the sport.
Where can you watch volleyball? It depends on a number of factors. Those based in the US looking for college volleyball coverage can find a tremendous amount of it on ESPN+ while various conferences and schools have games streamed at a cost or for free. Some matches are regionally or nationally telecast.
About Volleyball
Volleyball was created in Holyoke, MA, by William G Morgan. Interestingly, its invention in 1895 came just four years after basketball was invented by James Naismith 10 miles away, in Springfield.
Popularity Within the US
NCAA volleyball is where most of the US-based fan interest turns. Nearly all Division I institutions that sponsor basketball also have women's volleyball teams. A much smaller number sponsor men's squads. The women play in the fall while the men take part in spring schedules. The women's national champion is decided in December, and the men's title is determined in May.
Over the years, organizers have struggled to create and sustain professional US-based women's volleyball leagues. The latest attempt is Athletes Unlimited Volleyball, which offers a unique format: players switch teams every week. As a result, this league is more about enjoying the sport and its athletes than it is about bonding with a specific team that represents a region or culture.
Also, its season only lasts five weeks and takes place in one city. That is Dallas in the case of its 2022 edition.
International Popularity
Beyond the US's borders, the focus turns fully towards the sport's professional side. Most of the world's best women's professional teams are based in Europe, particularly in Turkey, Italy, and Germany. The best sides from there and throughout Europe participate in the CEV Champions League.
However, the sport is also especially popular in parts of Asia, where the AVC Club Championships are held. It is also popular in areas in Africa, South America, and North America, the first two of which have continental championships as well.
On the men's side, arguably the world's best professional leagues are in Italy, Russia, and Brazil. Meanwhile, each of the continents minus North America hold continental championships as well. The one in Europe is named the CEV Champions League (the same as its women's counterpart).
There are Club World Championship competitions for both men's and women's teams as well.
Of course, volleyball at the Olympics is where this sport enjoys its greatest stage. Twelve men's and 12 women's national teams take part in their respective competitions. Heading into the 2024 Games, Brazil, US, and the former Soviet Union have three men's gold medals, tied for the largest tally. The Soviet Union has the most women's with four, being trailed by China and Cuba with three each.
World Championships and continental championships are held for national teams as well. So are Men's and Women's Nations Leagues, both of which take place during several-weeks long periods in the summers.
Beach Volleyball
Beach volleyball is a version of this sport that has started taking off interest-wise over the past couple of decades. This is true not just at the Olympics but also in various year-round competitions. The most prestigious of the latter group is the FIVB Beach Volleyball World Tour.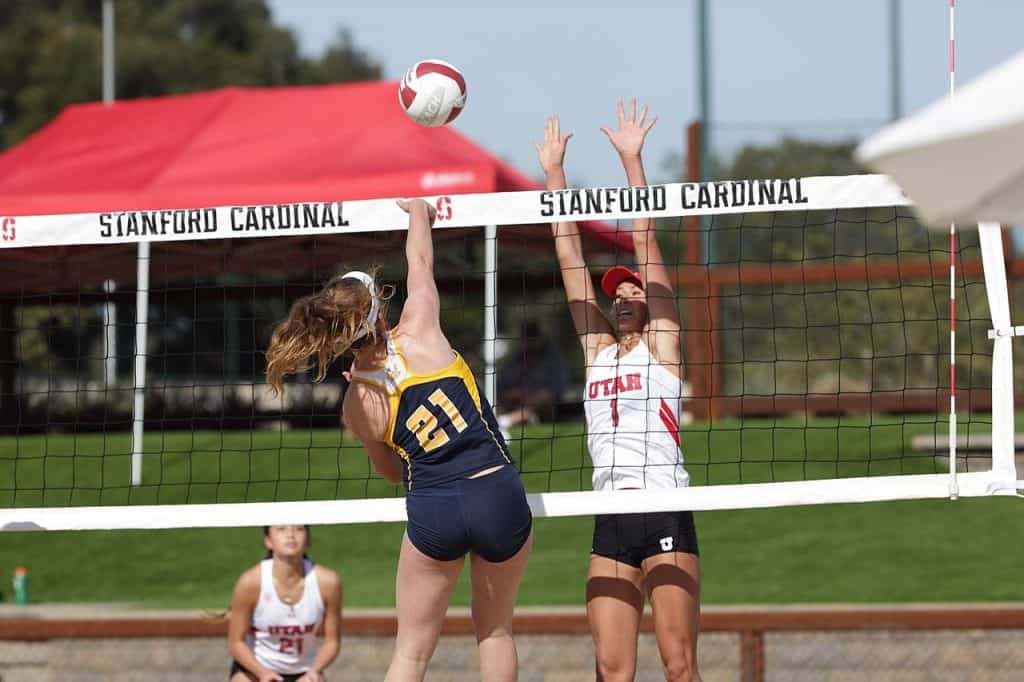 2022 Volleyball Schedule
NCAA Volleyball Schedule
NCAA Women's Volleyball:

Aug – Nov: Season
Dec 1-17: Championship

NCAA Women's Beach Volleyball:

Feb – Apr: Season
May 6-8: Championship (ESPNU, ESPN2)

Men's Volleyball:

Jan – Apr: Season
May 4-7: Championship
Athletes Unlimited Schedule
Week 1: Mar 16 – Mar 19
Week 2: Mar 23 – Mar 26
Week 3: Mar 30 – Apr 2
Week 4: Apr 6 – Apr 9
Week 5: Apr 14 – Apr 16
Women's Beach Volleyball Championship
Wed May 4 10:00 am: Fla Atlantic (3) vs Stanford (0) (ESPNU)
Wed May 4 11:00 am: LSU (3) vs Cal (2) (ESPNU)
Wed May 4 12:00 pm: LMU (3) vs Hawaii (0) (ESPNU)
Wed May 4 1:00 pm: USC (3) vs UT Martin (0) (ESPNU)
Wed May 4 2:00 pm: TCU (3) vs A&M Corpus Christi (0) (ESPNU)
Wed May 4 3:00 pm: UCLA (3) vs Stetson (2) (ESPNU)
Wed May 4 4:00 pm: Florida St (3) vs Cal Poly (2) (ESPNU)
Wed May 4 5:00 pm: Grand Canyon (2) vs Georgia St (3) (ESPNU)
Fri May 6 10:00 am: USC (3) vs Fla Atlantic (0)
Fri May 6 11:00 am: Florida St (3) vs LMU (1)
Fri May 6 12:00 pm: Georgia St (3) vs TCU (2)
Fri May 6 1:00 pm: UCLA (3) vs LSU (0)
Fri May 6 5:00 pm: Fla Atlantic (0) vs LMU (3)
Fri May 6 6:00 pm: LSU (3) vs TCU (2)
Sat May 7 9:00 am: USC (3) vs Florida St (1)
Sat May 7 10:00 am: UCLA (3) vs Georgia St (0)
Sat May 7 2:00 pm: LMU (3) vs Fla Atlantic (0)
Sat May 7 3:00 pm: LSU (3) vs TCU (2)
Sat May 7 4:00 pm: LMU (3) vs Georgia St (1)
Sat May 7 6:00 pm: LSU (1) vs Florida St (3)
Sat May 7: LMU (0) vs Florida St (3)
Sat May 7: USC (3) vs UCLA (0)
Sun May 8 12:30 pm: UCLA (2) vs Florida St (3)
Sun May 8 4:00 pm: National Championship: USC (3) vs Florida St (1)
Sun May 8 3:30 pm: Trophy Presentation (ESPN3)
Men's Volleyball Championship
Sun May 1 8:00 pm: Princeton (0) vs North Greenville (3) (Pac-12.com)
Tue May 3 8:00 pm: UCLA (3) vs Pepperdine (1) (Pac-12.com)
Tue May 3 10:30 pm: Hawaii (3) vs North Greenville (0) (Pac-12.com)
Thu May 5 8:00 pm: Long Beach St (3) vs UCLA (2) (NCAA.com)
Thu May 5 10:30 pm: Ball St (2) vs Hawaii (3) (NCAA.com)
Sat May 7 8:00 pm: Long Beach St (0) vs Hawaii (3) (ESPN2)
Sat May 7 10:00 pm: Trophy Presentation (ESPN3)
Watching Volleyball
Watching volleyball is a comprehensive subject and depends significantly on whether you are looking to watch high school, college, or professional volleyball as well as where the players and teams are based.
US-Based Volleyball Broadcasting and Streaming
Most of the volleyball that is streamed in the US is at the college level. But there are professional and high games as well.
College Volleyball
If you want to watch NCAA volleyball on television, ESPN and its family of channels is your best option. Also keep in mind conference-focused channels, such as the SEC Network and ACC Network, both under ESPN's umbrella, and the Big Ten Network and Pac-12 Network, which are independent. Also, some matches air on channels such as Fox Sports 1 (FS1).
The last three rounds of the NCAA Women's Volleyball Championship are broadcast on ESPN, ESPN2, and ESPNU while the NCAA Men's Volleyball Championship's title match is usually shown on ESPNU.
ESPN+ ($6.99/mo) is an outstanding resource for streaming NCAA Division I regular-season volleyball matches, depending on which school or conference you are looking to watch. It is also the home of a significant number of NCAA Women's Championship matches from the first three rounds.
Get Volleyball Coverage with Hulu + Live TV
If you are looking for regular-season action not available on ESPN+, research what your school's or conference's streaming rights are through. ACCN, B1G, Pac-12 Network, and SECN are available with live TV streaming services.
Many of the smaller college-based options are free, including at the Division I level. For example, CUSA.tv is where you would watch matches hosted by Conference USA squads. Meanwhile, the majority of NCAA Division II and III matchups are available for free. Go to your chosen school's team's schedule page for links.
Another option is FloVolleyball ($29.99/mo). For example, its 2021-22 coverage included the CAA Women's Volleyball Championship and MPSF Men's Volleyball Championship. It has also covered professional volleyball in previous years. See our FloSports review for details.
Watch Volleyball With FloVolleyball
High School Volleyball
The vast majority of high school volleyball matches that are available for watching are streamed through the NFHS Network ($10.99/mo), which has coverage of teams throughout the country. For more information, see our NFHS Network review.
Stream High School Volleyball With NFHS Network
Professional Volleyball
As for the US-based pros, Athletes Unlimited Volleyball matches have been slated for coverage on outlets as varied as Fox Sports 2 (FS2), Bally Sports, and CBS Sports Network (CBSSN). Some matches in this competition are also listed as being available to watch on YouTube.
Other Professional Volleyball
Meanwhile, contests played at the Olympics, including beach volleyball matchups, may be viewed on NBC-related channels, such as NBC, USA, and CNBC, as well as streamed through Peacock Premium.
If you are looking for other international competitions, the availability to watch and how you may do so vary significantly.
For example, those looking to enjoy CEV Champions League coverage can subscribe to the Champions League package that is offered by EuroVolleyTV (€4.99/mo or about $5.50/mo). Volleyball World ($7.99/mo) is another option for seeing the best players play. It is the home of the Nations Leagues, Club World Championships, Italian Volleyball Leagues, and Beach Pro Tour.
You can also watch the Prime Volleyball League with Willow TV.
Multi-Channel Streaming Services
Some of the streaming services that you should consider that will provide you with access to ESPN and other sports-oriented channels include FuboTV ($69.99/mo), Sling TV ($46/mo), and DIRECTV STREAM ($69.99/mo).
But the best option is Hulu + Live TV for $69.99/mo. It includes 85+ live TV channels including ESPN, ESPN2, ESPNU, ACCN, B1G, SECN, FS1, FS2, and CBSSN. And to top it off, you get ESPN+ and Disney+.
Coverage in Non-US Nations
The broadcasting and streaming of volleyball throughout the world vary tremendously. For example, it is a minor sport in the United Kingdom, where coverage is generally limited to the showing of the Olympics on the BBC and Eurosport. The latter channel is also where the sport can be viewed elsewhere in Europe. National broadcasters in various countries will sometimes show their national teams. Other TV providers will show games according to demand.
Devices to Live Stream Volleyball
Pretty much every service supports the major streaming devices. ESPN+, where you get it alone or as part of Hulu + Live TV, supports the following devices:
Amazon Fire TV
Android mobile
Android TV
Apple TV
Chromecast
iOS (iPhone, iPad)
Oculus
PlayStation 4

Roku
Samsung smart TVs
Xbox One
Xfinity
Web browsers.
Wrapping Up
Volleyball is a sport that can be viewed through a variety of channels and streaming services, particularly the latter. Many college matches in the US are available on ESPN+ ($6.99/mo), including a significant number of NCAA Women's Volleyball National Championship contests. We recommend getting Hulu + Live TV, which offers ESPN+ and all the other ESPN-related channels.
FAQs
What were the final standings of the 2022 Athletes Unlimited season?
In the following list, the format is "player points (games)."
Bethania De La Cruz 4652 (15)
Natalia Valentin-Anderson 3337 (15)
Dani Drews 3308 (15)
Cassidy Lichtman 3279 (15)
Nootsara Tomkom 3027 (15)
Leah Edmond 2957 (15)
Morgan Hentz 2950 (15)
Sheilla Castro 2919 (12)
Ronika Stone 2784 (15)
Erin Fairs 2704 (15)
Nomaris Vélez Agosto 2701 (15)
Aury Cruz 2667 (15)
Hana Lishman 2597 (15)
Lindsay Stalzer 2592 (15)
Amanda Benson 2368 (15)
Jenna Rosenthal 2348 (15)
Alisha Childress 2293 (15)
Madison Villines 2267 (15)
Falyn Fonoimoana 2209 (15)
Karsta Lowe 2131 (12)
Taylor Sandbothe 2098 (15)
Carli Lloyd 2076 (15)
Ali Bastianelli 2045 (15)
Kalei Mau 2033 (15)
Jamie Peterson 2012 (15)
Eri Xue 1978 (15)
Lianna Sybeldon 1924 (15)
Molly McCage 1921 (15)
Emma Willis 1898 (15)
Taylor Morgan 1839 (15)
Taylor Fricano 1819 (15)
Tori Dilfer 1728 (15)
Valerie Nichol 1661 (15)
Ray Santos 1619 (15)
Niki Withers 1618 (15)
Taylor Bruns Tegenrot 1605 (15)
Erica Wilson 1405 (15)
Deja McClendon 1379 (15)
Naya Crittenden 1347 (15)
Rachael Fara 1345 (15)
Noami Santos-Lamb 1194 (15)
Lauren Stivrins 902 (6)
Sha'Dare McNeal 802 (12)
Tina Boe 792 (12)
How can I watch sports channels without cable?
The following guides will show you how to watch popular sports channels without cable:
Latest posts by Frank Moraes
(see all)