WWE SmackDown is a Friday night tradition for pro wrestling fans. In the past, you had to have cable to catch the best WWE action. But that isn't true at all anymore. In fact, you are generally better off live streaming. Read on to learn everything you need to know.
In a hurry? Wrestling fans don't need to think too hard about choosing a streaming service since the major events from WWE and AEW only air on a couple of channels that are widely available. Here are the best streaming services for WWE SmackDown fans:
FuboTV: The best streaming service for international sports also provides 100+ well-selected channels. FuboTV allows you to try out its service free for 7 days.
Sling TV: This low-cost service allows you to select just the channel lineup you want. Save 50% on your first month of Sling TV.
DIRECTV STREAM: Get a great channel lineup with the best selection of RSNs in the industry. A 5-day free trial is now available for DIRECTV STREAM.
If you can't watch your favorite sports because of your location, get ExpressVPN to access the content you deserve.
If you can't watch your favorite movies and shows because of your location, you need a VPN. Here are our top picks from our VPN guide:
ExpressVPN: Established VPN provider in close to 100 countries. Smart DNS and unlimited bandwidth. Try it with a 30-day money-back guarantee.
NordVPN: Connect to over 5,000 premium servers in 60+ countries. Comes with a 30-day money-back guarantee!
CyberGhost: Great low-cost service with a free 24-hour trial.
On April 26, 1999, SmackDown aired live on UPN as a standalone WWE special episode. In August of that year, the show was given a permanent weekly time slot on that network.
Over the past 22 years, the show has featured a variety of stars such as Eddie Guerrero, Brock Lesnar, and the New Day. In 2016, WWE decided to make SmackDown its own brand complete with its own roster, championship, and storylines.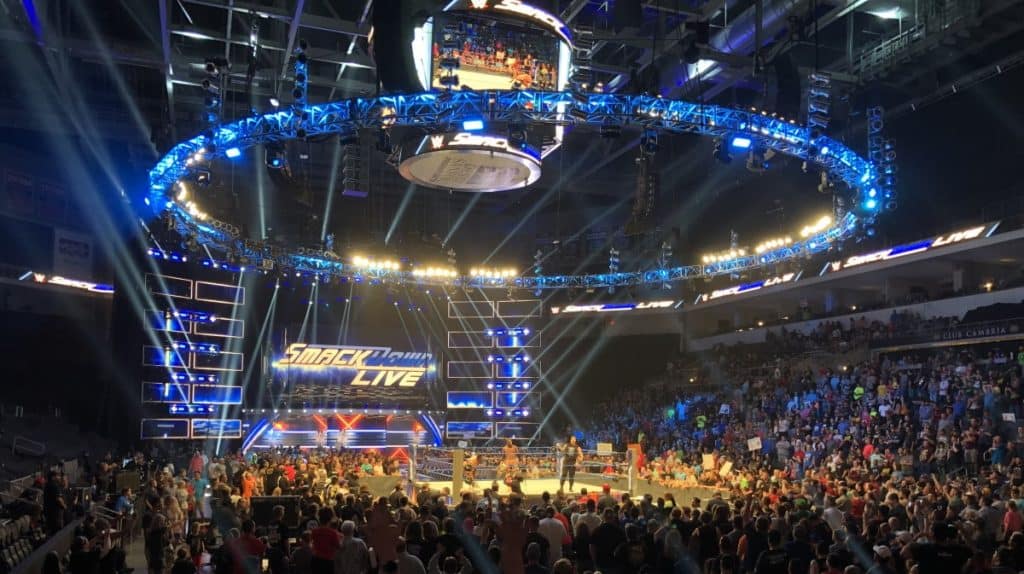 What Is WWE SmackDown?
This show is currently headlined by Roman Reigns, who is the brand's top champion. However, SmackDown was originally used as a vehicle to showcase The Rock as he was one of the company's top stars at the turn of the 21st century. In fact, the name of the show was taken from one of the many catchphrases he would use to insult, belittle, and taunt his opponents.
Sign Up for a Free 7-Day Fubo Trial
Attending the show live gives you a unique perspective as to what happens in the ring. This is because you won't be subject to camera tricks or other tactics designed to prevent television viewers from seeing any mistakes made during a match.
What's more, you'll be able to watch matches that take place before and after the show that isn't shown on television. Finally, attending a show live gives you the ability to buy your favorite wrestler's merchandise or even get an autograph from a wrestler outside of the arena.
But obviously, going to the show isn't normally an option.
Other Pro Wrestling Shows
WWE Friday Night SmackDown distinguishes itself from WWE Monday Night Raw and NXT through the use of a blue color scheme, and you'll often hear the show described as the blue brand by wrestlers, commentators, and fans.
SmackDown is also different from the other brands because it is broadcast on Fox whereas the other brands are largely featured on USA and Peacock.
SmackDown and AEW Rampage differ because they are owned by two separate entities. WWE is owned by Vince McMahon while AEW is run by Tony Khan. He is related to Shad Khan, who is the owner of the NFL's Jacksonville Jaguars.
Where to Watch SmackDown Live
SmackDown can be seen live on Fox every Friday at 8:00 pm local time. In addition to streaming services, you can watch Fox via an antenna in most locations. On some nights, the show is broadcast on Fox Sports One (FS1).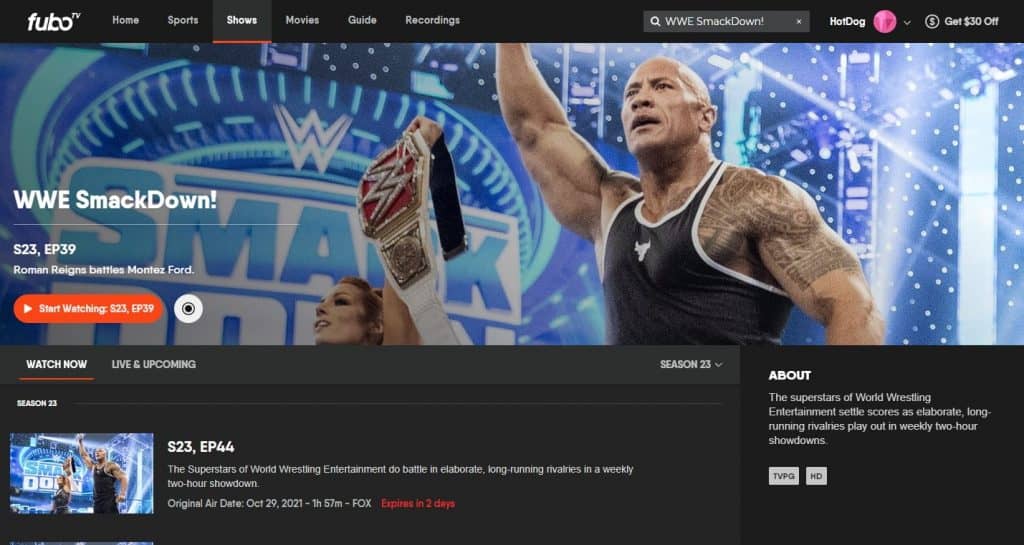 Unblock Your Favorite Events & Teams With a VPN
If you can't watch your favorite events or teams because of your location, a VPN will allow you to get the access you are entitled to, plus extra security and unequalled privacy. Check out our VPN Guide for everything you need to know, including our top pick ExpressVPN.
How to Stream WWE SmackDown Live
Since all you need to watch SmackDown is Fox, there are many streaming services to choose from.
FuboTV

FuboTV allows you to watch Fox and FS1 as part of its base tier of service that starts at $69.99/mo. The platform recently released a Fox 4K channel, which will provide greater picture clarity while watching live events such as SmackDown.
The problem with FuboTV is that it does not carry any of the Turner channels, which you need if you want to watch AWE Dynamite. But if you are fine with just the WWE shows, FuboTV is great — especially if you are a general sports fan.
For more details on FuboTV, check out our thorough review.
Sign Up for a Free 7-Day Fubo Trial
DIRECTV STREAM

DIRECTV STREAM (formerly AT&T TV Now) offers all the pro wrestling channels you want in its base (Entertainment) plan for $69.99/mo. It has a number of other plans that provide more channels.
This service is particularly good for large households as it allows you to stream on unlimited devices at one time.
See the DIRECTV STREAM review for more information.
Get DIRECTV STREAM Free for 5 Days
Sling TV

For $35.00/mo, the Sling Blue plan gives you Fox, FS1, TBS, TNT, and USA.
It's a great plan for wrestling fans at an almost unbelievable price. You get a total of over 40 channels with many options to add to it. It even allows you to integrate channels you get from a local antenna!
For more details, see our Sling TV review.
Hulu + Live TV

Fox and FS1 are part of the Hulu Live TV 85+ channel package. For $69.99/mo, you'll also get access to USA, TNT, and TBS, which will allow you to watch all the major professional wrestling shows. You also get Disney+ and ESPN+.
In addition, this plan comes with the complete Hulu on-demand plan, which provides you access to their library of SmackDown, Raw, and NXT shows.
See our Hulu + Live TV review for more details.
Vidgo

Vidgo offers a base (Plus) plan that allows you to watch WWE SmackDown by providing Fox and FS1 for $59.95/mo. It has a good lineup of 85+ channels. Unfortunately, it doesn't offer TBS, TNT, or USA. This means you won't have access to Raw, NXT, or AEW Dynamite.
Still, it is a good plan for sports fans and families. You can find out more in our Vidgo review.
Other Options
The Fox Sports app allows you to stream WWE SmackDown. You do need to have a TV provider (eg, streaming service) account to use it.
You can also subscribe to YouTube TV for $64.99/mo to watch SmackDown. It is similar to the Hulu + Live TV plan with 85+ channels including all the ones you want for professional wrestling.
How to Stream SmackDown On-Demand
Since WWE SmackDown shows are not aired live in real-time, many fans are fine watching episodes later on-demand. It's much cheaper to do it this way.
Hulu
Hulu without the live television feature is just $6.99/mo with ads and $13.99/mo without them. Most episodes of SmackDown are available the day after they air live.
Note that this is the last year of Hulu's contract with the WWE. It's possible Hulu won't be as good a deal for wrestling fans next year.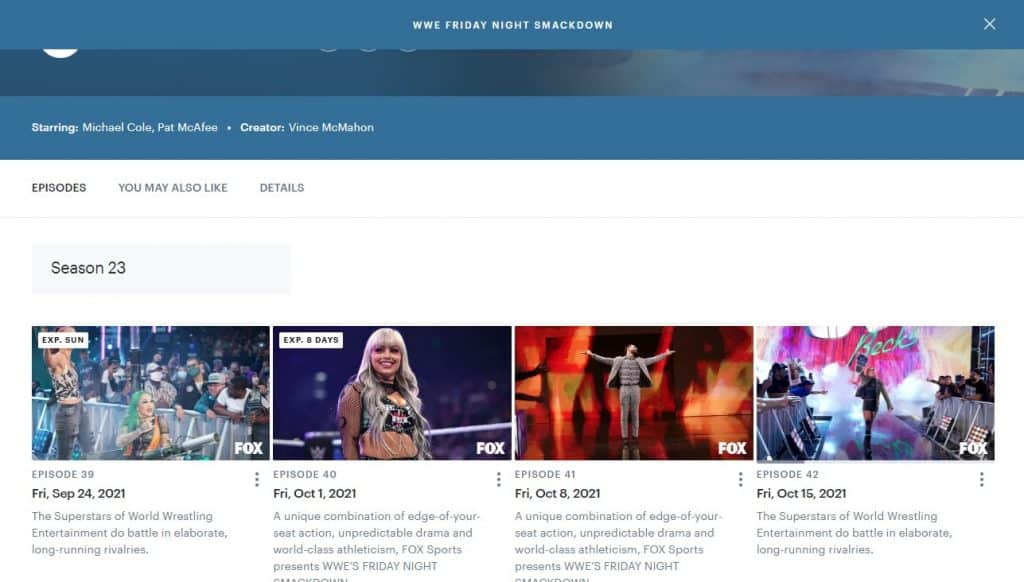 Peacock
Peacock provides good access to WWE shows in general. But you must get one of its paid plans. It is $4.99 per month with ads and $9.99 without. Alternatively, you can pay $49.99 or $99.99 a year for premium access to this platform.
In addition to SmackDown, you'll be able to watch Raw, NXT, and other content uploaded to WWE Network. You can also watch pay-per-view (PPV) events through Peacock.
Note that shows do not become available on-demand for 30 days after they initially air.
Sign Up for a Free 7-Day Fubo Trial
TVs and Other Devices to Watch WWE SmackDown
The streaming services we've discussed support the majority of TVs and devices currently in use.
TVs and TV Devices
All the streaming services other than Vidgo support Samsung smart TVs. The LG, Vizio, and Android TV-powered smart TVs are supported by FuboTV, Hulu + Live TV, and Sling TV.
All the streaming services support the "stick" devices: Amazon Fire TV, Apple TV, and Roku.
Mobile Devices
Most smartphones and tablets are supported by Android and iOS (iPhone, iPad).
These devices can be used to cast to your TV via Chromecast (built-in or external).
Any device with a web browser can show pro wrestling with these streaming services. You can connect some of these devices to a TV via an HDMI cable.
Gaming Systems
Many people use their gaming systems to stream video. Fubo, Hulu, and Sling all support the Xbox One. Hulu supports PlayStation and Nintendo Switch. And Sling TV supports Oculus.
There are more supported devices. See the streaming service reviews for details.
Superpower Your Streaming With a VPN
For the sake of privacy, security, and access, you should be using a VPN. They are low-cost and easy to use. We've been using them for years and our top pick is ExpressVPN.
Wrapping Up
For more than 20 years, WWE SmackDown has been entertaining audiences throughout the world. Whether you choose to attend the show live or watch it on television, you will surely have a good time seeing your favorite performers battle it out for supremacy.
This show is available through a variety of streaming platforms, which means that you will likely find a plan that fits your content needs and budget.
FAQs
How soon are SmackDown episodes available on Hulu?
New episodes of SmackDown are generally available a day after they air live. Therefore, an episode that is shown live on Friday will likely be available on Saturday. If you have Peacock, the most recent episode of this show is generally not available until 30 days after its original air date. It's worth noting that WWE events may not air on Hulu in the future because of contractual issues.
How do I watch WWE SmackDown and AEW Rampage?
Generally, SmackDown and AEW Rampage overlap. So the easiest way to watch them both is to record one on DVR and watch it later. Many streaming platforms have their own DVR services that allow you to record content for free. DVRs generally have a set number of hours you can use for recordings but some services are unlimited.
How can I watch other pro wrestling shows without cable?
We've written guides on how to watch different shows:
Ditch "Big Cable" Now — 3 Simple Steps to Cutting the Cord
Pick the right streaming service
Supercharge your internet provider
Protect yourself and power your streaming with the best VPN.
That's it — you'll save money, gain control, and enjoy TV more!
Latest posts by Frank Moraes
(see all)