Young or old, lifetime learners love Curiosity Stream. And it is one of the increasing numbers of content sources that are only available online. Read on to learn the best ways to get it!
In a hurry? You have a couple of good ways to get Curiosity Stream:
Curiosity Stream: Get the service directly and watch wherever you want for $2.99/mo or less if you pay yearly.
Sling TV: Add Curiosity Stream for just $3/mo to Sling's already low-priced live channel plans. Save 50% on Sling TV now!
Curiosity Stream is an on-demand streaming service (think Netflix, not Sling TV) that only carries documentaries. From quick bites under ten minutes to full-length feature films and limited series, Curiosity Stream is out to satisfy your curiosity on pretty much any subject you can think of.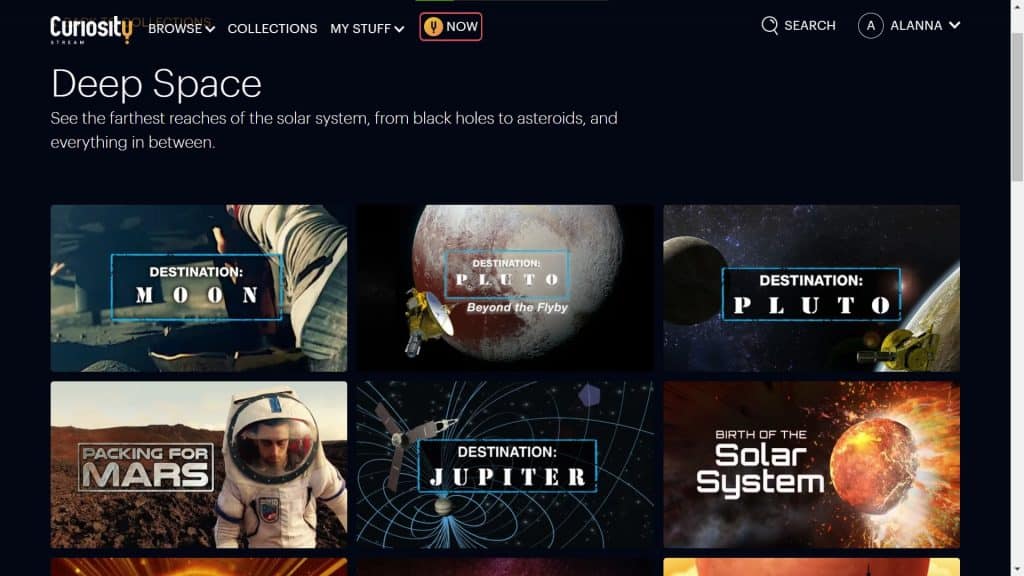 What Is Curiosity Stream
Are you completely fed up with all your favorite educational, documentary, and non-fiction channels becoming filled up with speculative, pseudoscientific, sensationalized, overdramatic, heavily edited, manipulative, lowest-common-denominator trash?
Two words, folks: Ancient Aliens. From "ghost hunting" to life-threateningly obese people to watching celebrities famous for being famous at home with their families — it might be entertaining, but it's not documenting anything enlightening or broadening or evidence-based.
No judgment! If you just want pure entertainment, to not have to worry about self-improvement during your leisure time, go back to watching Real Housewives or the latest hunt for Bigfoot. But if you're interested in serious programs on science, nature, technology, history, crime, space, society, psychology, and more — then you really want Curiosity Stream.
Curiosity Stream was launched in 2015 by John Hendricks, the original founder of the Discovery Channel. It features over 3,000 ad-free documentaries, neatly organized under seven main categories (Science, History, Kids, Nature, Technology, Society, and Lifestyle) and sixty subcategories.
For instance, Science is divided into Physics, Space, Mind, Biology, Genetics, Medicine, Evolution, Geology, and Psychology. The Kids section has STEM, History, Space Exploration, Nature, Dinosaurs, and Current Events.
The info is legit — seriously treated, thoroughly researched, credibly sourced, thoughtfully handled, and presented clearly and accessibly. Much of the content is originally produced exclusively for Curiosity Stream, like David Attenborough's Light on Earth, and Stephen Hawking's Favorite Places won the service's first Emmy.
Other programs you can find include Obit, a documentary about obituary writers at The New York Times; Cat Nation, an examination of Japan's cat obsession; Redesign My Brain, a look at brain plasticity, and Queen Victoria's Letters: A Monarch Unveiled, an intimate look at the second-longest reigning Queen of England.
The production values are decent. Some docs are available in 4K, but all of them are at least 1080p (most services are 720p standard). You won't find much (if any) spectacular footage on the order of Planet Earth or Blue Planet — keep in mind those took literally years to film — but it's solidly in Nova or Biography range.
Getting Curiosity Stream
Roughly speaking, you can get the Curiosity Stream service two ways: standalone or as part of a live TV streaming service. In these cases, you get the entire service. If you only watch the live stream, see our Curiosity Stream channel guide.
Standalone Curiosity Stream
Originally available only as a stand-alone subscription, you can now get Curiosity Stream included with (or as an add-on to) other services (see below). A Standard subscription streams in HD and is $2.99/mo or $19.99/yr. A Premium subscription provides 4K streaming and is $9.99/mo or $69.99/yr.
The monthly Standard price is the same if you subscribe through a service, but they don't usually have the 4K options or the yearly discount. The service is available in countries around the world, though some of the acquired content may be geo-blocked.
You can only watch Curiosity Stream through the Curiosity Stream app with a direct, stand-alone subscription. If you subscribe through another service, you'll have to use their app.
Getting Curiosity Stream With Live TV
Curiosity Stream is available on live TV streaming services although notably not Hulu + Live TV or DIRECTV STREAM. Some provide the Curiosity Stream live stream, Curiosity Channel. But these services provide the complete service:
Sling TV

Sling TV doesn't look like it has a lot of channels on the surface, but that's because they're all hiding out in its a la carte section. Sling lets you pick and choose which of over 40 niche channels and services you want, including:
Curiosity Stream ($3/mo)
Docurama ($5/mo)
Dox ($3/mo)
Magellan TV ($5/mo).
Sling's base plans start at $40.00/mo and include 30 to 45 channels depending on the collection. They come with 50 hours of cloud DVR storage. The number of devices you can stream on depends upon the channel. ESPN and Disney get only one screen but Fox and NBC get three.
Get more information in our Sling TV review.
YouTube TV

YouTube TV has over 85 live channels for $72.99/mo, plus a similar a la carte section to Sling TV, though much smaller. It does contain both Curiosity Stream ($3/mo) and Docurama ($4.99/mo). Live channels include Discovery, the NatGeo channels, Smithsonian Channel, and Animal Planet.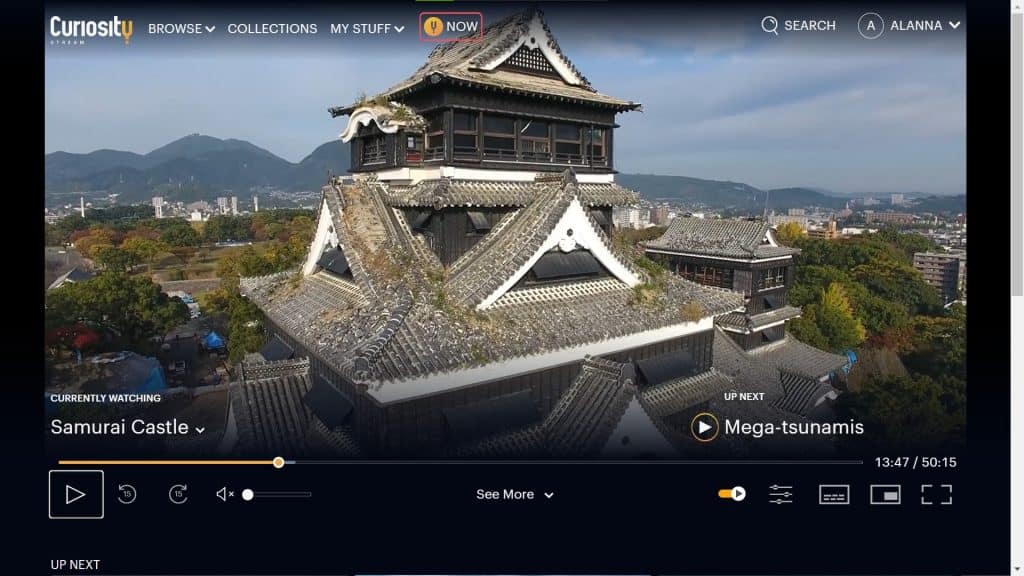 Getting Curiosity Stream With On-Demand Services
Amazon: Amazon Prime Video offers Curiosity Stream as one of its add-on service "channels." See our Prime Video review.
Select Internet Providers: A Curiosity Stream subscription is also included as a perk of using one of the following ISPs:

Suddenlink by Altice
Optimum by Altice
Starhub
Flow
BTC
Rev.
Streaming Devices to Watch Curiosity Stream
The standalone Curiosity Stream version supports the following devices:
Amazon Fire TV
Android mobile
Android TV (eg, Sony TVs)
Apple TV (Air Play)
Chromecast
iOS (iPhones,iPods,iPads)
LG Smart TVs
PlayStation 4

Roku
Samsung Smart TVs
TiVo
VIZIO Smart TVs
Xbox One
Web browsers.
The live TV streaming services provide roughly the same device support as does Amazon. See our reviews for complete details.
Wrapping Up
Whether you want to get down with Nick Offerman and The History of Home, learn about why humans as a species always want to go faster in Speed, or visit Egypt with The Nile: 5000 Years of History, you are almost guaranteed to learn something you didn't know you didn't know.
And it's only $3/mo! Getting smart rarely comes so cheap.
FAQs
Netflix already has a bunch of documentaries, so why do I need another service?
Netflix and Curiosity Stream complement each other. Netflix tends to have hyper-current documentaries on politics, recent disasters, or pop culture phenomenons. Curiosity Stream tends towards more academic studies of history, science, technology, and nature. Besides, this will almost certainly be the absolute cheapest of your subscription TV services. Remember you can cancel anytime you want — you're not committing to anything beyond a month.
Does Curiosity Stream have a free version?
Curiosity Stream does not currently offer a free version. At some point early in its history, it did have an ad-supported free plan. However, the service frequently runs specials. Past deals have included a $10 Amazon gift card for signing up for a year and deep discounted yearly subscriptions on Earth Day last year. They also offer a free 7-day trial if you subscribe directly.
Does Curiosity Stream have a live TV channel?
Curiosity Stream has its own live TV channel called Curiosity Channel. It is available from FuboTV and a couple of other live TV streaming services. But the Curiosity Stream web app itself has a feature, NOW. It provides a live feed based on the Curiosity Stream library. It generally isn't available on other apps.
Ditch "Big Cable" Now – 3 Simple Steps to Cut the Cord
Pick the right streaming service
Get the content you deserve with the best VPN.
Supercharge your internet provider
That's it — you'll save money, take back control, and enjoy TV more!
Page Updates
▼
▲
Added buttons for streaming services. Pricing updates. Added some links. Misc content updates.

Image changes. Added some more links.

Added sub-section. Updated some section headings. Added some more links.
Latest posts by Frank Moraes
(see all)