With content ranging from Disney vault classics from the 1930s to the latest Marvel superhero series, Disney+ rivals Netflix with its online content library. The Disney+ streaming platform gives users on-demand access to shows and movies from some of the biggest franchises including Marvel, Pixar, Star Wars, and, of course, Disney.
Just want the bottom line? If you just want to know if Disney+ is worth getting, for most people, the answer is a resounding yes. There are three primary ways to get it:
Hulu + Live TV: Get 85+ live TV channels along with Disney+ and ESPN+ for $69.99/mo.
Hulu Bundle: Get Hulu on-demand, ESPN+, and Disney+ for just $13.99/mo. Check it out with a 30-day free trial.
Disney+: Get the standlone plan for just $7.99/mo.
Dancing With the Stars is now exclusively on Disney+!
You can choose from a monthly or annual plan to get access to a library of your favorite Disney content through the Disney+ website. Or, you can opt for a free trial through a bundle with another provider like Amazon or Hulu.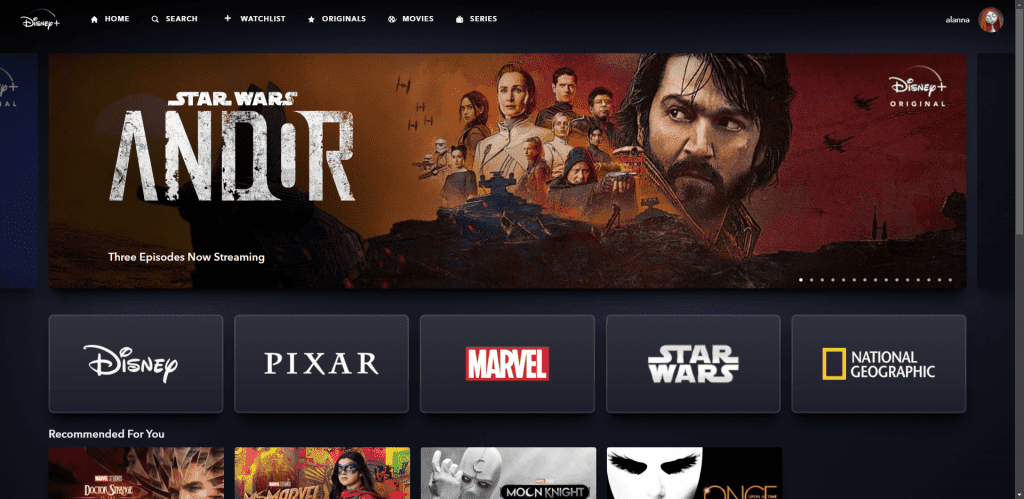 Unsure? This guide will help you figure out if Disney+ is the right streaming platform for you. 
What Is Disney+?
| Pros | Cons |
| --- | --- |
| ✔ Huge content variety | ❌ Relatively small library |
| ✔ Cheapest Disney classics library | ❌ Missing some Disney titles |
| ✔ Hundreds of 4K titles | ❌ Mildly annoying interface |
Disney+ (Disney Plus) is one of the most popular streaming services today, and it's not hard to see why.
For Disney fans and those of Marvel, Pixar, Star Wars, National Geographic, and other properties, Disney+ is probably the best way to gain access to movie and series favorites.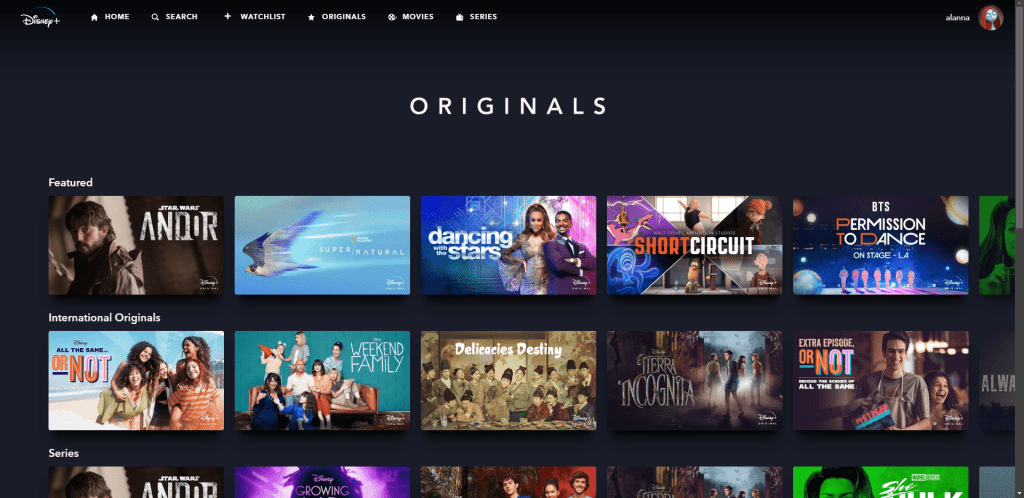 Here's the Disney+ review at a glance:
On-demand streaming service
Monthly plans available at $7.99/mo
Annual plans available at $79.99/yr
No contract or cable required
Cancel at any time
Ad-free content
Includes content from major franchises including: Disney, Marvel, National Geographic, Pixar, Star Wars, and more.
Access to popular TV shows, movies, and original content
Rediscover Disney classics from the Disney vault
Special kid-friendly content library full of shows and movies
Available on most devices including smart TVs, computers, phones, tablets, and gaming consoles
Bundles with sister-services Hulu and ESPN+ are available.
Read on to learn how you can get the most from your Disney+ plan.
Disney+ Pricing and Bundles
Users have two options when it comes to Disney+ plans: monthly and annual. In the US, the monthly subscription costs $7.99 per month, while the annual subscription costs $79.99 per year (which is more than 16% in savings). Information on international pricing is down the page under "Disney+ Outside the US."
Either subscription gets you an ad-free content library on up to four TVs or devices at once. You can also download content on up to 10 different devices.
Annual subscriptions save you money and lock in your deal if the monthly price goes up, but then you're committed for a full year; you're trading away the flexibility advantage of streaming. That doesn't make it a bad deal as long as you understand what you're giving up.
Disney offers several bundle combinations of Disney+, Hulu, and ESPN+. Note that Hulu + Live TV now includes Disney+ and ESPN+ standard in its $69.99/mo subscription price.
Disney Plus + Hulu (with ads) + ESPN+ at $13.99 per month (reg. $24.99/mo)
Disney Plus + Hulu (ad-free) + ESPN+ at $19.99 per month (reg. $30.99/mo)
Amazon Music Unlimited + Disney Plus at $7.99 per month.* (reg $15.98)
*New Amazon Music subscribers get 6-months of Disney+ free and existing Amazon Music subscribers get 3-months free. Once the free period is over, the subscription rate applies.
Content
Disney+ offers a massive library of on-demand content. You'll get access to 1,300+ titles, but you should be aware that you won't get access to any of Disney's live cable channels.
In addition to Walt Disney Studios titles, you'll get content from Twentieth Century Fox, Marvel Studios, Lucasfilm (Star Wars), NatGeo, ABC Studios, FOX Life, Searchlight Pictures, Touchstone Pictures, Hollywood Pictures, and ESPN Films.
Animated, live-action, kids, adults, reality, documentaries, drama, comedy, action, sports– there is literally something for everyone.
Disney and Pixar
If you're a Disney fan who's ever fantasized about all your favorite classics coming out of vault all at once and being able to binge them all from Aladdin to Zootopia, then Disney+ is your dream come true.
From the big-name fairy tales like Snow White and Cinderella to less remembered titles like That Darn Cat! and Labyrinth, 99% of anything you'd ever want to see that ever came out of Disney Studios is here.
Plus everything from the animation studio that made computer-animated movies a thing, Pixar. Toy Story (all four movies) and Soul and everything in between, plus all the shorts like Bao and Boundin'.
A few of the Disney Vault and Pixar animated classics: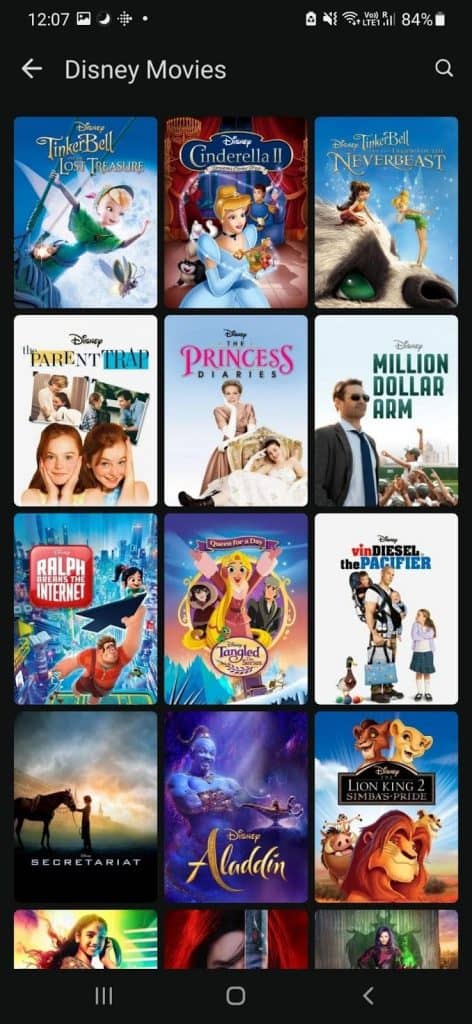 101 Dalmatians
Aladdin
Bambi
Beauty and the Beast
A Bugs Life
Cinderella
Frozen
The Incredibles
The Jungle Book
Lady and the Tramp
The Lion King
The Little Mermaid
Peter Pan
Sleeping Beauty
Snow White and the Seven Dwarfs
Toy Story
Wall-E
As well as some of the more recent Disney hits:
Pinocchio (2022 Live Action)
Encanto
A Wrinkle in Time
Mary Poppins Returns
Toy Story 4
Raya and the Last Dragon
Luca
Jungle Cruise
Soul
Cruella
Lightyear
Marvel Cinematic Universe
The MCU is a big place, and getting bigger all the time. With Phase 4 in full-swing and the multiverse mania just getting started, some of these series are the interstitial glue that holds the blockbuster films together.
In addition to all the MCU movies, all the way back to Iron Man, you can find tons of brand-new, only-on-Disney+ content. Limited-run series, open-ended series, movies, theatrical releases, and specials, and always more to come.
Loki
Ms. Marvel
Runaways
She-Hulk: Attorney at Law
WandaVision
What If…?
Thor: Love and Thunder
Agent Carter
Black Widow
Captain Marvel
Cloak & Dagger
Doctor Strange in the Multiverse of Madness
While not technically part of the MCU per se, Disney now also has rights to 20th Century's X-Men movies, including the gut-wrenching Logan. Sorry, Spidey-fans, Sony still owns Spider-Man (though Sony and Disney are collaborating some with their properties).
Star Wars
A galaxy far, far away has never been closer. From A New Hope onward, all the old and new movies are here, plus all the animated and live-action series filling in the gaps.
Disney+'s first break-out hit that cemented its place with the major streaming services was The Mandalorian, an amazing ode to Star Wars' space-Western roots.
Some other not-to-be missed Star Wars titles include:
Obi-Wan Kenobi
Star Wars: Andor
Rogue One
Solo
The Book of Boba Fett
The Clone Wars
Rebels
And, bonus! a brand-new behind-the-scenes look at the people who brought the Rebellion and the Empire to life in Light & Magic.
National Geographic
Get your learn on with the folks who have been showing us stuff we've never seen for over a hundred years. Far-flung places, ancient people, culture, and history, you can find out all the things you never knew you never knew.
Featured titles include:
Super/Natural
Epic Adventures with Bertie Gregory
First Alaskans
America's National Parks
Edge of the Unknown with Jimmy Chin
The World According to Jeff Goldblum
Secrets of the Whales
Cosmos: Possible Worlds
Everything Else
Disney owns the rights to more media than you probably realize. So in addition to all of that above, you can also find 20th Century (formerly Fox) movies and shows like all 32 seasons of The Simpsons, ESPN productions such as Man in the Arena: Tom Brady and Al Davis vs. the NFL, and ABC's more family-friendly shows like black-ish.
Features & User Experience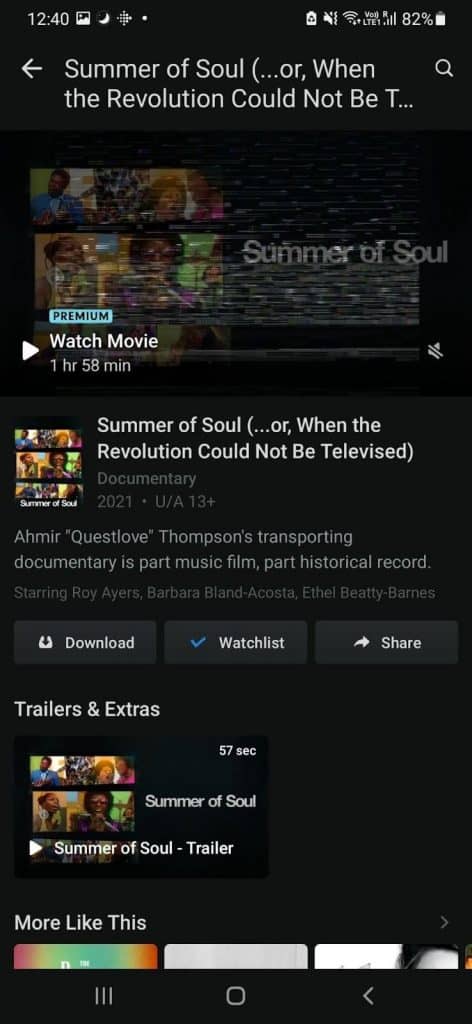 Just as we've come to expect with the Disney brand, the Disney+ user experience is enjoyable. The user dashboard is easy to navigate with several features that help you find exactly what you are looking for.
If you're ever at a loss of what to watch, the Disney+ dashboard makes it easy to find something interesting. Browse by genre, what's popular, trending content, or a curated list based on what you've already watched.
Here are some of the features we have found the most helpful.
Interface
Disney+ gives you many different ways to search through content to find interesting things to watch. Search directly with the search bar or use one of their curated lists based on your past use, interest, popularity, and other trends.
Disney, Pixar, Marvel, Star Wars, and NatGeo all have their own hubs, with large thumbnails on the top row of the home screen. A few of the categories from the home screen:
Against All Odds
Music and Dance
Trending
This is Halloween
Reimagined Classics
Animated Movies
Originals
Rediscover These Classics
Explore National Geographic
Whenever you find a show or movie you want to watch but aren't really in the mood for right now, simply add it to your watchlist. All you have to do is simply click on the '+' and it's added!
This list often pops up as one of the first lists in the Disney+ dashboard, making it easy for you to find the content when you actually want to watch it.
Kids Profiles
The option to create a kids profile in your Disney+ account is designed to give parents peace of mind.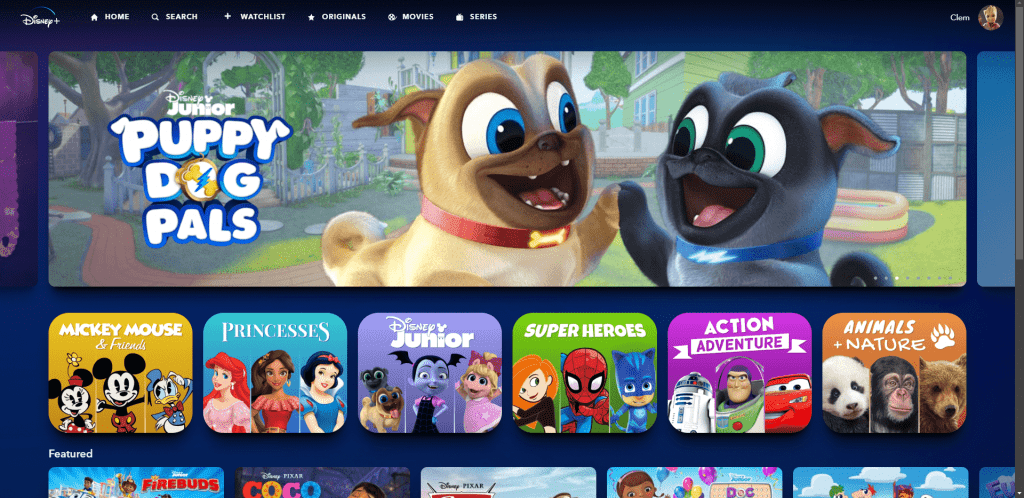 The process is simple. All you have to do is add a new profile and turn the toggle on for a kids profile. A kids profile limits content, giving the user access to only G, TV-Y, TV-Y7/Y7-FV, and TV-G rated content.
On a Kids account, the hubs are replaced with Mickey Mouse & Friends, Princesses, Disney Junior, Super Heroes, Action Adventure, and Animals & Nature. Some categories are the same (Music and Dance, Animated Series, Disney Channel Series), but others are different (Amazing Animals, Nat Geo Kids, Mickey and Friends).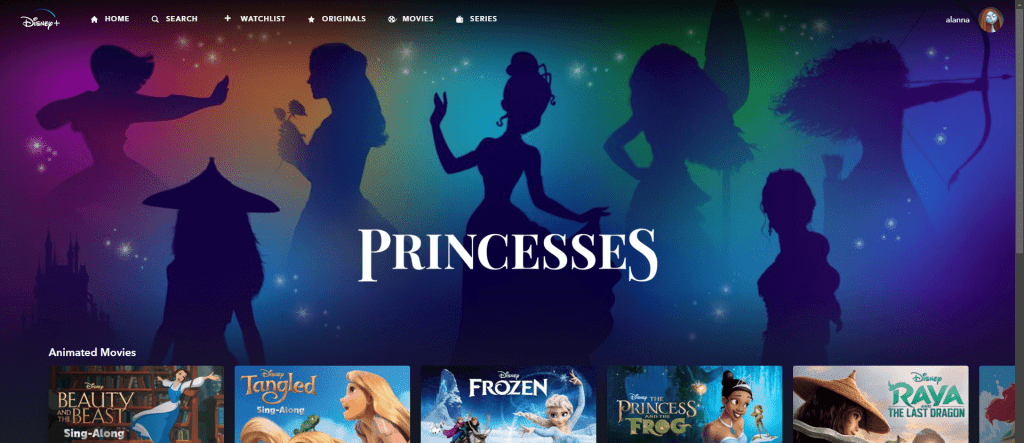 One minor issue we had was the "Continue Watching" row. The only option was to continue the episode you left off — there was no option to browse other episodes of the same series. This can be frustrating for kids who like to rewatch their favorite episodes from their favorite series.
GroupWatch
Ever wanted to watch a movie with friends or family members who don't live close by? Disney+ offers GroupWatch, which lets you watch with others through the app as an online group. You'll be able to sync your streams so you can watch your favorite show or movie together and share reactions as you watch.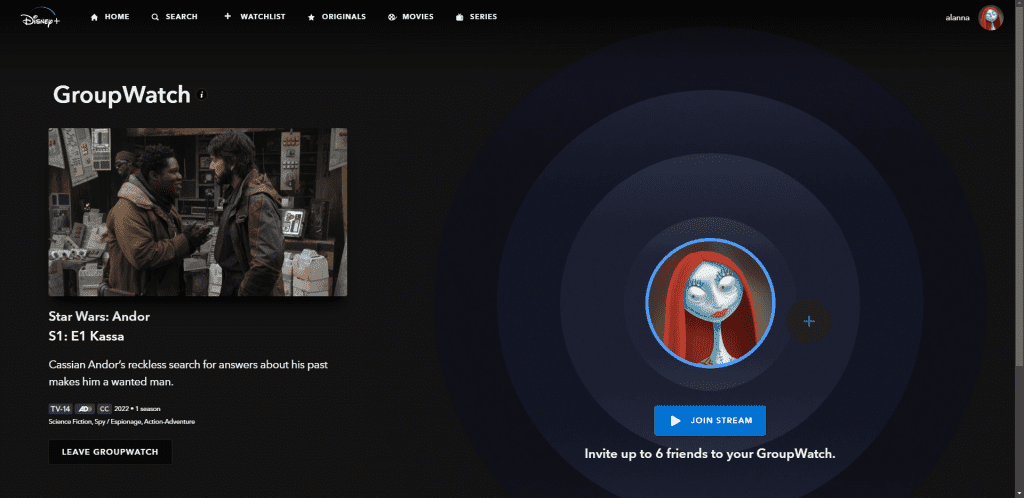 This feature lets up to seven people join in, including the host, and up to four profiles on a single account (excluding kids' profiles). Just remember that everyone in GroupWatch needs to have their own Disney+ subscription.
Supported Devices
To use Disney+ you'll need a compatible streaming device and access to a quality internet connection. It supports pretty much every TV and mobile device in common usage today.
Here are all the different devices you can use to watch Disney+:
Smart TVs:

LG WebOS TVs
Samsung Tizen TVs
Supported Android TVs
Hisense VIDAA 2.5 or 4.0+
AirPlay2 compatible TVs
Supported Panasonic My Home Screen OS TVs
Roku TV
Vizio Smart TVs

TV Accessories

Apple TV 4th Gen+ and 4K
Roku (most models)
Amazon Fire TV
Xfinity Flex and X1
Cox Contour
Mobile Devices

iOS devices: iPhones, iPod Touch, and iPads
Amazon Fire Tablets
Android mobile devices (Lollipop+)

Other

Chromecast and Nest Hub
Web browsers (Chrome, Edge, Firefox, Safari)

Windows 10 and 11-based tablets and computers

Game Consoles
You can also use an HDMI cable to connect a phone, tablet, or computer to your TV. The Disney+ help section has detailed information on exactly which models are supported
Disney+ Outside the US
Disney+ is available in many markets with plans to expand in the coming months. Note the price for a Disney+ subscription price (and product offering) varies by country.
Canada: $11.99 (CAD) per month or $119.99 (CAD) annually
Australia: $11.99 (AUD) per month or $119.99 (AUD) annually
New Zealand: $12.99 (NZD) per month or $129.99 (NZD) annually
Netherlands: € 8,99 per month or € 89,90 annually
United Kingdom: £7.99 per month or £79.90 annually.
Disney+'s content also varies outside the US. Because Hulu is only offered in the United States, many if not most non-US Disney+ versions include Star, a sixth hub that includes ABC, FX, and Hulu originals.
In India, specifically, Disney+ includes Hotstar, which licenses the HBO, HBO Max, and Showtime content for that region.
Disney+ vs Other Streaming Services
Disney+ is one of the best on-demand streaming services out there, but how does it compare to others like Netflix, Amazon Prime Video, or Hulu?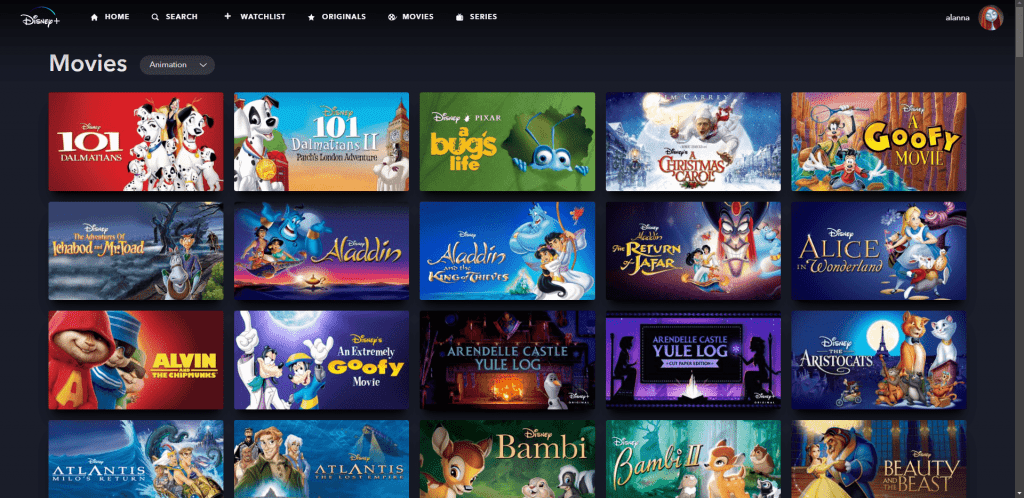 Each of these on-demand streaming platforms has a strong library of movies and TV shows. Deciding which one is best for you will mostly depend on what you want to watch, the number of simultaneous screens you need, your budget, and if you have a compatible device.
Netflix: The original streaming-on-demand subscription service. Still has some of the biggest original titles: Stranger Things, The Crown, Dark, Squid Game, Dead to Me, Midnight Mass, and The Umbrella Academy.
HBO Max: HBO and Warner Bros and more. Home to most signature HBO series (The Sopranos, The Wire, Deadwood) as well as more recent HBO Max originals: The Cleaning Lady, The Staircase, Succession, This is Going to Hurt, Barry, and Home Economics.
Amazon Prime Video: Tons of add-ons with Prime Video Channels, plus its own collection of must-see acclaimed originals: The Lord of the Rings: The Rings of Power, Outer Range, Night Sky, The Wheel of Time, The Boys, and Reacher.
Hulu: Disney+'s own sister-network, with the more adult-y content from ABC, FX, and more, plus, of course, Hulu Originals: The Handmaid's Tale, Legacy: The True Story of the LA Lakers, The Patient, Reservation Dogs, and Only Murders in the Building.
Summary: Is Disney+ Worth It?
If you are a die-hard superhero fan or are one with the Force, then you'll want to seriously consider Disney+ so you can watch all your Marvel and Star Wars favorites.
You'll also get access to thousands of other Disney, Pixar, and NatGeo titles on demand (and a library that is constantly expanding). At only $7.99 a month (or $6.67 if you pay yearly), Disney+ is reasonable priced and definitely makes sense, especially for families.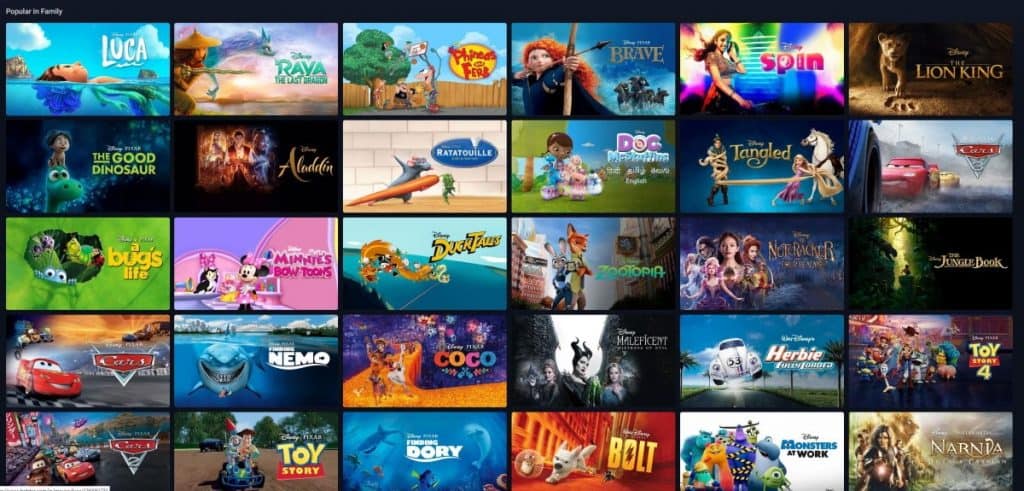 Still not convinced if Disney+ is for you? Here are some other streaming services to check out:
FAQs
How much does Disney+ cost?
Disney+ offers two different subscription plans: monthly and yearly. A monthly plan costs $7.99 a month. A yearly plan costs $79.99 per year. Choosing a yearly plan gives you nearly 20% cost savings and is a more economical option. Either subscription can be canceled at any time.
Can I watch the Disney Channel with Disney+?
Disney+ is exclusively an on-demand content library with over 500 movies and 7,500 TV episodes. It does not provide access to the Disney Channel or any of Disney's other cable channels. To access these channels without cable you'll need a streaming service like Hulu + Live TV.
Can I watch Disney+ in 4k?
With Disney+ you can watch hundreds of titles in 4K. To access the 4K content you'll want to go into the movies section. Here you'll want to look for movies in the Ultra HD or HDR category. Just keep in mind, in order to take advantage of the 4K HDR, you'll need to have a compatible device with 4K resolution.
Disney+ also provides great sound for much of its library with 5.1 surround sound and Dolby Atmos. Of course, you will need a system that supports this.
Can I watch new releases on Disney+?
As an alternative to movie theater releases, select Disney movies are available on Disney+ through the Premier Access feature. For an additional $29.99 per movie, you can watch the latest releases before they are available to all DIsney+ subscribers. Movies that have been released using Premier Access include Black Widow and Jungle Cruise.
Is Hamilton still available on Disney+?
Hamilton was one of the most anticipated releases to Disney+. While it's true not all content stays on the platform forever, the award-winning drama Hamilton is still available on Disney+. All Disney+ subscribers can enjoy the Broadway smash hit from the comfort of their own home, as often as they want.
What parental controls does Disney+ offer?
When creating an account you can opt to make it a kids profile to feature child-friendly content. Disney+ also offers a kid-proof exit that will require a question to be answered when changing the profile.
More, you can add a profile pin to your account and prevent others from creating new profiles.
Which is better, Disney+ or Hulu?
First off, despite being both owned by Disney, there is little to no overlap between the two services, so, yes, you'll have to choose. But much like Disney+ vs. Netflix, which streaming service you should ultimately go with depends on which has the more appealing titles to you.
It's worth remembering that streaming services have no minimum commitment beyond the current month, so if one service has a couple series you really like, you can subscribe to that service for a month or two, catch up, and then cancel until a new season comes out.
Is it better to get Disney+ or Netflix?
That depends on what you want to watch and how much you are willing to pay. Netflix definitely has a much bigger library of content. But quantity isn't everything, and Netflix has a lot of titles that are objectively utter crap. Netflix is also a lot more expensive, with a starting price of $9.99, and if you want 4K and 4 simultaneous screens, you'll have to fork over $19.99 for Premium.
Disney+, on the other hand, includes 4K and 4 simultaneous devices in its more modest $7.99/mo price tag. If you're looking for bang for your buck, Disney+ is definitely worth a look.
Note that since both are streaming services, you can switch off month-to-month, every six months, or whenever a new season of your favorite show comes out.
What happened to Premier Access?
During the pandemic, Disney+ experimented with offering Premier Access for select titles still in theaters. Premier Access allowed subscribers willing to pay an extra $30 fee to stream the movie while it was still in theaters, months before it would be widely released on Disney+.
Five movies have had Premier Access releases: Mulan (Live Action 2020), Raya and the Last Dragon, Cruella, Black Widow, and Jungle Cruise. There have been no Premier Access offerings since Jungle Cruise in July of 2021, and Disney+ has not announced any forthcoming.
It seems most subscribers weren't particularly interested in paying $30 to watch a movie three or four months early. Go figure.
Ditch "Big Cable" Now – 3 Simple Steps to Cut the Cord
Pick the right streaming service
Get the content you deserve with the best VPN.
Supercharge your internet provider
That's it — you'll save money, take back control, and enjoy TV more!
Page Updates
▼
▲
Added new section. Mentioned channel info. Added sub-section. Updated some sub-sections. Updated one section. Updated some of the sections. Cleaned up list.

Image changes. Mentioned offers. More links.

Image changes. Various changes.

Image changes. Mentioned offers. Added some links.

Added some more links. Pricing updates. Reworded some things.
Latest posts by Jessica Saxena
(see all)