With content ranging from nostalgic movies to today's hottest shows, Disney+ rivals Netflix with its online content library. The Disney+ streaming platform gives users on-demand access to shows and movies from some of the biggest franchises including Marvel, Pixar, Star Wars, and, of course, Disney.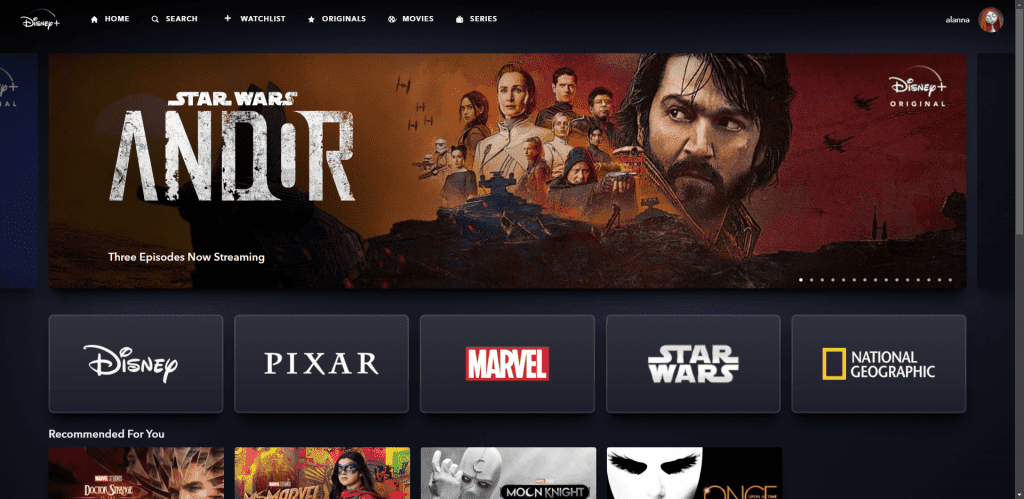 Just want the bottom line? If you just want to know if Disney+ is worth getting, for most people, the answer is a resounding yes. There are three primary ways to get it:
Hulu + Live TV: Get 85+ live TV channels along with Disney+ and ESPN+ for $69.99/mo. Try it for free for 7 days!
Hulu Bundle: Get Hulu on-demand, ESPN+, and Disney+ for just $13.99/mo. Check it out with a 30-day free trial.
Disney+: Get the standlone plan for just $7.99/mo.
Dancing With the Stars is now exclusively on Disney+!
You can choose from a monthly or annual plan to get access to a library of your favorite Disney content through the Disney+ website. Or, you can opt for a free trial through a bundle with another provider like Amazon or Hulu.
Unsure? This guide will help you figure out if Disney+ is the right streaming platform for you.
What Is Disney+?
Disney+ (Disney Plus) is one of the premier streaming sites for watching some of the hottest movies and TV shows.
For Disney fans and those of Marvel, Pixar, Star Wars, National Geographic, and other properties, Disney+ is probably the best way to gain access to this content.
Here's the Disney+ review at a glance:
On-demand streaming service
Monthly plans available at $7.99/mo
Annual plans available at $79.99/yr
No contract or cable required
Cancel at any time
Ad-free content
Includes content from major franchises including: Disney, Marvel, National Geographic, Pixar, Star Wars, and more.
Access to popular TV shows, movies, and original content
Rediscover Disney classics from the Disney vault
Special kid-friendly content library full of shows and movies
Available on most devices including smart TVs, computers, phones, tablets, and gaming consoles.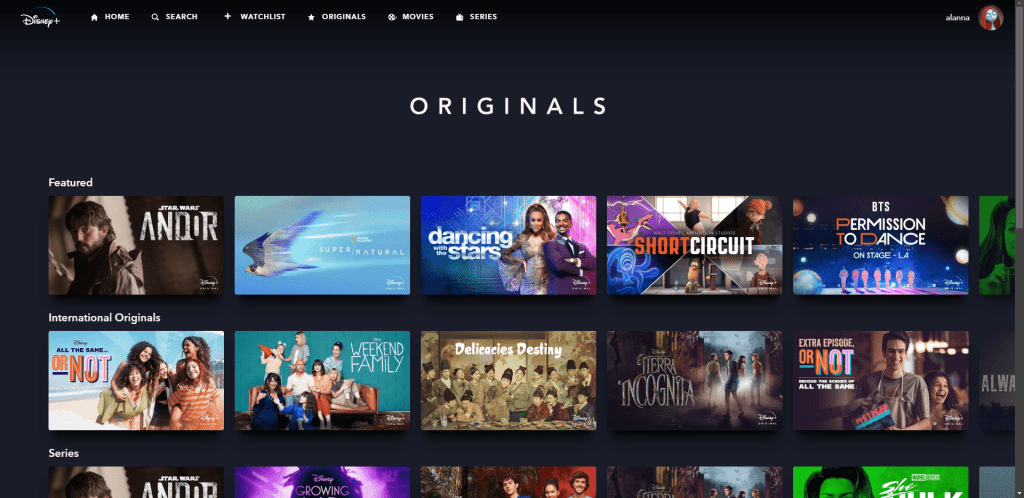 Disney+ offers a library of on-demand content with over 500 movies and 7,500 television episodes. In addition to original content for Disney+, you'll find your favorites from Marvel, Pixar, Disney, NatGeo, and more.
You'll be able to indulge in programs like Turning the Tables with Robin Roberts, The Owl House, and Raya and The Last Dragon. However, you won't get access to any of Disney's live cable channels.
If you're ever at a loss of what to watch, the Disney+ dashboard makes it easy to find something interesting. Browse by genre, what's popular, trending content, or a curated list based on what you've already watched. See more below.
Both monthly and annual plans are available (that you can cancel at any time). So, you can access the content you want, when you want it. Get even more to watch when you choose Disney+ as part of a bundle with other streaming services like Hulu, ESPN+, or AmazonMusic Unlimited.
Read on to learn how you can get the most from your Disney+ plan.
Disney+ Plans and Bundles
Users have two options when it comes to Disney+ plans: monthly and annual. Both the monthly and annual subscriptions offer the same benefits and can be canceled at any time.
In the US, the monthly subscription costs $7.99 per month, while the annual subscription costs $79.99 per year (which is more than 16% in savings). Either subscription gets you an ad-free content library on up to four TVs or devices at once. You can also download content on up to 10 different devices.
Disney+ is available in many markets with plans to expand in the coming months. Note the price for a Disney+ subscription price (and product offering) varies by country.
Canada: $11.99 (CAD) per month or $119.99 (CAD) annually
Australia: $11.99 (AUD) per month or $119.99 (AUD) annually
New Zealand: $12.99 (NZD) per month or $129.99 (NZD) annually
Netherlands: € 8,99 per month or € 89,90 annually
United Kingdom: £7.99 per month or £79.90 annually.
Disney+ Bundles
If you're looking for a bigger content library, getting a Disney+ bundle could be the choice. These bundles will get you more even more titles to stream and can help you save money.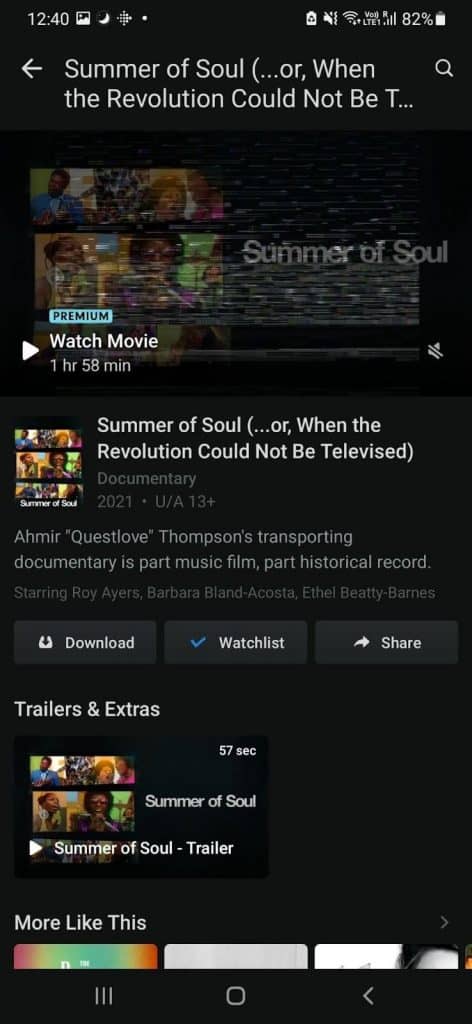 Right now, the most popular Disney+ bundles include:
Disney Plus + Hulu (with ads) + ESPN+ at $13.99 per month
Disney Plus + Hulu (ad-free) + ESPN+ at $19.99 per month
Disney Plus + Hulu with Live TV + ESPN+ at $69.99 per month
Amazon Music Unlimited + Disney Plus at $7.99 per month.
New Amazon Music subscribers get 6-months of Disney+ free and existing Amazon Music subscribers get 3-months free. Once the free period is over, the subscription rate applies.
Disney owns Hulu. So if you're looking for access to Disney's cable channels, consider a bundle that includes Hulu + Live TV. This will give you live access to Disney's most popular channels including ABC, A&E, Disney Channel, Disney Junior, Disney XD, ESPN, History Channel, Lifetime, and Vice.
Using Disney+ to Stream Content
Just as we've come to expect with the Disney brand, the Disney+ user experience is enjoyable. The user dashboard is easy to navigate with several features that help you find exactly what you are looking for.
Here are some of the features we have found the most helpful.
Create a Watchlist
Whenever you find a show or movie you want to watch but aren't really in the mood for right now, simply add it to your watchlist.
This list often pops up as one of the first lists in the Disney+ dashboard, making it easy for you to find the content when you actually want to watch it.
All you have to do is simply click on the '+' and it's added!
Find Something to Watch
Disney+ gives you many different ways to search through content to find interesting things to watch. Search directly with the search bar or use one of their curated lists based on your past use, interest, popularity, and other trends.
You can browse by a number of criteria:
Curated List
Channel
Genre
Trending
Disney+ Originals
Disney Movies
Emmy Nominees
Top Rated on IMDb.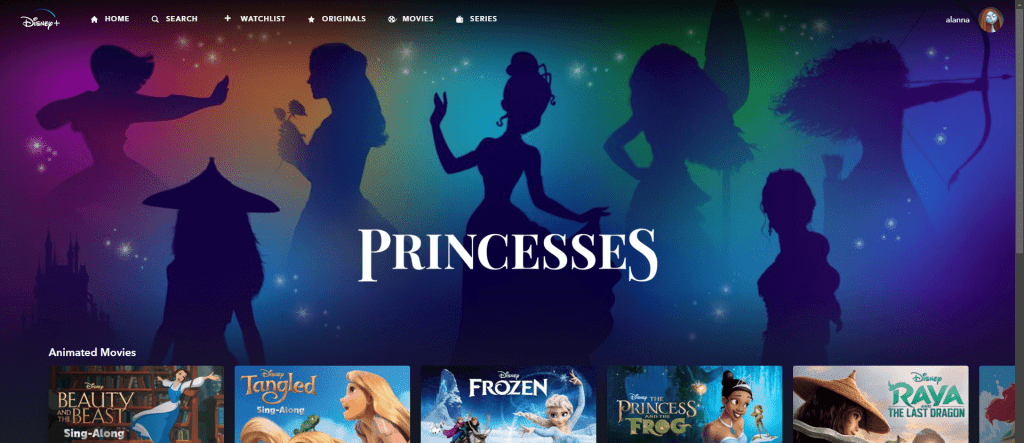 You can also find films and shows based on plays or books.
GroupWatch
Ever wanted to watch a movie with friends or family members who don't live close by? Disney+ offers GroupWatch, which lets you watch with others through the app as an online group. You'll be able to sync your streams so you can watch your favorite show or movie together and share reactions as you watch.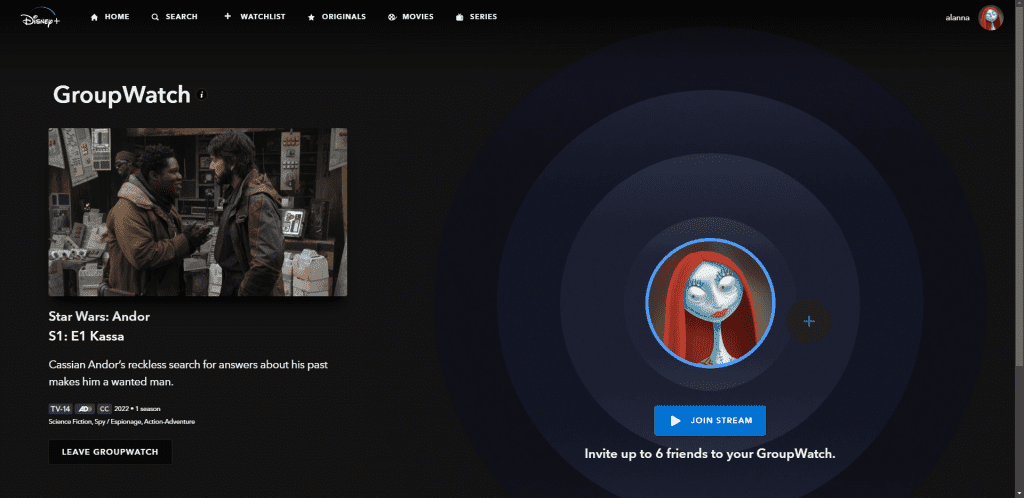 This feature lets up to seven people join in, including the host, and up to four profiles on a single account (excluding kids' profiles). Just remember that everyone in GroupWatch needs to have their own Disney+ subscription.
Kids Profiles
The option to create a kids profile in your Disney+ account is designed to give parents peace of mind.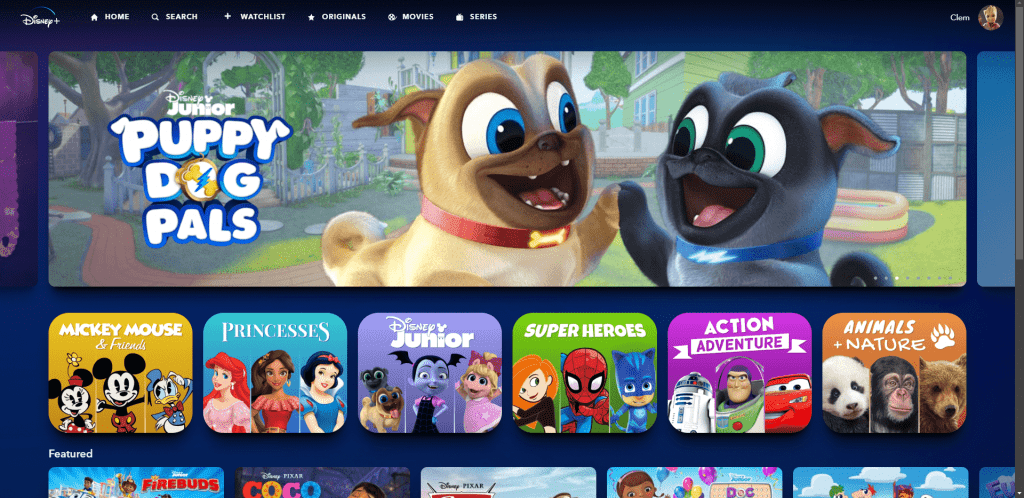 The process is simple. All you have to do is add a new profile and turn the toggle on for a kids profile. A kids profile limits content, giving the user access to only G, TV-Y, TV-Y7/Y7-FV, and TV-G rated content.
Keep in mind that you can set a content rating when creating a new account (which is helpful with older children), with the highest rating being TV-14 since Disney+ does not currently offer any R-rated or 18+ content.
Of course, it's important to realize that there is still the possibility of kids logging out of their account and into a parent's account.
Movies and Shows on Disney+
Disney+ lets you choose from a massive library of movies and TV episodes. In addition to Walt Disney Studios titles, you'll get content from Twentieth Century Fox, Marvel Studios, Lucasfilm (Star Wars), NatGeo, ABC Studios, FOX Life, STAR (outside of the US), Searchlight Pictures, Touchstone Pictures, and Hollywood Pictures.
Some of the most popular live-action films on Disney+ are available like Honey, I Shrunk the Kids and West Side Story along with older classics like Mary Poppins and That Darn Cat!
Here are just a few of the many titles you can find on Disney+.
Disney Vault Movies on Disney+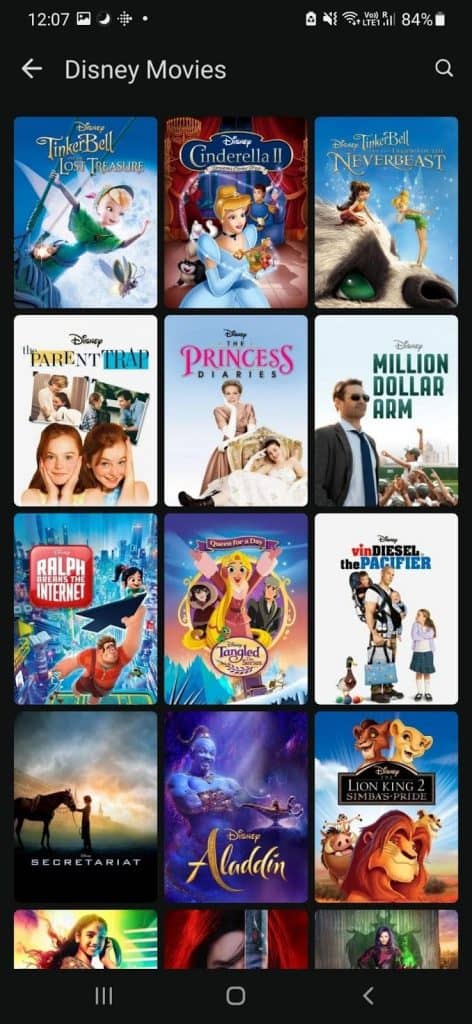 101 Dalmatians
Aladdin
The Aristocats
Bambi
Beauty and the Beast
Cinderella
Fantasia
Frozen
The Jungle Book
Lady and the Tramp
The Lion King
The Little Mermaid
Moana
Mulan
Peter Pan
Pinocchio
Sleeping Beauty
Snow White and the Seven Dwarfs
Toy Story.
Most Popular Disney+ Titles
She-Hulk: Attorney at Law
Star Wars: Andor
Bluey
The Simpsons
Thor: Love and Thunder
Pinocchio (2022 Live Action)
Encanto
Mickey Mouse Clubhouse
Moana
Hocus Pocus
Biggest Marvel Hits on Disney+
Agent Carter
Ant-Man
Assembled
The Avengers
Black Widow
Captain America: Civil War
Captain Marvel
Cloak & Dagger
The Falcon And The Winter Soldier
Hawkeye
InHumans
Legends
Loki
Ms. Marvel
Runaways
She-Hulk: Attorney at Law
Thor
WandaVision
What If…?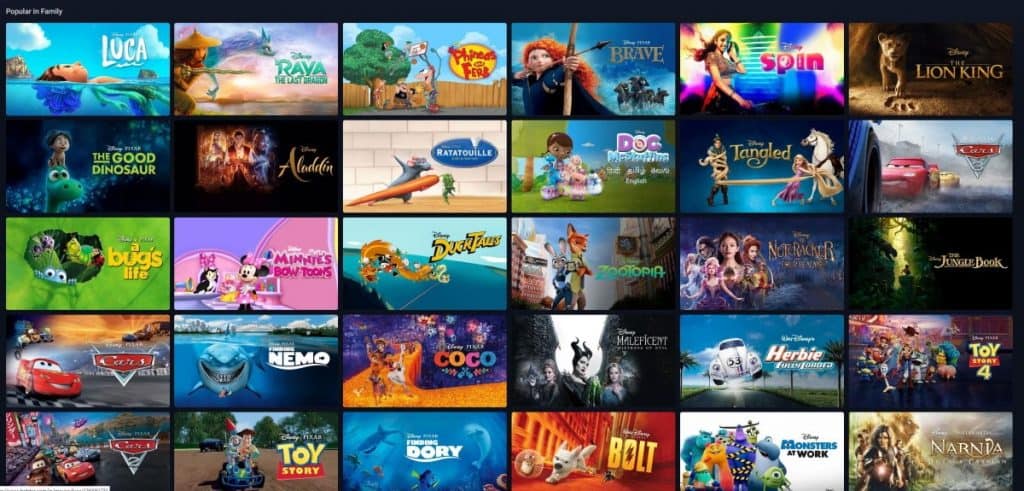 Top Rated Titles on Disney+
Light & Magic
Lightyear
Logan
Rise
Chip 'n Dale: Rescue Rangers
Obi-Wan Kenobi
Of Miracles and Men
West Side Story
Summer of Soul
Black-ish
Bluey
The Beatles: Get Back
The Mandalorian
Queen of Katwe
Supported Devices
To use Disney+ you'll need a compatible streaming device and access to a quality internet connection. It supports pretty much every TV and mobile device in common usage today.
Here are all the different devices you can use to watch Disney+:
AirPlay2 compatible TVs
Amazon Fire Tablets
Amazon Fire TV
Android devices: phones and tables
Android TVs
Apple TV 3rd and 4th generation and later
Chromecast
iOS devices: iPhones, iPod Touch, and iPads
LG WebOS TVs
Samsung Tizen OS TVs
Roku
Sony PlayStation 4 and 5
Vizio SmartCast TV (select models)
Web browsers (Chrome, Edge, Firefox, Safari)
Xbox One
Xbox Series X|S
Xfinity Flex and X1.
Disney+ vs Netflix and Others
Disney+ is one of the best on-demand streaming services out there, but how does it compare to others like Netflix, Amazon Prime Video, or Hulu?
| | | | | | |
| --- | --- | --- | --- | --- | --- |
| | Disney+ | Netflix | Amazon | Hulu | Hulu (no Ads) |
| Price (monthly) | $7.99 | $8.99 | $12.99 | $6.99 | $12.99 |
| Ads | No | No | No | Yes | No |
| Offline Mode | Yes | Yes | Yes | No | Yes |
| Downloads | Yes | Yes | Yes | No | Yes |
| 4K | Yes | Yes | Yes | Yes | Yes |
| Screens | 4 | 1 | 3 | 2 | 2 |
Each of these on-demand streaming platforms has a strong library of movies and TV shows. Deciding which one is best for you will mostly depend on what you want to watch, the number of simultaneous screens you need, your budget, and if you have a compatible device.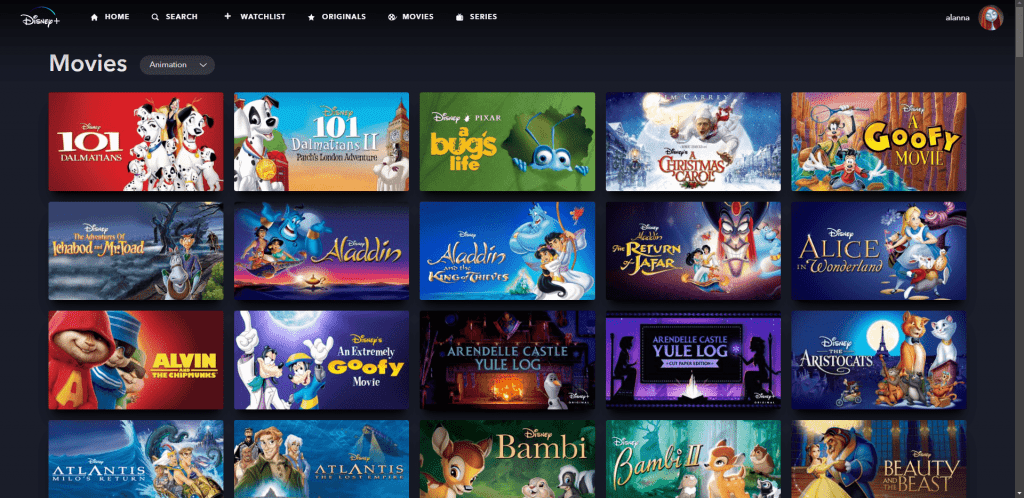 For instance, Disney+ will give you the most screens and is one of the more affordable options. While Netflix may have a hearty library of original content, to get more than one screen you'll have to pay substantially more.
Summary: Is Disney+ Worth It?
If you are a die-hard superhero fan or are one with the Force, then you'll want to seriously consider Disney+ so you can watch all your Marvel and Star Wars favorites.
You'll also get access to thousands of other Disney, Pixar, and NatGeo titles on demand (and a library that is constantly expanding). At only $7.99 a month (or $6.67 if you pay yearly), Disney+ is reasonable and definitely makes sense, especially for families.
Still not convinced if Disney+ is for you? Here are some other streaming services to check out:
Looking for the Disney Channel instead? See our ABC guide, which explains how to get Disney Channel, Disney Junior, and Disney XD.
FAQs
How much does Disney+ cost?
Disney+ offers two different subscription plans: monthly and yearly. A monthly plan costs $7.99 a month. A yearly plan costs $79.99 per year. Choosing a yearly plan gives you nearly 20% cost savings and is a more economical option. Either subscription can be canceled at any time.
Can I watch the Disney Channel with Disney+?
Disney+ is exclusively an on-demand content library with over 500 movies and 7,500 TV episodes. It does not provide access to the Disney Channel or any of Disney's other cable channels. To access these channels without cable you'll need a streaming service like Hulu + Live TV.
Can I watch Disney+ in 4k?
With Disney+ you can watch hundreds of titles in 4K. To access the 4K content you'll want to go into the movies section. Here you'll want to look for movies in the Ultra HD or HDR category. Just keep in mind, in order to take advantage of the 4K HDR, you'll need to have a compatible device with 4K resolution.
Disney+ also provides great sound for much of its library with 5.1 surround sound and Dolby Atmos. Of course, you will need a system that supports this.
Can I watch new releases on Disney+?
As an alternative to movie theater releases, select Disney movies are available on Disney+ through the Premier Access feature. For an additional $29.99 per movie, you can watch the latest releases before they are available to all DIsney+ subscribers. Movies that have been released using Premier Access include Black Widow and Jungle Cruise.
Is Hamilton still available on Disney+?
Hamilton was one of the most anticipated releases to Disney+. While it's true not all content stays on the platform forever, the award-winning drama Hamilton is still available on Disney+. All Disney+ subscribers can enjoy the Broadway smash hit from the comfort of their own home, as often as they want.
What parental controls does Disney+ offer?
When creating an account you can opt to make it a kids profile to feature child-friendly content. Disney+ also offers a kid-proof exit that will require a question to be answered when changing the profile.
More, you can add a profile pin to your account and prevent others from creating new profiles.
Ditch "Big Cable" Now — 3 Simple Steps to Cutting the Cord
Pick the right streaming service
Supercharge your internet provider
Protect yourself and power your streaming with the best VPN.
That's it — you'll save money, gain control, and enjoy TV more!
Latest posts by Jessica Saxena
(see all)