Are you running out of content for the family movie night? Or maybe you're just a major Hallmark fan who prefers good old-fashioned live TV channels over on-demand services. Whatever the case, if you have a hankering for classic TV and movies, feel-good family fare, or local info, Frndly TV is the service for you.
In a hurry? Frndly TV offers 40 channels starting at $7.99/mo/mo. Feature upgrades like HD, DVR, and more simultaneous devices are available for higher prices, topping out at $10.99. Try it free for 7 days!
The most attractive thing about Frndly TV is its price. But a low price by itself doesn't mean much if an affordable live TV streaming service doesn't have anything that you're interested in watching.
So what's Frndly TV got to offer? A surprising amount, actually. Keep reading to see if it's right for you and your family.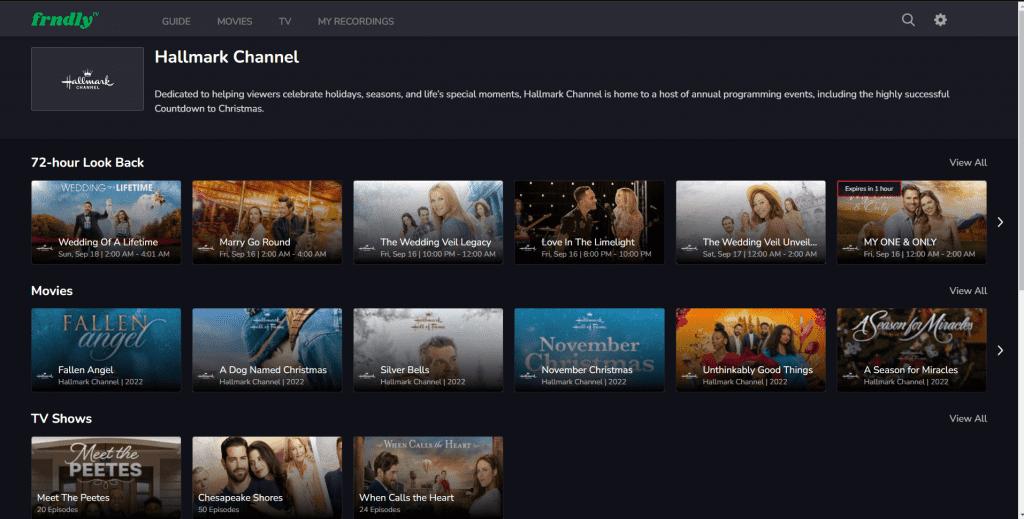 Frndly TV Overview
| Pros | Cons |
| --- | --- |
| ✅ Very affordable | ❌ No sports |
| ✅ Real cable channels | ❌ No mature content |
| ✅ DVR and HD upgrades available | ❌ No local networks |
Frndly TV was launched in 2019 with just 12 live channels. Over the years, it's managed to work its way up to an impressive lineup of 40. Over a third of them are in the top 100 networks of 2021.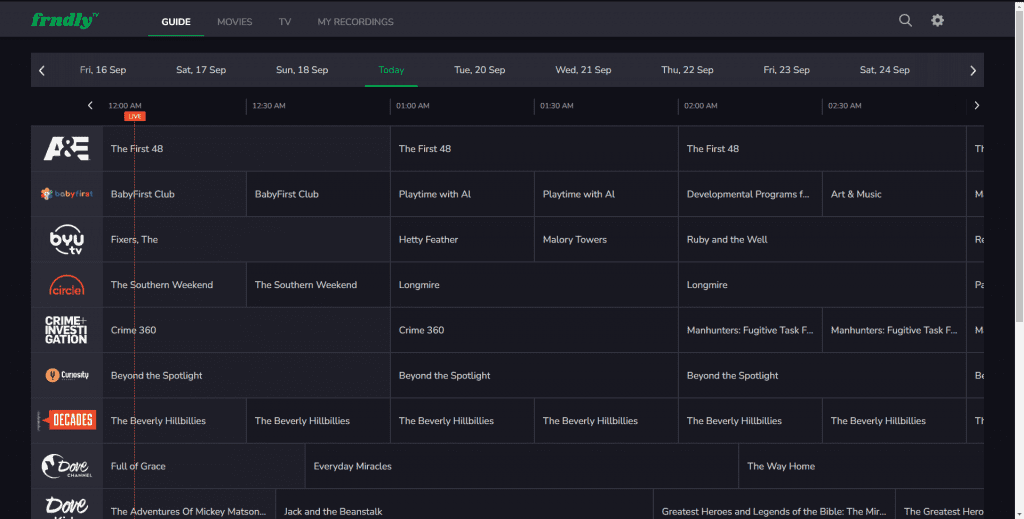 These channels aren't the free-to-watch knock-offs on PlutoTV or Tubi. It's the same Hallmark Channel, Lifetime, A&E, and History Channel you'd get from any other TV provider. This is as cheap as it gets for real, live cable channels.
The Basic plan is very, well, basic, which we'll get to below. But it's only $2 to upgrade to the Classic, which will suit most people just fine. And $2 more than that gets you the top-shelf Premium plan.
Frndly TV's not for everyone, however. In fact, it's rather like a Philo-lite. It has no sports, and its news is no-frills and without commentary (which might not be a downside for you).
You won't see HBO or Showtime offered. Indeed, nothing in the lineup is anything you'd have to wait until the kids have settled in bed before you and your partner can watch (like Game of Thrones or Euphoria).
Frndly TV doesn't include any local networks, either.
Well then, what does it have?
Frndly TV Plan Basics
Frndly TV has 3 plans: Basic, Classic, and Premium. All three start with a seven-day free trial and include both live TV and on-demand content. All three also have access to the same 40 channels.
| | | | |
| --- | --- | --- | --- |
| | Basic | Classic | Premium |
| Price | $7.99/mo | $8.99/mo | $10.99/mo |
| Screens | 1 | 2 | 4 |
| Cloud DVR Storage Hours | None | Unlimited | Unlimited |
| Cloud DVR Storage Length | None | 3 months | 9 months |
| Video Quality | SD | HD | HD |
"Screens" lists the number of screens on which Frndly can be used simultaneously. Basic has no DVR included, Classic and Premium both come with unlimited DVR recordings, which can be kept for 3 months (Classic) or 9 months (Premium).
Channel Lineup and Content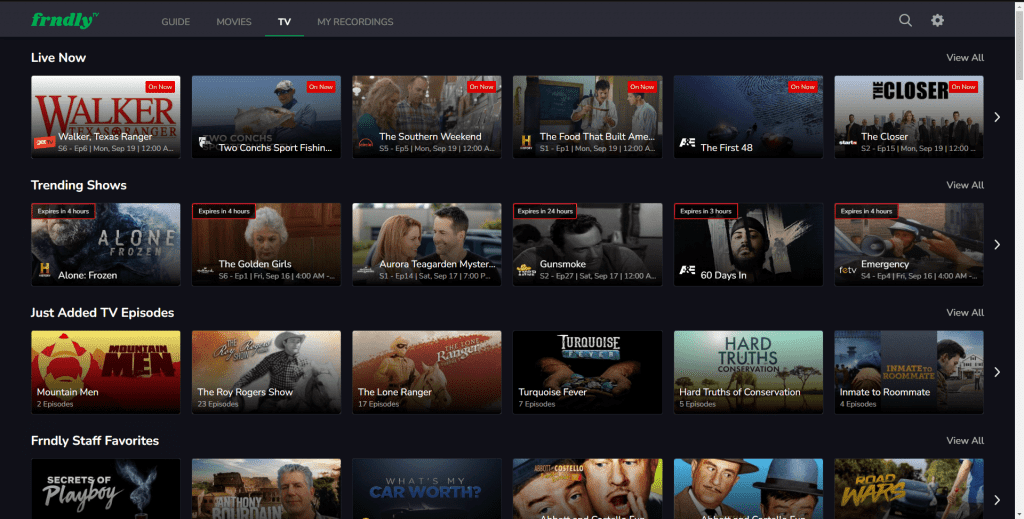 Again, the only thing that varies with the plans is the features. You get the same channels with the Basic plan as you do with the Premium. The majority of Frndly TV channels feature reruns of really old shows (Gunsmoke, The Andy Griffith Show), pretty old shows (The Waltons, The Rockford Files), kinda old shows (Full House, Who's the Boss?), and barely old shows (Reba, The King of Queens).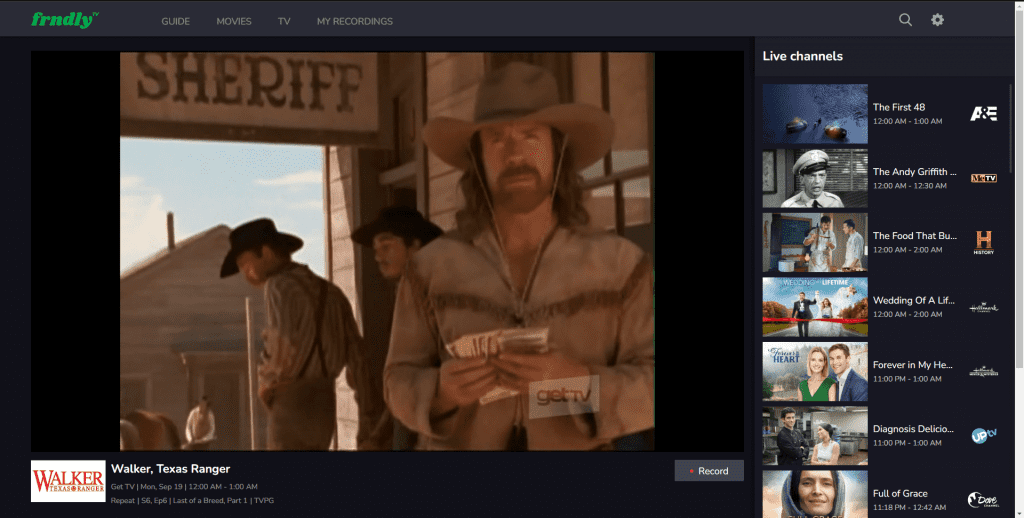 A&E
BabyFirst TV
BYU TV
Circle
Crime + Investigation
Decades
Dove Channel
Dove Family Movies
Dove Kids
FETV
Family Movie Classics
FYI
getTV
Heroes & Icons
Great American Family
Great American Living
Hallmark Channel
Hallmark Movies & Mysteries
Hallmark Drama
Heartland TV
History Channel
Lifetime
LMN
Local Now
MeTV
Military History
PixL
QVC
Recipe.TV
StartTV
Story Television
Vice
World Fishing Network
The Weather Channel
Frndly TV went from being a fairly niche service to a major bargain when it acquired the A+E Networks channels in late 2021 (A&E, the History Channel, Lifetime, FYI, Vice).
In addition to 5,000+ titles on demand, you can watch almost anything from any channel instantly for three days after it airs. You can expand the on-demand library by adding Hallmark Movies Now to your subscription for an additional $5.99/mo. It has its own seven-day free trial so you can see if it's worth it to you.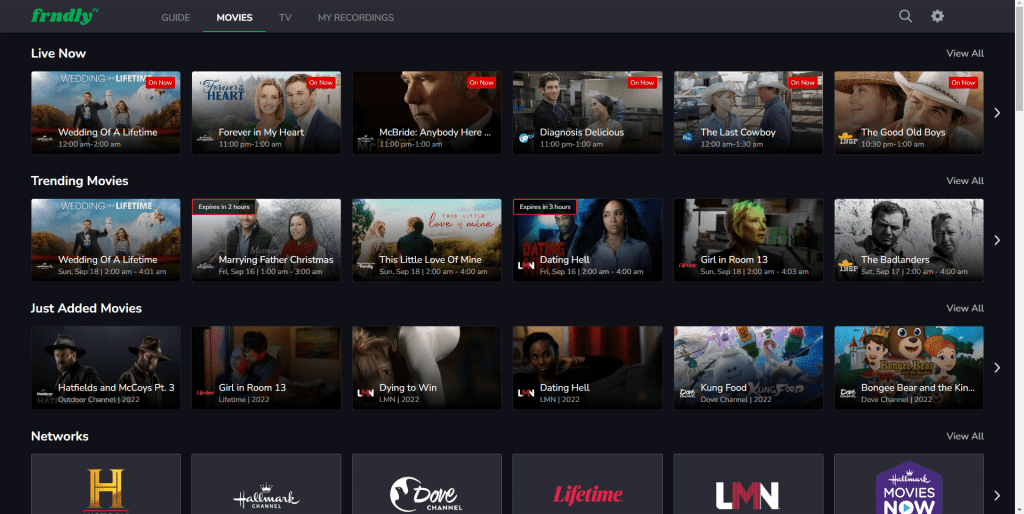 Hallmark Movies Now is Frndly TV's only add-on.
User Experience
Frndly TV gives you a lot of channels for a minimal monthly fee. But what's it like to use it?
Frndly TV's user interface is nothing special, but it's certainly functional and we could find everything we needed. The Guide, Movies, TV, and My Recordings tabs are all self-explanatory.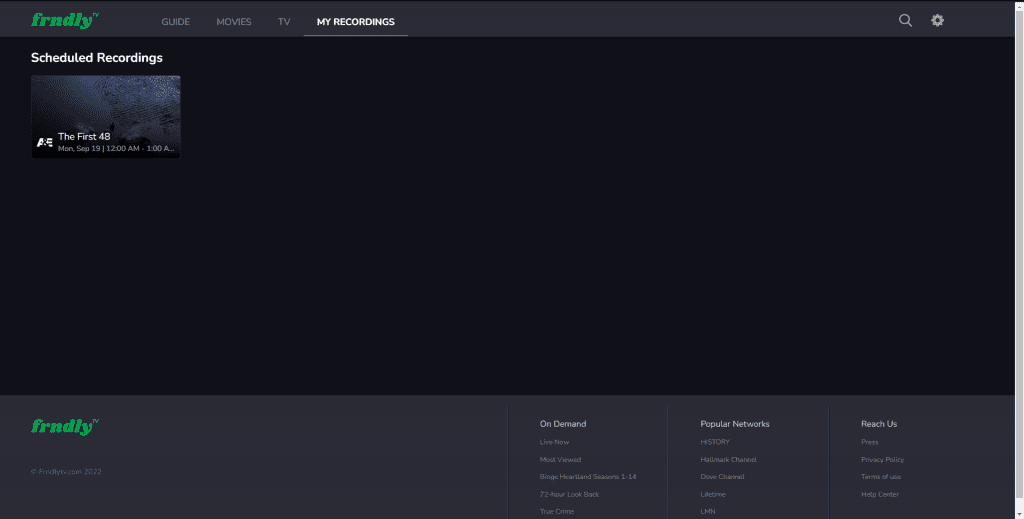 On-demand items about to expire are shown with a notation that tells you how many hours you have left to watch them. On the TV tab, shows that are on now are clearly marked and listed at the top.
Video quality is available in SD (which maxes out at 360p) for all plans, and HD (which maxes out at 720p) for Classic and Premium plans. Most network shows are only broadcast at 720p, anyway, but if you were hoping for movies in crystal-clear 4K (or even 1080p), you'll be disappointed.
The Classic plan includes 2 streams at the same time, and you can watch on up to 4 devices on the Premium plan. Basic subscribers are limited to one at a time.
Basic also lacks any DVR functionality. With Classic, you can keep an unlimited number of recordings for up to 3 months, and Premium lets you keep them for 9 months.
Supported Devices

Frndly TV supports all the most common devices. Here's a brief list, more details are available on the website:
Amazon Fire TV
Android Mobile
Android TV
Apple TV
Chromecast
Google TV
iOS (iPhone/iPad)
Roku
Web browsers (frndlytv.com)
In most cases, it's just a case of finding the Frndly TV app in the app store, downloading it, and logging in.
You should also note that Frndly TV does not support TV Everywhere, which means that any app or website that allows you to watch by entering your TV provider's credentials will not accept Frndly TV.
Alternatives to Frndly TV
There are a number of other live TV streaming services — some better alternatives than others.
Philo

Philo has 60 channels for $25/mo, with a similar focus on lifestyle and classic TV channels. It also has a similar lack of local networks, sports, and news. But, like Frndly, it's a heck of a deal if you're into the lineup. (Full Review)
Sling TV

Sling TV offers a modest base plan (30-40 channels) for a modest monthly fee ($40.00/mo), and you can customize it with the best selection of add-on bundles and premium channels in the industry. If you like Frndly's price, but you want some news (like Fox News, CNN, or Newsmax) and sports, Sling could be perfect for you. This service works best for people who are clear on what they want — a relatively small number of niche channels — and don't want to pay for extra. (Full Review)
Vidgo

Vidgo's price still comes in under the big boys (see the next entry), but at $69.99/mo it's not quite as budget-friendly as Philo or Sling TV. If you like the cut of Frndly's jib with the nostalgic TV and family-friendly channels, but would like a side of football and conservative news to go with it, Vidgo could be for you. (Full Review)
Others



The other live TV streaming services are all full cable TV replacement systems.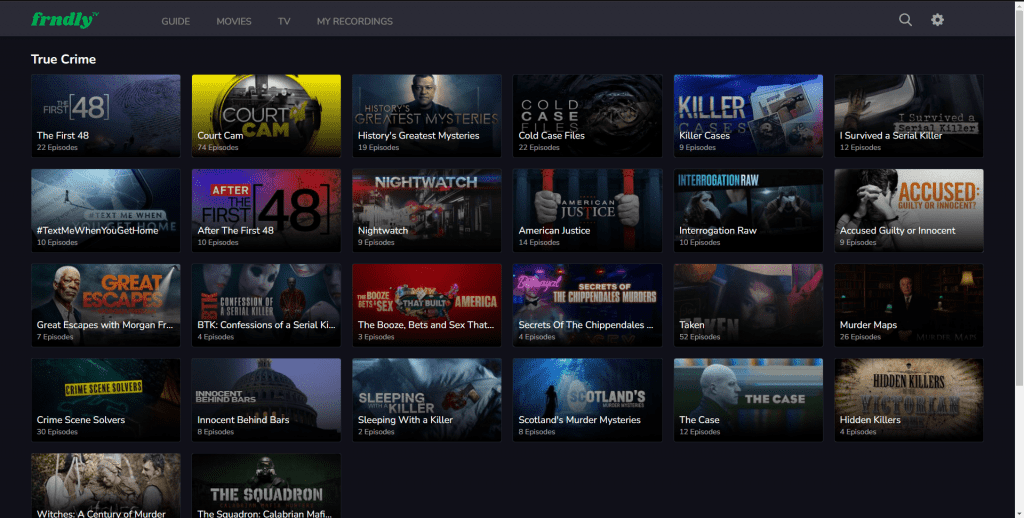 Wrapping Up
While there are some channels dedicated to sportsmen and the outdoors, team sports fans should take a hard pass on Frndly TV, as should any news junkies or anyone seriously into movies.
Frndly TV has a handful of purely informational networks (like The Weather Channel), but no 24-hours news talk and commentary channels (like Fox News or MSNBC). Many may count that as a pro, not a con. And you can find good mainstream movies, like The Hunt for Red October and The Shawshank Redemption, but the vast majority are going to be made-for-TV fare.
Frndly TV is great for families. But it is also good for the many who are offended or grossed out by most of what you find flipping channels these days. If you're a fan of History, Hallmark, A&E, and Lifetime, you will not find them cheaper than this.
Bottom line: while there are several channels calculated to gently poke the nostalgia centers of anyone over fifty, Frndly TV has a surprisingly wide array of old and new programming across the board. It's definitely worth checking out the seven-day free trial.
FAQ
What does Frndly TV offer?
Frndly TV offers a mix of classic TV shows and movies, modern drama, documentaries, and lifestyle programming with an emphasis on family-friendly viewing. In short, it's a low-priced, clean-entertainment TV service that delivers the best value to fans of older shows, A&E, Lifetime, History, or Hallmark.
What live channels does Frndly have?
Frndly TV features 40 live channels in its lineup. These tend to cluster around vintage TV and movies, country music and Western culture, and outdoorsy hobbies like hiking, hunting, and fishing. The service is adding the Movies! Channel soon. You can find a full channel list in the Channel Lineup section above.
Does Frndly TV have commercials?
Yes, the live channels have commercials. These are the same channels you get from cable or satellite, commercials and all. Because the 72-hour Look Back essentially "replays" the program, anything you watch through this feature will also have commercials (and they cannot be skipped). Note that DVR does not have this limitation – you can fast-forward freely through your recordings.
Also, none of the 5,000+ on-demand programs have commercials.
Is Frndly TV free to watch?
No, Frndly TV is not free to watch. But it may as well be, which is to say that it's as close as you can get this side of a free trial. If you're looking for a completely free service, you could check out Tubi, Pluto TV, or The Roku Channel. All are available on most standard streaming platforms, and they're all ad-based, completely free.
What is the cost of a Frndly TV subscription?
Frndly TV starts at $7.99/mo for its Basic plan. This gives you access to SD programming on all 40 channels, but no DVR. If you want DVR or HD, you'll have to bump it up to Classic for $2/mo more, which has both. Premium, the top tier, gives you longer DVR storage and more simultaneous access for $4/mo more.
Does Frndly TV have local channels?
No, Frndly TV does not offer any local channels. One of the ways it keeps its costs down is by not providing expensive channels. The most expensive are live sports channels, but local network affiliates are too. In most cases, if you pair Frndly TV with an inexpensive antenna, you can have your (cheap cable) cake and eat it while watching ABC, CBS, Fox, and NBC too.
Which is better, Frndly TV or Philo TV?
How attached to the Discovery and Paramount Global channels are you? If you're a fan of Paramount, Nickelodeon, MTV, BET, or Comedy Central, then Philo is probably the better choice. Note, though, that you could get Frndly TV plus Paramount+ and Discovery+ and it would still cost less than Philo. And if you can take or leave those channels, then save yourself some money and just go for Frndly.
What devices can you use with Frndly TV?
Frndly TV allows you to use all the major devices, including Roku, Chromecast, Apple TV, and Amazon Fire TV. You can find a complete but not comprehensive list in the devices section above. It does not support Samsung, Vizio, or LG smart TVs or Amazon Fire tablets, nor does it run on Xbox or other game systems.
Does Frndly TV have a DVR?
The Base Frndly TV plan does not include a DVR but the Classic and Premium plans do come with unlimited DVR storage. The Classic plan keeps your recordings for up to 3 months and the Premium keeps them for up to 9 months. All plans can use the 72-hour Look Back feature, but you won't be able to skip commercials.
Is Friendly TV legit?
Frndly TV is 100% legitimate. The majority of Frndly's channels are on the less expensive end of the carriage-fee spectrum. The lack of local, sports, and news channels, which are typically the more high-priced ones, is what lets them get away with charging so little.
What Hallmark channels are on Frndly TV?
Frndly TV carries all three Hallmark channels: The Hallmark Channel (that's the original one), Hallmark Movies & Mysteries, and Hallmark Drama. If you're really into Hallmark, you can also subscribe to Hallmark Movies Now, which will drastically expand your on-demand Hallmark movie library for just $5.99/mo over your Frndly TV subscription.
Page Updates
▼
▲
Added table of contents. Added new section. Added buttons for streaming services. Image changes. Updated some section headings. Changed some content in main section. Removed section.

Added links to streaming services. Mentioned channel info. Added info about guide. Put related links. Changed a few bits of content. Cleaned up list.

Added new section. Updated one section. Cross linking. Formatting.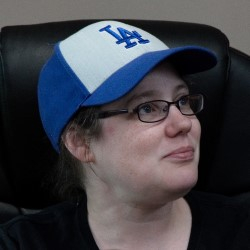 Latest posts by Alanna Baker
(see all)