English Premier League is back.

Stream it live on NBCUniversal channels with Fubo!
FuboTV is arguably the best streaming service for 4K content. It offers over 130 events each year in 4K. Read on to learn everything you need to know.
In a hurry? The FuboTV Elite plan for $84.99/mo offers complete access to its 4K library of live and on-demand shows and events along with well over 170 live TV channels, 1,000 hours of cloud DVR storage, and streaming on up to 10 devices at once!
You know when you go into Best Buy's or Costco's TV section? All the huge gorgeous TVs are playing one of two things. First, it might be nature shows with lots of aerial shots of fabulous waterfalls and whales jumping out of the ocean and splashing down. Or it is sports, with a picture so huge and clear you feel like you could count every blade of turf or every droplet of water spray?
That's 4K. And FuboTV is one of the few services where you can find substantial 4K content for a shiny new 4K TV. But what does 4K even mean?
Note that FuboTV Canada and FuboTV Spain do not offer 4K.
The Basics of 4K
Let's go back a bit, to your old-fashioned CRT TV. For our younger readers, those are the big boxy TVs that weigh a ton and have a curved hard glass screen that you may have seen at your grandparents' house. These had a standard display of 480p, meaning 480 pixels high.
In the 1990s, the FCC introduced new digital broadcasting standards, meaning for the first time HD content could be broadcast. At the same time, TV makers were introducing early flatscreen plasma and LCD TVs, which could display the new HD content.
The first HDTVs were 720p (1280 by 720 pixels), but by the late aughts, 1080p (so-called "Full HD" or FHD) had come along. And that brings us to around 2014, when 4K became widely available (read: affordable).
4K refers to the 4,000 pixels across that a standard 4K TV can display. Technically, it's 3,840 (so not quite 4,000) by 2,160 (which is why you might hear it referred to as 2160p).
"Pixel" stands for "picture element," or the teeny-tiny dots you see if you look very closely at your TV (though 4K resolution is so high, the pixels may well be too small to see). It is a standard measurement for electronically-displayed images.
The more pixels you can fit on the screen, the smoother and sharper the picture will be. Like the difference between building a castle with LEGOs or sand. The fine grain of the sand allows you to shape a smoother, more detailed structure, just like the smaller pixels of a 4K display gives you a smoother, more detailed image.
When we talk about 4K, it's usually talked about in connection with two other viewing metrics: HDR (which stands for High Dynamic Range) and framerate (expressed as Frames Per Second, or FPS, see below).
High Dynamic Range (HDR)
HDR affects brightness and contrast extremes, and the detail shown by them. In other words, HDR-compatible TVs can show both brighter and darker colors with more shades in the middle. Most HDR TVs also show a wider range of colors as well, but that can vary.
Just to make TV shopping that much more confusing, HDR comes in a few different formats. The HDR10 standard is the most common, followed by Dolby Vision and, less prominently, HLG (Hybrid Log-Gamma) and HDR10+.
HDR is arguably more important than resolution in terms of picture quality. Put HDR content side by side with UHD content (without HDR) and most people will pick the HDR over the UHD.
But not all 4K TVs have HDR capability. Poor HDR can actually look worse than non-HDR, so it's important to not skimp on quality. Some 4K content on FuboTV requires HDR10 to view.
Frames Per Second (FPS)
You probably know that what you see as a moving picture is actually thousands of still images (frames) shown in a very fast sequence so your eyes perceive it as motion. You can see this if you've ever looked at a strip of film, watched a documentary on animation, played around with flipbooks, or know enough film history to know what a zoetrope is (we'll wait while you google "zoetrope").
The speed at which the images are recorded and displayed is important because the faster the images are shown, the smoother the motion will appear. This speed is measured in frames per second, or FPS.
Slower FPS will produce a jerky, disjointed effect, like watching people dance under a strobe light. It's cool when you're out clubbing, but not as cool if you're trying to watch games where major events happen in split seconds.
Hollywood movies are typically shot at 24 FPS, while TV and video is around 30 FPS (in the U.S., 25 FPS in Europe). As technology has improved, though, action-heavy content like sports is often filmed and broadcast at 60 FPS. FuboTV displays this content in 60 FPS to you – letting you catch more of the action.
4K on FuboTV
One of Fubo's selling points used to be that all its plans included 4K. Recently, however, it's been experimenting with its plan offerings, and the cheaper Pro plan ($74.99/mo) no longer provides 4K. It's only available with the Elite ($84.99/mo) and Ultimate (fubotv-price-ultimate:) plans.
Content
4K on Fubo, like most features of Fubo, is all about the sports. If you want to be able to easily and reliably recognize individual players or vehicles, read the small print on the chiron on the bottom, or make a valid call for yourself on whether that ball was in or out of bounds, you want 4K for your games.
FuboTV provides a list of nationally-televised 4K events on its website. Pretty much everything is via NBC or Fox. But this features a wide variety of events. Many games of the NFL, MLB, and Premier League are featured. So are major tennis competitions. So are many NASCAR events (early season Cup Series, no Xfinity, Truck, ARCA, etc) and NCAA football games.
Non-sports 4K content is largely documentaries:
Air Warriors (32 ~45-minute episodes)
The Wild Andes (3 44-minute episodes)
Aerial America (75 ~45-minute episodes)
China From Above (4 44-minute episodes)
America in Color (17 48-minute episodes)
Seriously Amazing Objects (8 ~45-minute episodes)
Epic Yellowstone (4 52-minute episodes)
Big Cat Country (6 50-minute episodes)
Seven Worlds, One Planet (7 60-minute episodes)
4K content can be found by looking for the 4K logo on the Guide or the Sports screen, or searching the on-demand library for 4K.
FuboTV 4K Devices
In order to play 4K content, you need a 4K-capable device compatible with FuboTV's 4K. You also need the latest version of the FuboTV app, a minimum "suggested" internet speed of 25 Mbps, and (depending on your setup) a cable that's HDMI 2.0/HDCP 2.2 compatible.
Some events also require HDR10 compatibility.
Compatible Devices
Amazon Fire TV
Android Mobile Phones with HDR10 displays

Google Pixel 3/3XL/4/4XL/5/5XL
Huawei P20
LG V30/V50
Samsung Galaxy S9/S9+/S10/S10+/Tab S3/Note 8
Sony Xperia XZ Premium/XZ1/XZ2

Android TV with 4K/HDR support

Hisense 4K TV
NVIDIA Shield
Sharp AQUOS 4K TV
Sony Bravia 4K TV
Xiaomi Mi Box S/2/3/4
Note: the above Amazon Fire and Android devices cannot stream on-demand in 4K. If you attempt to do so, the program will stream in 1080p.
AppleTV 4K
Chromecast Ultra
Safari (latest version)
Roku

Roku Ultra
Roku Premiere+
Roku Premiere
Roku Streaming Stick+
4K Roku TVs

Samsung Smart TV 2017 and newer 4K TVs
Vizio SmartCast TV

2016 and newer 4K TVs
OLED
P-Series
M-Series
V-Series

Xbox One

Xbox One S
Xbox One X
Xbox Series X/S
Note: The Xbox does not support NBC Sports Chicago in 4K.
4K Alternatives to FuboTV
Most of the major live TV streaming services don't offer 4K at all: Sling TV, Philo, Vidgo, and DIRECTV STREAM. The last is a bit of a surprise since DIRECTV STREAM's satellite service does offer it (but this could mean we will see it soon). Hulu's on-demand library has a fair bit of 4K content, but none of Hulu + Live TV's live channels stream in 4K.
Aside from FuboTV, only one other live streaming TV provider has 4K, and that's YouTube TV. It's actually cheaper than Fubo — its base plan is only $64.99/mo. But the joke's on you because 4K only comes with the 4K Plus add-on, which is an extra $19.99/mo.
YouTube TV has some 4K content on Discovery, ESPN, Fox Sports, FX, National Geographic, NBC Sports, Tastemade, and MLB Network. The add-on also gives you unlimited streams at a time at home and the ability to download programs for offline viewing.
If live content isn't a dealbreaker for you, there are more on-demand services that have 4K content:
Wrapping Up
The bad news is that when it comes to new technology, choices are always somewhat limited for early adopters. The good news is that 4K has been out for a little while now and is tentatively moving out of that yes-we've-got-bleeding-edge-tech-but-nothing-to-play-on-it zone.
It's a matter of reaching a tipping point with the number of consumers that can play 4K so that TV providers decide it's worth it to invest in 4K. It's not entirely their fault, because it's not easy to predict what will (or won't) be the future standard tech:
Betamax vs VHS
Nintendo vs Sega
Laserdisc vs DVD vs Blu-Ray
But if you are one of the brave souls who own a 4K TV, at least now you know you don't need cable for a reliable source of 4K content. Just sign up for FuboTV Elite and get over 130 events in 4K today!
Ditch "Big Cable" Now – 3 Simple Steps to Cut the Cord
Pick the right streaming service
Get the content you deserve with the best VPN.
Supercharge your internet provider
That's it — you'll save money, take back control, and enjoy TV more!
Page Updates
▼
▲
Updated some section headings. Updated some sub-sections. Added links.

Mentioned offers. Various changes. Reformatting.

Added some more links. Various content updates.

Changed some content in main section. Added some links. Mentioned offers.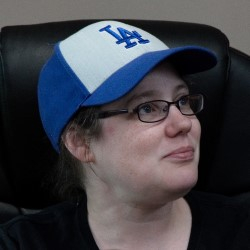 Latest posts by Alanna Baker
(see all)